Easy Maintenance Bathrooms With MSI's Luxury Vinyl Tile And Luxury Vinyl Plank Flooring
November 10, 2023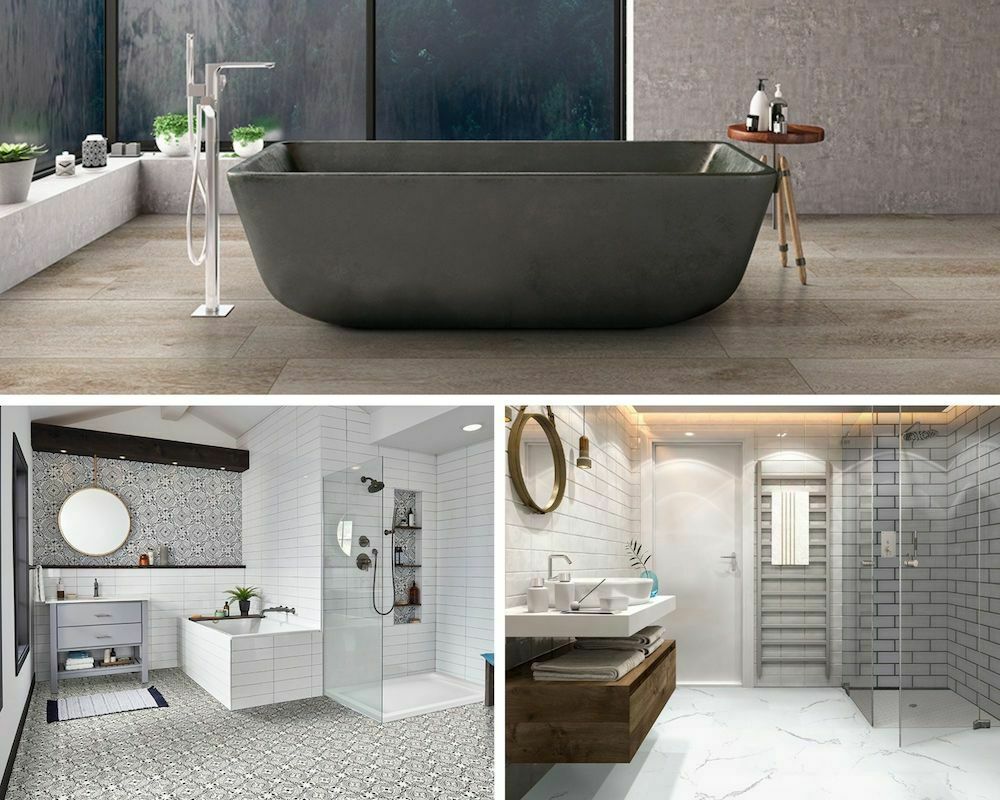 Imagine stepping into a bathroom that radiates style at every corner, where the floor beneath your feet is waterproof and resilient enough to withstand the lively footprints of kids and pets. This dream scenario is a tangible reality with MSI's Luxury Vinyl Tile (LVT) and Luxury Vinyl Plank (LVP) Flooring. Gone are the days when homeowners had to choose between aesthetics and functionality. Today, with MSI's innovative flooring solutions, you get the best of both worlds.
Moisture, an ever-present concern in bathrooms, can wreak havoc on conventional flooring materials. However, our LVT and LVP flooring, from our exclusive Everlife® collection, are designed to make such worries a relic of the past. Apart from being completely waterproof, these flooring options have unparalleled durability that resists everyday wear and tear, ensuring that high-traffic areas, like bathrooms, remain pristine for years. The ease of maintenance further cements it as the go-to flooring for modern homes.
The merits of MSI's flooring don't end there. Everlife® LVP & LVT flooring is flush with on-trend wood and natural stone looks that are kid-proof and pet-proof. These floors aren't just about being visually appealing; they come with industry-leading warranties backed by the largest flooring distributor in America. The flooring has undergone best-in-class ASTM testing and has stellar performance ratings in sound, slip resistance, flammability, and safety. It's a testament to our commitment that our water-resistant luxury vinyl flooring is redefining worry-free floors. Recognitions like FloorScore, GreenGuard Gold, and USGBC LEED certifications are a testament to their superior quality.
Further enriching our offering is an easy-install locking system, the CrystaLux™ Wearlayer, and matching trims that give a cohesive look to your spaces. Whether it's bustling homes or light commercial spaces, our flooring solutions are tailored to meet diverse demands.
Let's explore our LVT and LVP flooring solutions and spotlight some of their standout products.
Luxury Vinyl Planks: Wood's Charm with Vinyl's Convenience
Luxury Vinyl Planks (LVP) seamlessly merge the timeless beauty of wood with the practical benefits of vinyl. While wood has always been a coveted flooring choice for its natural allure and warmth, its susceptibility to moisture and wear can be a concern. LVP addresses these challenges, offering homeowners the aesthetic appeal of classic wood without the associated maintenance. This flooring solution is durable, water-resistant, and easy to clean, making it perfect for modern homes that value style and functionality.
Akadia boasts an elegance that brings the natural beauty of hardwood to your bathroom without the typical challenges that real wood might present in a moist environment. Part of the Cyrus Collection, this plank exudes sophistication with its creamy, neutral beige tones and delicate brown grain patterns. The best part is its ease of maintenance! Simply use a damp mop for cleaning, and you're good to go.
For those who prefer neutral tones with a contemporary twist, Whitfield Gray from the XL Cyrus Collection is an impeccable choice. The stylish gray hues will catch your attention, and the broader and longer planks will give your bathroom a spacious feel. As with other LVPs, maintenance is a breeze.
Luxury Vinyl Tile: Premium Tile Aesthetics with Vinyl Simplicity
Luxury Vinyl Tile (LVT) combines the upscale appearance of high-end tile with the straightforward care and resilience of vinyl. Traditional tiles, while visually appealing, can often demand rigorous maintenance and be prone to chipping or staining. LVT offers a solution to these challenges, replicating the luxurious look of premium tiles while being durable, easy to maintain, and resistant to everyday wear and tear due to our exclusive wear layer. Ideal for spaces where elegance meets daily life, LVT ensures homeowners don't compromise on style for practicality.
Dreaming of a bathroom floor that replicates the luxurious look of marble? Calacatta Serra from the Trecento Collection offers just that. With its pristine white backdrop and subtle veining, this LVT brings sophistication without the maintenance challenges typically associated with natural stone. It's waterproof, easy to clean, and durable, making it perfect for bathrooms.
If you're seeking artistic flair, Kenzzi Taza from the XL Trecento Collection might be your go-to. Inspired by encaustic designs, this large format LVT blends bold patterns with a neutral color palette. It's not just a floor; it's a statement piece! And, of course, it comes with all the maintenance benefits of luxury vinyl tile.
At MSI, our LVT and LVP flooring options revolutionize bathroom designs by combining style, durability, and low-maintenance features. Whether you opt for the rustic charm of wood-look vinyl planks or the luxe marble-look of luxury vinyl tile, you're making a choice that will endure in fashion and function.
Ready to transform your bathroom with luxury vinyl flooring and enjoy the beauty without the fuss? Chat with us online, visit a nearby MSI showroom, or find an MSI-authorized dealer in your area now!