Which Marble Look Quartz Is Right For You?
April 05, 2021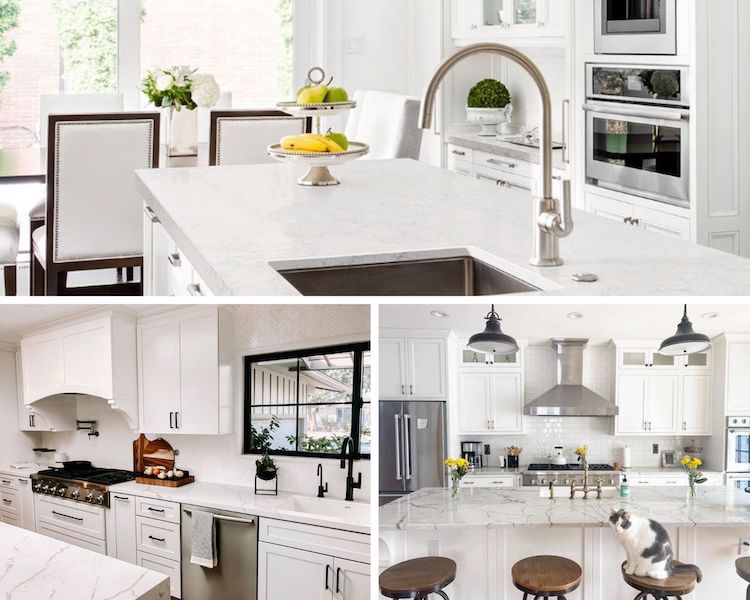 Are you drawn to the luxurious look of marble countertops when browsing kitchen inspiration ideas? While its high-end appearance is a major advantage for many homeowners, marble also comes with a high-end price tag and high-maintenance tendencies. Because of these less than desirable attributes, marble-look quartz's popularity is on the ride.
As an engineered surface, quartz can replicate the luxurious appearance so you can capture its beauty without the headaches of marble. Plus, you have more say in the countertop's appearance because you don't need to rely on the natural patterns of the stone — instead, you can expertly craft a natural marble-look countertop. It's no surprise why quartz countertops are the leading marble alternative.
To help you narrow down which of MSI's premium surfaces is the right choice for your kitchen, we've outlined the most common issues associated with marble counters and detailed five of our favorite marble alternatives.
Common Concerns Associated with Marble Countertops
Although marble is commonly sought after when renovating a home, most homeowners aren't aware of the slab's high-maintenance properties. Before investing in marble countertops, it's important to understand the issues you may face when opting for real marble countertops.
Stains – When choosing your kitchen countertops, you need something that is durable and can withstand everyday wear and tear. Whether your children spend their afternoons coloring and doing homework at the kitchen island or you're always cooking up a large family meal, there is bound to be the occasional mess. Because marble is a porous material, it is extremely vulnerable to staining and will absorb many liquids and other staining agents it comes into contact with — this can be anything from pens and markers, wine, and tomatoes to something as simple as water. Without proper sealing of your counters (which needs to be done regularly), they are susceptible to stains and visual damage.
Scratches – Durability is key when it comes to selecting your kitchen countertops. Unfortunately, marble isn't the toughest natural stone on the market, meaning that if you're not careful, you could end up with scratches on the surface. When choosing marble, ensure that anyone in your kitchen is using proper equipment, such as a cutting board, to minimize the chance of damage. Even something like a crystal bowl or serving tong can scratch the surface if it hits the marble just right.
Cost – Renovating a kitchen isn't the most inexpensive project you can take on, which is why it's important to understand where you are willing to splurge and where it's best to compromise. When browsing Pinterest for ideas, you're probably swooning over the luxurious look of marble counters. But you know what won't leave you swooning? The price tag. Because of their beauty, marble countertops aren't going to be the cheapest option on the market.
The Best Marble-Look Quartz Countertops
Here comes the fun part — picking out quartz that looks like marble for your kitchen renovation project! MSI's wide selection of quartz countertops makes it easy for you to narrow down the ideal option to transform your vision into a reality. Need some inspiration? Check out how you can create an affordable and dreamy kitchen with MSI's quartz marble look collection:
Calacatta Ida Quartz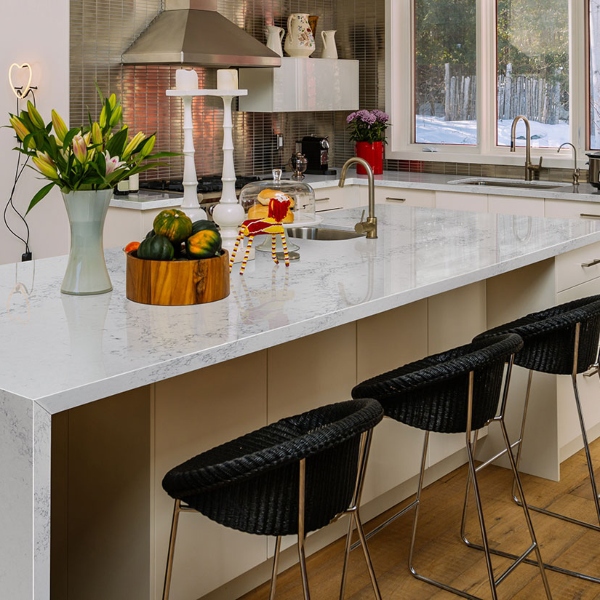 One of our all-time favorites in the Calacatta quartz collection, Calacatta Ida Quartz offers a whimsical marble-look backdrop for your kitchen with a cool white background. Featuring cloud-like soft gray veining throughout the slab, it's enough to draw the eye across the room without making too much of a dramatic statement. Calacatta Ida Quartz is the perfect option for those looking for a more traditional or contemporary design, while still creating a show stopping space.
Calacatta Laza Quartz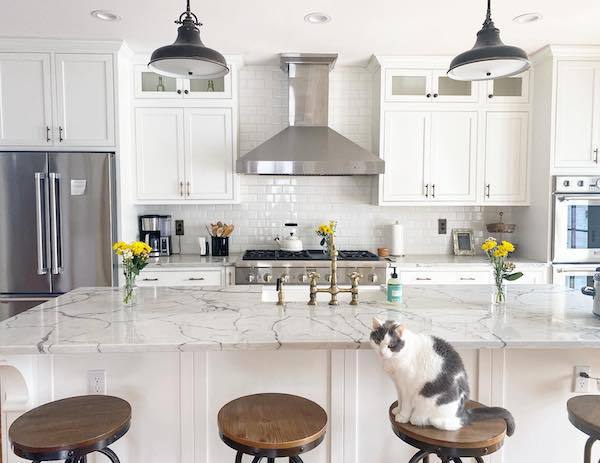 If you ever heard that drama was a bad thing, that's a lie! Sometimes you need a little drama in your life to spice things up. That's why Calacatta Laza Quartz is a truly remarkable marble alternative for your kitchen counters. With dramatic movement, milky white background, and soft brown veining, the slab is a statement-making piece. It's the perfect addition to a kitchen with open shelving or soft colored cabinets to amplify the overall look and feel. Whether you opt to use it for all of the counters or as a statement on your island with a waterfall edge, you won't be disappointed.
Calacatta Leon Quartz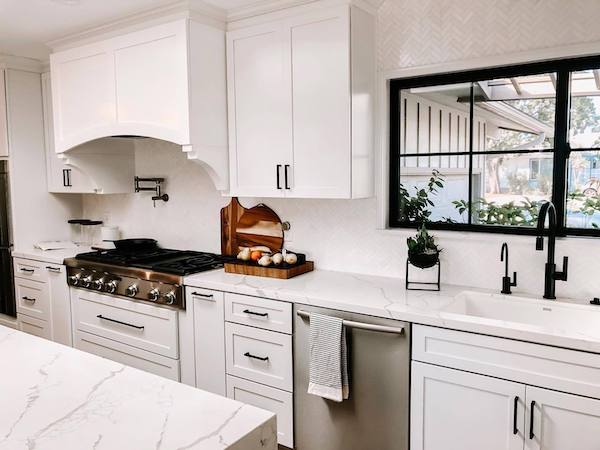 While many of MSI's quartz offerings resemble marble, there's no better option than Calacatta Leon Quartz. Its statement-making dramatic gray veining offers a truly one-of-a-kind look that is sure to leave you and your guests with their jaws dropped. From accent walls to kitchen backsplashes to countertops, there's no application where Calacatta Leon won't demand attention. This marble-look option allows you to get the high-end look you crave with the added benefits of durability, low maintenance, and stain and germ resistance.
Calacatta Valentin Quartz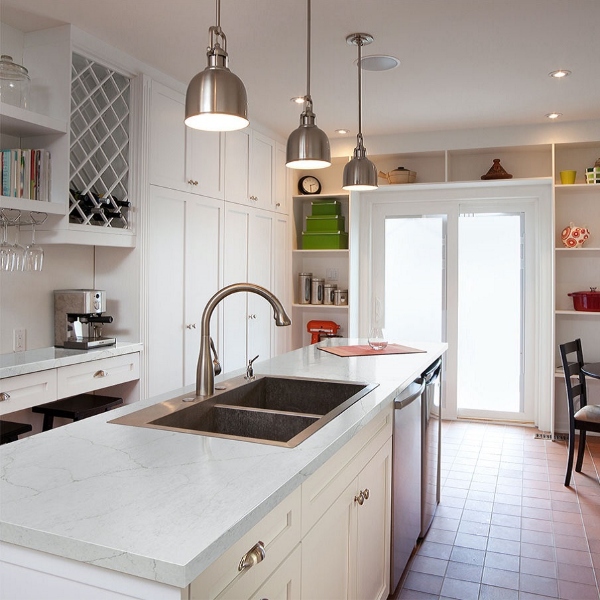 For a more traditional marble look, consider Calacatta Valentin Quartz with its warm-white tones that allow it to seamlessly blend into any design decor and aesthetic. Laced with soft brown dramatic veining throughout the slab, it's sure to draw the attention of anyone that steps foot in your kitchen. Whether you're looking to extend the marble look from your kitchen into your bathrooms, or you're opting to create countertops that seamlessly extend into the backsplash, choosing Calacatta Valentin is a no-brainer.
Lido Blanco Quartz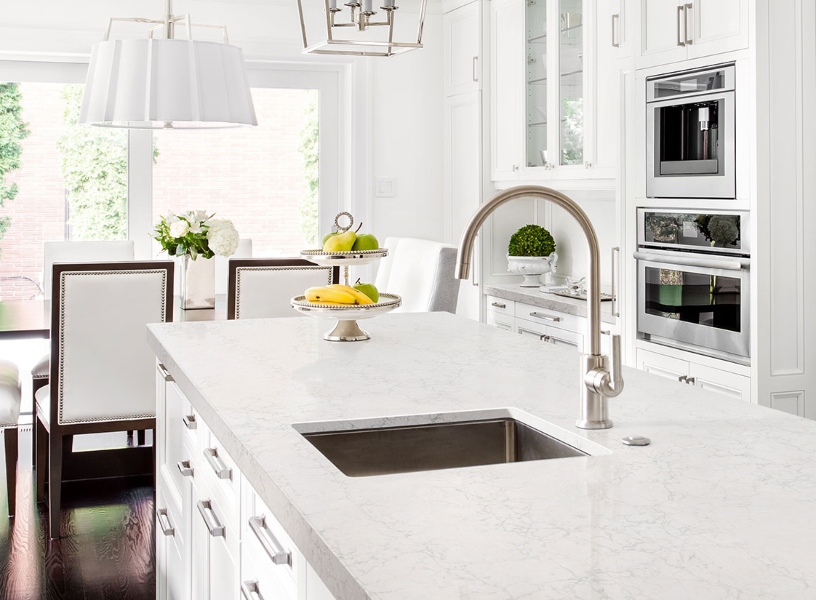 There's something about countertops with a white backdrop that helps elevate a space from drab to fab. But without veining or beautiful details, its appearance can be quite boring. Luckily, that's something you'll never have to worry about when you install Lido Blanco Quartz countertops in your kitchen. Featuring an intriguing web-like gray veining upon a dusty white backdrop, you'll never grow tired of the simple yet dramatic design that takes your kitchen to the next level. Plus, its germ, stain, and heat resistance make it a great option for your bathroom countertops, shower surrounds, and fireplace accent walls as well — allowing you to showcase its understated beauty in multiple areas of your home!
Whether you're looking to incorporate a dramatic countertop as your kitchen's main focal point or you're looking for a subtle yet luxurious marble-look option, MSI's selection of quartz countertops offers a variety of colors and styles for you to choose from. Need help seeing how each option will look in your existing space? Try MSI's countertop visualizer to easily show you, in real-time, how marble-look quartz countertops will look in your kitchen.
More on quartz countertops
Quartz Countertops in Durable Natural Quartzite Looks
5 Hot Kitchen Trends For 2021 - Quartz Countertops and Beyond!
Bathroom Beauties with Quartz Countertops
Are White Quartz Countertops Stain Resistant?