Can Porcelain Tile Be Used Outdoors?
January 03, 2020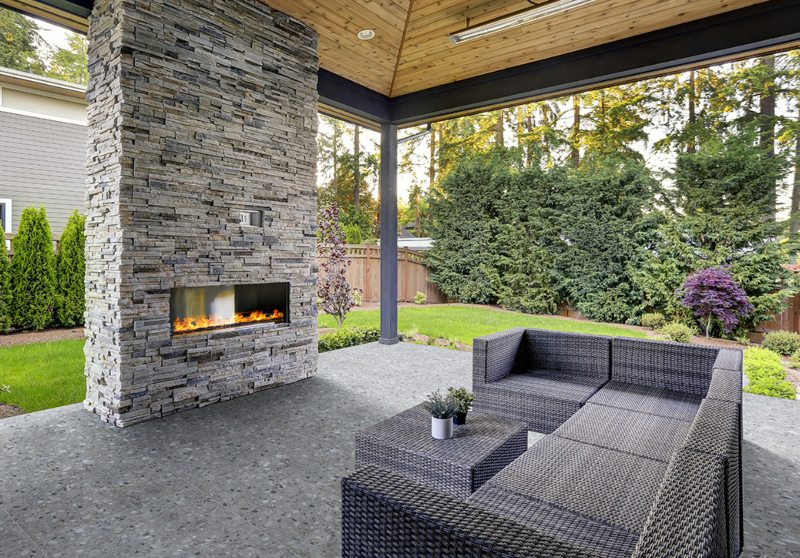 This new year, and the years to follow, are bringing about a porcelain tile revolution. No longer seen as your grandmother's outdated and unattractive '70s flooring, porcelain can actually mimic stone and marble—not to mention other surfaces—nearly identically and at a fraction of the cost.
On a basic level, porcelain tiles are technically derived from ultra-fine porcelain clays that are fired at very hot temperatures. In the end, this creates denser and less porous tiles than natural stone. Additionally, porcelain can come in a variety of colors and even slip-resistant finishes, which give way to a multitude of benefits, especially when it comes to flooring. Sure, we think of installing porcelain tiles in our bathrooms and kitchens in lieu of other materials, but what about outdoors? Naturally, when it comes to "natural elements" we reconsider our flooring options very carefully. Thankfully, porcelain is proving to be just as viable outdoors as indoors and in this article, we're going to break down those advantages for you.
Foot traffic, outdoor weather conditions—let's face it, there are many factors to consider when weighing the viability of outdoor porcelain tile. Natural stone varieties, such as travertine, slate, and quartzite are often top picks for outdoor flooring, yet can be slightly higher maintenance then porcelain in terms of maintaining and cleaning. For example, outdoor porcelain resists staining, warping, chipping, and even fading—a real advantage when considering the action outdoor floors can withstand. At a fraction of the cost, homeowners can create that elevated and sophisticated sense of luxury inside and well as out and at a fraction of the cost with porcelain tile and pavers.
What are porcelain pavers? At their core, they are made from kiln-fired clay and considered a positive, green alternative to hardwood flooring as they don't deplete the rainforest. These "paving stones" are growing in popularity, especially when it comes to outdoor installations, as they are able to brave the elements in ways other materials cannot. Thanks to the porcelain paving process, these slabs achieve uniformity throughout—not to mention include top tier density that pave the way for superior performance.
Porcelain pavers are stain and chemical-resistant and never need to be sealed, emphasizing the perk of minimal maintenance. (Ideal for outdoors, right?) On the other hand, concrete and natural stone stain easily, meaning great effort for removal is required. The non-slip surface is crucial for rain and snow in challenging outdoor environments, which ultimately secure your safety and the safety of your loved ones. Porcelain pavers are also totally frost-free and can maintain at temperatures below -60 Fahrenheit. And if you're in a particularly bad snowstorm, de-icing is a breeze—no pun intended—as necessary salts don't cause damage due to being so impenetrable.
Let's get the wheels of outdoor decoration churning, shall we, and take a look a look at some of MSI's top porcelain paver options. We know you'll fall in love with the brilliant designs and colors of this modern tile, anxious to renovate your backyard!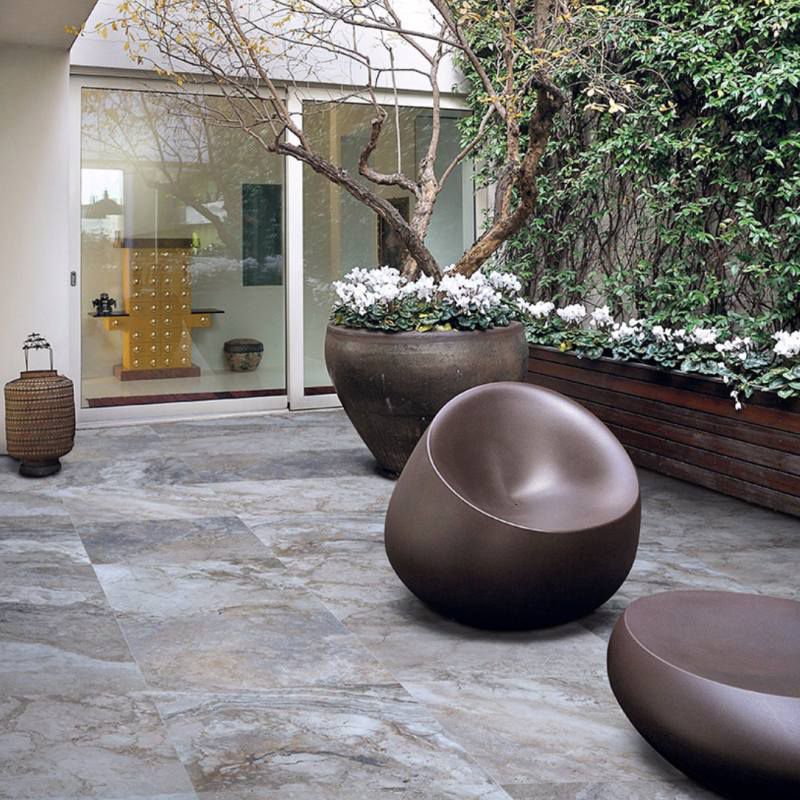 Argento Travertino Arterra Pavers
Oh, the beauty of Argento Travertino Arterra Pavers—let us count the ways. Most people would mistake this porcelain tile for natural stone any day, especially lining a back patio, front patio or porch. Just look at how the whites and grays swirl together, gracefully mimicking natural stone. Additionally, the hues lend themselves to versatility when deciding on outdoor furniture and décor. Clearly, you can't go wrong with Argento Travertino Arterra Pavers, a sure-fire top pick for people looking to install non-slip, gorgeous outdoor flooring.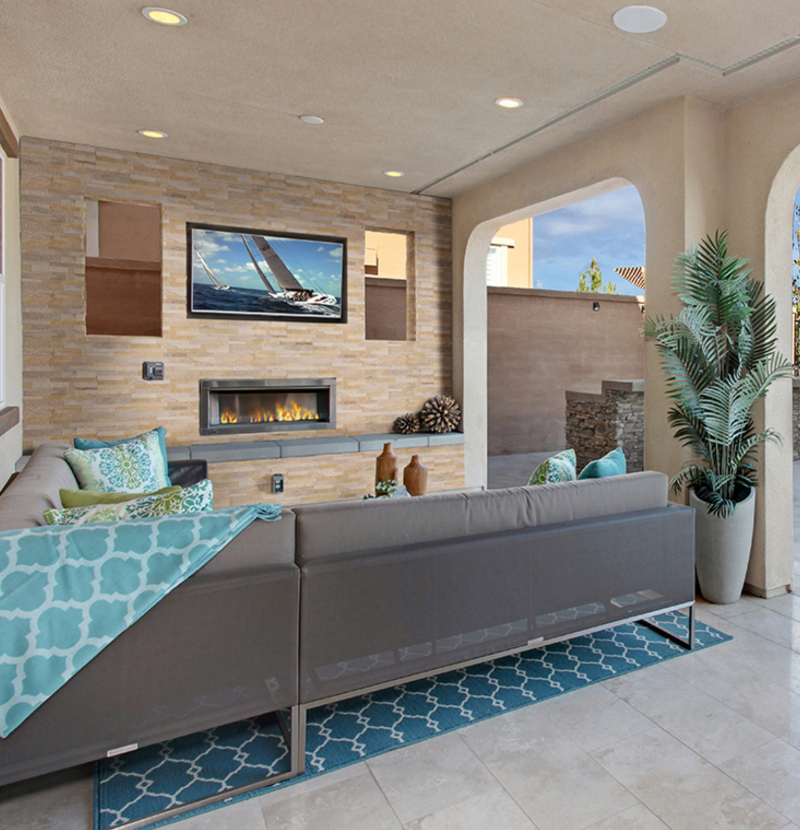 Canyon Cream Dekora Porcelain Panels
Canyon Cream Dekora Porcelain Panels will excite you with its creamy beige and gold tones, ideal for outdoor fireplaces and corresponding wall panels. It's hard not to imagine sitting on a back patio watching the sunset with a glass of wine with this particular flooring underneath your feet.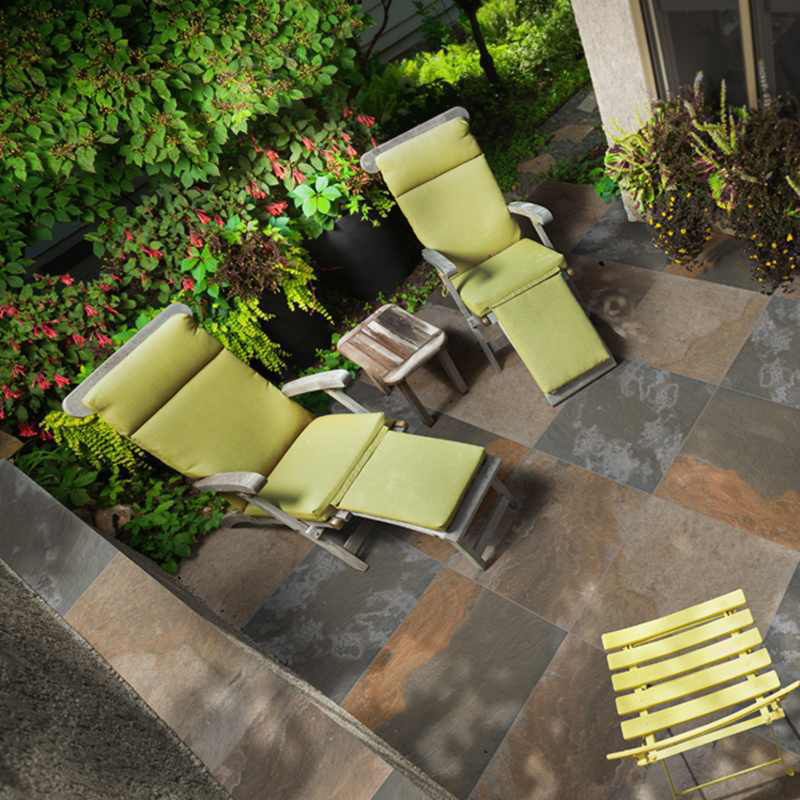 Mystique Multicolor Arterra Pavers
Mystique Multicolor Arterra Pavers bring an earthiness to this porcelain paver conversation, integrating rich browns and coppers in a natural harmony unlike no other. As subdued as it is entrancing, this design will not only brave the elements but enhance your outdoor area tenfold!
Now when we talk about outdoor use and all the advantages of porcelain pavers, we also want to consider mold and moss. After all, such growths are inevitable throughout the seasons. Thankfully, this high quality pick is also resistant to mold and moss, making cleanup and slip-ups a non-issue. Natural stone pavers can often absorb a lot of moisture, but since porcelain isn't porous, there isn't built-up moisture retained over those cold and snowy winter months. (Whew!)
As is evidenced with our aforementioned exciting MSI selections, there are so many sizes and colors from which to choose when it comes to porcelain pavers. And they aren't just for front and back patios, either—consider porcelain for entryways, driveways, pool decks, terraces and even rooftops. Installation is easy and can be applied to many different kinds of bases, such as concrete, gravel, grass, compacted sand, et cetera. Since they are lightweight, opposed to heavier natural stones, picking them up and installing them in their correct place has never been easier. (This also makes removal easier should you change your mind years down the line and opt for a different design or color!)
At the end of the day, porcelain pavers are becoming all the rage for good reasons, proving to be a viable and decorative alternative to nature stone and other flooring material. There are various sizes, shapes, colors and patterns to fit your own outdoor aesthetic, whether you're seeking something rustic and rural or elegant and urban. Clearly, the perks of porcelain continue to resonate with homeowners all across the country, particularly because they are non-slip, found at a low cost, and low maintenance so you can spend more time enjoying your outdoor space and not cleaning it.
READ MORE ABOUT OUTDOOR SPACES with PAVERS AND PORCELAIN TILE:
Alfresco Living with Our New Concerto Indoor & Outdoor Porcelain Tile Collection
Coordinate Your Indoor & Outdoor Spaces with Matching Porcelain Tile & Pavers
How to Install Arterra Porcelain Pavers for Perfect Outdoor Living