Does LVT Flooring Go Well With A Granite Countertop?
January 08, 2019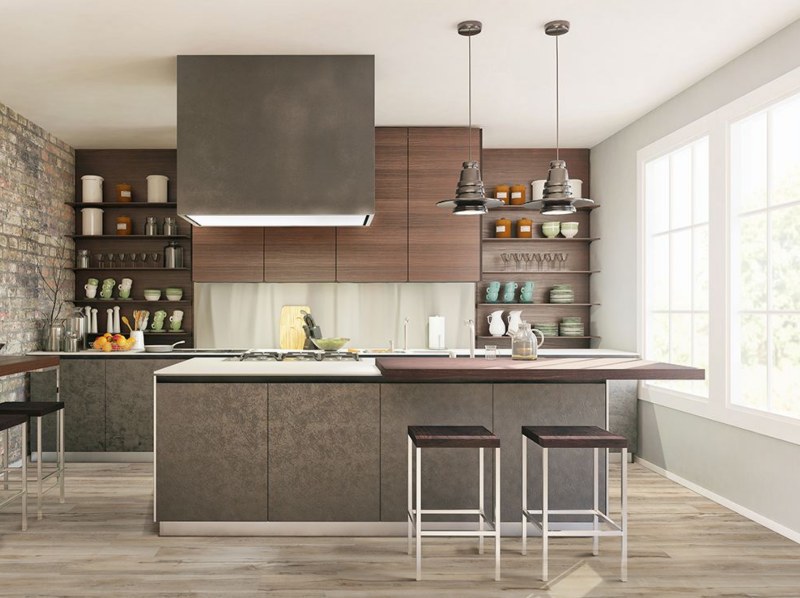 When remodeling your kitchen or bathroom, you should have fun with your design, and combining different materials, colors, and textures will help achieve a cohesive cooking space or spa-like retreat. Since countertops and flooring make up two of the three most important materials in the room, the products that you choose should compliment each other, including a gorgeous granite countertop perfectly paired with Luxury Vinyl Flooring.
Will They Clash?
Synthetic with natural materials can work seamlessly together, and you can combine granite with luxury vinyl just as you would with any type of tile. Before making any decisions on your floors, you should select your granite countertop first because it will most likely be a more costly investment in your redesign.
When looking at vinyl plank flooring, bring a granite sample with you before picking out your product so that you can compare them side-by-side. This will assist you in selecting a natural surface that won't compete with your vinyl floors. Instead, consider contrasting or pulling from one of the accent colors or flecks found in the granite countertops.
For instance, if you have white granite with specks of taupe or gold, then choose vinyl tiles that have a warmer tone to them. If you decide to go for a darker scheme for your counters or add black granite to a classic black-and-white kitchen design, then you can contrast it with a lighter beige, gray, or washed-wood Luxury Vinyl Flooring look.
It's also important to keep in mind the variations of granite and the textures of the tile. Pair stone that has a high variation with a flooring that includes more subtle knots and grains or a counter that features a more subtle design with luxury vinyl that has a more prominent wood look.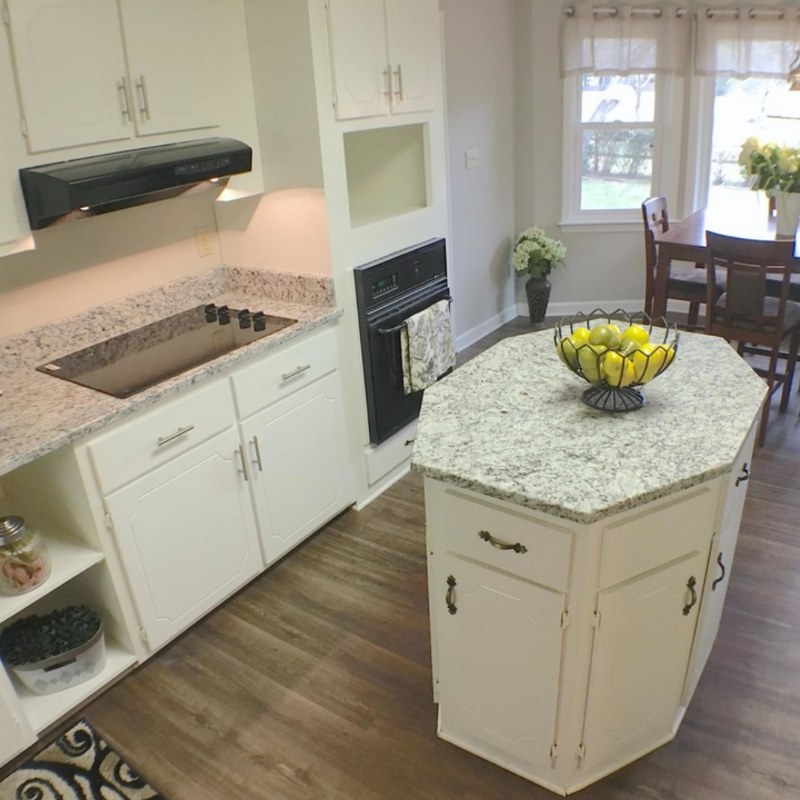 Get this look with MSI's Bleached Elm Vinyl Tiles (Photo Credit: Houzz)
Benefits of LVT
Luxury vinyl tile is an affordable flooring choice. It will transform one room to the entire house at a cost that's significantly lower than real hardwood or natural stone. While granite might be an expensive countertop option, it's still lower in price compared to other luxurious slabs like marble. But, because granite can last for decades, it's a well worth the investment. Plus, pairing these two together will help with your budget.
LVT flooring is made from extremely durable materials, as it is made to hold up to commercial use and even features flame-resistant properties, so you can expect the high-quality product to last in your home. Also, moisture isn't a problem for LVT, so it can be installed in water-prone areas like a bathroom, kitchen, or laundry room. Granite is also a durable countertop that will last for many years. The rock-hard material is only second to diamond in terms of its hardness, and it resists heat, chips, cracks, and scratches.
There isn't any hard rule about mixing man-made with natural materials. And, with the advanced technology of LVT these days, some might not even know that your tiles aren't real hardwood. Since they're easier on the budget and lifestyle needs, we think they're a perfect pair for your next kitchen or bathroom renovation!
Read More about Granite Countertops
The Straight Skinny on Sealing Your Granite Countertops | Blog
How to Prevent Etching on Granite Counters
Comparing Polished, Honed & Leathered Granite Countertop Finishes
Granite Countertop Edge Selection for the Win
READ MORE ABOUT GRANITE COUNTERTOPS
Colors Of Granite - Creating Your Own Color Scheme
Comparing Marble And Granite Countertops
Comparing Polished, Honed, And Leathered Granite Countertop Finishes