Current Obsessions: How To Pair Natural Stone With Engineered Quartz Countertops
January 28, 2018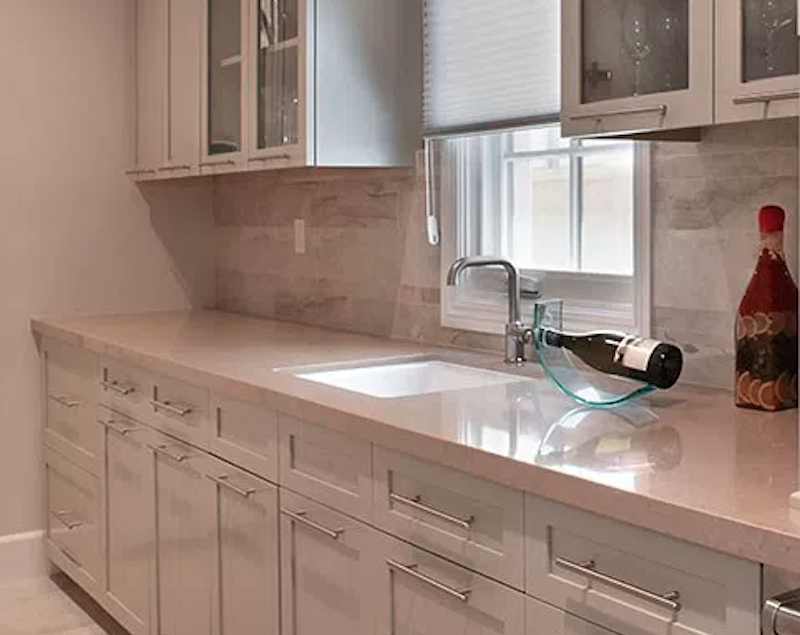 The best designs are all about mixing things up and combining unexpected textures, colors, and styles. You may love the look of natural stone but long for the ease of maintenance and durability of quartz. There are no rules saying you can't have both!
Dress up your contemporary quartz countertops with a marble tile backsplash, or add some rustic charm with stacked stone accents. The possibilities are endless with MSI's abundant quartz and stone offerings. We'll go over a few examples and guide you in selecting your own custom combo of materials for a look that is uniquely you.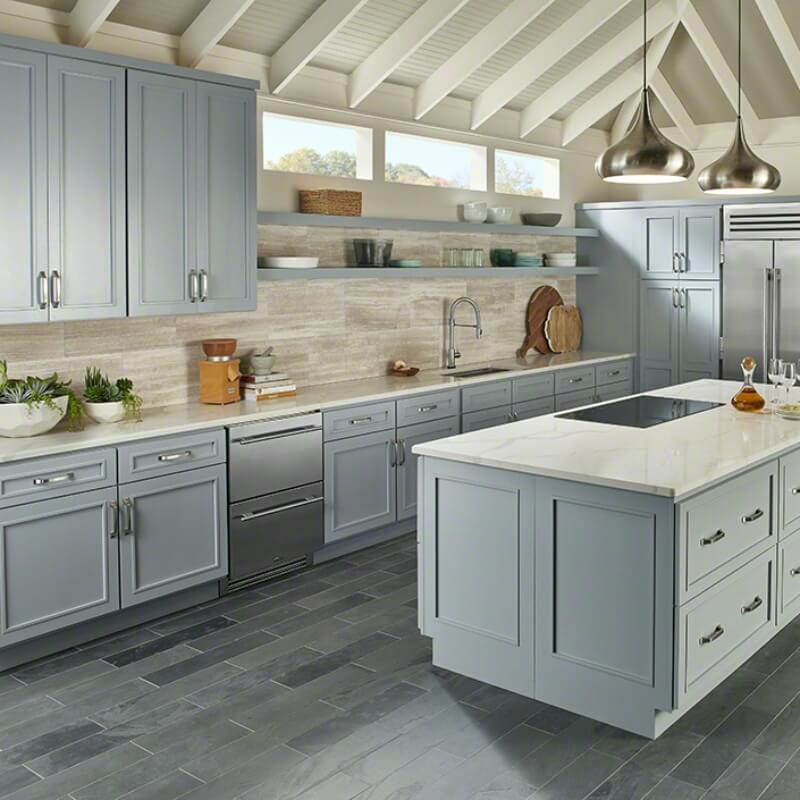 Featured: Calacatta Classique Quartz countertops with Montauk Black Slate flooring
Marble is one of the most sought after materials in home decor, but this luxurious surface isn't appropriate for every application and often comes with a hefty price tag. Quartz that looks like marble, such as Calacatta Classique Quartz from MSI, allows you to indulge in the rich look of natural stone countertops without sacrificing durability or blowing your budget. The bold charcoal veining of Calacatta Classique pairs perfectly with the monochromatic ebony and dark grey palette of Montauk Black Slate flooring tiles for a look that is sophisticated and on-trend.
If you've been dreaming of quartz countertops that look like carrara marble, your dreams have been realized with the elegant Carrara Marmi Quartz from MSI. This cool white quartz featuring a delicate soft grey veining pattern is instantly transformed with the addition of Luxe Interlocking 8mm Mosaic wall tiles. The unexpected pairing of rustic stacked stone with smooth quartz countertops adds texture and charm. Aside from the benefit of an affordable quartz countertop cost, Carrara Marmi will stay clean and bright white thanks to the stain and bacteria-resistant properties of quartz.
For a classic look with a contemporary twist, try pairing dynamic Greecian White Opus Marble Mosaic tile with Calacatta Vicenza Quartz countertops. All-white kitchens never go out of style, but the addition of this marble mosaic backsplash tile with it's mixed finishes and random pattern give this look a shot of modern glam.
Another reason to consider quartz vs. granite or other countertop materials is the variety of choices available. Quartz allows you to design your kitchen with confidence knowing you can have a specific color or pattern for your countertops. A perfect example of this is rich, chocolate brown Lagos Azul Quartz which looks magnificent with traditional Crema Marfil Marble flooring tiles. Quartz countertops have a wide variety of colors and styles to choose from, and you can be assured you won't have random color variations or a lack of veining in your slab.
With so many quartz countertops to choose from, you can easily find a stunning slab to complement any material on the market. Just take a look at these creamy Almond Roca Quartz countertops paired beautifully with MSI's Arabescato Carrara 2x4 Marble Subway tiles.
There's no need to be afraid of mixing and matching home decor styles, especially when the results look like this! For more inspiration for your eclectic home, read on here or take a look at our quartz countertop colors.
Read More About Quartz Countertops Designs and Trends:
Top 5 Reasons Interior Designers Love Quartz
The Essential Guide to Picking a Quartz Countertop Color
7 Quartz Countertop Kitchens with Casual Elegance
How to Design a Bright Kitchen with Black and Gray Quartz Countertops
Fresh Waterfall Edges for Quartz Countertop Islands
How Thick Should My Quartz Countertop Be?
Looking Back: 2018 Quartz Countertops Trends