Current Obsessions: 7 Quartz Countertop Kitchens With Casual Elegance
September 13, 2018
Television design programs and magazines often highlight over-the-top glam kitchens that are beautiful but simply don't mesh with most lifestyles. After all, a kitchen is probably where you start the day, and often where you end it. It is the hub of activity; where you cook (and often eat) your meals, gather with friends, and set the kids up to do their homework. With the amount of abuse the average kitchen takes, the idea of a museum-like kitchen can be off-putting, and frankly, too delicate for active lives.
When it comes down to it, most of us want a kitchen that is durable, easy-to-clean, welcoming…and beautiful! The good news is that high-end looks don't have to be stuffy or cold; in fact, they can be warm and inviting, particularly when you include a beautiful quartz countertop in your design. Quartz colors span the gamut from traditional and realistic natural stone looks to more contemporary low-variation colors with sparkles or flecks. Bottom line? There is sure to be a quartz countertop that perfectly captures the overall feel you want to create.
Planning a kitchen makeover is fun, and there are plenty of great ideas on how to upscale your kitchen cabinets to complement a new design. For example, tired cabinets can be given new life with a fresh coat of a paint. For homey elegance, these homeowners chose jet black lower cabinets, a white subway tile backsplash, white upper cabinets, and a beautiful Pacific Salt quartz counter. Adding to the charm in this kitchen are the open shelves, but what really makes this kitchen the epitome of family-friendly casual elegance is the chalkboard paint on the upper cabinet.
Here is another kitchen that employs shades of gray, white, and black to create an inviting kitchen. The dove gray perimeter cabinets with their pale counters are partnered with a contrasting white island cabinet, topped with popular dark quartz color Shadow Gray. The resulting kitchen design has an upscale cottage feel. Adding to the character of this charming kitchen are the bold statement lighting pendants, wooden market crates of fresh fruit and accessories, and pops of yellow and green. Anyone who walks into this kitchen will immediately feel comfortable and at ease.
Visually, there is just something about having a contrasting kitchen island that adds a relaxing vibe. In this traditionally styled kitchen, the homeowners choose a beautiful marble-look quartz to complement their traditional kitchen design. Natural marble is undoubtedly one of the most luxurious materials on earth, but it does require special care and cleaning, making it not ideal for every home. In contrast, our realistic looking Carrara Grigio quartz countertop is safe for active homes where juice and wine are spilled, Easter eggs are dyed, and science projects are created.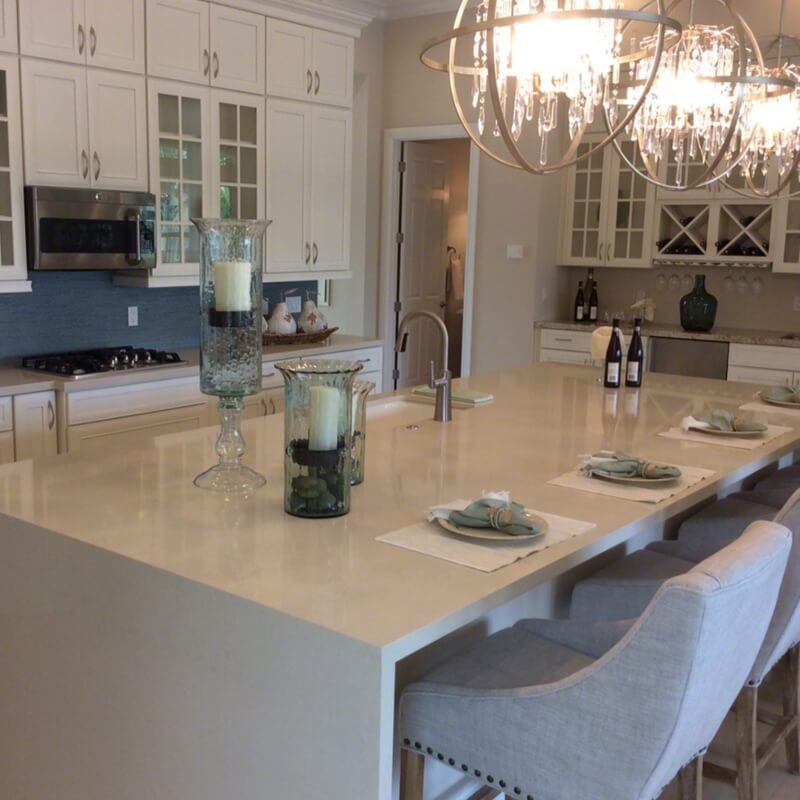 Get this look with MSI's Hazelwood Quartz (Photo Credit: Houzz)
When creating a kitchen design, success is all about achieving balance. In this transitional design, the white cabinetry and two contrasting backsplashes create a casual, welcoming feel. A stark white countertop or black countertop would have been beautiful yet formal in the space, but this homeowner's choice of Hazelwood quartz, with its soft taupe tones, is truly inspired. Striking crystal and stainless-steel light fixtures add a touch of glam over the expansive waterfall kitchen island, and glass-doored cabinets contribute to the drama.
If your design aesthetic leans more towards the contemporary edge, quartz counters are also a perfect addition to your project. Our Q Premium Quartz is designed to capture natural stone beautifully and engineered to last a lifetime. The sleek lines of the cabinetry in this kitchen island are the perfect home for a bit of pattern and texture, here provided by the beautiful quartz color Gray Lagoon. While it may have been tempting to use a solid white quartz countertop on this island, the result would have been much more museum-like and formal. In contrast, this natural stone looks introduces some much-needed warmth and texture to the design.
That being said, white quartz counters can be a striking addition to many designs. In this contemporary kitchen, the expansive Arctic White quartz countertop—with no pattern, sparkles, or veins—is the perfect canvas to support the beautiful and warm hardwood cabinetry and trim. Adding a touch of elegance are the marble-look backsplash and beautiful tile flooring, both uniting to soften an otherwise stark design.
This next modern kitchen oozes casual elegance with its two waterfall kitchen islands. With beautiful Marbella White quartz countertops, stunning flooring and backsplash, this kitchen invites conversation and simply hanging out. The subtle pattern in the quartz countertops and flooring, along with warm horizontal wood grain on the islands keep this design from leaning toward cold and merely trendy; instead, this comfortable design is a light-filled gathering place where elbows on the counter won't be frowned upon.
Whether you are designing your dream kitchen for a new-build, rehabbing your existing kitchen, or doing an upgrade before selling your home, take into consideration the look and feel you want your kitchen to have. If you want low-maintenance surfaces to care for that are also durable, Q Premium Natural QuartzÔ from MSI might just be the best option for you. From traditional to modern, there is a quartz color in this collection that will complement your design perfectly!
Read More About Quartz Countertops Designs and Trends:
How to Pair Natural Stone with Engineered Quartz Countertops
Top 5 Reasons Interior Designers Love Quartz
The Essential Guide to Picking a Quartz Countertop Color
How to Design a Bright Kitchen with Black and Gray Quartz Countertops
Fresh Waterfall Edges for Quartz Countertop Islands
How Thick Should My Quartz Countertop Be?
Looking Back: 2018 Quartz Countertops Trends