Current Obsessions: Opposites Attract With Quartz Countertops
April 26, 2016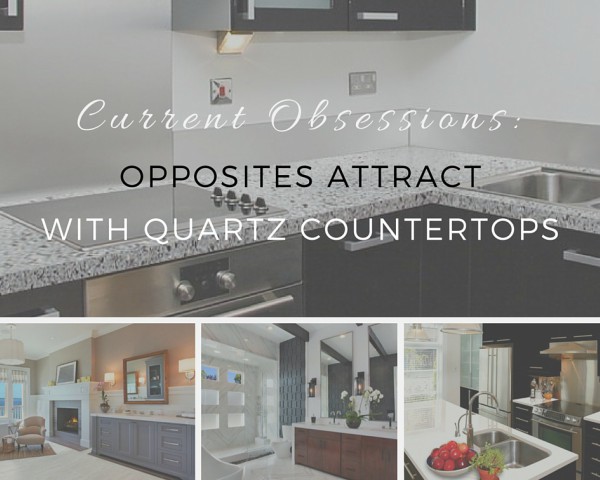 Quartz countertops are a top choice when you're looking for elegance and durability. Quartz is engineered to give years of low maintenance beauty with a finish that pairs beautifully with a variety of other stones and accents. While matching the countertop color to the rest of the decor creates a serene look, why not consider a contrasting quartz color to achieve a bold, designer statement? Browse our tops picks in contrasting, but complimentary kitchen and bathroom designs featuring Quartz and see for yourself that opposites really do attract.
Pietra Calacutta Porcelain Tile and Arctic White Quartz Vanity Top
In this bathroom, walnut vanity cabinetry is framed by the sleekness of Arctic White Quartz. The marble-look of Pietra Calacutta porcelain tile on the floor and shower walls is arranged in a unique herringbone pattern that adds subtle movement to the sharp lines in the rest of the design. The high sheen countertop and tile are complimented with a black matte geometric accent and black ceiling beams.
Arctic White Quartz Vanity Top
The bright white color of Arctic White Quartz with dark cabinetry gets a slightly different look when paired with neutral color flooring. While keeping with the modern look with contrasting colors and linear hardware, this bathroom is warmed with Do not be afraid to go dark with the cabinetry the mottled white and beige flooring that perfectly blends the décor together. Add greenery for an accent of color and the open-aired bathroom is complete.
Arctic White Quartz Countertop and Island
Arctic White Quartz also works great as a kitchen countertop for its durability and beauty that fit into effortlessly with any décor. The classic saying of "opposites attract" is especially visible in this designer statement kitchen that uses a bright white countertop to give the illusion of a larger kitchen. With the money you saved with the smartly priced quartz countertop, you can afford to splurge a bit more on stainless appliances and hardware to complete the upscale look.
Carrara Grigio Quartz Countertop and Calacatta Gold Marble Floor
As with the Carrara Marble that this quartz is named for, a Carrara Grigio Quartz countertop is all about elegance. This quartz has soft gray veining running throughout making it especially appealing sitting atop a gray painted vanity. Stylize the room by dressing the floor in Calacatta Gold Marble as a complement to the Carrara Grigio Quartz. This sophisticated Italian marble tile features white with veining in golds, browns, and grays. Accent the marble floor with marble borders in a contrasting brownish gray to tie the took together, and finish with walls in a golden beige.
Cascade White Quartz Countertop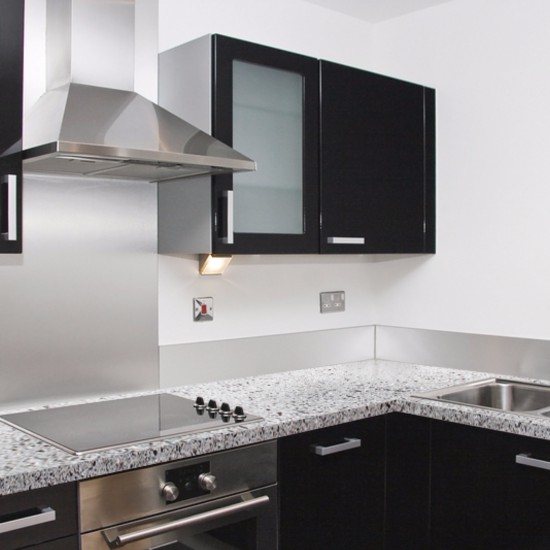 Featured: Cascade White Quartz
A countertop in Cascade White Quartz makes a design declaration all on its own. This quartz has a look of impressive depth with the blending and layering of neutral colors in gray, taupe, and creams. This simple kitchen is a standout with black enamel gloss cabinetry and brushed stainless backsplash. Achieve the smooth elegance with matching stainless steel match sink and appliances and the contemporary and contrasting kitchen is complete.
Unlike natural stones of granite and marble that must be maintained to keep looking beautiful, quartz is a manufactured stone made to withstand the daily needs in the kitchen and bathrooms. This man-made engineered stone comes premade slabs that can be cut to size to use for countertops. For more ideas on how to make a statement in white quartz, visit our online design gallery.