Can Heat Damage My Quartz Countertop?
May 12, 2021
After spending countless hours planning every last detail of your kitchen remodel, you want to be able to enjoy its beauty for years to come. The last thing you want to deal with is damage to your quartz countertop, which is why you chose a countertop material known for its durability — including heat resistance. But how heat-proof is your quartz countertop? Can its appearance become blemished if you leave a hot pot on the counter for too long?
To ensure your quartz countertops offer endless beauty for you and your family to admire, let's take a look at how heat-resistant quartz is and the steps you can take to prevent damage from heat.
Are Quartz Countertops Heat Resistant?
When scouring the Internet for information on different premium surfaces such as quartz vs. granite, durability was probably high on your list — especially for kitchen countertops. You needed counters that can stand up to your family's everyday wear and tear. That's likely why you decided to install quartz countertops in your kitchen design.
Quartz countertops are extremely heat resistant. However, they can only withstand heat up until a certain threshold. During the countertop's fabrication process, the quartz slab is cured at temperatures of about 180 degrees Fahrenheit. This curing process allows the countertops to develop a resistance to stains, chips, abrasions, and heat. Once installed, you can expect your quartz countertops to withstand heat up to about 300 degrees Fahrenheit. If exposed to temperatures above this range, the resin binders within the quartz slab can change their chemical state — often impacting the color of the quartz.
While your countertops are built to last, repeated exposure to heat can lead to eventual damage. Damage can range from cracks in the surface to discoloration. That's why it's important that you and your family take precautions to keep your natural quartz countertops looking as beautiful as they did the day they were installed.
How to Protect Your Quartz Countertops from Heat
With heat-resistant, durable countertops, there's little for you to worry about when it comes to maintaining their appearance. But that doesn't mean you shouldn't take precautions to prevent damage from occurring. Although wiping down your quartz countertops with quartz cleaner will keep them looking shiny and new, there are a few quartz countertop care and maintenance tips you can follow to proactively protect your counters from heat damage.
Place Hot Pots & Dishes on Trivets
Life in the kitchen can be pretty hectic. Your evenings may involve helping your children with their homework, cooking a meal for the family while also tending to your dog, who seems to want all your attention. With so much going on, it can be easy to get distracted and place a hot pot directly on the countertop after straining your pasta. Although a hot pot left on the counter for a short period may not cause visible damage, it can damage the resin within the countertop.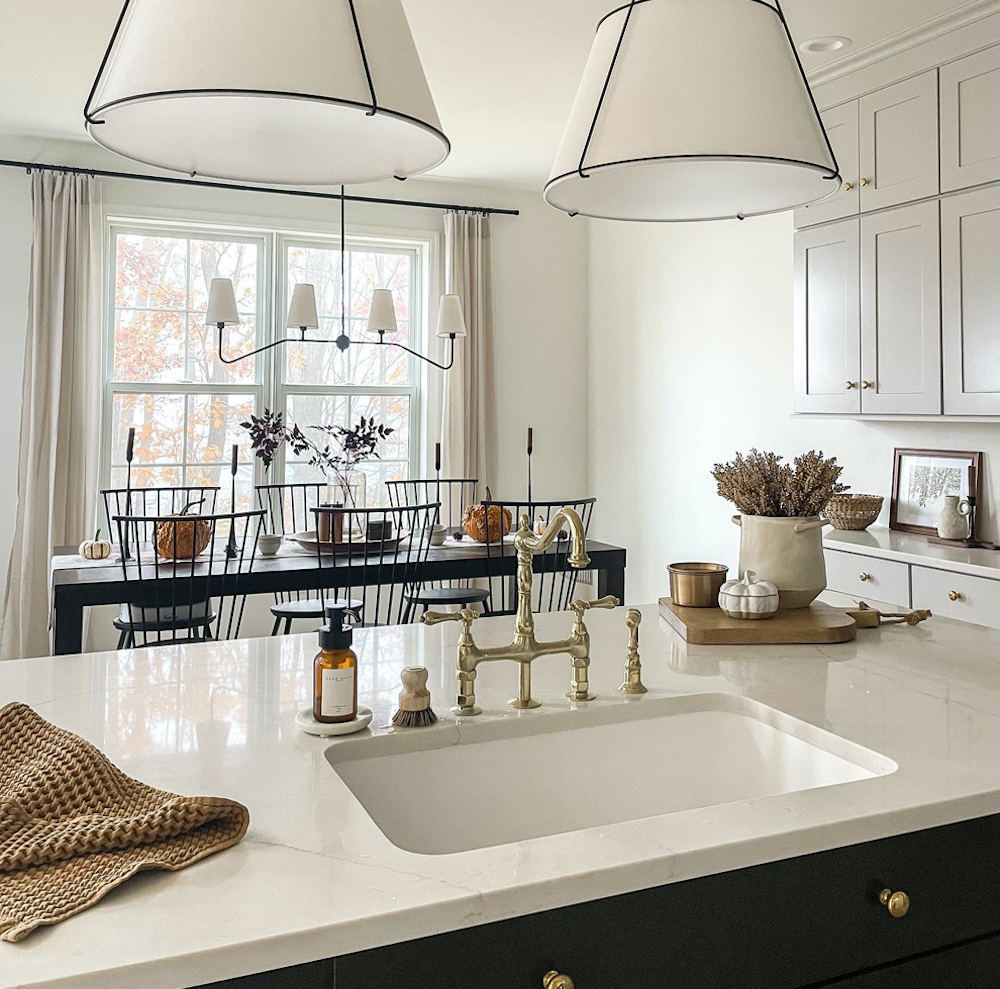 Photo Credit: @piperjames.com on Instagram
To prevent the possibility of heat damage, you should always place hot pots, pans, baking sheets, and dishes on trivets or hot pads instead of laying them directly on the countertop. In doing so, you'll be protecting your quartz countertops from the excessive heat that can result in discolorations or cracking. Instead, allow pots and other hot dishes to cool on your stovetop before placing them on the counter.
Use Coasters When Possible
Although you're likely not drinking coffee at 300 degrees Fahrenheit (ouch!), it's a good idea to treat all hot dishes as if they could cause damage to your quartz counters. Instead of risking the change of heat damage, keep a few coasters somewhere on your kitchen countertops that are easily accessible. That way, you can reach for a coaster to place your morning coffee on while you finish heating up breakfast for the family.
Install High-Quality Quartz
From your research, you know that engineered quartz is a durable countertop option. While all quartz undergoes a similar process when being turned into countertop slabs, certain quartz offerings use higher quality ingredients than others that better protect against heat damage, discoloration, and cracking. It's important to not only research the type of countertop you want but find a reputable countertop provider that offers the highest quality quartz countertop colors and patterns on the market so you never have to worry about possible damage.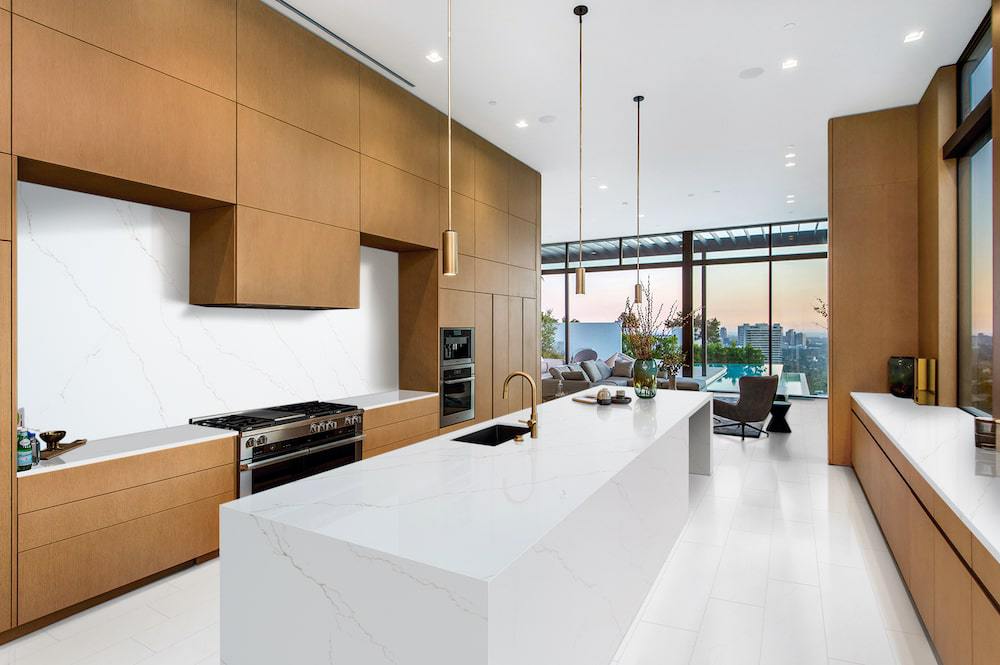 Calacatta Miraggio Gold Quartz
Protect from the Sun
Did you design the layout of your kitchen based on the best way to feature natural light? If your kitchen gets a lot of sunlight throughout the day, you may need to be a bit more mindful. Although the heat from sun exposure isn't enough to cause noticeable heat damage to the surface of your quartz countertops, it can impact their appearance over time.
Repeated exposure to the sun can duller or discolor your quartz countertops, leaving you with countertops that vary in color throughout the kitchen. When the natural light isn't flowing into the room, there may be a noticeable color difference on the portion of the slab that is usually in the sunlight. If you have a sunny kitchen, consider hanging curtains to block some of the sun's rays during the day and reduce the amount of sunlight exposing your quartz counters to heat.
Watch this video for a few additional tips on how to care for premium natural quartz:
How to Fix Heat Damage on Quartz Countertops
You may have already noticed some damage to your quartz countertops. If you've noticed some discoloration or a scorch mark, the first step you should take is to clean your counters with mild soap and warm water. Rub the impacted area to remove the scorch mark, being mindful not to scratch the surface by rubbing too vigorously with an abrasive material.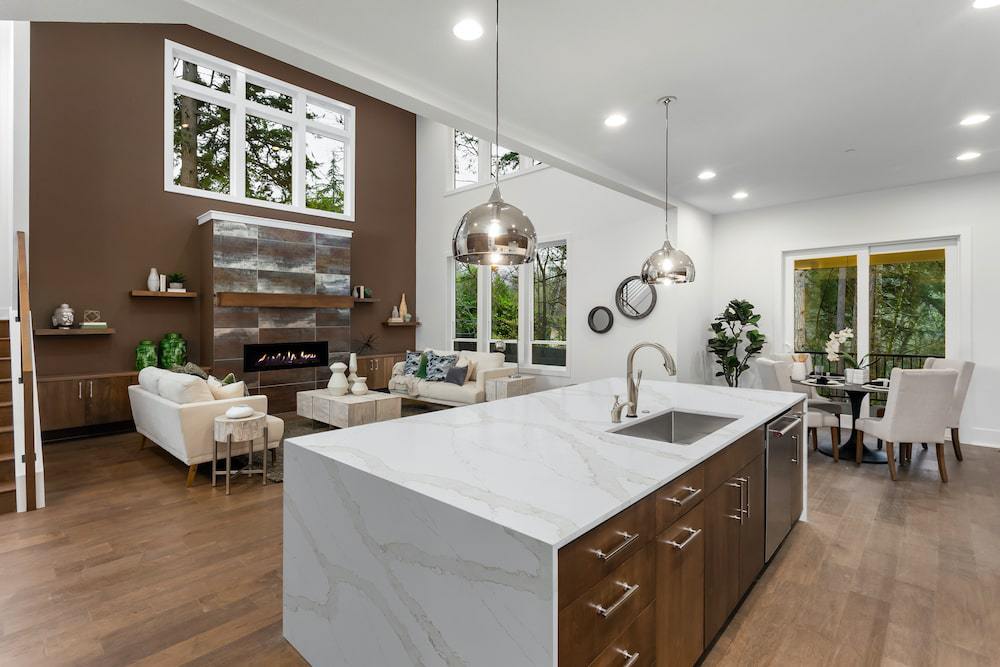 Calacatta Goa Quartz
If soap and water don't do the trick, create a mixture of baking soda and water and slather it onto the affected area. Allow the mixture to sit on the area for a few minutes before lightly scrubbing it off.
Sometimes the damage is too deep, and these methods won't lessen the appearance. In this case, you may need to call in a professional for assistance, or you can opt to cover the damaged area with a decorative element or stationary chopping block. Have more questions? Chat with us online, visit an MSI showroom, or an MSI authorized dealer near you.
More on Quartz Countertops
7 Modern Quartz Countertops for the Perfect Contemporary Kitchen
How to Choose the Right Backsplash Tile for Your Quartz Countertop
The Most Popular Quartz Countertop Trends for White Kitchens
When to Choose Prefab Quartz Countertops