Current Obsessions: How To Add A Modern Element To Your Kitchen With Quartz Countertops
December 02, 2017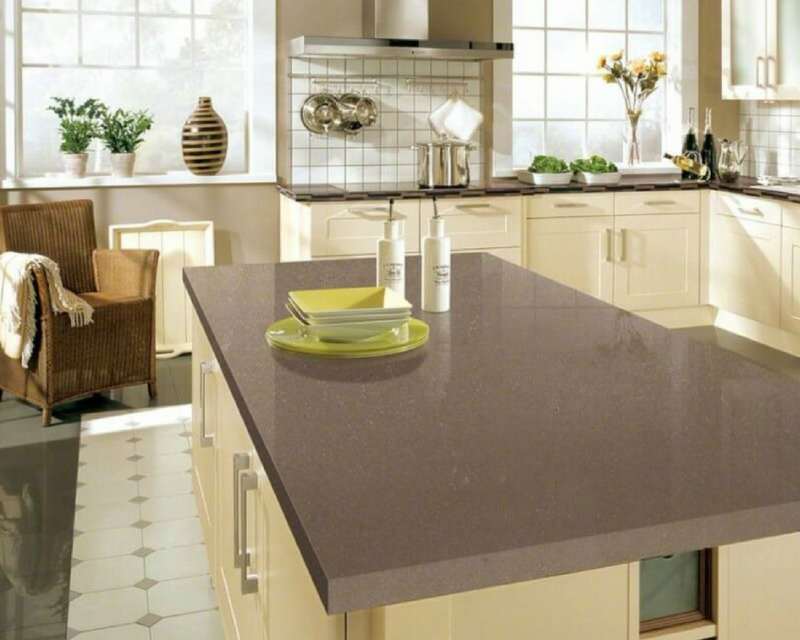 Nailing modern home décor isn't always easy, especially if you're a homeowner new to the contemporary style. However, if you can first decide which modern elements are most essential to your aesthetic, it will help you get the overall look you want. And when it comes to your modern kitchen dreams, the countertop is the pivotal piece! A quartz countertop is the natural choice for modern homes because the engineered stone's clean lines provide an instant contemporary look and feel. The manufactured material is composed of natural quartz with resins to create a smooth finish. Quartz also comes in a wide array of colors and designs, so you can be sure to find something that suits your taste. Plus, this durable product won't scratch or stain, and doesn't need to be sealed. However, in the end, seeing is believing! With that in mind, here are a few of our favorite quartz countertop colors featured in modern kitchens.
Mystic Gray
White kitchens are on trend, but they can be boring if not done right. This gorgeous white and gray cooking space features white shaker cabinets topped with Mystic Gray Quartz. The mid-tone gray countertop with subtle dark specks is the perfect match for a contemporary space full of stainless steel appliances and accessories. The maintenance-free material provides just enough contrast, while still keeping the overall look light.
Sparkling White
Don't be afraid to add a little razzle-dazzle to a modern kitchen. These homeowners opted for some sparkle for their sleek and glossy modern cabinetry by installing Sparkling White Quartz. This stunning countertop features icy specks mixed throughout the white background. The shiny reflections banish any hint of a sterile environment by infusing the design with beauty, dimension and elegance.
Iced White
Soften up a gray kitchen with quartz in Iced White Quartz. The calming whites with gray accents create a soothing pattern that is both subtle and small in scale. That's important here, because it adds interest to this modern kitchen without competing with the busier glass tile backsplash featured behind the stove.
Calacatta Classique
Calacatta Classique Quartz looks just like natural calacatta marble, so you can have your cake and eat it too. This showstopper includes clean white quartz with stunning strike-through body veining in a durable and maintenance-free material. The white quartz countertops pop nicely against the dark brown cabinetry, and the oversized veining gives a more modern vibe than a traditional natural stone would.
Calacatta Taj
If you want to infuse warmth into your contemporary kitchen, consider Calacatta Taj Quartz. Its rich, creamy coloring and delicate brown veining create a sense of sophistication that will elevate any modern design. In this kitchen, the quartz countertops highlight the white cabinetry and accent pieces.
Quartz countertops continue to gain in popularity—especially with busy, active families—because they provide homeowners with modern style and virtually no maintenance. Not to mention that it's a cinch to incorporate an important modern element into your cooking space using quartz. MSI offers a wide range of quartz options, including quartz that looks like marble. Still browsing? Check out even more family-friendly chic home ideas and get inspired!
Read More About Modern Quartz Countertops:
Monochromatic Quartz Countertops for a Modern Design Scheme
The Five Essentials of Modern Bathrooms With Quartz Countertops