Tips From The Trade: Add Instant Value To Your Home
August 12, 2021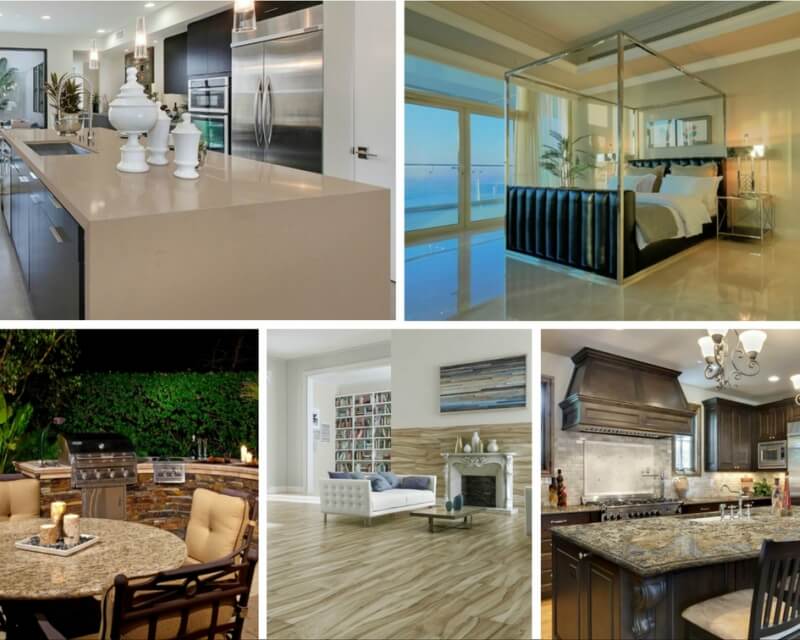 When it comes to home design, styles come and go. But when you choose premium surfaces from MSI, you'll have a high quality foundation that provides long-lasting value.
Sometimes the worth comes from the actual product itself, as with marble and granite countertops. Other times, the value comes from having a beautiful product with a functional design, as with quartz countertops or porcelain flooring.
So whether you're flipping a home or renovating it to your personal liking, you can add instant value to your residence with these five ideas.
#1. Gorgeous Granite Countertops
Featured: Caravelas Gold Granite
Granite countertops are one of the most popular choices for kitchen renovations because they last much longer than other materials. This natural stone not only adds beauty and function to your cooking space, but also offers a one-of-a-kind look, since no two slabs are the same.
You can expect the value of your home to rise with a luxurious surface like Caravelas Gold Granite. This dramatic granite mixes soft creams with warm browns and cool grays, for a countertop with a lot of movement. The colors complement the dark wood cabinets, cream backsplash, and stainless steel appliances in this traditional kitchen. The material and edging adds elegance and sophistication to the overall design.
#2. A Lux Outdoor Living Space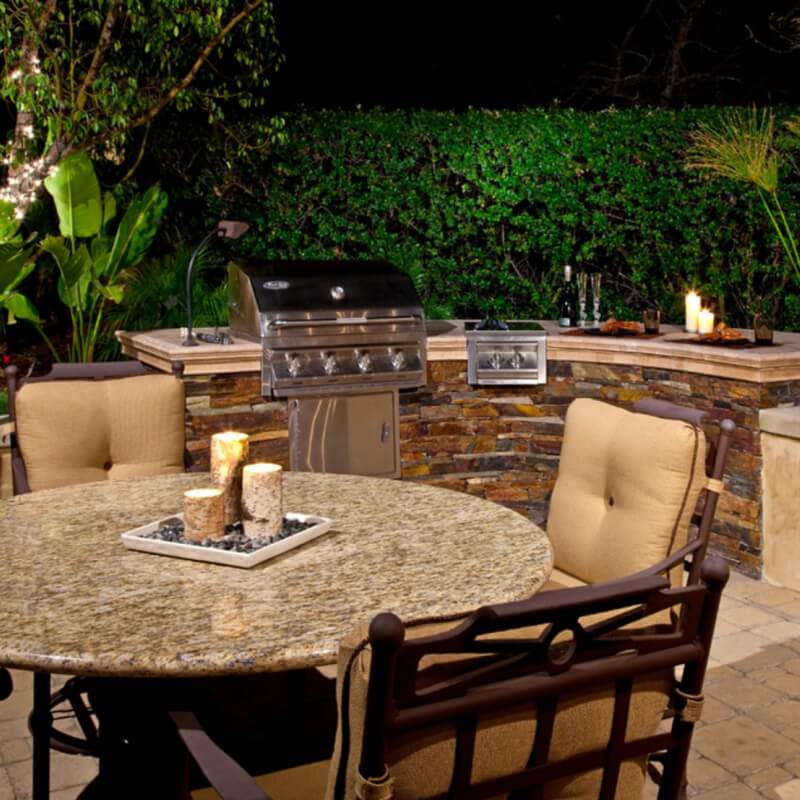 Featured: Juparana Persia Granite
To make your home feel ultra lux, bring gorgeous natural stone materials into the great outdoors. This space includes durable materials that will stand the test of time, and it also provides additional living space. The built-in kitchen is clad in rich stone, while the thick countertops include intricate details with the edging.
Why limit granite to the counters, when you can have a beautifully designed and unique table? This outdoor dining table is made of Juparana Persia Granite, a gold, white, and gray granite from Brazil. Granite is easy to maintain and can handle freezing temperatures, so you won't have to think twice about installing it outdoors.
#3. Marble in the Master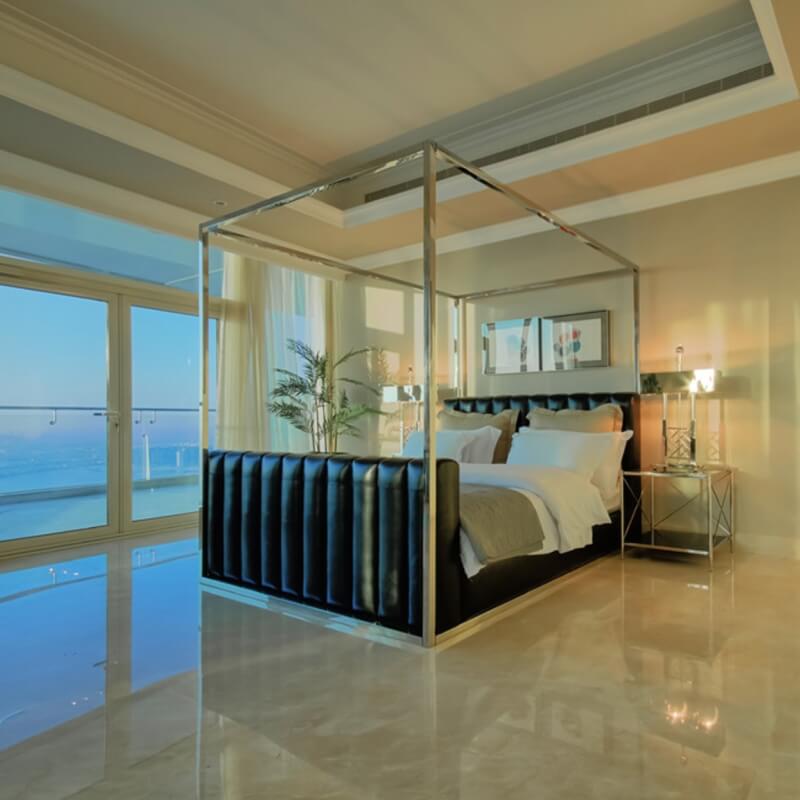 Featured: Crema Marfil Classic Marble
If you're after a hotel-inspired master bedroom design, then ditch the carpet or hardwood for magnificent marble! The soft, subtle blend of golds and beiges in Crema Marfil Classic Marble allows the light to bounce around the room.
The shiny surface reflects the metal furniture and accessories, and also brings in the lovely reflection of the spectacular ocean view. No ocean view? That's okay, because this marble floor will beautifully reflect your artwork and other design elements as well.
#4. Hard Surface Flooring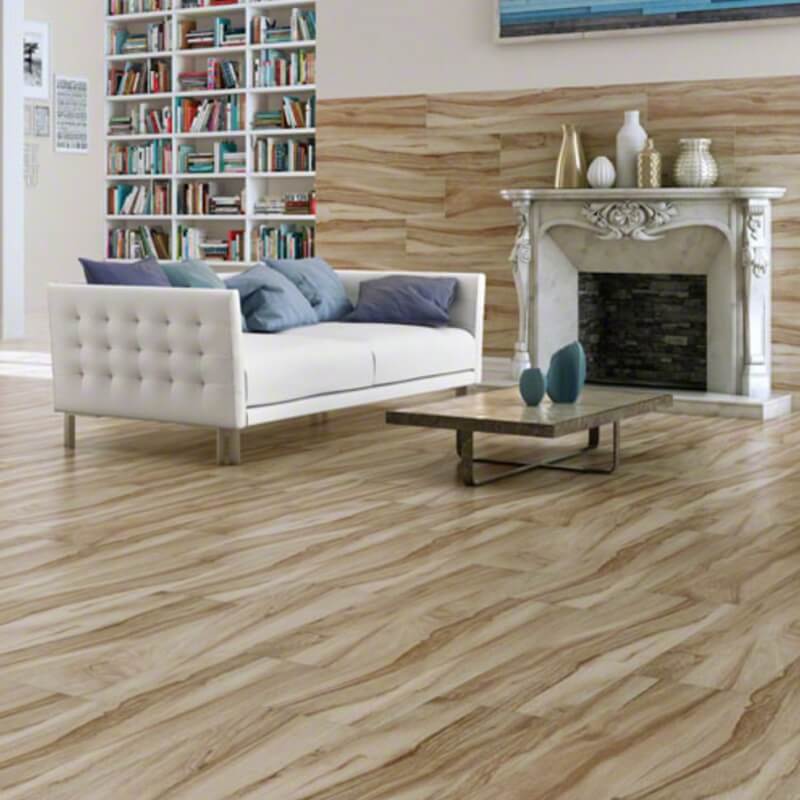 Featured: Aspenwood Amber Porcelain Tile
Hard surface flooring is much easier to keep clean than carpet, but you don't have to opt for laminate or hardwood to get the high-end look you're after. With Aspenwood Amber Porcelain Tile, you can have the style of elegant wood, with the cleaning ease of porcelain.
This wood look tile features beige tones that contrast with darker tones, mimicking the knots and grains of natural hardwood. It's an attractive option that offers both beauty and long-lasting quality and durability.
#5. Neutral Colors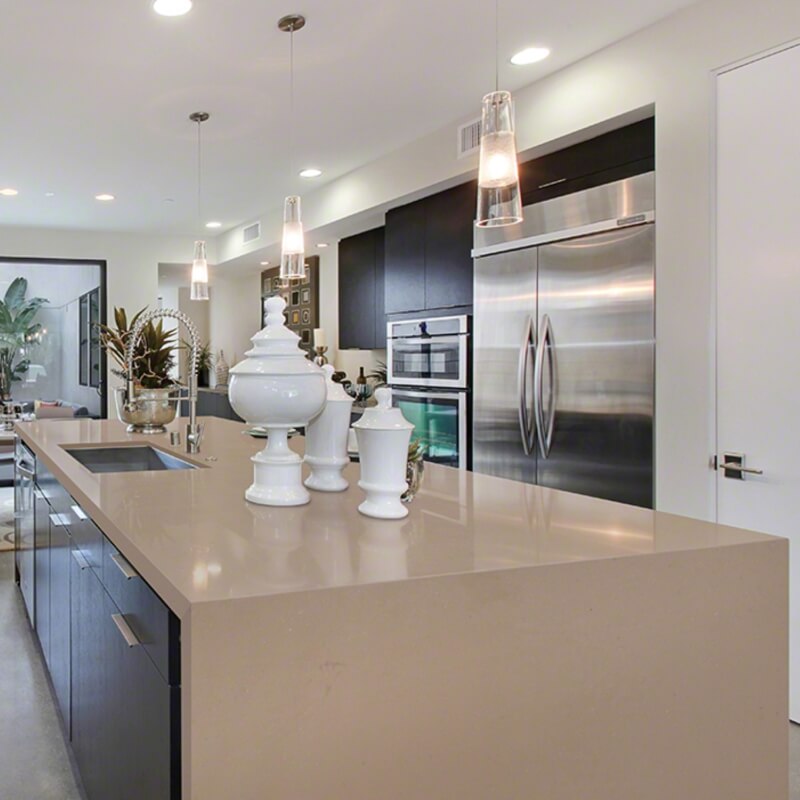 Featured: Fossil Taupe Quartz
When it comes to choosing a color palette for your renovation or flip, go with neutrals to attract more prospective buyers. Not only will they consider the colors, but they'll also pay close attention to the materials used. For example, this wonderful waterfall island makes a lasting impression, and the quartz countertops mean this surface is super low maintenance.
The Fossil Taupe Quartz is a mid-tone taupe with tonal specks to add a bit of interest. Its timeless colors will also work well with any design style, from contemporary to traditional.
Learn More about Granite vs. Quartz
How to Choose Between Granite and Quartz Countertops
Can't Decide Between Granite and Quartz? Choose Both!
5 Ways Waterfall Edge Marble, Granite, or Quartz Countertops Rock
5 Inspired Solid Slab Granite, Marble or Quartz Backsplash Ideas