Forget Laminate! Get The Real Deal With Granite Countertops
October 11, 2017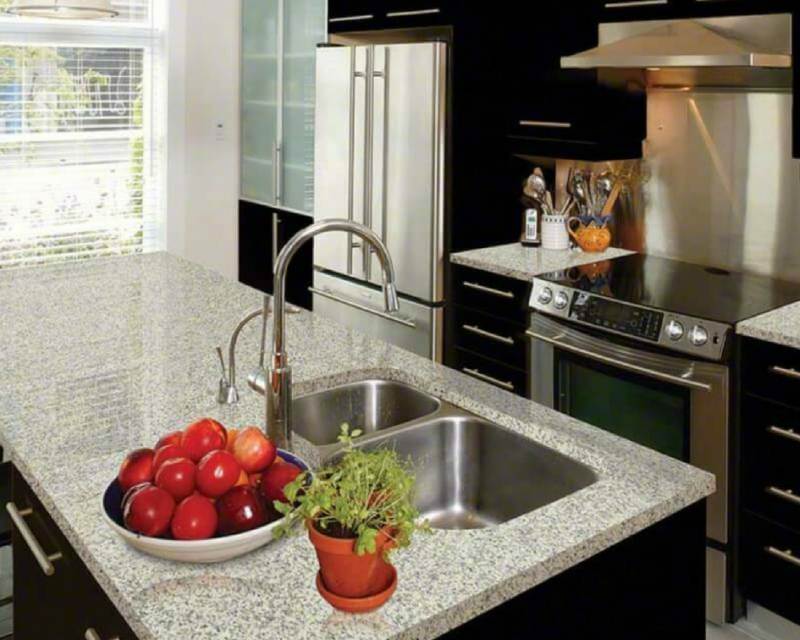 For the rich and famous, the sky's the limit when it comes to home renovation – and kitchen countertops. For the rest of us, though, there's a budget. It's not easy to navigate a limited budget, deciding where to compromise and where to splurge.
In situations like this many people choose laminate countertops. They're just as good as the real thing, right? We think not. When it comes to your kitchen countertops, there's no substitute for natural granite countertops.
Here are just a few of the benefits of real granite countertops, vs. Laminate:
• Granite's natural variation and depth of patterning
• Granite increases home resale value, while laminate only offers perceived value
• Granite is exceptionally durable with a very long life expectancy
• Granite resists scorching, scratching, warping, nicks, and stains
• Under-mount sinks can be installed with granite, but not with laminate
Colonial White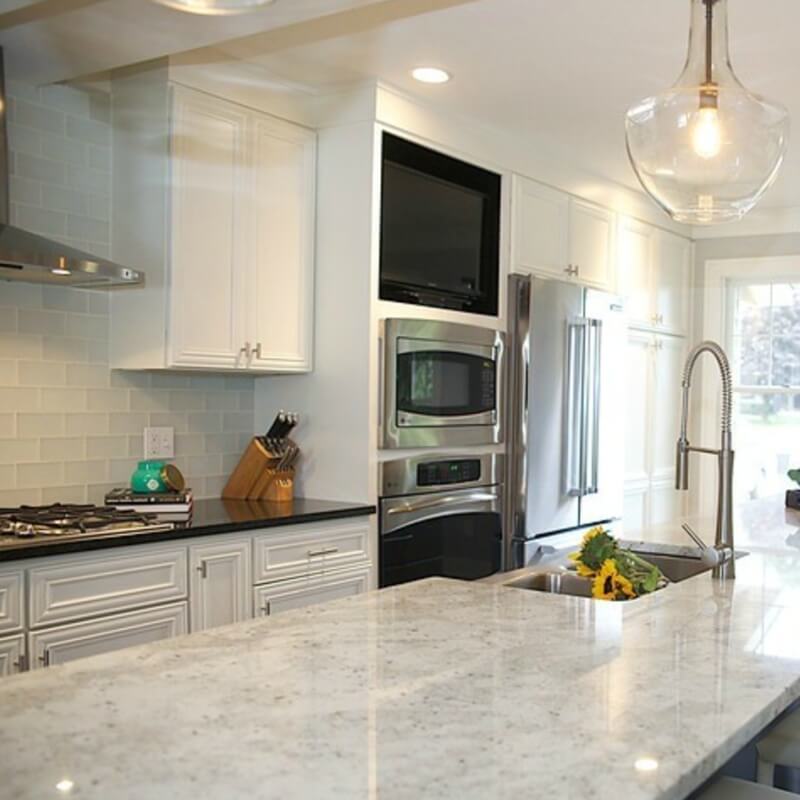 Recreate this look with MSI's Colonial White Granite (Photo Credit: Houzz)
One of the reasons granite countertops are valued so highly is their durability. Granite is one of the hardest countertop materials available! Even a nearly white granite such as Colonial White Granite resists scorching, scratching, warping, chipping, and staining much better than the highest-quality laminate.
You'll worry less about hot pots and pans (although you should still use hot pads along with other protection) and it can even be installed outdoors, right next to the grill!
Imperial Coffee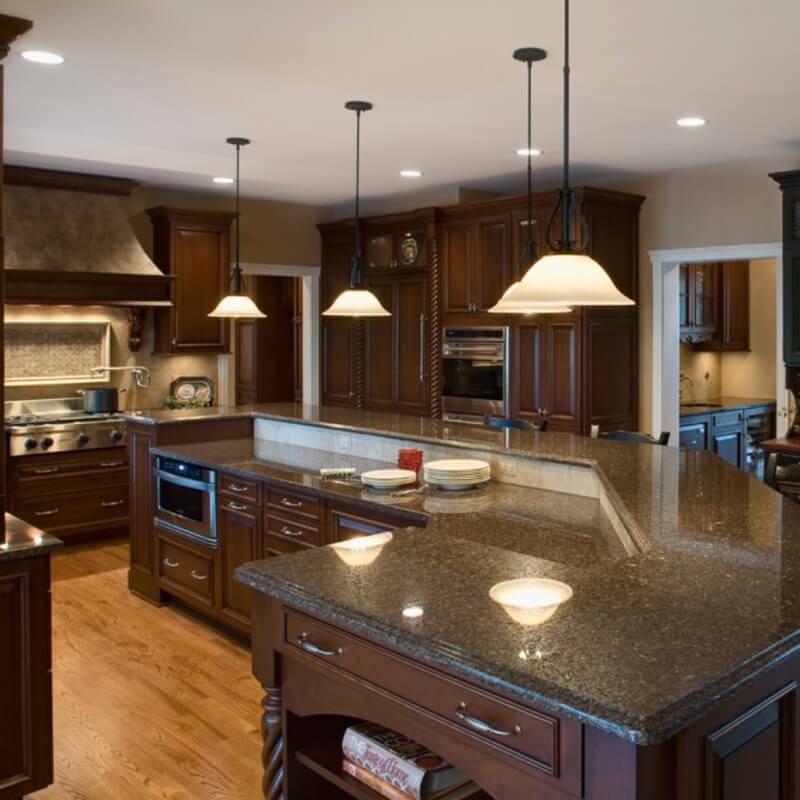 Get this look with MSI's Imperial Coffee Granite (Photo Credit: Houzz)
No matter how pretty that new laminate countertop may be, it only adds superficial, perceived value to your home. Most realtors will agree that a granite countertop is one of the most important home features in terms of resale value and time on the market. This classy kitchen would be much less impressive with laminate, rather than stunning Imperial Coffee Granite.
Bianco Romano
Featured: Bianco Romano Granite
If you crave a classic, traditional, timeless look, laminate is sure to disappoint. Laminate may last a mere 10 to 15 years; a well-maintained granite countertop such as classic Bianco Romano Granite, with its subtle accents of gray and brown, will stay gorgeous for decades.
Blue Flower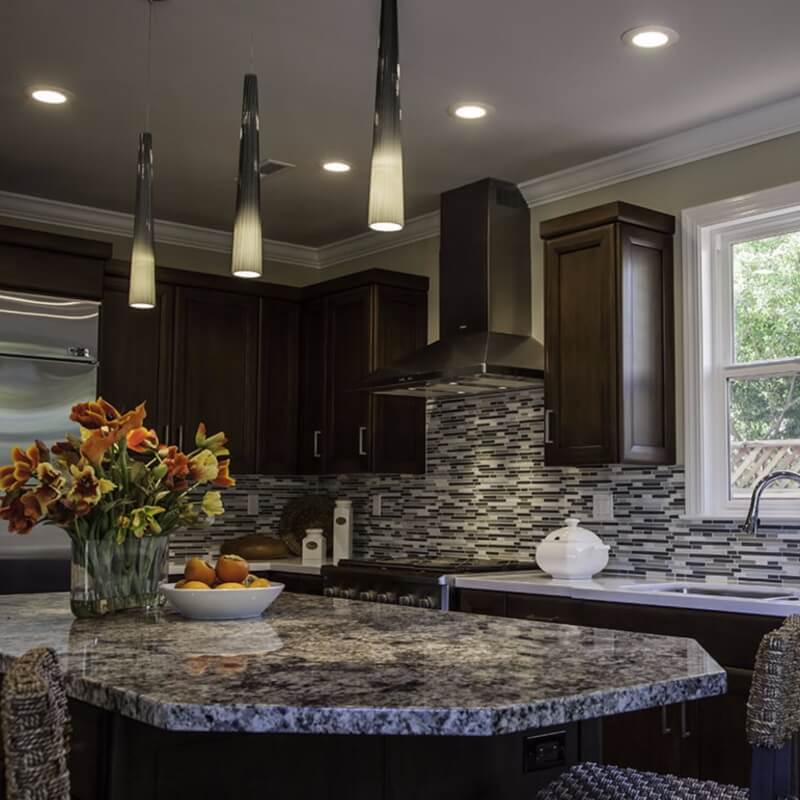 Featured: Blue Flower Granite
It's true that laminate countertops have come a long way, and offer many attractive designs. Once you've seen the natural variation in real granite, however, you'll agree there is no comparison. Here, the dramatic swirls of Blue Flower Granite offers unsurpassed depth and character from backsplash to countertop edges.
Antico Cream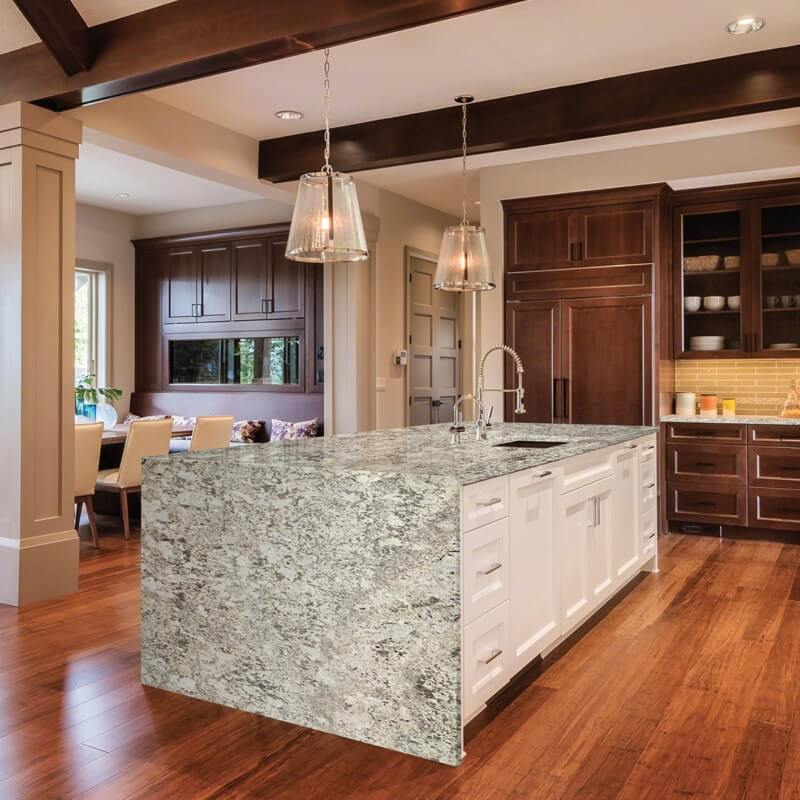 Featured: Antico Cream Granite
Under-mount sinks, as opposed to sinks with edges that sit on top of the counter, provide a more upscale, stylish look to the kitchen. You can do that with granite countertops, but with laminate, under-mount sinks are not recommended. An elegant granite such as Antico Cream Granite creates a kitchen island you'll love using as a serious culinary workspace.
Before you blow your entire budget on gorgeous stone countertops, take heart; you can have your granite and save money too. MSI offers granite countertops in both granite slabs and prefabricated granite, which easily fit most standard countertop sizes and shapes. This makes your countertop significantly more affordable than custom granite slabs.
If you're ready to learn how to choose the right granite countertop, visit our web gallery to see the amazing granite colors you need to create the kitchen of your dreams.
Read More about Granite Countertops
6 Granite Tile Floor Inspirations for Natural Luxury
3 Reasons Granite Countertops Are the Toughest
5 Granite Countertop Edge Profiles That Perfect Your Design
Beyond the Countertop: 5 Granite Countertop Installation Examples
Granite Colors That Always Look Clean (Even When They Aren't!)
Granite Colors That Create A Calming Bathroom
Granite Colors with Romantic Hints Of Rose