7 Vibrant Granite Colors That Turn Up The Heat In The Kitchen
September 25, 2017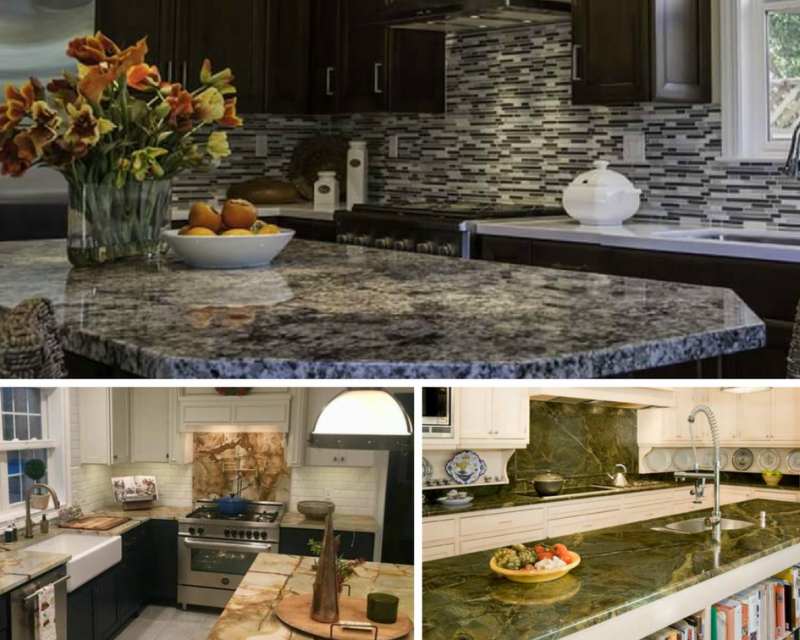 When you want to turn up the heat in your kitchen, forget about the oven, the cooktop, microwave, toaster… these colorful granite countertops are one of today's hottest trends! Featuring some of the best color choices for the kitchen, these exciting, dramatic patterns are a great match for contemporary décor, open floor plans, and innovative designs.
Granite is a natural stone, which means no two slabs will be exactly alike. This allows you to truly customize your kitchen countertop and make it one of a kind! The granite colors are caused by varying amounts of certain minerals — for example, potassium feldspar creates shades of pink.
Granite has the most colorful variations available of any natural stone; here are a few varieties guaranteed to light your fire.
Del Mare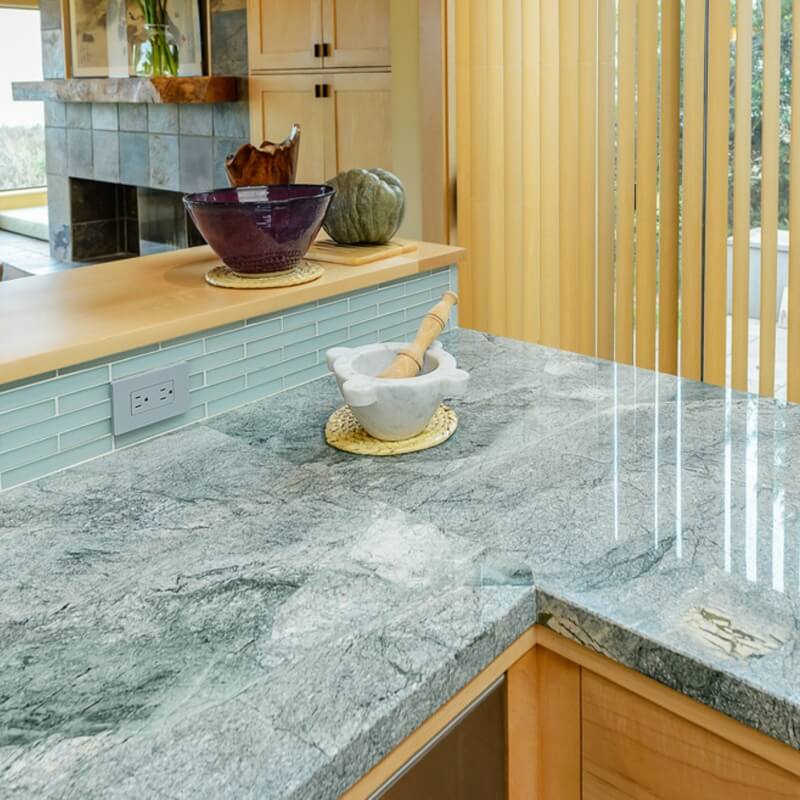 Recreate this look with MSI's Del Mare Granite (Photo Credit: Houzz)
The dark pine green shades of Del Mare Granite are vivid, a great match with light wood cabinetry as well as other elements in pale blue or gray. Imported from Brazil, this is a heavy-duty natural stone that works well outdoors as well as indoors, for countertops, backsplashes and even flooring. Dark green granite colors are caused by the inclusion of amphibole, and this countertop may turn your guests green with envy.
Fusion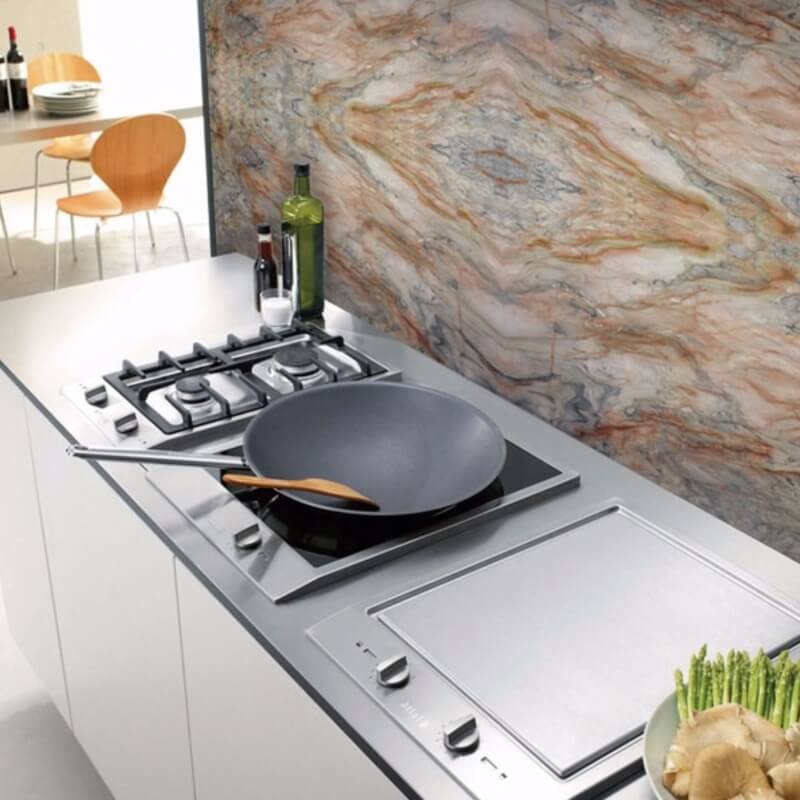 Featured: Fusion Granite
The dramatic veining in Fusion Granite includes swirling shades of rusty red, gold, and blue-gray. The distinctive pattern on this backsplash is created by book-matching, a technique in which stone slabs are installed alongside a near-identical slab creating a mirror image. Not all patterns work well for this process, but this granite has exotic veining that makes it a good candidate.
Blue Flower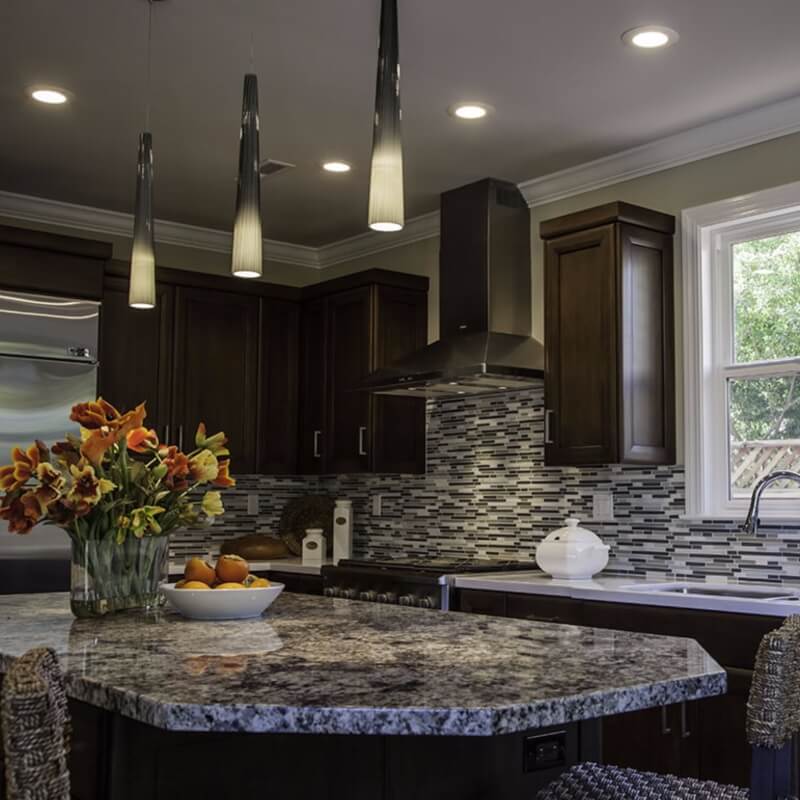 Featured: Blue Flower Granite
Shades of blue in granite aren't common; Blue Flower Granite's coloration is pale blue and bluish-gray. This hint of blue, mixed in a bold, high-variation pattern alongside soft white and charcoal gray swirls, is a fine match for a black-and-white kitchen, or stainless steel appliances. Too much drama for the whole kitchen? Consider confining it to one area, such as the center island.
Agatha Black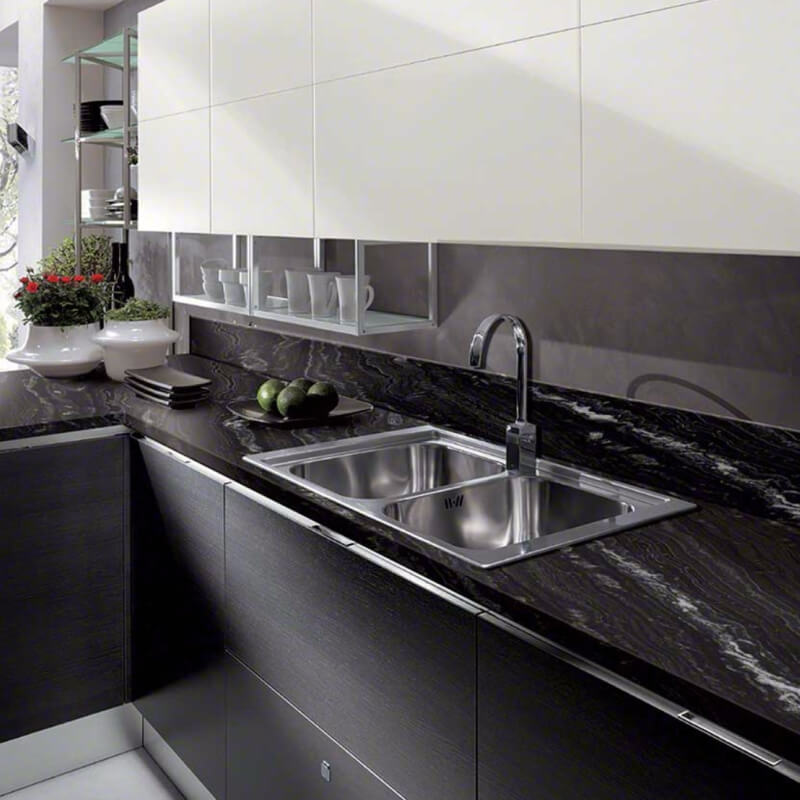 Featured: Agatha Black Granite
For an elegant, upscale design, Agatha Black Granite is unmatched. It features linear white swirling veins on a jet black background. This black granite countertop – or backsplash – is a great way to keep your minimalistic design from becoming too minimal. It is available in a brushed, matte finish as well as the traditional glossy polished.
Aruba Dream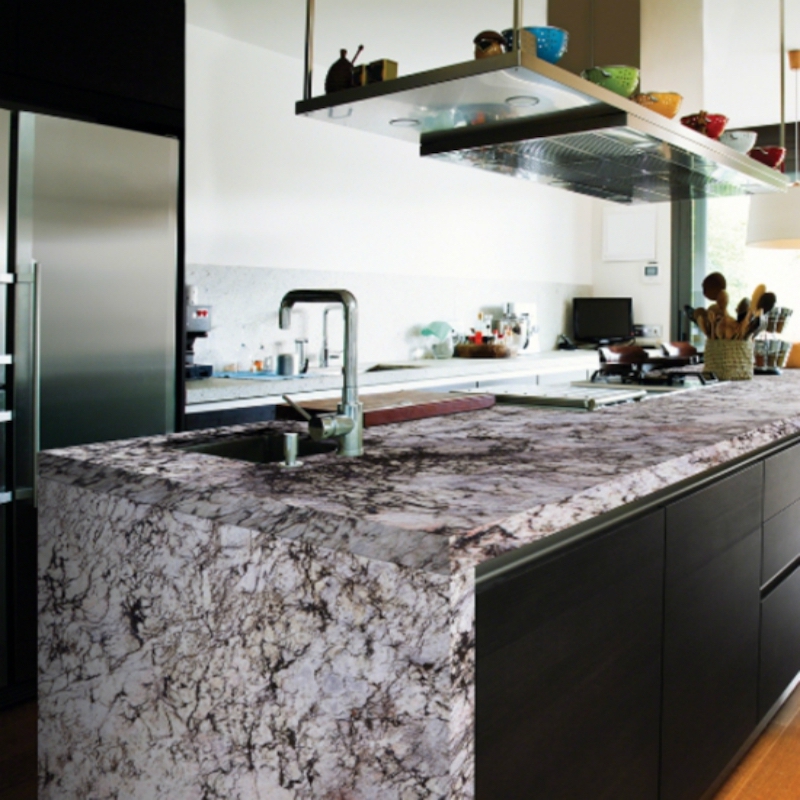 Featured: Aruba Dream Granite
When you've chosen a granite countertop with a bold, complex pattern such as Aruba Dream Granite, you can let it take center stage and choose simple décor to surround it. Although there's a lot happening in this beige-and-brown slab, the granite colors couldn't be easier to match.
Golden Lightning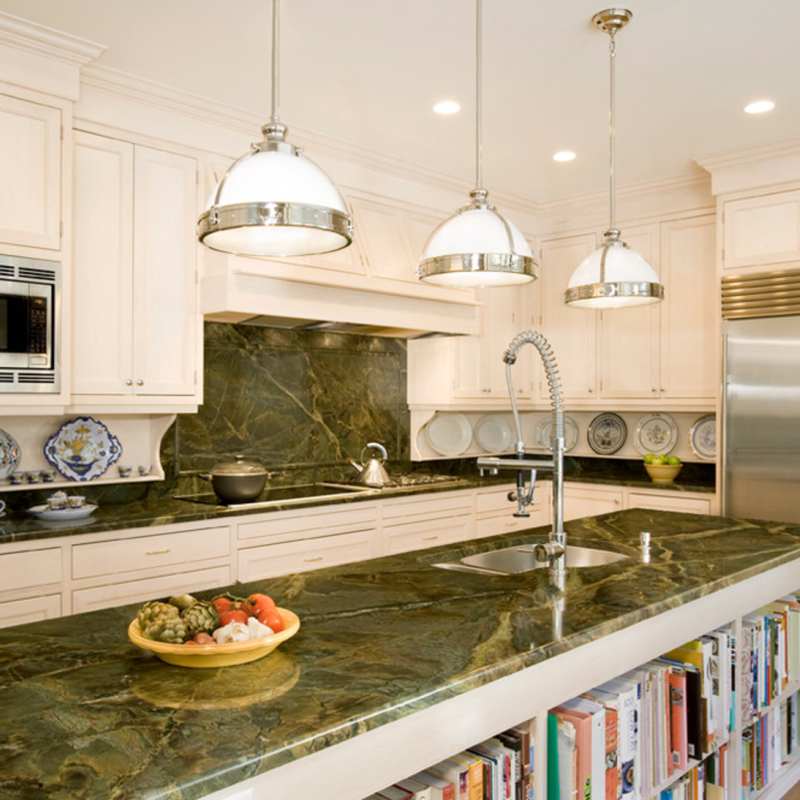 Get this look with MSI's Golden Lightning Granite (Photo Credit: Houzz)
All that glitters is not gold, but Golden Lightning Granite is a close second. This exotic granite from Italy features bright yellow-gold veining against a green-gray background, reminiscent of a stormy night, but very cheerful in a kitchen setting. This combo matches beautifully with all colors of chrome and stainless steel.
Roma Imperiale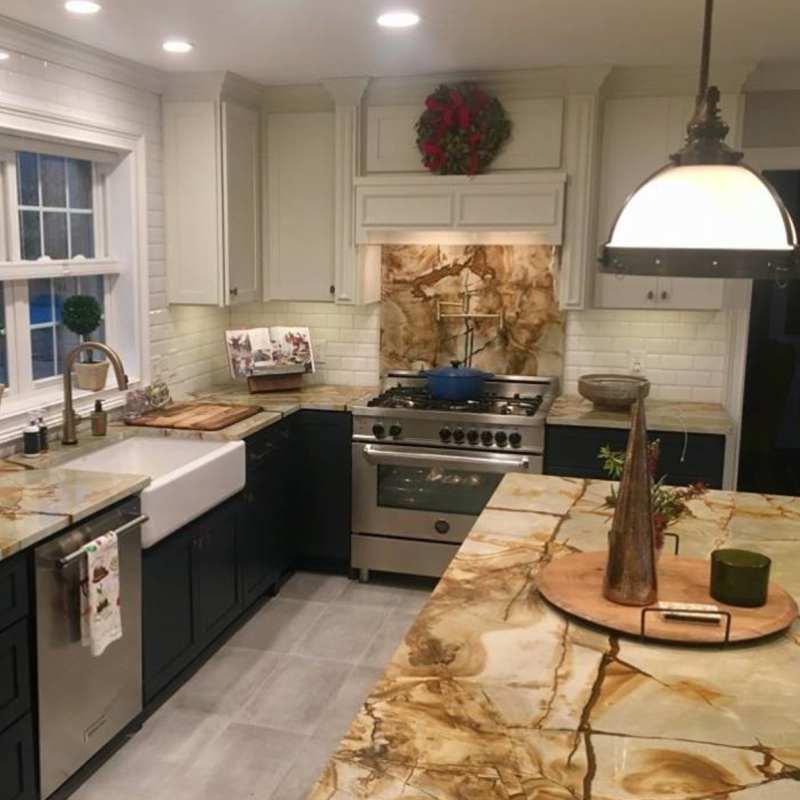 Recreate this look with MSI's Roma Imperiale Granite (Photo Credit: Houzz)
You can't get any more dramatic than Roma Imperiale Granite, a stunning combo of cream shades and amber, gold, and rust veining. The extreme variation guarantees a one-of-a-kind installation, as every slab has a significantly different pattern. This polished granite contributes to a stunning design of ultimate sophistication.
Serene and cool are for other people's kitchens — yours deserves some heat! With countertops this gorgeous, you'll want to spend more time in there cooking up delicious meals, even if they're not quite as spicy as the décor.
Did you know that many of our gorgeous granites are available in prefab slabs, which allows for quicker installation and saves money?
Visit MSI's web gallery to see all of our granite options, from spicy to chill and every flavor in between.
READ MORE ABOUT GRANITE COUNTERTOPS
7 Granite Slab Backsplashes For An Inspired Kitchen Design
9 Popular Black Granite Countertops
A Guide to Maintaining Granite Countertops