Tile Style: 9 Modern Tile Ideas That Work For Any Style
November 29, 2017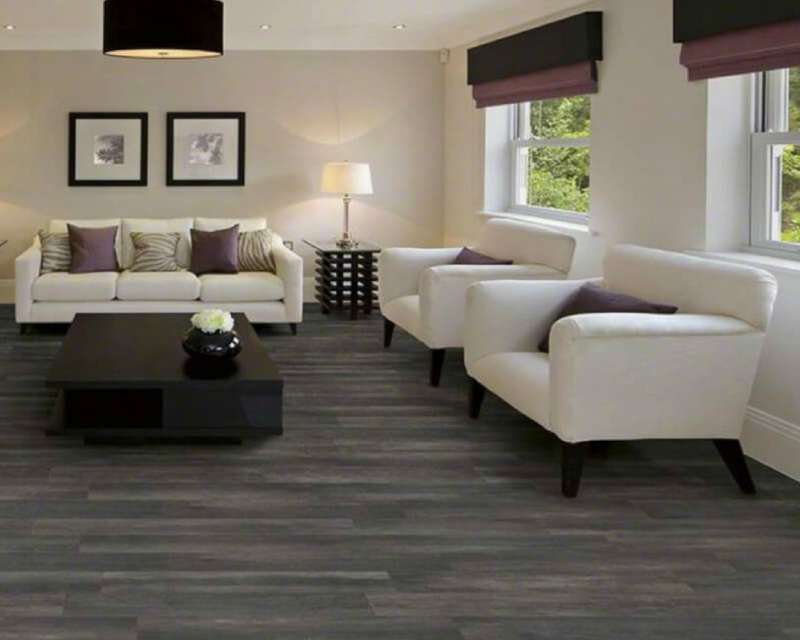 Modern porcelain tile, which uses up-to-the-minute production methods, works with all styles–contemporary, traditional, and even rustic. The trick is to find the modern tile that expresses your unique design style and choices. Think a wood-look tile for for the bedroom, a marble lookalike for your kitchen countertops, or a convincing brick doppelganger accent wall.
Let's face it—with MSI's wide range of modern tiles could give any room a design lift. For example, wood-look tiles combine the durability of porcelain with the warmth of hardwood. Production of wood-look tile uses high definition inkjet technology to recreate the characteristic grains and knots that provide the look and texture of real wood, so you get an authentic look but without the worry and expense.
Looking for a modern porcelain tile to make your renovation an eye-popper? Take a look at these MSI tiles that could accentuate nearly any style.
Cream Livingstyle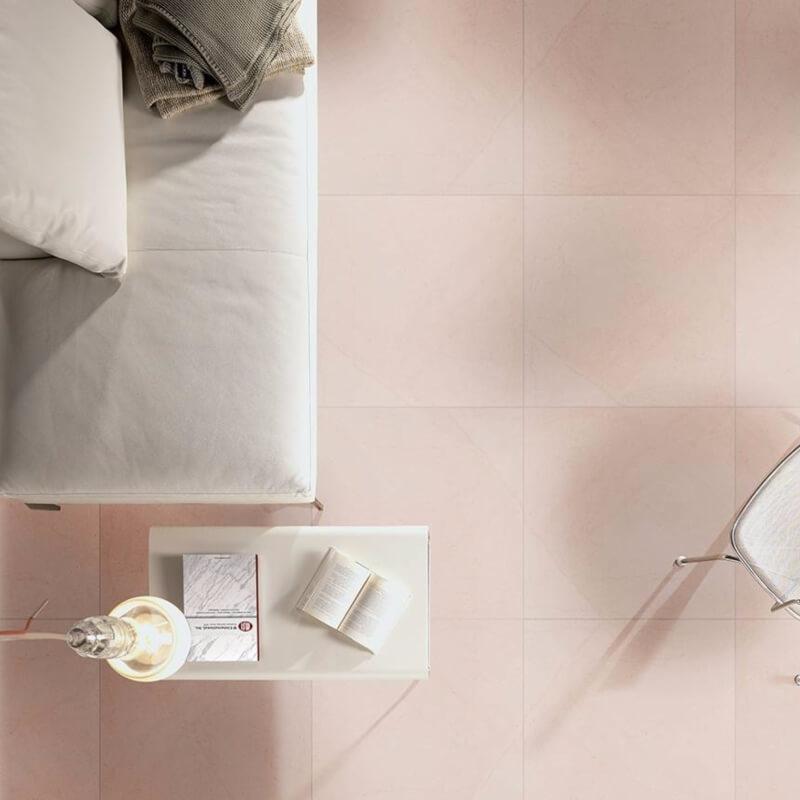 Featured: Cream Livingstyle Porcelain
Cream Livingstyle Porcelain is a porcelain tile in MSI's Livingstyle collection that creates a luscious yet soothing background for contemporary décor. It has a soft, matte finish and comes in a wide array of sizes that make it a great choice for shower floors, tub surrounds, or even backsplashes atop white kitchen cabinets.
Beige Livingstyle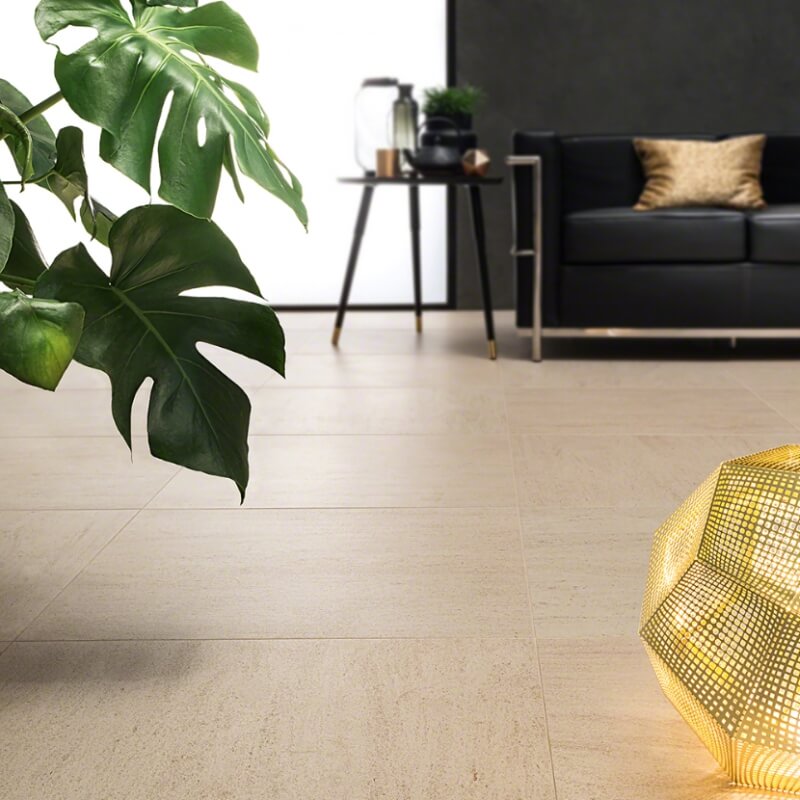 Featured: Beige Livingstyle Porcelain
Beige Livingstyle Porcelain features muted beige tones with a subtle pattern and matte finish. This creates a classic look that complements many different design schemes. These large format tiles are also perfect for open floor plans where tile flooring flows seamlessly through rooms with various color palettes.
Statuary Eden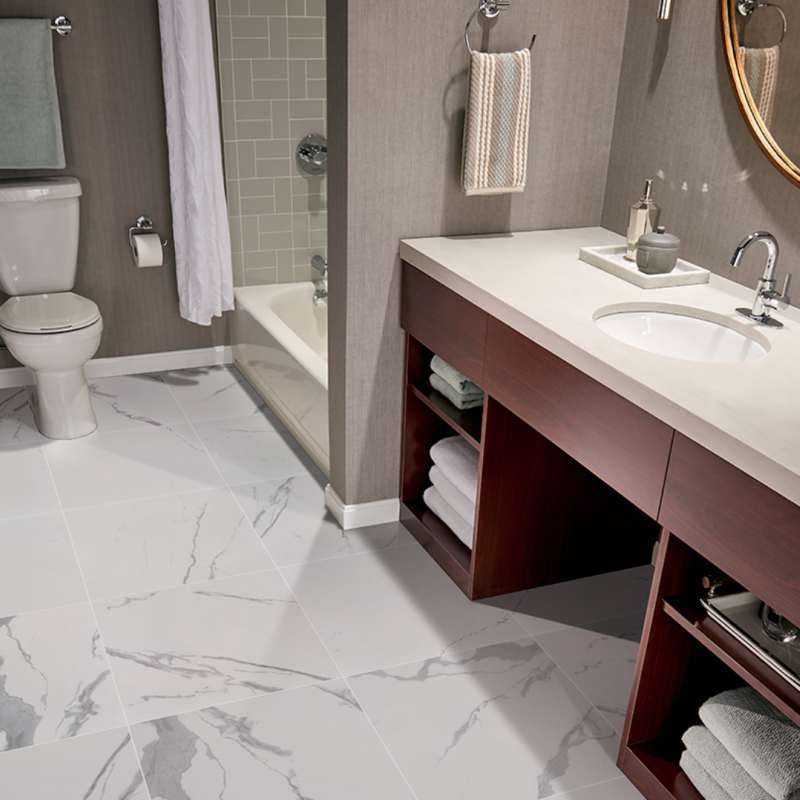 Featured: Statuary Eden Porcelain
Statuary Eden Porcelain tile combines the elegant look and authentic feel of natural marble with the durability of porcelain. The white background and grey veins make Statuary Eden a great candidate for high use kitchen tile countertops, bathroom floors, tub surrounds, and accent walls.
Taupe Celeste
Featured: Taupe Celeste Wood-Look Porcelain
Taupe Celeste Wood-Look Porcelain is a warm, wood-look tile, its taupe background topped with warm, brown knots and grains. If you want the wood-look in the bedroom, Taupe Celeste works well with neutral bedding and real wood furnishings. The porcelain tile also complements clean, contemporary lines adding welcome texture to floors, walls, and countertops.
Brickstone Ivory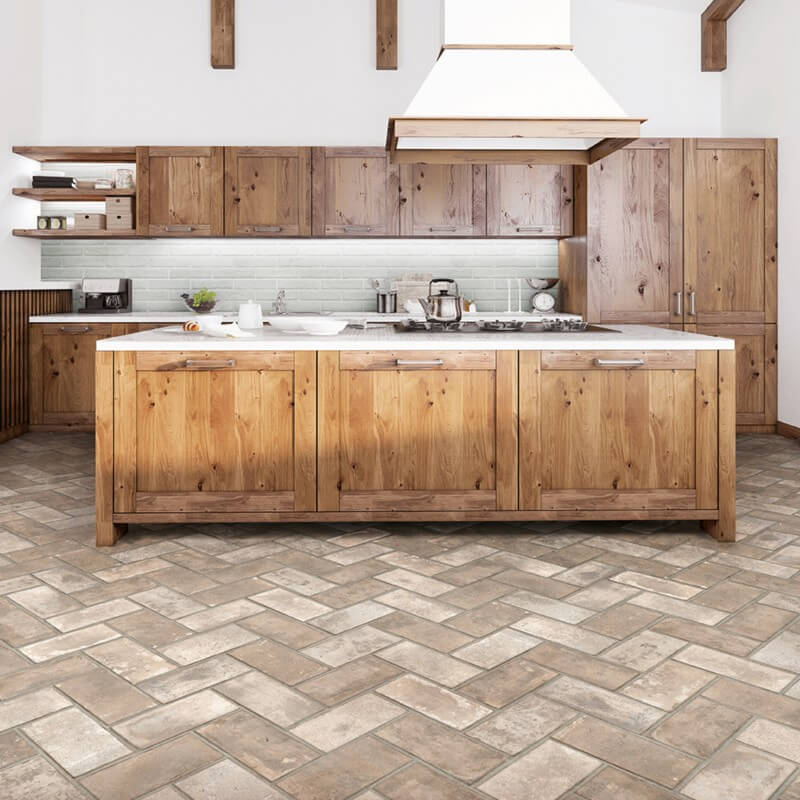 Featured: Brickstone Ivory Porcelain
Brickstone Ivory Porcelain is a glazed, matte finished tile that incorporates soft white and ivory hues, for the authentic look of reclaimed brick. This is a tile for all seasons, pairing well on backsplashes with warm wood or contemporary white cabinets. You can also install Brickstone Ivory on fireplace walls, infusing your family room with warmth and intimacy.
Grigio Watercolor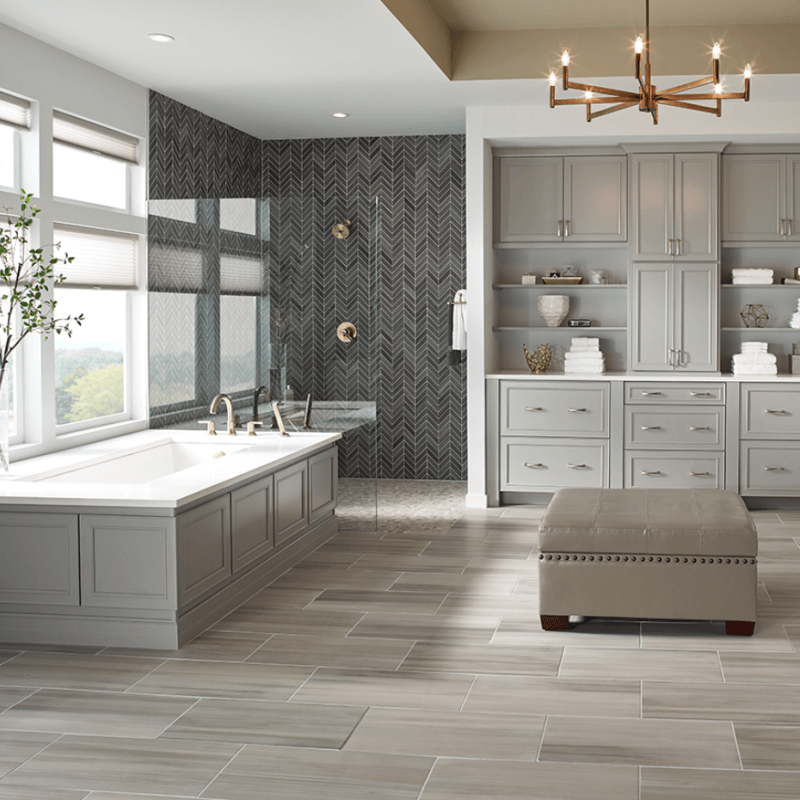 Featured: Grigio Watercolor Porcelain
Grigio Watercolor Porcelain is part of MSI's Watercolor collection that presents soft grey tones on matte-finish tile. It's subtlety complement modern design, softening décor that might otherwise feel cold. Consider Grigio when choosing floor tile or porcelain tile for accent walls and countertops.
Bianco Watercolor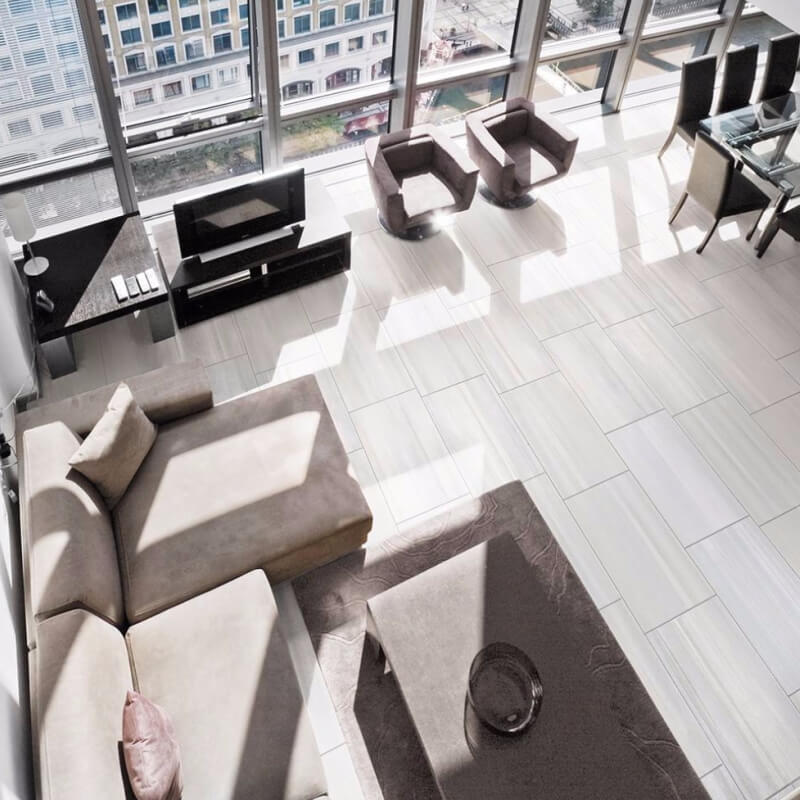 Featured: Bianco Watercolor Porcelain
Bianco Watercolor Porcelain from the Watercolor collection combines white and cream tones that play well with both neutrals and bold colors. Install Bianco on shower walls and watch how brass and stainless fixtures pop. On floors, Bianco blends well with neutral-colored furnishings and makes dark cabinets stand out.
Nero Turin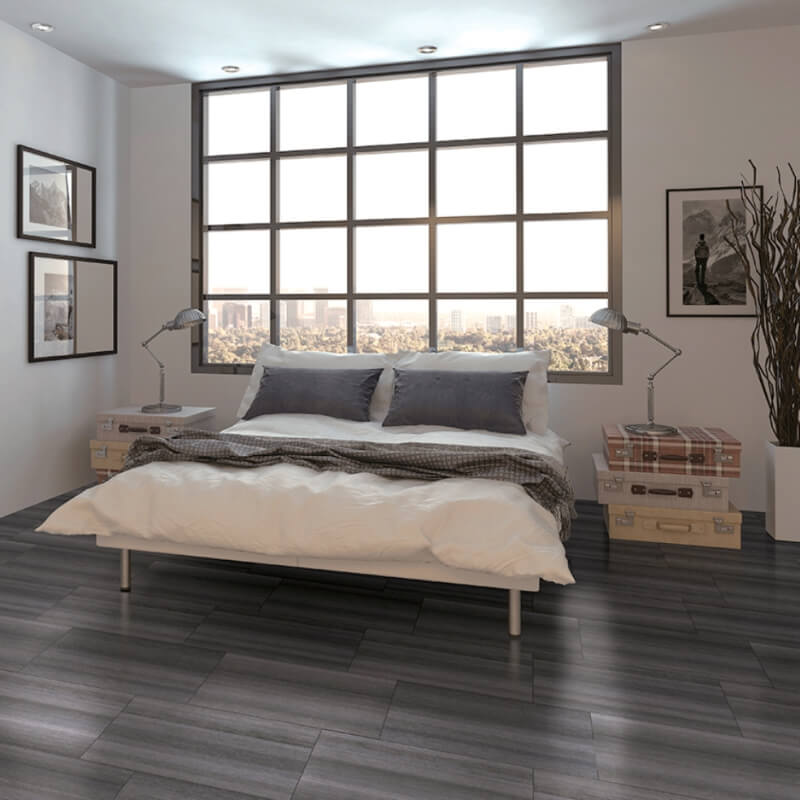 Featured: Nero Turin Porcelain
Nero Turin Porcelain combines the lovely look of natural aged hardwood with the strength and durability of porcelain tile. The tile's blacks and greys add drama to moisture-prone areas like bathrooms, laundries, and entries.
Bruno Upscape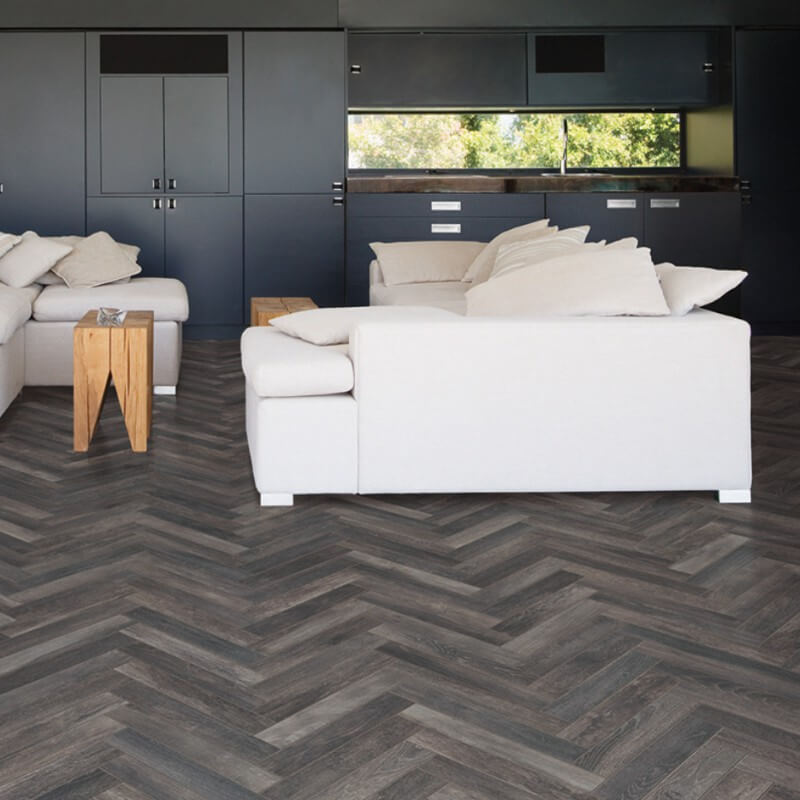 Featured: Bruno Upscape Wood-Look Porcelain
The dark chocolate tones of Bruno Upscape Wood-Look Porcelain tile adds instant richness and warmth to family room and kitchen floors. Bruno Upscape also protects high-traffic areas like entries and mudrooms. Lay the tile in a herringbone pattern and create accent walls and tile floors that are sure to grab attention.
Want to see what's new in MSI's modern tile line? Take a look at our new products page.