Tile Style: Slate Tile - A Rustic Look Inside And Out
March 02, 2017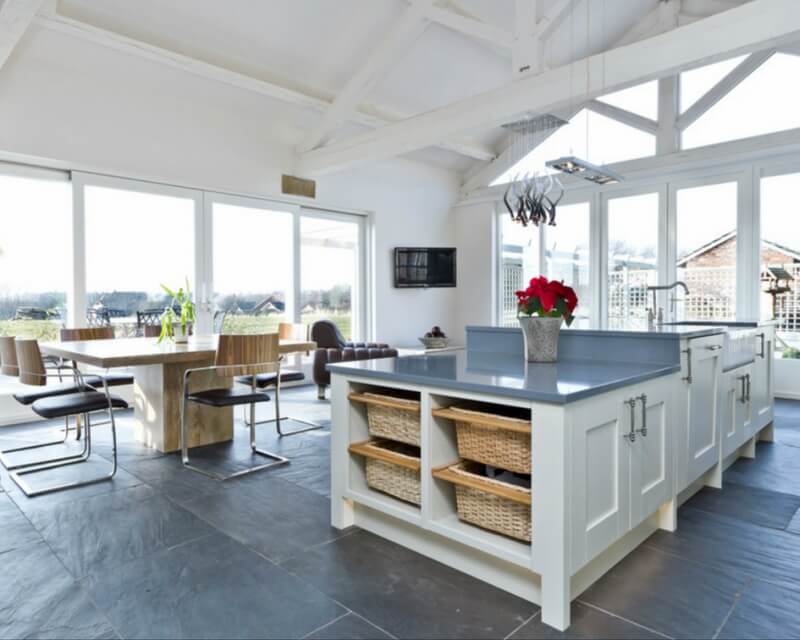 (Photo Credit: Houzz)
"Rustic" décor, in the modern interpretation, means expressing your love for Mother Nature while also enjoying sleek, convenient, even elegant furnishings. Gone are the days of kitschy flea-market décor, of mounted deer heads or stuffed pheasants – this is not your grandparents' country vacation home or hunting lodge.
In creating the modern Rustic look, MSI's slate tile is the foundation on which the entire look is built upon.
It doesn't matter if your Modern Rustic home is located in the woods, or in the center of a big city; the elements are essentially the same:
• Airy, open spaces with high ceilings and lots of natural lighting
• A natural, earthy color scheme
• Exposed wood or stone - slate flooring, stone accent walls, raw wood ceiling beams, reclaimed wood
• A cozy wood-burning stove
• Contemporary lighting fixtures with a simple design
• Uncluttered, streamlined décor and furnishings
• Stainless steel appliances
• Natural elements such as houseplants, fountains, animal hides (faux, if you prefer)
California Gold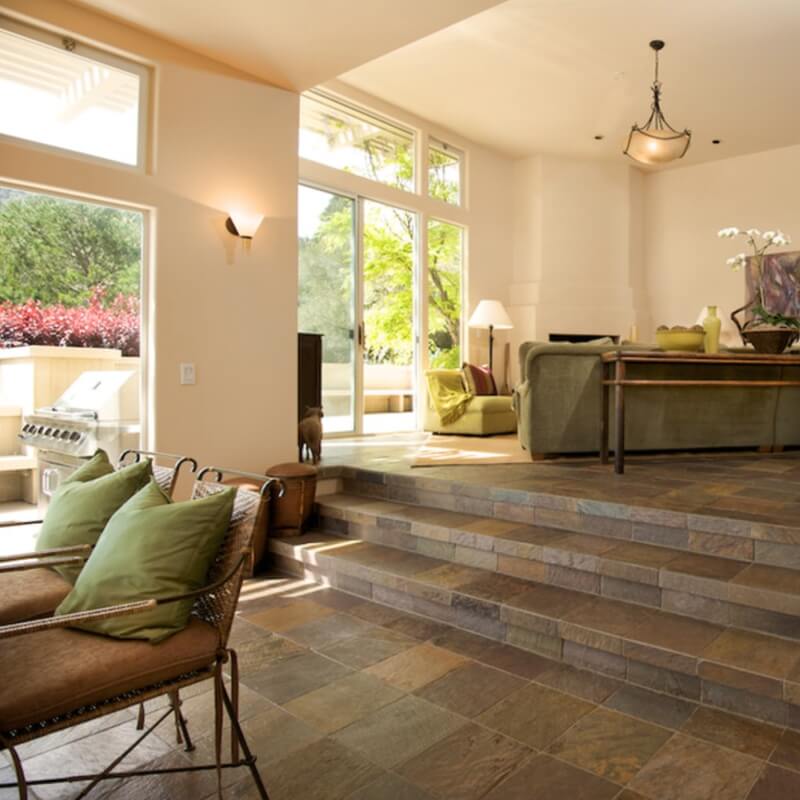 Get this look with MSI's California Gold Slate (Photo Credit: Houzz)
The modern rustic aesthetic is all about cozy warmth, and California Gold Slate has plenty to offer. This textured slate features tones of gray and rusty orange-gold with a green undertone. Despite its delicate look, this slate tile flooring is tough enough for heavy foot traffic including usage on stairs. It's easy to fit this into your design, as it is available in so many different formats, including flagstones, various sizes of square tile, and mosaics.
African Multicolor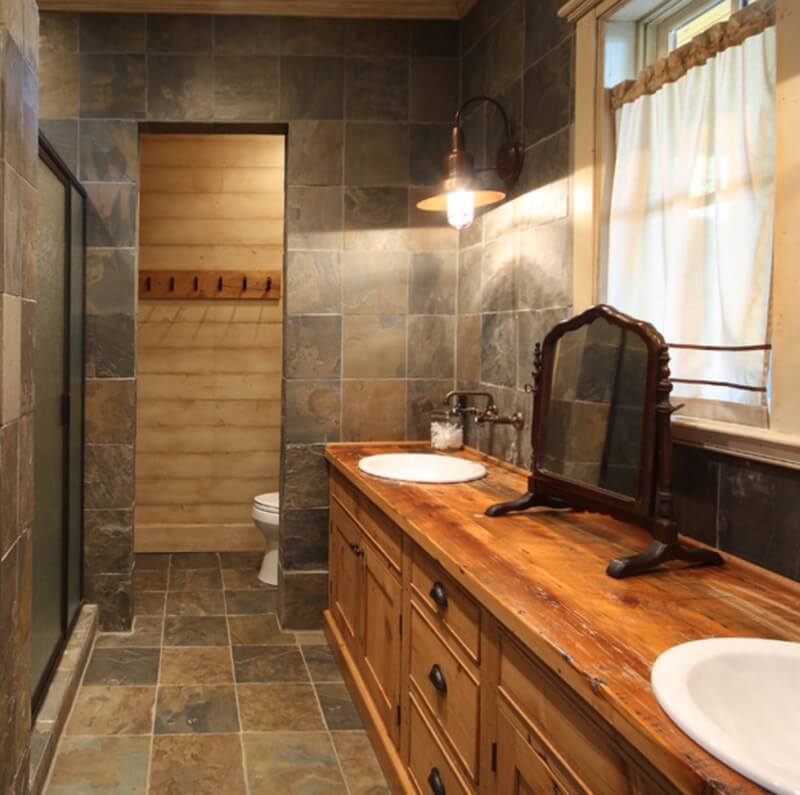 Create this look with MSI's African Multicolor Slate (Photo Credit: Houzz)
Lovers of modern rustic décor enjoy surrounding themselves with easy-care natural elements, such as African Multicolor Slate tile. With an eye-catching combination of blue-gray, pale orange and charcoal gray, it's suitable for all surfaces within the home – floors, walls, backsplashes, shower surrounds and more. This slate is an ideal complement to natural wood furnishings and fixtures.
San Rio Rustic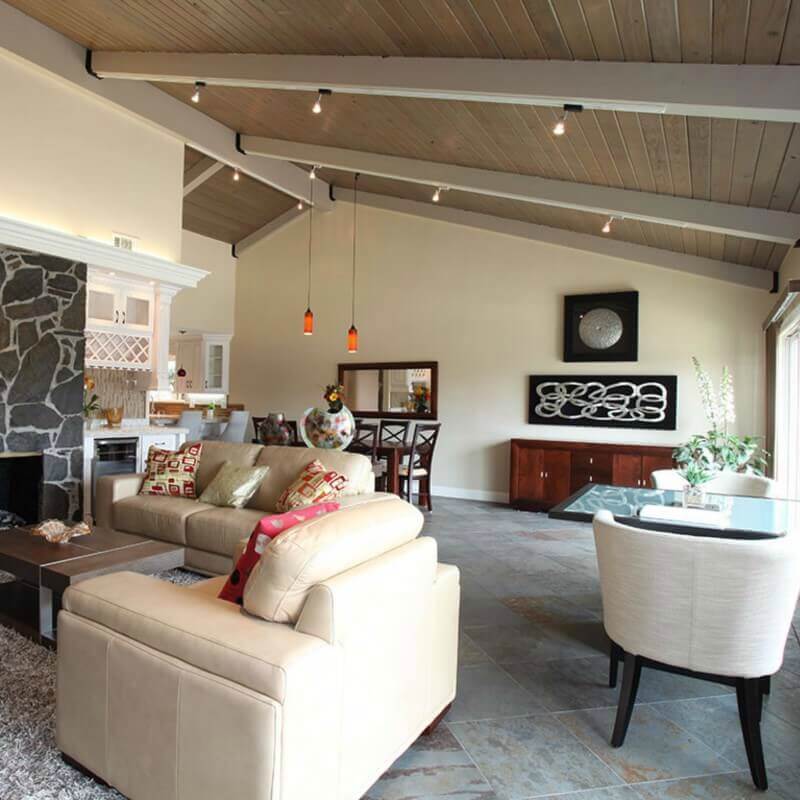 Featured: San Rio Rustic Slate
With its subtle, yet colorful shading, San Rio Rustic Slate tile is the ideal backdrop for your design creativity. Available in 12" or 16" square tiles with a comfortable gauged finish, this natural stone tile is a great choice for flooring, particularly in the large expanses so prevalent in modern rustic homes.
Earth Slate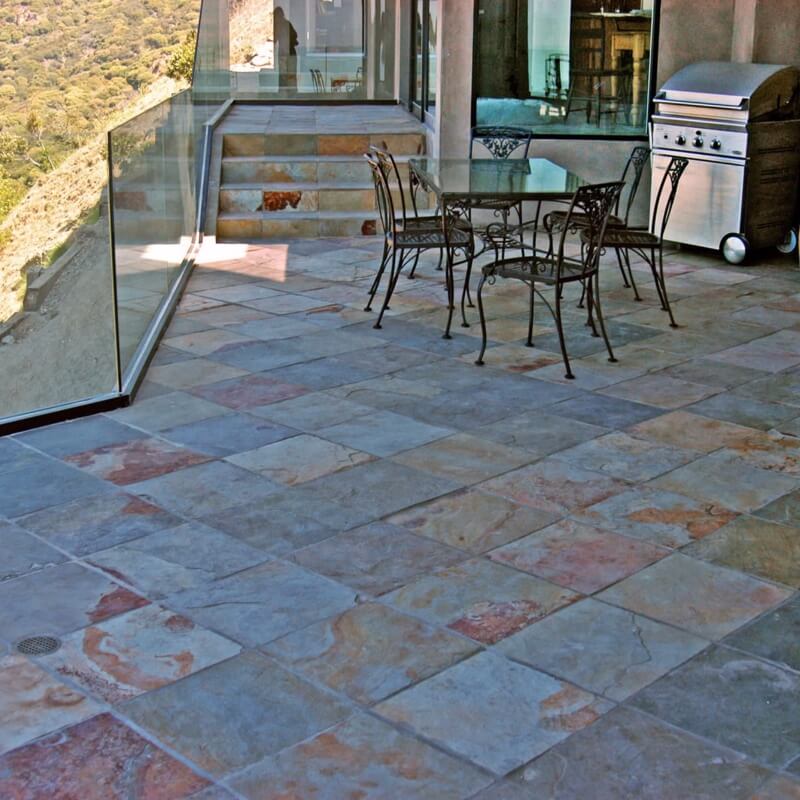 Featured: Earth Slate
Modern rustic décor isn't just for the indoors; extending your living space into the great outdoors is the natural thing to do. Earth Slate tile can help you create an elegant patio in keeping with the rustic aesthetic. It features mid-tone gray shades accented with splashes of rust with green highlights.
Montauk Black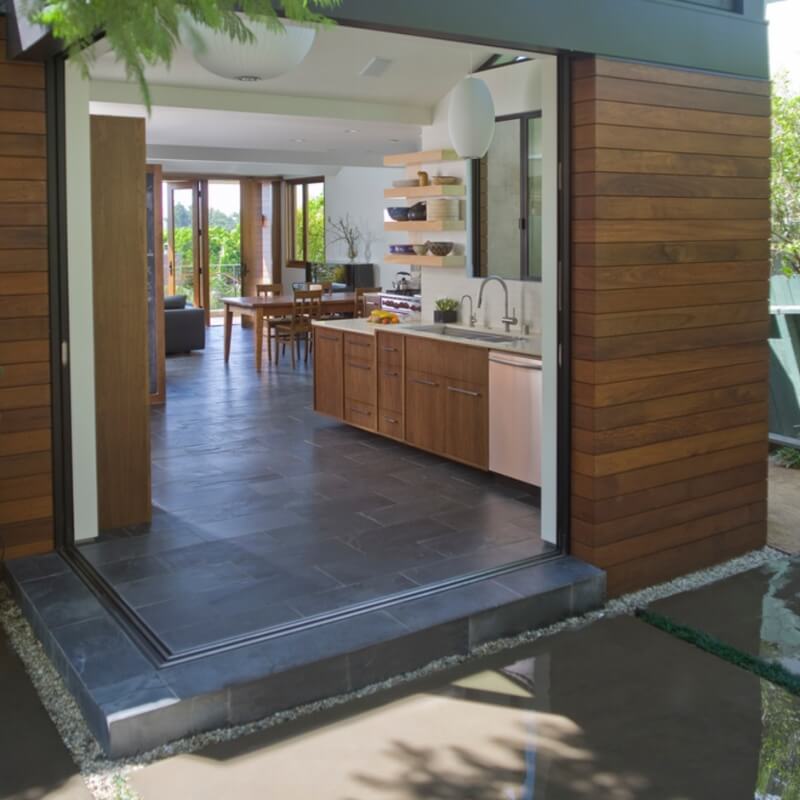 Get this look with MSI's Montauk Black Slate (Photo Credit: Houzz)
"Rustic" doesn't have to mean giving up your beloved elegant, polished surfaces such as fine wood furniture, chrome fixtures and drawer pulls, or sleek slate flooring such as Montauk Black Slate. This slate tile features just enough variation in shades of mid-tone to deep gray for visual interest and depth, with a gauged or honed finish.
Many different tile sizes are available to suit your needs. One of the greatest advantages of the modern rustic style is that it's widely open to interpretation. From the cozy, charming "country" home with loads of rough-textured, raw elements to the sleek, urban home full of chrome and polished wood, modern rustic is more about a feeling than about following rules. How will you interpret this charming trend?