Is Luxury Vinyl Flooring In The Bathroom A Good Idea?
October 11, 2018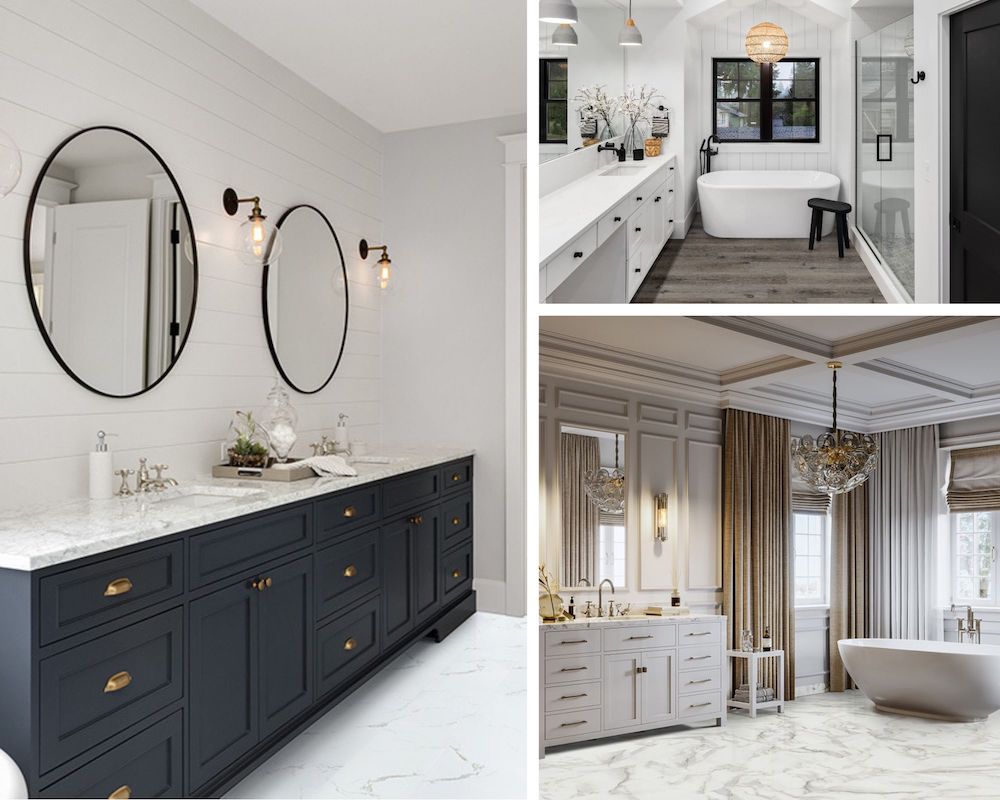 One of the main concerns homeowners have about installing tile in the bathroom is whether or not it's waterproof or moisture-resistant. With Luxury Vinyl Flooring, you're in luck because it's 100-percent waterproof! Whereas you would worry about splashes, leaks, and humidity damaging laminate, engineered hardwood, or real hardwood, water is no problem for vinyl flooring. But its ability to resist moisture isn't the only reason why this affordable and stylish option is a great idea for the bathroom.
Luxury Vinyl Tile is easy and quick to install. Plus, you don't need messy mortar or grout like you would with ceramic or porcelain tile. And the wood-look vinyl plank flooring is much easier than real wood to cut and maneuver around those tight spaces in the bathroom.
Another benefit for the bathroom is that vinyl flooring doesn't get as cold as natural stone tiles do. Since they stay closer to room temperature, you'll be more comfortable walking into the bathroom barefoot on your Luxury Vinyl Flooring. They also aren't as hard on the joints as luxurious marble or another stone. The softer material provides more give when walking on them, so your knees and ankles will thank you!
The colors and installation ideas are just as attractive. And because they can be more affordable, homeowners can install LVT and LVP flooring from the floors to the walls and still stay within budget!
Ludlow Luxury Vinyl Planks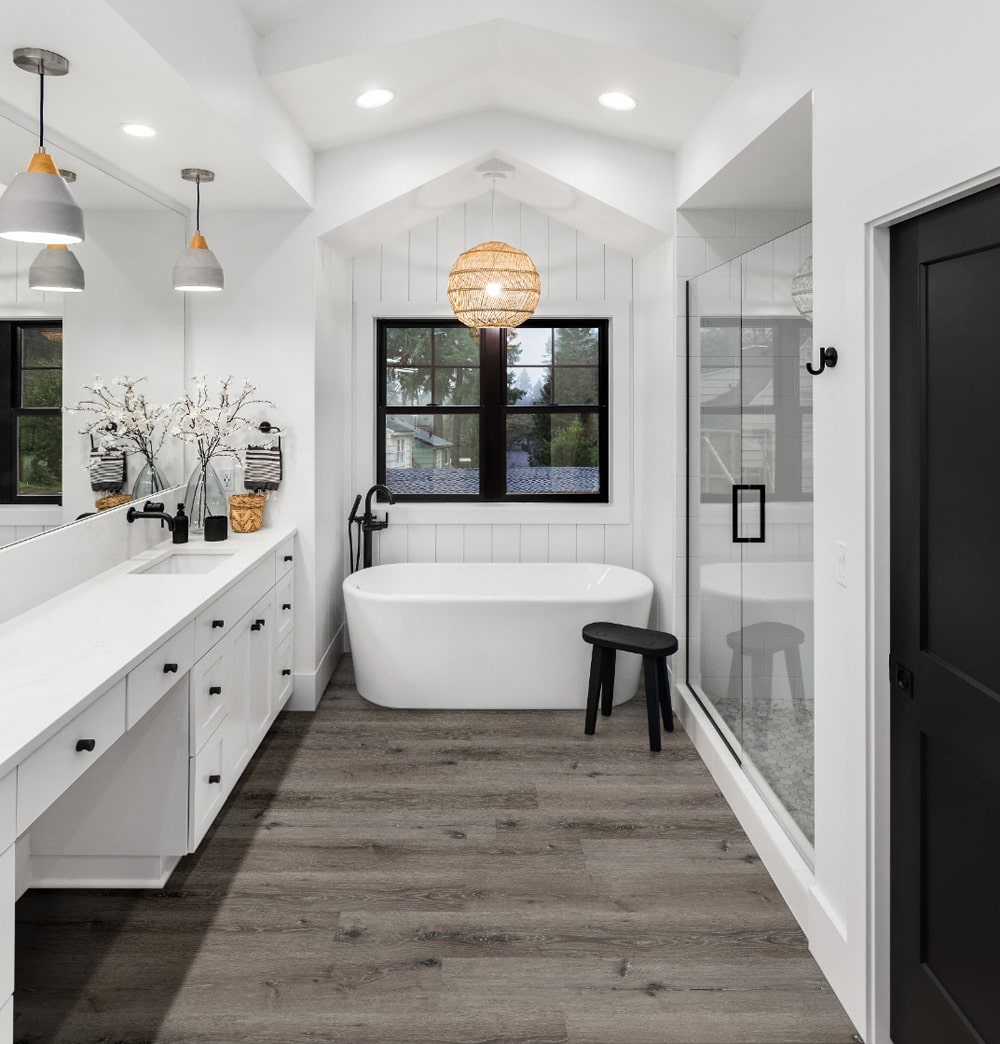 Ludlow Luxury Vinyl Planks
Real wood would be a nightmare in the bathroom, especially when you have a freestanding tub where spills and splashes are likely to happen often. However, Ludlow Luxury Vinyl Planks, similar to that above, is a homeowner's dream! The 7x48-inch vinyl planks feature pretty brownish-grey tones with subtle wood-look knots and grains. Even if you were to carefully use a bench like the black one when getting in and out of the tub, your LVT floors still wouldn't get damaged!
Calacatta Venosa Gold Luxury Vinyl Tile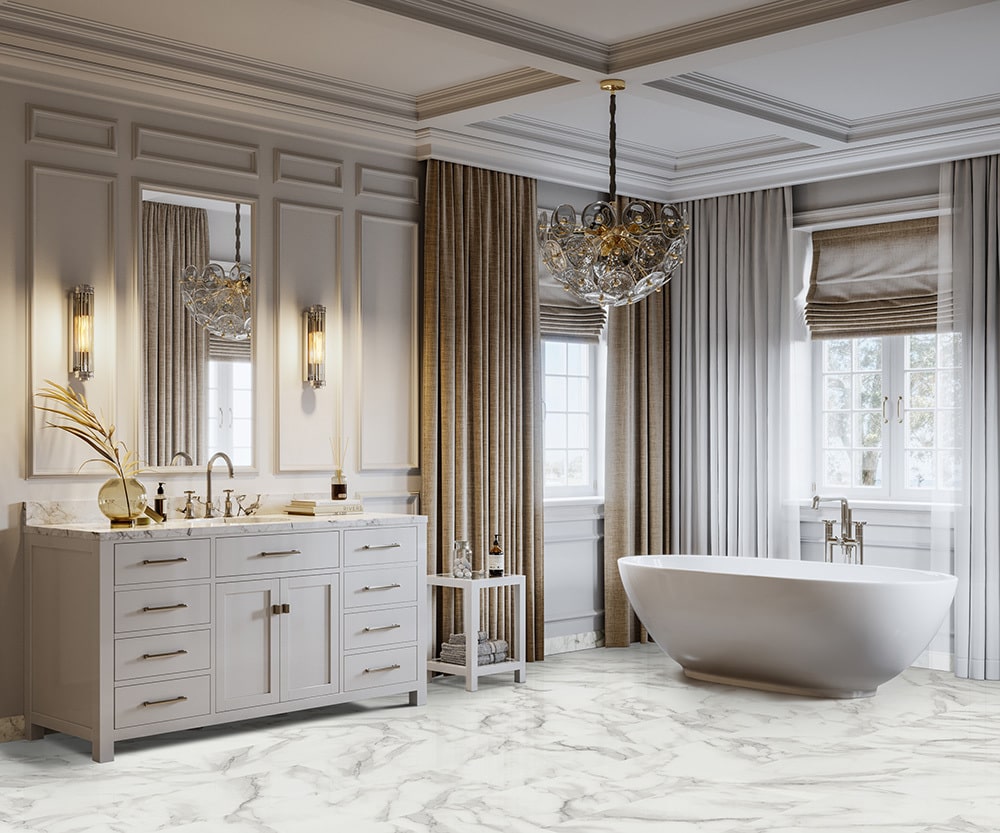 Calacatta Venosa Gold Luxury Vinyl Tile
Elevate your bathroom with the captivating beauty and impressive functionality of Calacatta Venosa Gold Luxury Vinyl Tile. Its bright white background and rich golden veining create an awe-inspiring look that complements any décor --from elegant hotel spa like the image above or modern minimalistic. As a luxury vinyl flooring, it brings not only timeless charm but also exceptional performance to your bathroom. Resistant to moisture, water, and stains, it handles the challenges of a bathroom environment with ease.
Calacatta Serra Luxury Vinyl Tile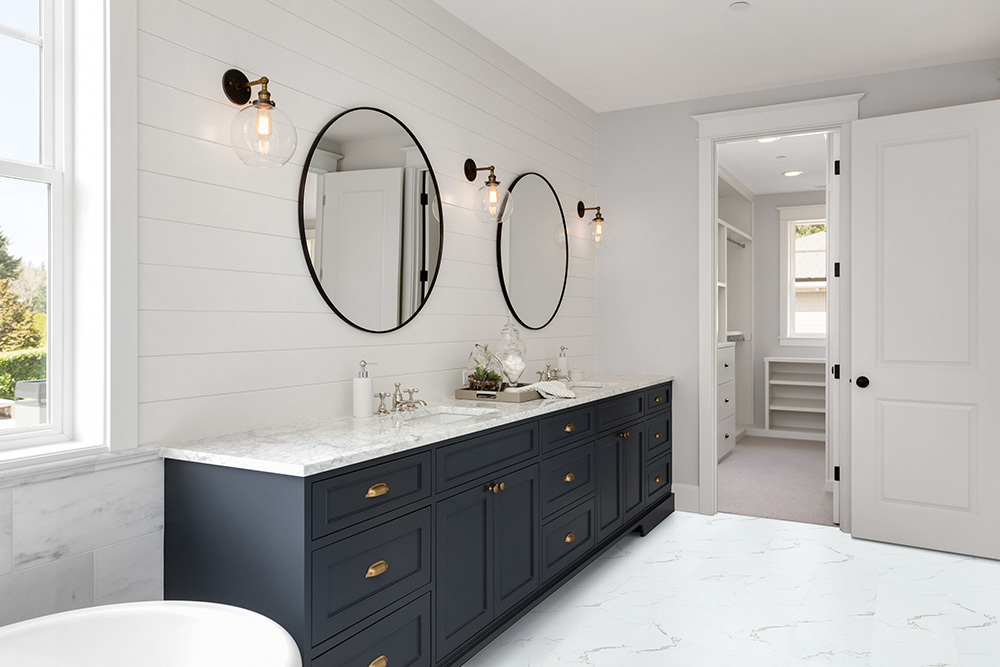 Calacatta Serra Luxury Vinyl Tile
Indulge in the opulence of Calacatta Serra Luxury Vinyl Tile, effortlessly bringing the sophistication of natural marble to your home without breaking the bank. Designed for convenience and beauty, this affordable vinyl flooring offers a genuine stone appearance that brings a timeless sense of style when paired with this deep blue cabinet and gold accents. Beyond its alluring looks, these 12x24 vinyl floor tiles boast unbeatable practicality. Thanks to their 100% waterproof composition, they effortlessly withstand the daily wear of a well-used bathroom, ensuring lasting durability and longevity.
Luxury vinyl flooring is ideal for bathrooms because of benefits like easy installation methods, extreme durability, and being 100-percent waterproof. It's also an inexpensive bathroom upgrade that is easy to maintain. Check out the entire collection online. Be sure to also get in touch with to get answers to all your vinyl flooring questions. Chat with us online, visit an MSI showroom near you, or contact an authorized MSI dealer.
More on Vinyl Flooring
What are the Advantages of Vinyl Plank Flooring?
5 Luxury Vinyl Tile Trends for 2021
Different Types of Vinyl Flooring
Signature Wood Look Luxury Vinyl Flooring Without the Worry