A Guide To MSI's Stacked Stone Collections In Different Styles And Formats
July 25, 2022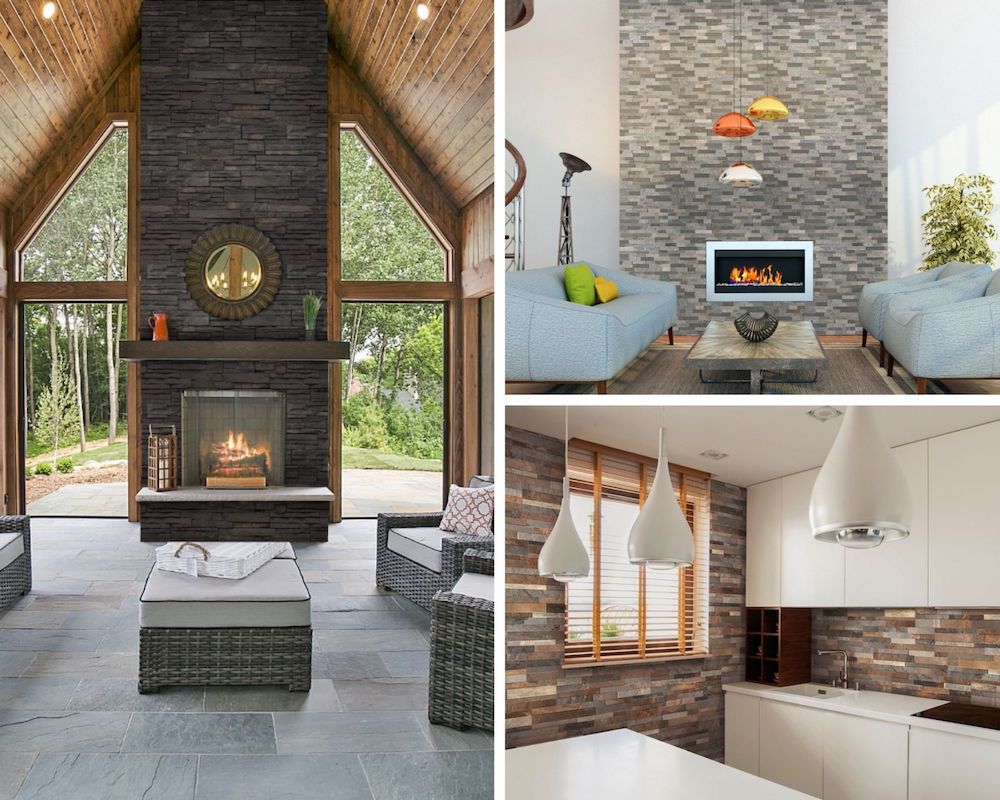 For some time now, homeowners have used stacked stone to bring the outdoors inside and to add a touch of stacked beauty to their home's exterior and beyond. This trend which delivers a timeless look, isn't going anywhere anytime soon, if ever. Using stacked stone creates conversation pieces, delivers a luxurious and sophisticated look, and heightens the beauty of any space. These premium surfaces will elevate your outdoor or indoor areas for aesthetic or practical purposes, both of which we cover further down.

So what is stacked stone anyway? Simply put, stacked stone is trimmed pieces of authentic stone fastened together to create segmented stone veneer panels. We offer stacked stone in four options, each of which we cover in this guide. Read on to learn more about our stacked stone collections in different styles and formats and how they can add amplified splendor to your design plans.
ROCKMOUNT™ STACKED STONE
The MSI Rockmount™ Stacked Stone Collection features full-sized 6x24 panels in addition to smaller versions in the M-series, which we'll explore later in this piece. Each of these lines comes available in a wide-ranging assortment of styles and finishes. Take your pick from 3D honed to split-faced, modern chic to refined rustic. Choose from stacked stones such as slate, marble, quartzsite, and travertine.

Use the Rockmount™ Stacked Stone Collection outdoors for planter walls, barbecue surrounds, and architectural features. Use them indoors for accent walls, fireplace facades, to create a stunning stacked stone backsplash, and more. Finally, all of the stacked stone ledger panels in this line require less grout allowing for seamless installation.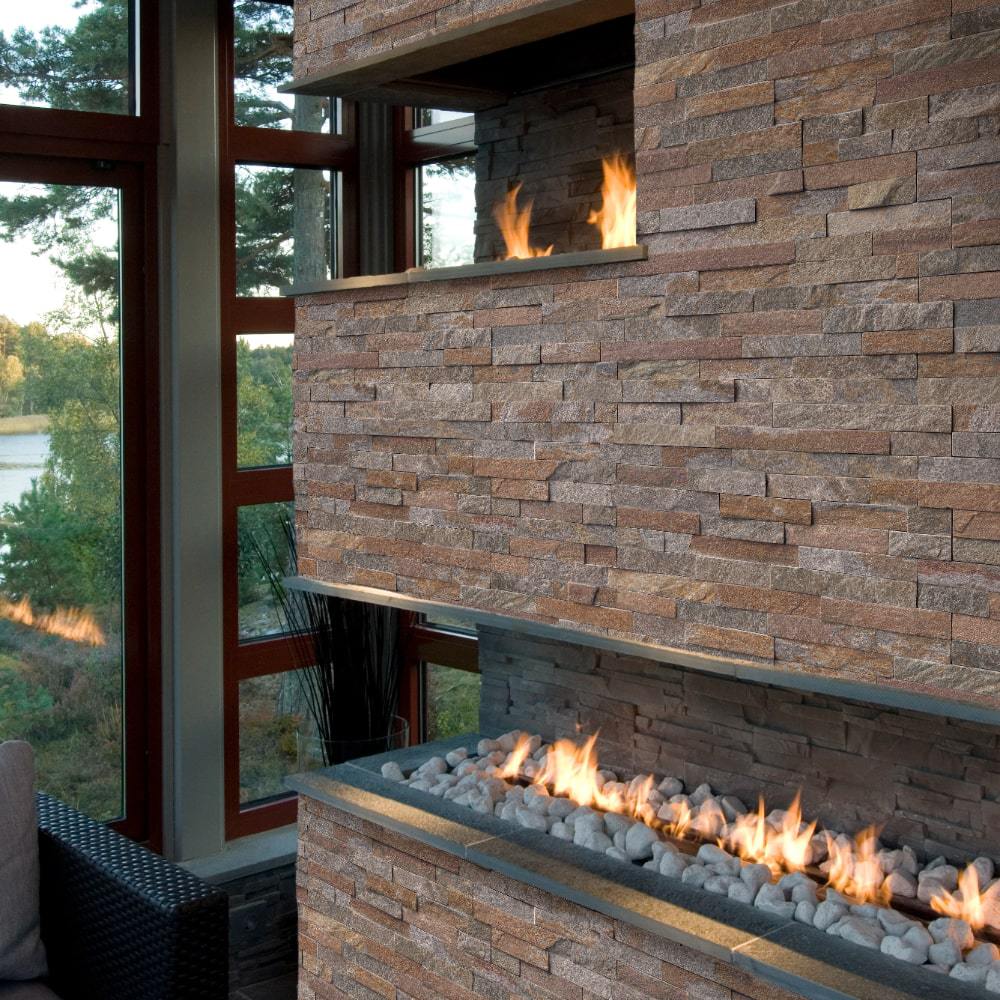 A fantastic option from this collection is the Amber Falls Stacked Stone ledger panels pictured here. The copper, rust, and gray color combo make it ideal for visually appealing hardscaping. Thanks to mica scattered throughout the stone, it glitters in the light. These panels are excellent for fireplaces, outdoor barbeques, or planting walls.
Check out how captivating these ledger panels make this fireplace look. It quickly becomes the room's focal point as it pulls at your attention. Incorporating these stacked stones creates the magical feeling that this indoor fireplace is somehow engaging with the outdoors. The colors of the panels gel well with those outside the window, and the random setting of the stacked stones and their different sizes adds to the feeling of bringing the outdoors indoors.
Take a look at this short informative video on Rockmount Stacked Stone, filled with actual room scenes from which to gain inspiration.
ROCKMOUNT STACKED STONE M-SERIES
Designers love stacked stone for its dimension, texture, and how it adds a splash of unanticipated sophistication to the overall design. Now, through the Rockmount Stacked Stone M-Series, MSI offers over a dozen of our most celebrated full-sized stacked stone colors in mini stacked stone panels.
Measuring in at 4.5x16, these smaller panels are perfect for backsplashes, stone wall tile to create feature walls, accent borders, and practically any vertical space where you're looking to add a touch of elegance indoors or outdoors. Additionally, our Rockmount Stacked Stone M-Series are freeze and thaw resistant and applicable for water features.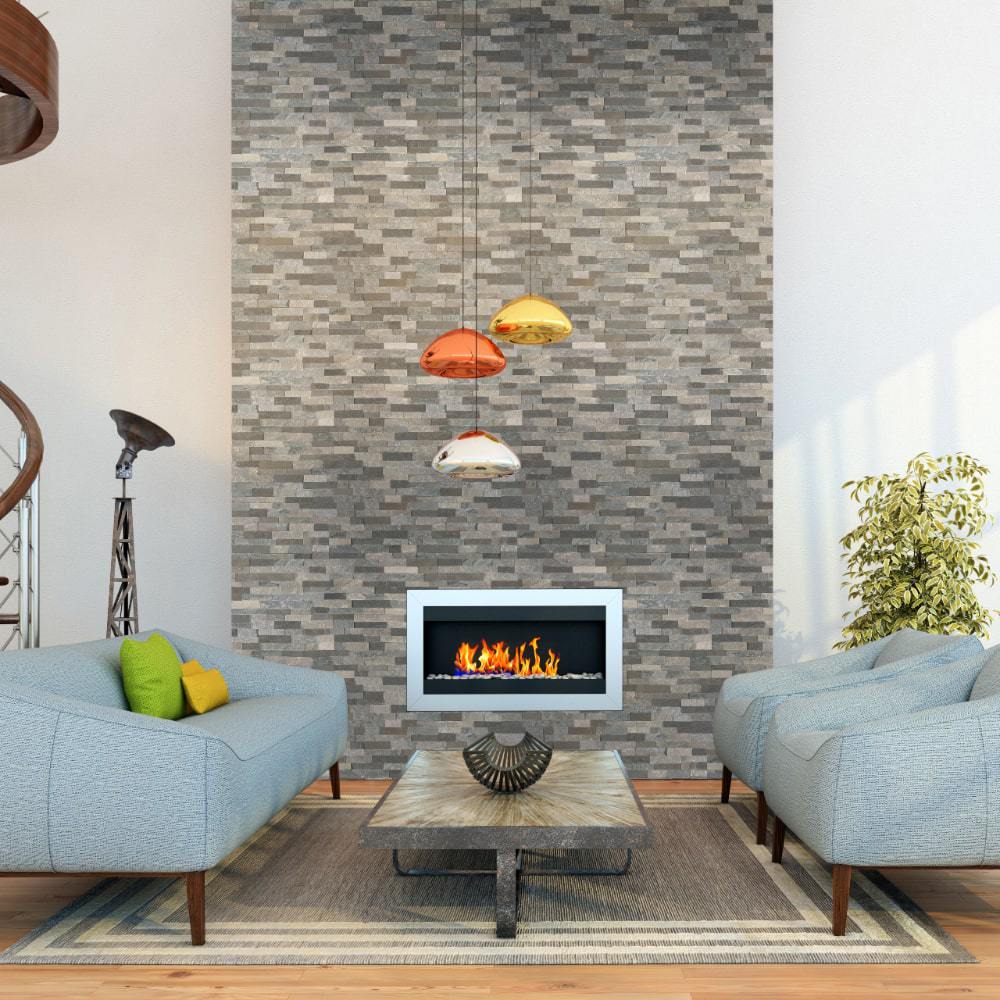 These Sierra Blue Mini Stacked Stone Panels use grays, whites, blues, and hints of rust to create a traditional yet on-trend look. Notice how this entire room revolves around the natural stacked stone accent wall. Use Sierra Blue Mini for accent walls like this, accent borders, or pretty much any vertical space in need of a natural beauty look indoors or outdoors.
DEKORA™ PORCELAIN LEDGERS
The MSI Dekora™ line delivers all that homeowners have come to know and love about stacked stone, though these porcelain stones don't require any of the maintenance of authentic stone. This versatile line is available in nine wonderful separate stacked porcelain ledger panels. Dekora™ provides the opportunity to decorate an outdoor island grill or frame that indoor fireplace. The 6x24 size of these panels makes them ideal for fitting seamlessly into your indoor or outdoor designs.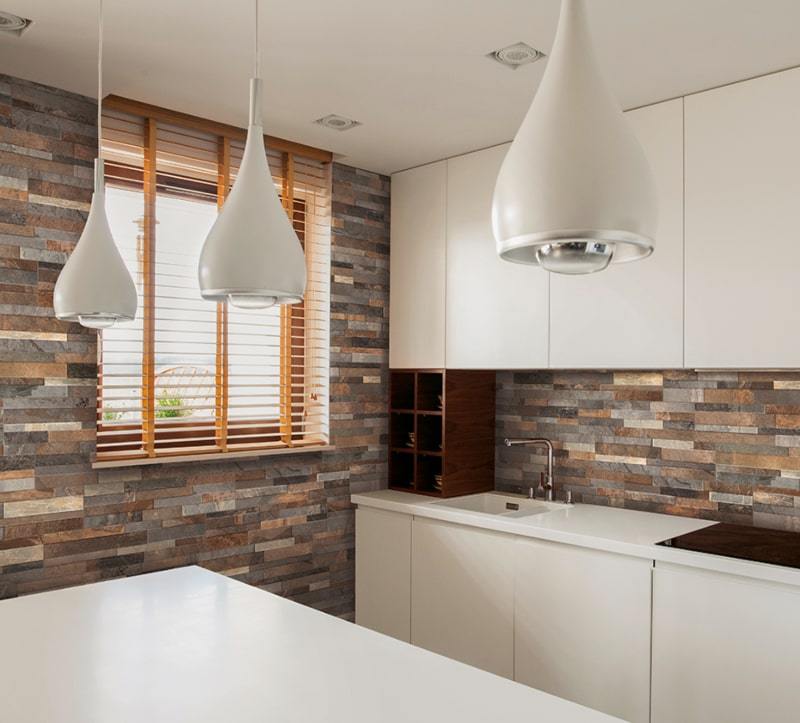 Note how our Rocky Gold Stacked Porcelain Panels bring the minimalist kitchen pictured here to life. With these panels' rich and varied tones, there's no need for additional flourishes in this room's design. The simplicity of the space, paired with the controlled patchwork of the ledgers, sets an enchanting scene that will hold the attention of any guest.
Rocky Gold Stacked Porcelain Panels are easy to clean, extremely durable, and maintenance-free. The panels use warm golds and browns to create a rich atmosphere. These dreamy porcelain panels made in Italy were carefully designed to mimic authentic stone. Perfect for showers, accent walls, backsplashes, and more, Rocky Gold adds richness to your indoor or outdoor spaces.
TERRADO® MANUFACTURED STONE VENEERS
Thoughtfully engineered to capture the authentic feel and look of natural stone, Terrado® Manufactured Stone Veneers are an affordable way to bring a luxurious touch into your designs. Contemporary yet timeless, use Terrado® to enhance fireplace facades, feature walls, and more.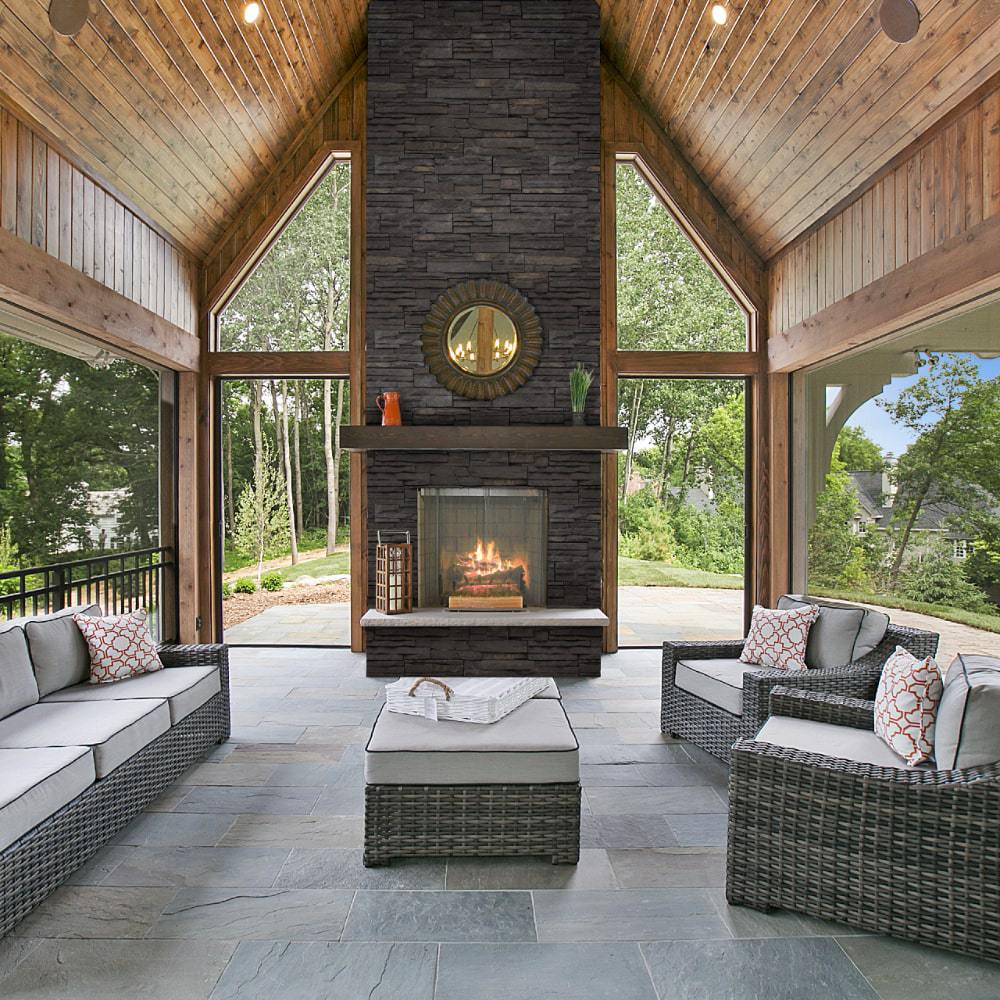 What the Denali Anthracite Stacked Stone did for this fireplace is nothing short of exquisite. Denali brings the contemporary, charcoal gray and brown look in stone pieces naturally varied, lending the feel of a natural rock formation to this fireplace. The stacked stones require virtually no maintenance, install easily, and add dimension, beauty, and interest to your space at a price point that won't break the bank.
If you have any questions about these stacked stone collections or how to use them indoors or outdoors to elevate your designs, contact us by phone, online, or visit one of our showrooms. With so many styles, colors, prices, and uses, making your selections isn't always easy. That's why our experts are ready to assist in bringing your awe-inspiring designs to life.
Also, feel free to contact us in real-time using our MSI website chat feature. Through this feature, we can answer any questions and provide additional information. Finding the feature is easy—look to the bottom right of your screen on any page on the MSI website. Then, click the circle, and a chat box will pop up with a friendly agent ready to assist you.