The Right Finish For Lifestyle & Maintenance - Part 2: Polished, Honed, And Brushed Finishes For Granite Floors
September 06, 2013
Selecting the right finish for your granite is an important choice that is as much about function as it is about aesthetics. The overall look is important to your design plan, but the finish for your natural stone may be better suited to some areas of the home than others.
Granite is one of the hardest materials on Earth. As such, granite tile remains a popular flooring choice for both homes and businesses. This natural stone is resilient and strong – pair these qualities with the overall beauty and complexity of granite, and it's easy to understand why granite is an enduring selection for a variety of applications.
Polished
Easily the most popular of finishes for granite, a highly polished finish brings out the rich color of the stone to its fullest potential. When it comes to flooring, polished granite tiles are beautiful and can create a luxurious expanse of color and interest; however, a polished granite becomes very slippery when wet so applications must be thoughtful and deliberate. Though granite is a beautiful choice, a polished surface may need to be assisted with slip-free rugs to help avoid falls, such as in the bathroom where it will likely be exposed to moisture collection from steamy showers. (In general, highly polished granite is not recommended for bathroom floors.)
Likewise, entryways are a great way to celebrate the beauty and character of granite, but indoor and outdoor floor mats or rugs may be helpful, as wet shoes may track water across the surface. Finally, a polished granite is not recommended outdoors around pools and hot tubs where wet feet will find little purchase on the slick surface. There are many other locations, however, that are greatly enhanced by beautiful, polished granite floors. As decorative edging around hardwood floors in living areas and for hallway expanses are common choices to showcase this sophisticated stone.
Granite is also a very versatile choice –polished granite is most often found as countertops. The high polish and seal will protect the stone from staining, making it a great choice for the kitchen (or bathroom vanity). As a highly polished surface is more likely to show etching from acidic foods, a polished granite countertop is a good fit for attentive families who will wipe spills immediately and seal regularly for the best appearance.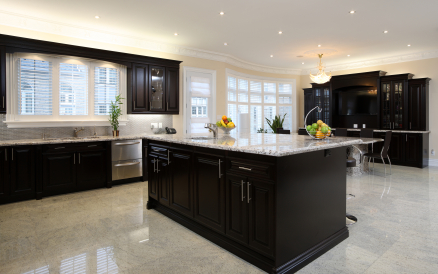 Honed
Honed granite has a matte finish and is recommended for high traffic areas. Unlike a highly polished finish, honed offers the beauty of granite with a less slippery, though smooth, glowing surface. The look itself is also more subtle; whereas a polished surface is high-end and chic, a honed surface is low-key and elegant for organic yet classic design schemes.
A honed surface is excellent for all the applications mentioned for polished, from foyers to halls to accents or full floors. High traffic floors that require a strong, durable surface will benefit from a honed granite. Though a honed surface is not as slippery when wet as a polished finish, it still becomes slick with water, so it is not recommended for bathrooms, outdoor applications like pool patios or walkways – though as accent on ledges, benches, and around water features the sheen of a honed finish is an attractive option.
The strength of granite and the smooth, protected surface of a honed finish makes this choice ideal for high traffic areas to serve as a landing spot for briefcases, purses and book bags for your kitchen island or breakfast bar. Though a honed finish is susceptible to etching like a polished finished, a honed finish is a matte surface to begin with, which means etching and scratches are less noticeable.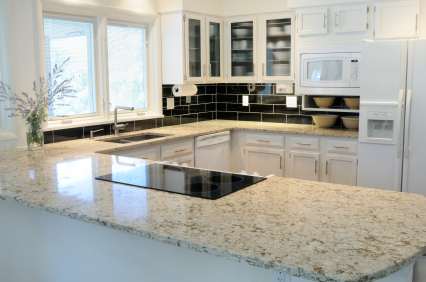 Brushed
A brushed finish gives granite a slightly textured feel. It is not usually rough to the touch but rather is a finish of smooth and silky ridges and veins. Unlike polished or honed, a brushed finish typically has no sheen to it. This finish is suited for outdoor use, as the texture will provide a bit of traction for application around surfaces that will be wet or exposed to the elements. Similarly, such a surface will hide scratches and imperfections, which are bound to happen on a granite surface that is exposed to scratchy outdoor elements like dirt and lawn debris.
Though not as commonly employed as a polished or honed finish, a brushed finish is also applicable to countertops and vanities for a rustic look that is also highly functional in any busy area where the stone will be put through its paces. Rustic or organic is one such design scheme for a brushed finish, but it is also a high-end look, because in a brushed state, granite looks its most impressive to many eyes – heavy, rich and timeless. It appears most like the authentic stone that it is.
All granite is susceptible to scratches and etches, even when properly sealed, a brushed finish will better hide such imperfections, making it a great finish choice for any indoor or outdoor application.
Granite is available in a wide variety of unique color options. MSI's premium surface granite tile selection offers over 50 color patterns, with options for every flooring project, whether it is for residential or commercial use, in polished, honed, and brushed finishes for a range of both functional and aesthetic designs. To envision granite in your home, try the MSI Kitchen Visualizer to plan your next project. Get more information about caring for natural stone, including granite of all finishes.
Read More about Modern Granite Countertops
5 Granite Colors for a Chic and Modern Fireplace
Modern Granite Countertops
Fresh Kitchen Looks With Timeless Granite
The Evolution of Granite: Ancient Times to Modern Days
The Timeless Beauty of One-of-a-Kind Granite Countertops
READ MORE ABOUT GRANITE COUNTERTOPS
The Distinct Similarities Between Quartz & Granite
The Exquisite Shades and Textures Of Granite Floor Tile
The Latest Marble & Granite Countertop Trends – Waterfalls, Brushed Finishes, And More
The Top 5 Most Popular Colors for Granite Countertops