Get Luxurious Natural Marble Looks With The New Kaya Porcelain Collection
May 19, 2022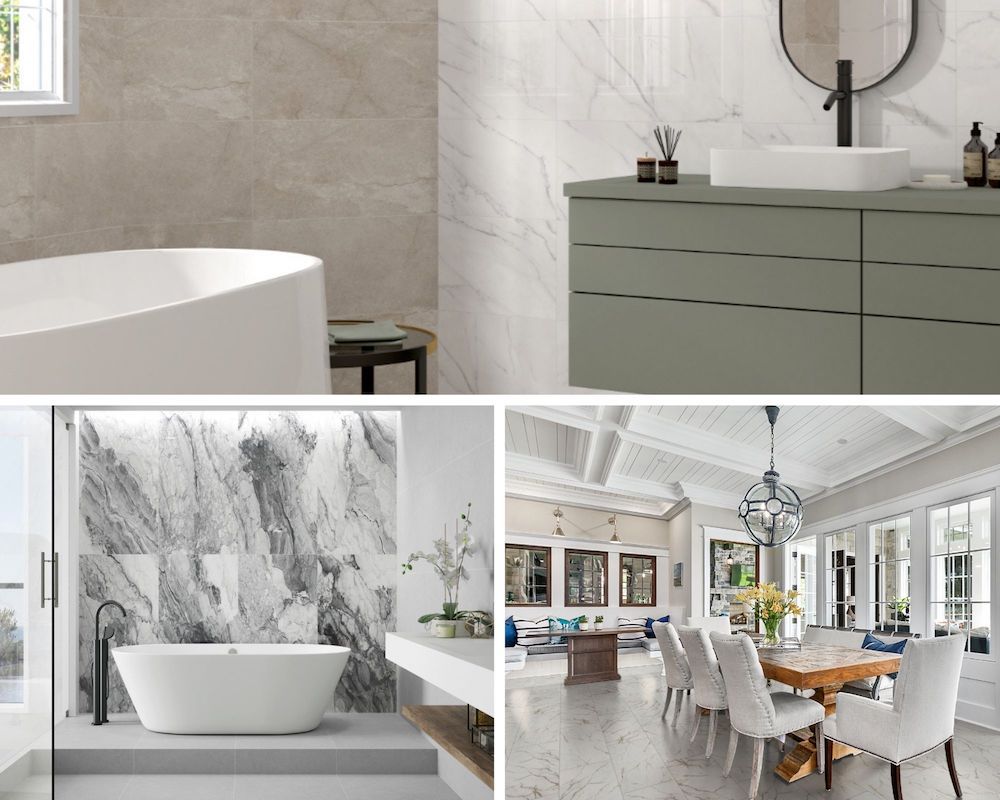 How long has marble been a part of building designs? Well, we don't actually know but we know that ancient Rome and Greece loved marble. Why did they love marble so much?
Its beauty and strength were highlights of its popularity. People still love marble today, but in our modern homes, marble has some drawbacks. Marble requires sealing and can chip easily.
What if you could have the look of marble and the strength of porcelain? Good news, you can! MSI's Kaya Collection combines the beauty of marble with the strength of Porcelain.
Keep reading to see how it could be the perfect fit for you.
Porcelain Strengths
Porcelain is one of the strongest materials you can put in your home. It gives you long-lasting strength and many cost-effective benefits.
Porcelain's Benefits
Porcelain is a very dense and water-resistant tile. You can use it in bathrooms and kitchens without worrying about sealing it. Porcelain tile is scratch resistant and holds up well to lots of traffic.
Porcelain is so strong that it is often used in home designs as well as commercial designs. Decorators love having the beautiful options that porcelain gives them without the hassles of marble.
Porcelain doesn't need special treatment to clean. You can clean it with a wet sponge or a wet mop. You also don't have to worry about polishing or waxing porcelain because it keeps its shine.
Porcelain vs Ceramic Tile
Porcelain is made out of similar materials to ceramic. However, it contains a larger amount of the mineral feldspar. When you compare porcelain vs. ceramic, feldspar gives porcelain the ability to be heated to a much higher temperature compared to ceramic.
This higher heat makes porcelain a much harder surface and makes it heavier. It is naturally resistant to water and stands up well to chipping.
Porcelain Tile That Looks Like Marble
With the unique process of making porcelain, it has the ability to mimic other materials. Many people love using porcelain that looks like marble. Porcelain is harder than marble and doesn't chip as easily.
It also stands up to scratching much better than marble and doesn't require sealing. These benefits have made porcelain one of the best ways to get the beauty of marble without the headaches.
The Kaya Collection
MSI's Kaya Collection brings four luxurious marble-looking porcelain tiles to the forefront. This collection will add strength and beauty anywhere you use it in the house from floor tile to wall tile for bathrooms.
Calacatta Lucca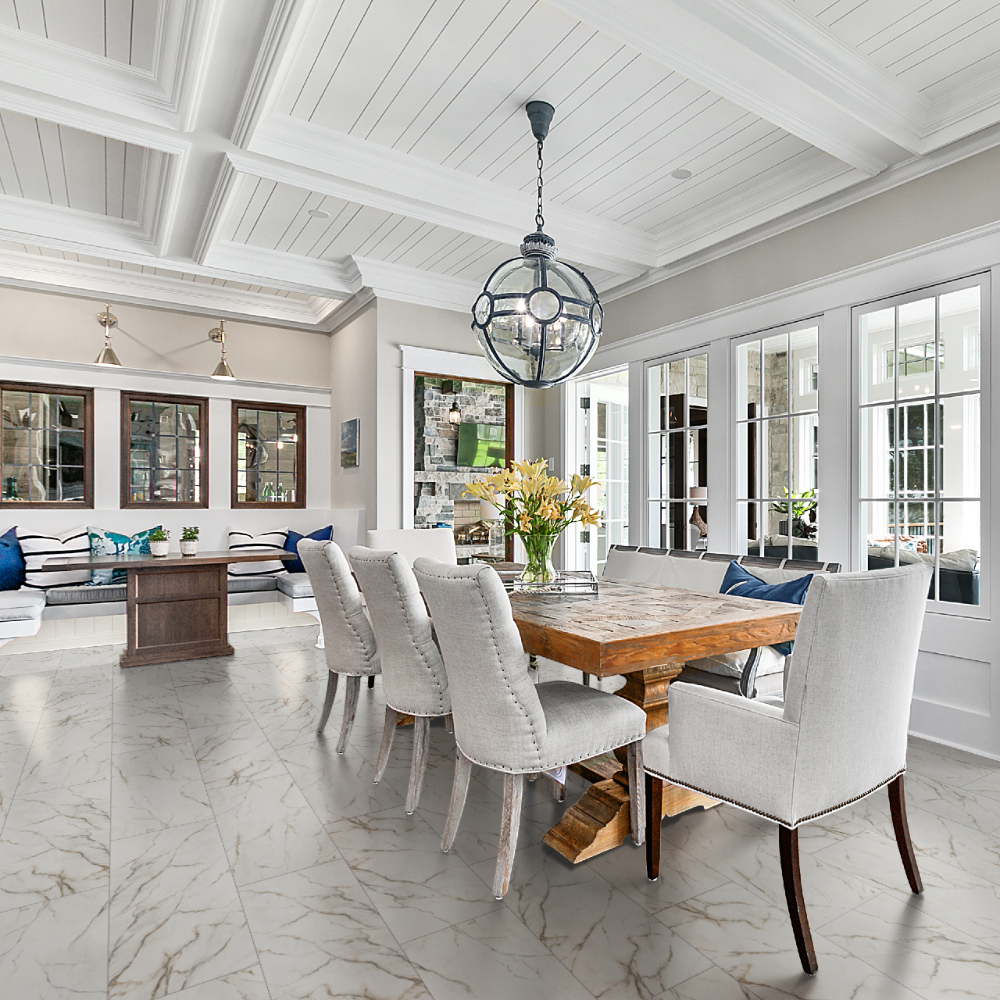 The sophistication of marble is shown through the Calacatta Lucca Porcelain Tiles. Gray and gold highlights will stand out amidst the beautiful white background of the tile.
These tiles add a timeless depth no matter where you use them in the house. Notice in the picture how the floor tile's depth of color accents the room without overwhelming it.
These tiles come in three different sizes: 12"x24", 24"x24", and 24"x48." This gives you options on how and where you want to use them. They also feature a matte or polished finish giving you more customization for your designs.
Calacatta Venato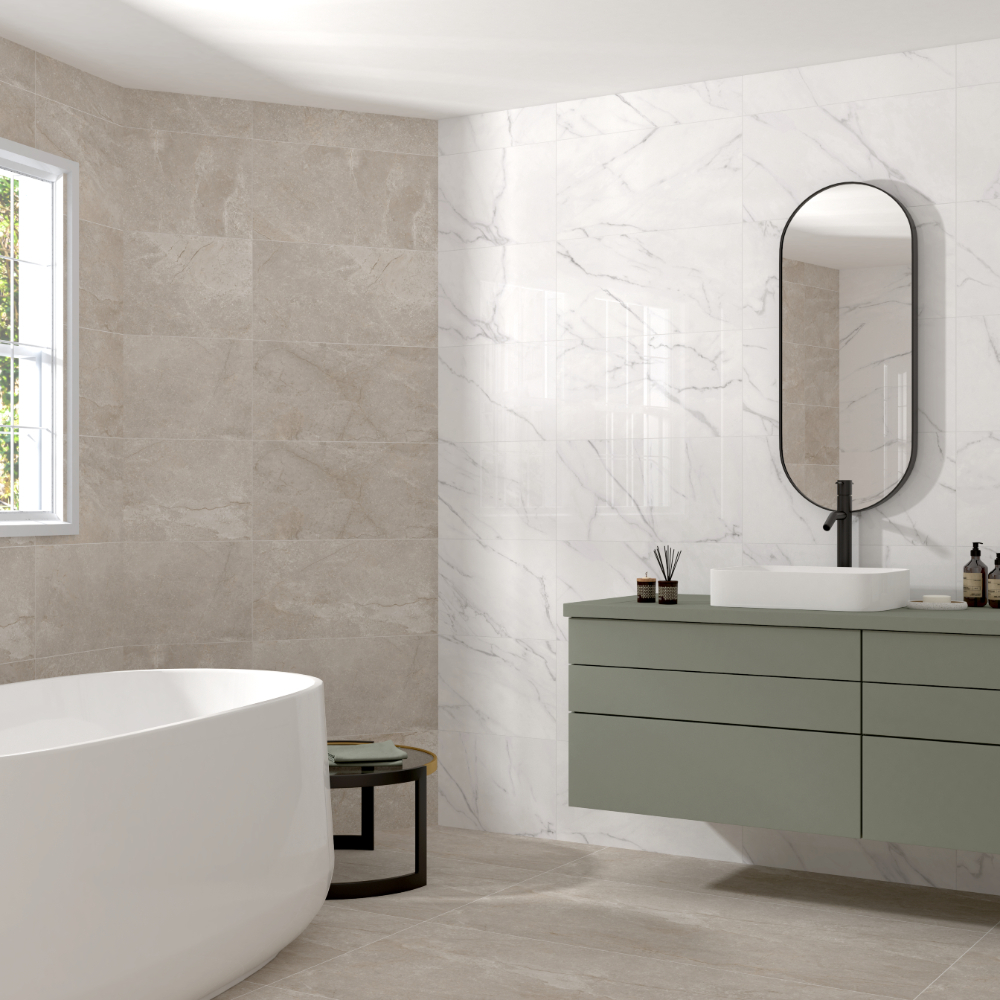 With a classic marble style that has been used for centuries, the Calacatta Venator brings a timeless look to your room. The bold white marble has gentle gray veins that spread majestically throughout.
The bathroom in the picture reveals how to use these tiles for walls by showing how it enhances the sink and mirror. This adds a classic accent wall to the bathroom without overpowering the other elements in the room.
MSI offers these tiles in a matte and polished finish and they come in 12"x24", 24"x24", and 24"x48" sizes. The strength and long-lasting quality of porcelain will keep this tile looking great for years.
Carrara Bianco
MSI's Kaya Collection dives into the stunning beauty of Italian marble with the Carrara Bianco Porcelain Tile. This tile features a deep white background that showcases feathery gray veins throughout.
You can see in the picture how the floor showcases the strong dark wood of the bookcase. It also helps your eyes focus on the rich leather of the chair. These tile patterns help keep your dark wood features as the focus of the room.
With their low water absorption, you could also use them to brighten up a bathroom or kitchen. They also come in 12"x24", 24"x24", and 24"x48" sizes with polished or matte finishes.
Onda Gray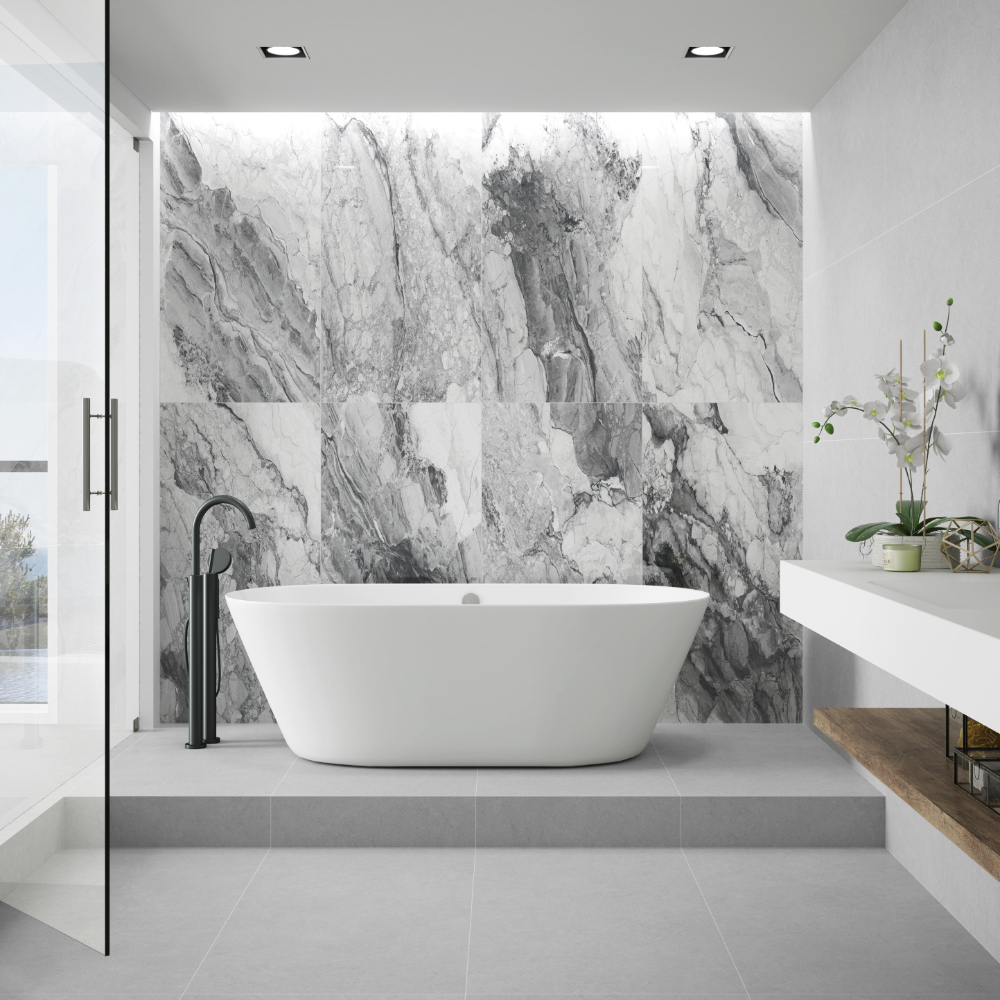 The bold Italian marble look stands out in the Onda Gray Porcelain Tiles from MSI's Kaya Collection. These tiles will stand out as part of a contemporary look and they go with a wide range of color styles.
Notice how the Onda Gray is used as a wall tile behind the white tub in the bathroom picture. The white tub stands out as well as the dark gray faucet and shower spray.
The wall helps the tub to be a feature of the room and brings an elegant look to the overall aesthetic of the bathroom. They offer the sizes of 12"x24", 24"x24", and 24"x48" as well as a polished or matte finish.
Strength and Beauty Combined
With centuries of popularity, the beauty of marble remains an icon in the decorating world. Porcelain brings new strength to the look of marble. MSI's Kaya Collection combines the two in unique ways for your benefit.
Your home or office can have the ease of care and strength of porcelain while showcasing the timeless appeal of marble. You can also save money because porcelain is less expensive than marble.
Contact us to find out more about the Kaya Collection and how this beautiful marble look could be part of your next design.