Tile Style: Fresh Bathroom Designs With Ceramic Tile
June 29, 2017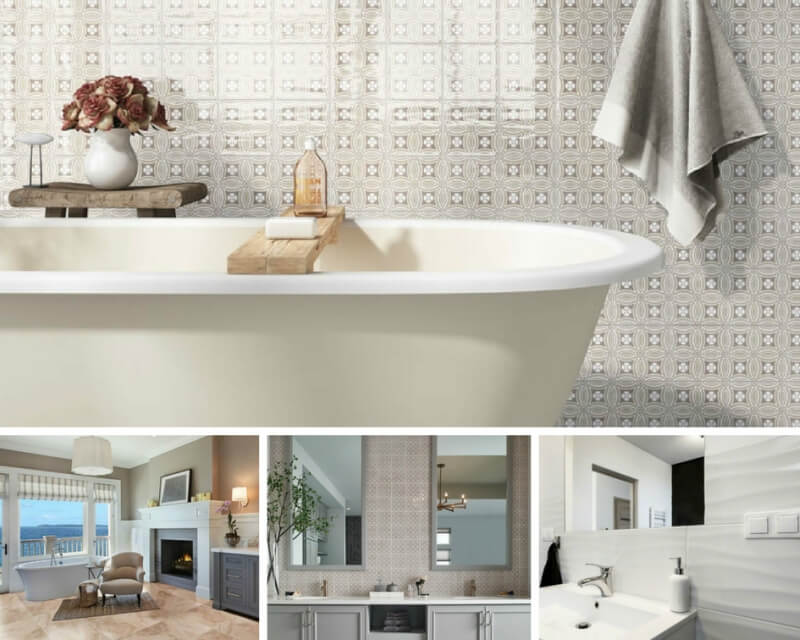 You can get your desired fresh and fab bathroom makeover on a budget with ceramic tile from MSI. This affordable tile option—the cousin of porcelain tile—is a perfect choice for style-savvy homeowners. The tiles give your space an updated look, and offer many lively patterns, precise colorations, and even modern textures.
Plus, you'll breathe easier knowing that these easy-to-clean tiles will save you money on your maintenance, and are also durable and water-resistant. Here are some of our favorite bathrooms featuring fabulous ceramic.
Beach-Inspired Beige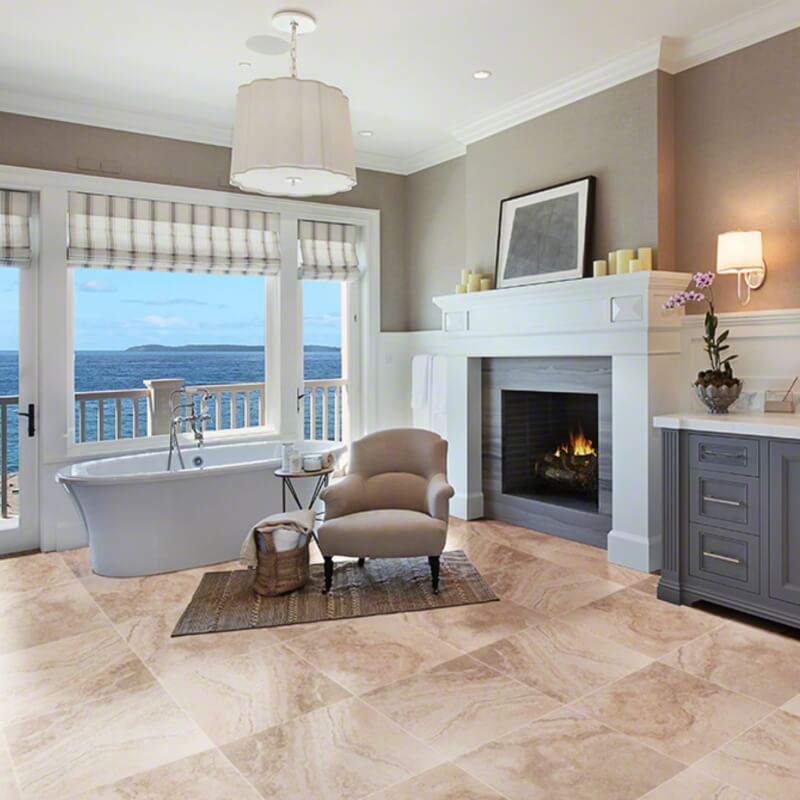 Featured: Beige Napa Ceramic Tile
This dreamy space feels more like a luxurious living room than a generous master bathroom retreat! One way this upscale bathroom gains a more expansive feel is with the installation of large-format floor tile.
Beige Napa Ceramic Tile is a 20x20 ceramic tile with the look of natural stone. Its swirls of warm creamy clouds and darker veins will make you feel like you're standing right on the beach, even if you don't have that amazing ocean view over the free-standing tub!
Classic White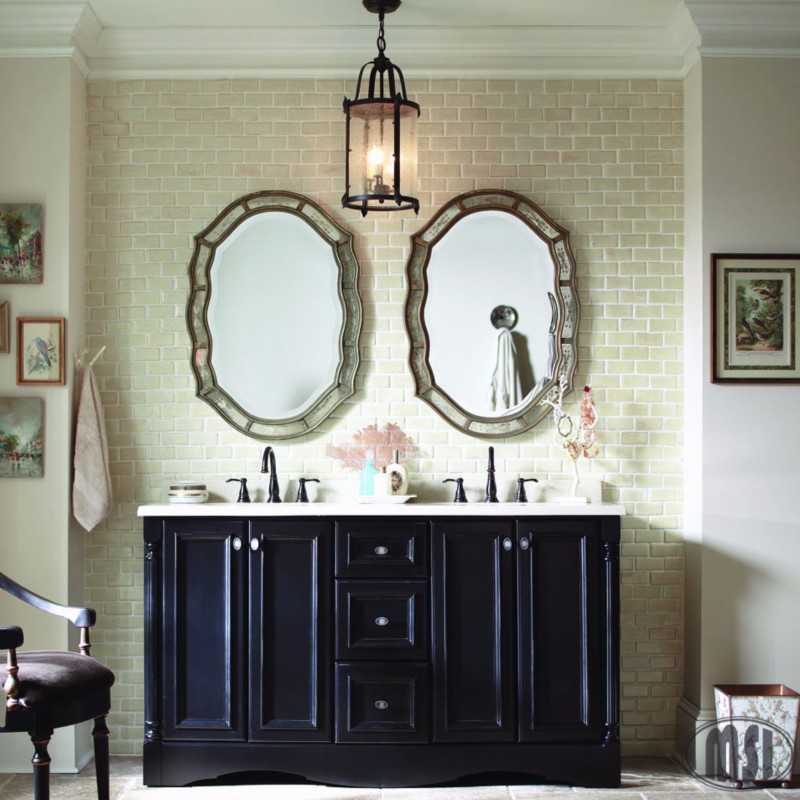 Featured: Antique White Subway Tile
If you have an older home with lots of character, it's important to choose the right pieces that emulate the right historical period. With an old-world design like the one shown here, there's nothing better than incorporating classic subway tile.
These 3x6 Antique White Subway Tiles are off white in color and come in a glazed finish. They create a timeless backdrop for other elegant accents to stand out, such as the antiqued mirrors and metal light fixture.
Bold Pattern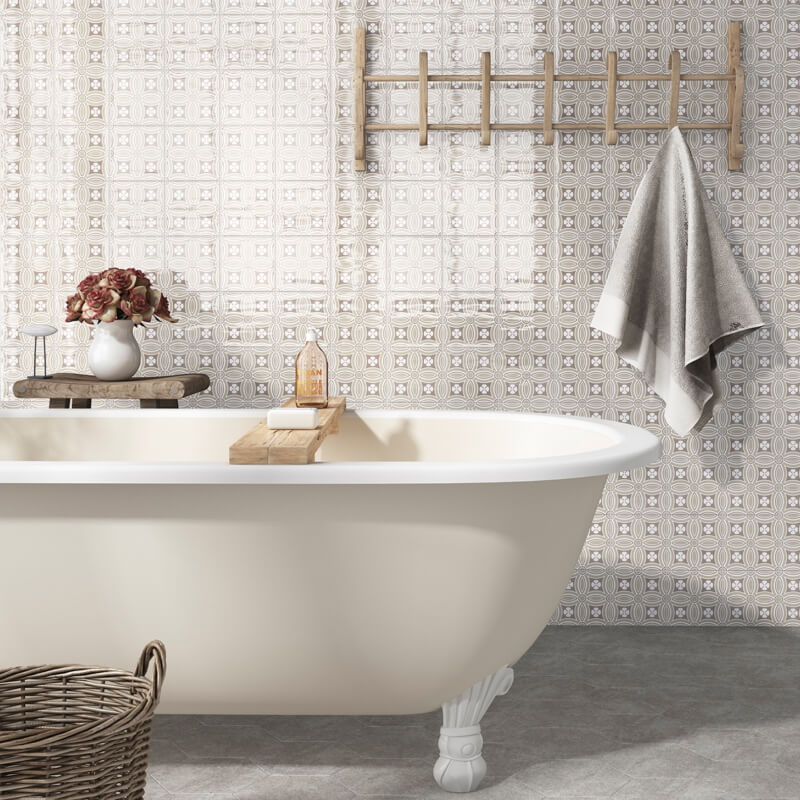 Featured: Dekora Ceramic Wall Tile
To accentuate the beautiful tub in this bathroom, these homeowners installed ceramic tiles with a bold pattern on the entire back wall.
Dekora Ceramic Wall Tile is a beige, white, and camel brown ceramic that hails from Spain. Although the pattern of this decorative 5.2x5.2 wall tile has a lot of movement, the other rustic wood elements are kept simple and minimal to provide balance.
Mosaic-Like Motif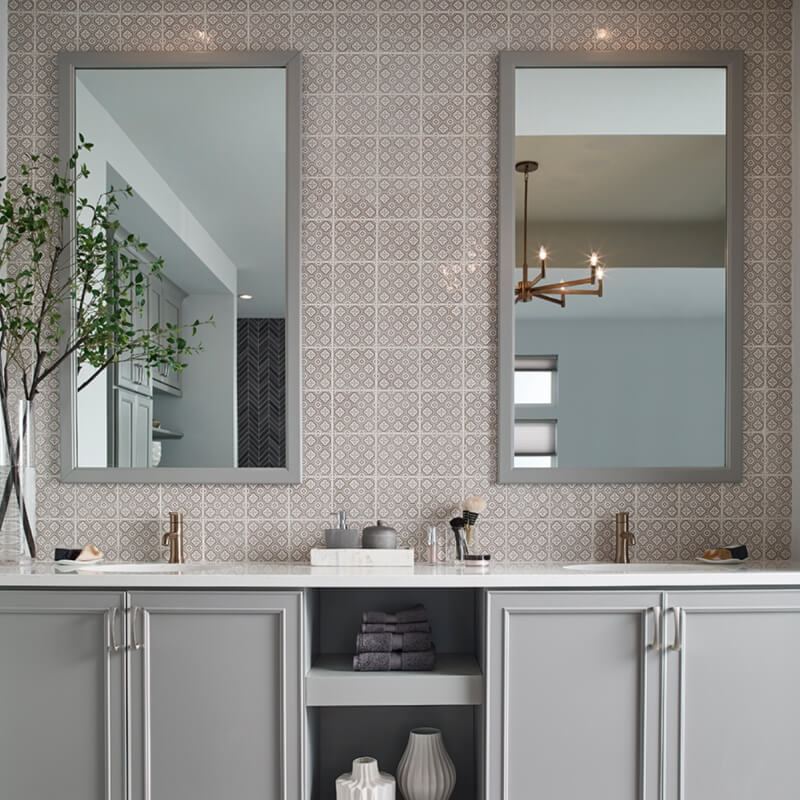 Featured: Leira Ceramic Wall Tile
For a bathroom, you want materials that are easy to clean but still offer design drama! So why stop at the standard 4-inch backsplash when you can tile your entire wall! Similar to Dekora Ceramic Wall Tile, this bathroom features Leira Ceramic Wall Tile, which has an even more detailed pattern.
The beige and white ceramic tile from Spain adds a bit of European flair but contrasts well with the clean lines of the gray mirrors and double vanity. This Spanish beauty is a great alterative to mesh-backed mosaics because there's less grout to clean, yet the ceramic shapes create an additional stunning grid-like pattern.
White Waves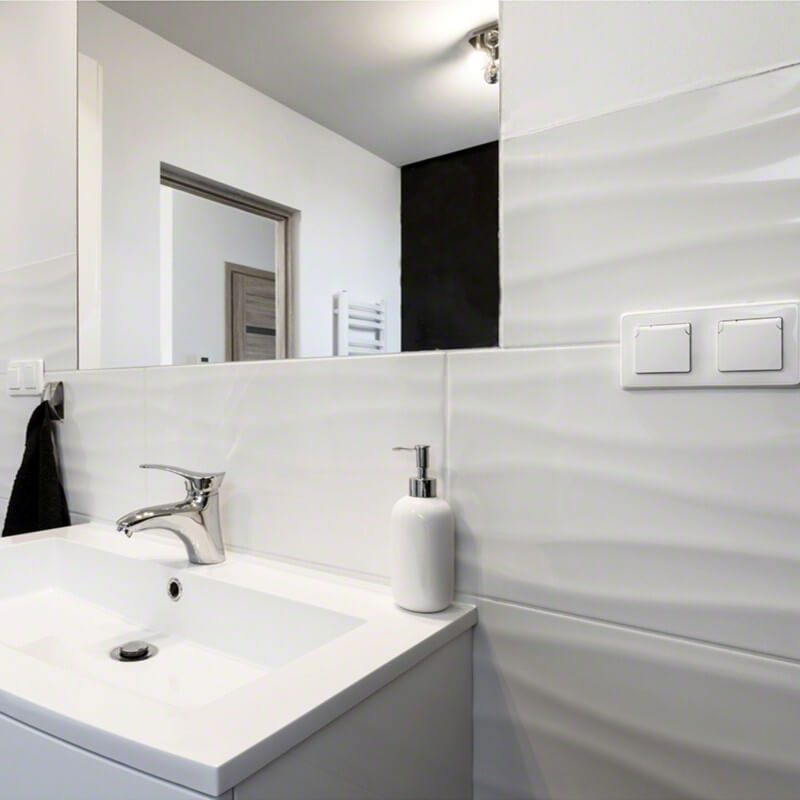 Featured: Dymo Wavy White Ceramic Tile
If you love an all-white bathroom, add interest by varying the textures. For example, this modern design is brought to life with Dymo Wavy White Ceramic Tile.
These glossy white 12x24 ceramic tiles create movement within this small space and are easily maintained with a quick wipe down. The rectangular format mimics the shape of the modern sink, but adds softness with its curves.
With so many benefits of using ceramic tile, it's truly the perfect option for the bathroom. MSI offers a wide variety of ceramic choices for your new floor, backsplash, or accent wall. No matter what your budget is, you'll be able to create a fresh, new look that suits your traditional or modern style.