Current Obsessions: Modern Indoor Installation Ideas For Stacked Stone
June 09, 2017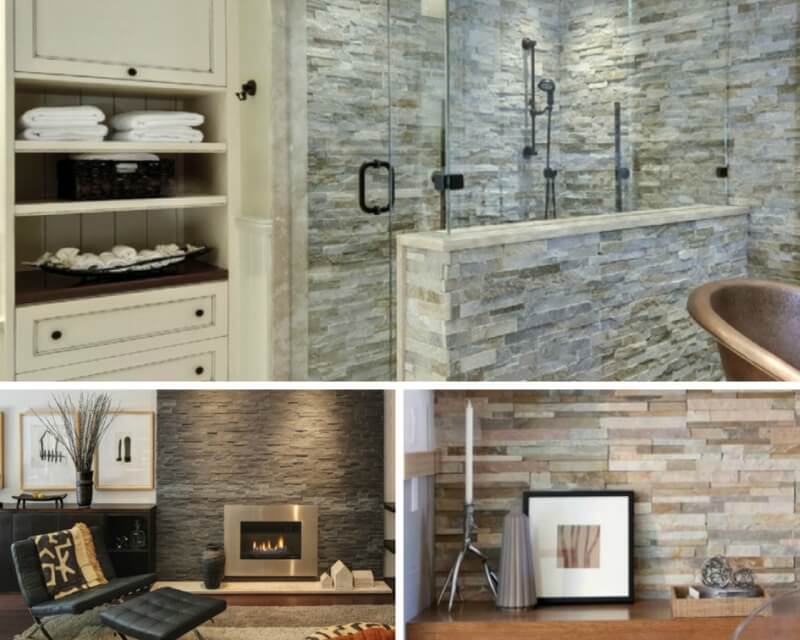 With its rough texture and natural tones, it might be difficult to imagine installing stacked stone in a modern space. But, once you see these contemporary-designed rooms, you'll soon realize that stacked stone pairs marvelously with the modern aesthetic!
These thin panels add texture, dimension, and natural appeal to sleek and simple spaces. Check out these inspirational installs and transform your boring walls into architectural focal points!
An Impactful Fireplace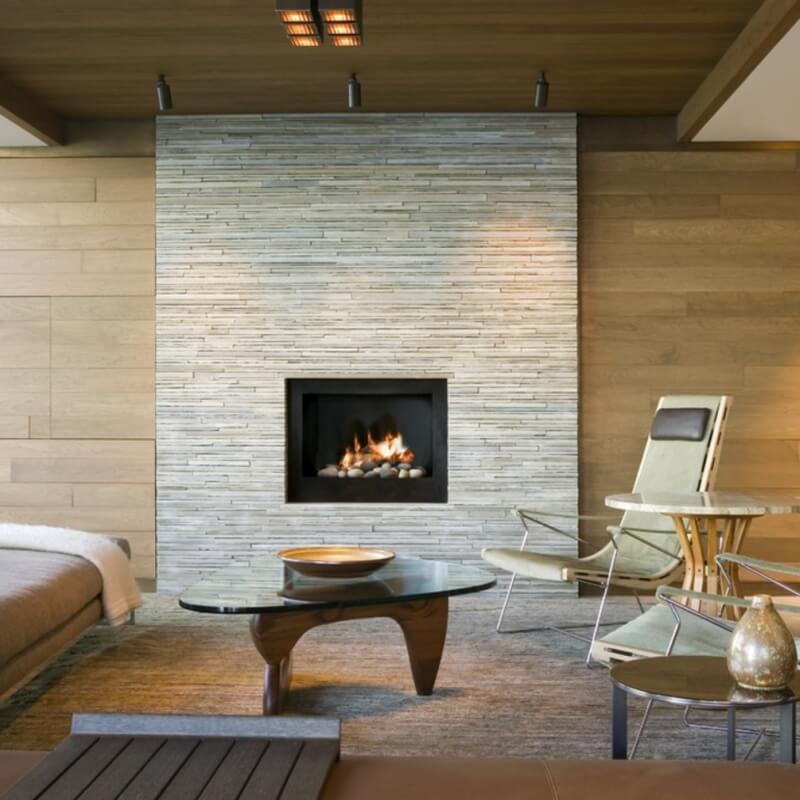 Recreate this look with MSI's White Oak 3D Honed Stacked Stone (Photo Credit: Houzz)
A fireplace is an excellent feature that adds warmth and character to any home. One way to give your living room that modern look is to carry stacked stone from the floor to the ceiling. Such a bold moves is sure to make a huge impact on your overall design!
This White Oak 3D Honed Stacked Stone is composed of off-white marble, which perfectly balances the warm wood and golden tones throughout the space. The variation in dimension and depth contributes to its contemporary appeal.
A Fab Feature Wall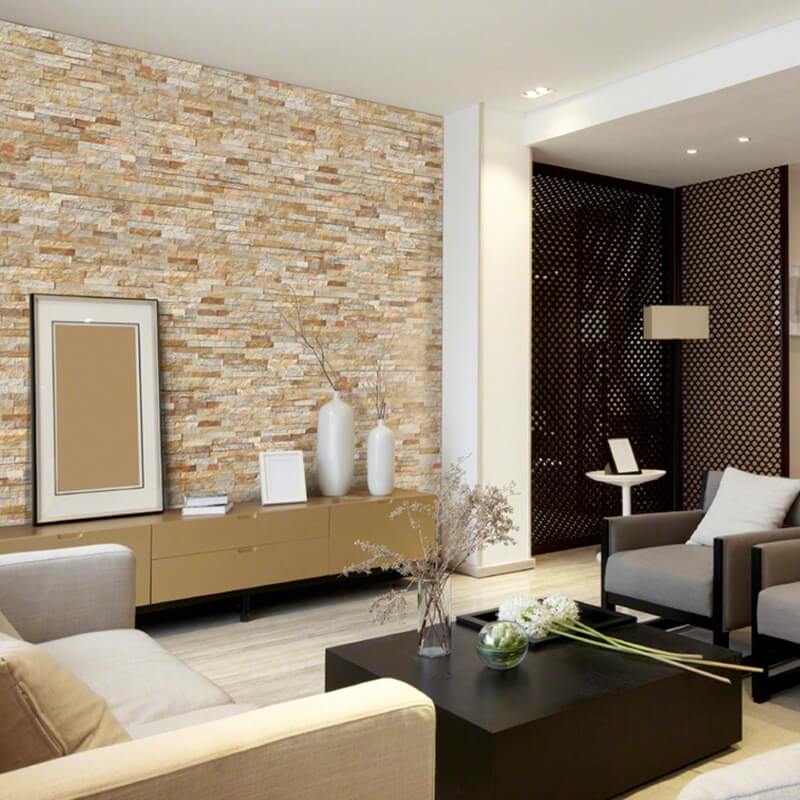 Featured: Sparkling Autumn Stacked Stone
Adding stone wall tile to a room not only creates a focal point but also gives your design a distinct wow factor. Sparkling Autumn Stacked Stone is featured in this living room, and for good reason.
For a contemporary look, select a modern style stacked stone in the same color family as the materials used throughout the rest of your design. This split-face quartzite creates a subtle pattern with the inclusion of various colors, from the soft gold tones to the creams and rusts. The warm palette works beautifully with the gold furniture and accessories.
A Standout Tub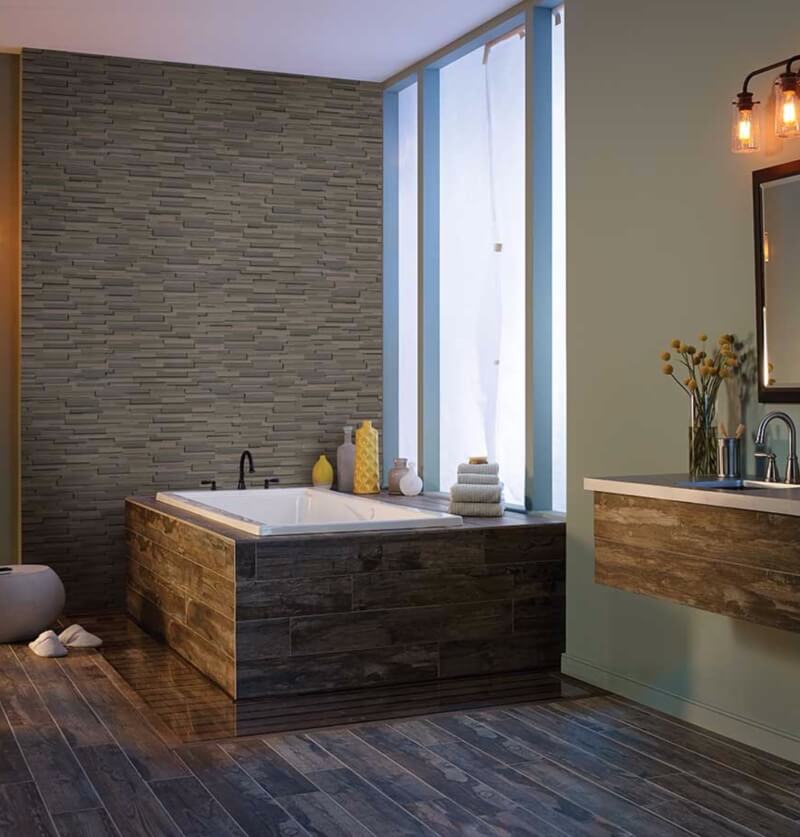 Featured: Brown Wave Stacked Stone
You don't have to be ultra modern to utilize stone veneer panels in your design. For example, this relaxing bathroom balances rustic with contemporary.
Brown Wave Stacked Stone is a natural sandstone stacked stone with a three-dimensional effect that draws the eye toward from floor to ceiling. Its warm brown and mocha coloring blends beautifully with the medium-tone, wood-look tile used for the flooring, tub surround, and vanity.
Accentuating Function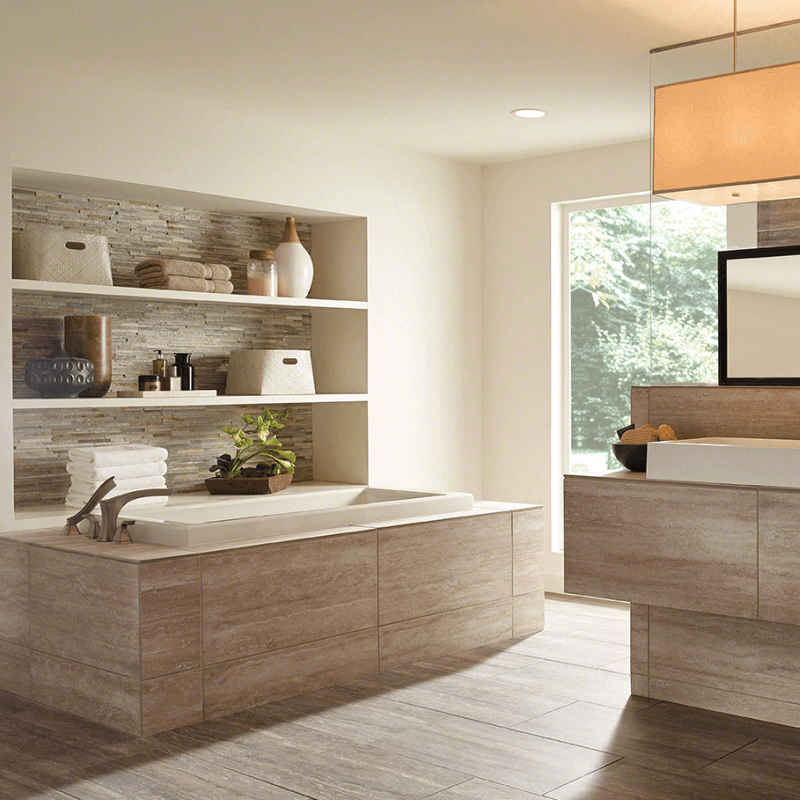 Featured: Golden Honey Pencil Stacked Stone
This bright and airy bathroom features a modern aesthetic as well as storage spaces that function well for daily use. The tub is now even more of a focal point thanks to the Golden Honey Pencil Stacked Stone featured behind the built-in shelves.
The thin strips of quartzite in gold and gray perfectly compliment the tile throughout. The elongated shelving is convenient for storing everyday items like crisp white bath towels, soaking salts and creams. It's also a perfect place to display pretty items like vases and baskets.
Highlighting a Bathtub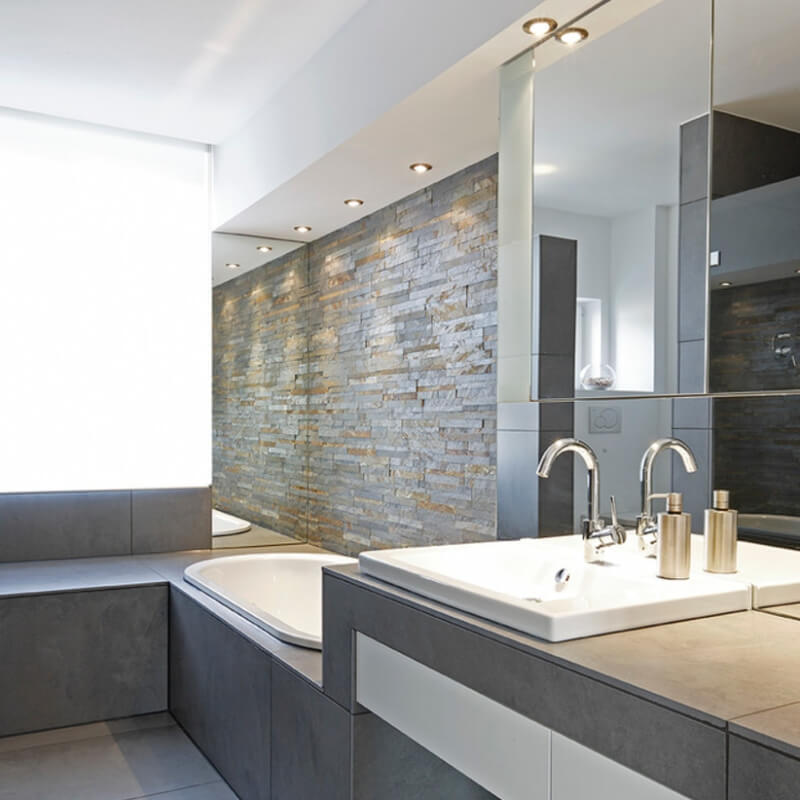 Get this look with MSI's Charcoal Rust Stacked Stone (Photo Credit: Houzz)
This sleek bathroom is an ultra-modern retreat you won't want to leave! Its clean, simple lines and monochromatic coloring give it a modern edge. The Charcoal Rust Stacked Stone in slate consists of mid-tone grays, while the random glimpses of rusty golds offer a warm touch to balance the cool tones.
And to keep the space from looking sterile, the stacked stone feature wall above the bathtub provides just the right amount of natural appeal without making the room look rustic.