Porcelain Slabs: Revolutionizing The Modern World
December 17, 2018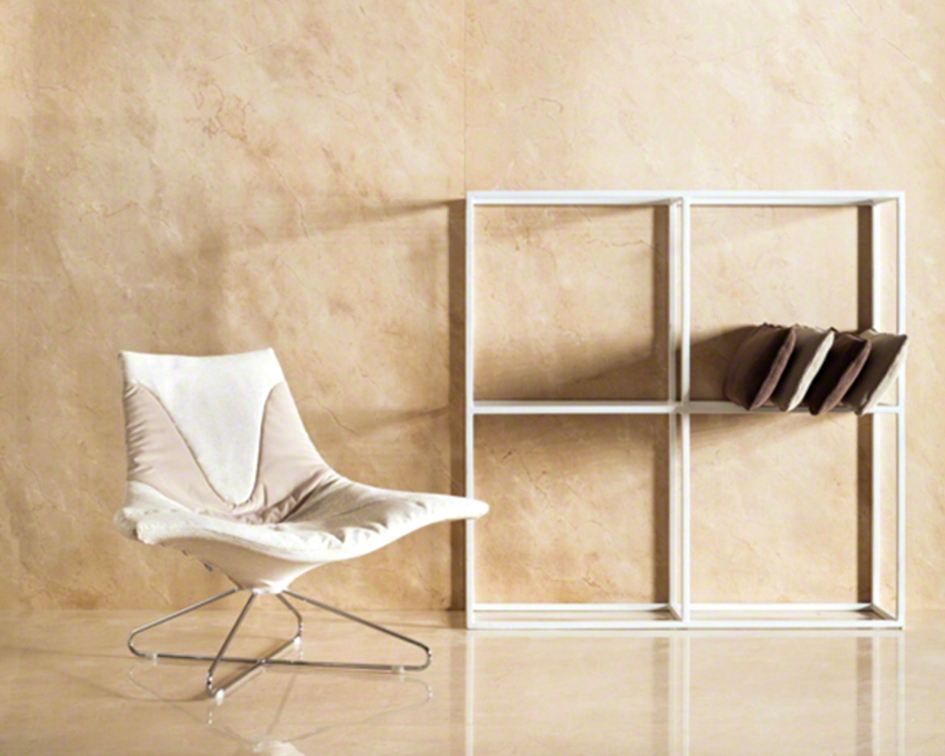 Did you know you can get realistic marble-look porcelain slabs? And that they can be installed directly over existing surfaces? Yes, it's true! In addition, they come in a number of natural stone looks to complement virtually any design style.
Do you yearn for fine marble covering your backsplash, island, and countertops, but have concerns about maintenance and staining? Gauged porcelain slabs are a great option—and they can quickly transform any space without demolition. Take a moment and just admire this stunning kitchen that was transformed with Calacatta Stile Porcelain in a matte finish.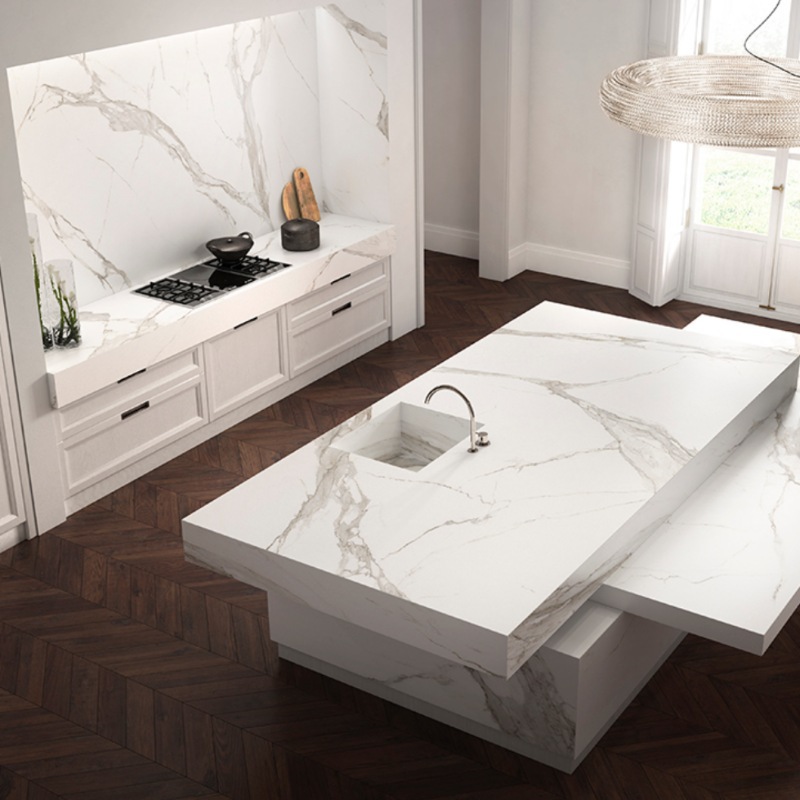 Featured: Calacatta Matte Porcelain Slabs
Porcelain slabs are thin and are designed to be installed over existing surfaces, including floor tile, wall tile, or countertops. Believe it or not, they are so light that they can be used in airplanes, boats, and RVs to give the look of fine natural stone, but at a fraction of the weight.
Consider that a standard 1¼-inch thick piece of granite weighs between 18 and 20 pounds per square foot, and 2-inch granite can top 30 pounds per square foot. In contrast, modern porcelain slabs weigh either 2.81 pounds or 5.8 pounds per square foot, depending on the size chosen. That's a huge weight difference!
Another benefit or porcelain slabs is their cost. Unlike natural marble, which can be pricey, this modern porcelain tile is a fraction of the cost but still looks uncannily like real stone. And, because it comes in large slabs big enough to cover an entire kitchen island or to make a dramatic statement wall, there generally aren't any seams to detract from its beauty. Just imagine how much this statement wall would cost to install in natural stone…if the wall could handle the weight payload, that is!
In addition, let's talk for a minute about porcelain cleanup. Porcelain slabs come in huge 59"x118" or 126"x63" sheets, which means you can create a seamless, grout-less surface, virtually anywhere. This makes clean-up a breeze! Plus, unlike natural stone, porcelain slabs never require sealing, and they are etch-, stain-, and heat-resistant.
When porcelain slabs were first introduced, many fabricators didn't understand how to properly handle, cut, move, and install these giant slabs. Fortunately for homeowners looking to update with porcelain, the Tile Council of North America recently released handling standards for gauged tile, on the heels of MSI's release of our own standards of excellence. So, you can be sure that your installation will be handled with proper care.
If you have heard of homeowners getting poor results with porcelain in the past, it's time to take another look at fine porcelain slabs. Not only does MSI have high procedural standards to ensure the product turns out beautifully, but these slabs are so durable that they can be used in both homes and businesses as flooring tile, wall tile, countertops, and even easy-clean showers.
When designing your next space, consider the benefits of budget-friendly porcelain slabs. From realistic Italian-look marbles to the elegance of quartzite-looks and dramatic travertine-look porcelain tiles, there is sure to be a porcelain slab that will make your project unique and give you the high-end look you desire.
READ MORE ABOUT LARGE FORMAT PORCELAIN SLABS AND PORCELAIN TILE
A Porcelain Revolution: Stile Large Format Slabs
Bigger Is Better: Large Format Porcelain Floor Tile
Make A Statement with Large Format Porcelain Tiles
Here's What Happens When You Use Large Format Porcelain Tile