How Do You Estimate The Cost Of A Quartz Countertop?
September 09, 2020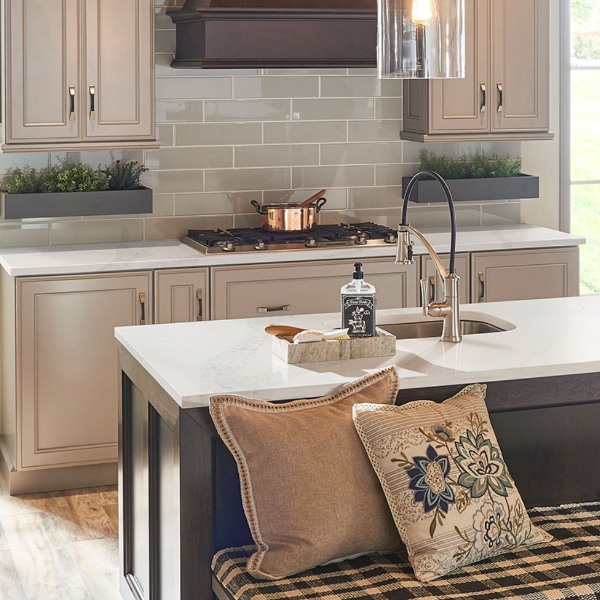 No matter how you figure it, a new quartz countertop is an excellent value. What's not to love about a kitchen or bathroom counter that is durable, stain- and scratch-resistant, waterproof, and beautiful too? But there's always one question on everyone's mind — how much will it cost?
You'll need to estimate the cost of your countertop before settling on quartz vs. another material and choosing which quartz slab to purchase. You and your contractor will need a more detailed estimate when actively planning the work and placing the order. While the cost of the material is a major factor, there are also more issues that go into that estimate. So, here are some pointers to help you along the way.
Quartz slab price by square foot varies between brands, just like the variation between quartz vs. granite. When making that comparison, make sure you are comparing similar products. Variables include the grade, thickness, edge treatment, and more.
Grade
There are three quartz grading levels. First quality or premium has higher pigmentation and consistency. This may be important to you if you're trying to mimic another countertop material, such as Italian marble; the result can be incredibly authentic. The finish will be flawless, colors will be rich, and it will have a unique dimension and depth. Some homeowners feel that it is well worth the upscale price tag to get the look you want with fewer maintenance concerns than natural stone.
Standard, commercial-grade quartz isn't as richly pigmented as the premium option. It's still beautiful, with a variety of colors and patterns to choose from. This is the grade that most homeowners and businesses choose, because it looks just as good as premium quartz but is a lot more affordable.
Second grade quartz has a higher dust-to-chip ratio, meaning that there are more smaller grains than larger, visible mineral chips. This makes the coloration plain and patterning subtle.
It is important to note that the various grades have similar strength and durability — your choice will be based on the look you're trying to achieve.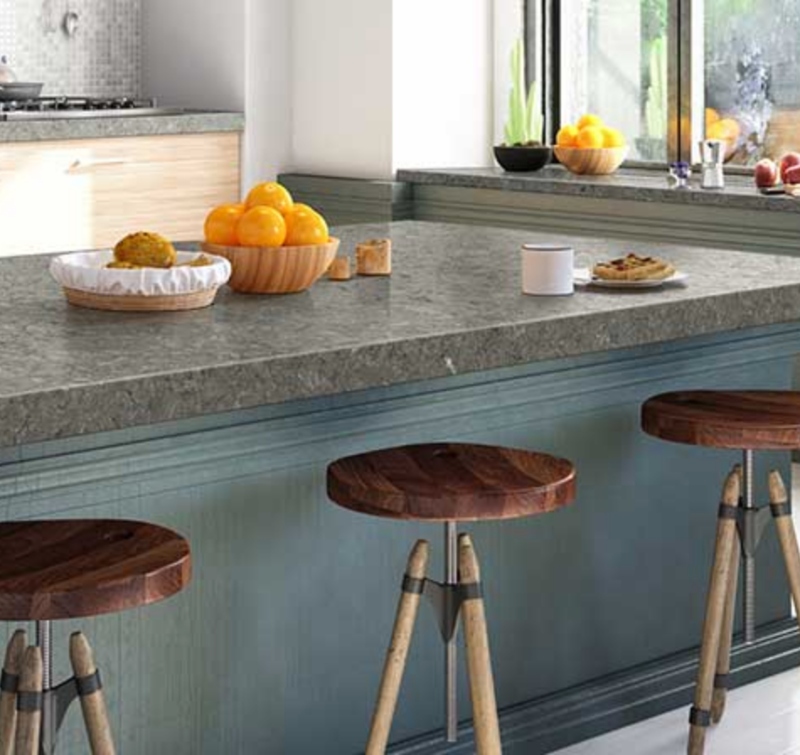 Thickness
Quartz countertops are sold in a variety of thicknesses, ranging from 1 to 3 cm. Each have their pros and cons and preferred applications. When comparing two brands or patterns, make sure they are both the same thickness.
Slabs that are 1 or 1.2 cm are the least expensive. They are often crafted with a laminated overhang so the edges appear to be double in thickness. These thin slabs are not recommended for use as countertops because they typically have no warranty, and they require additional support on top of the cabinets. They are fragile and crack easily. This thickness, however, is ideal for a backsplash for kitchen use.
Slabs of 2 cm are popular, and can deliver a high-end look at an affordable price. They are also frequently crafted with a laminated overhang, but this is not required. Also, these slabs to not require additional support on top of the cabinets for most installations. Homeowners looking to save money on their quartz countertop might consider a prefab option in a 2 cm thickness.
Slabs of 3 cm thickness are preferred by most designers and countertop fabricators. They offer the best options in color, pattern, and design flexibility. They are also the most durable and no additional support is needed.
Edge Treatment
The standard "eased," squared edge with slightly rounded corners usually does not have an additional cost. A custom edge treatment, such as double bevel, ogee, etc. can give a unique look to your countertop. The more complex your countertop edges are, the higher the price will be.
Cutouts and Shapes
The standard countertop estimate for a kitchen includes one sink hole. If you need more cutouts, such as a hole for a prep sink, fixtures, electric outlets, or a cooktop, extra fabrication work will be needed. Therefore, it will raise the cost. Custom shapes, such as curves and L's, add flair to your kitchen design. They will also add to your countertop's cost.
Slab Size
The standard width of a kitchen countertop is 25 inches. Oversized quartz slabs, such as those for kitchen islands, will have a higher cost. This is because they require custom fabrication and may be more difficult to install.
Installation
Budgeting for any home improvement, unless it's a DIY project, must include the cost of installation or labor. Although it might be tempting to cut costs by installing your kitchen countertop yourself, keep in mind that quartz is very heavy and cumbersome, so make sure you have enough help for transporting it and lifting it into place. The countertop must then be perfectly leveled. Also, depending on the countertops and cabinetry, there may be a need to reinforce the cabinets to ensure they can withstand the weight. Any mistakes you make at this point may ruin the countertop, or at the very least result in a finished product you're not happy with.
MSI recommends hiring a professional for installation of quartz countertops. The good news is that once it's installed, you won't be needing a professional again — quartz is easy-care and low-maintenance, so it's unlikely to ever need professional care.
Tips to Save Money
Consider installing prefabricated quartz countertops, if they fits your needs.
Shop around to get the best price for a contractor.
Purchase your countertop from a supplier that sources, fabricates, and installs rather than going through a middleman.
Reconsider adding custom choices such as edge treatments.
Shop for your countertop in fall or winter, when demand is lower.
Estimating the cost of a quartz countertop goes beyond the obvious calculation of length times width to determine square footage. The choices you make to make it uniquely your own — grade, edges, cutouts, and other customization — have a huge effect on the total bill. Even so, those extras can pack a big punch when it comes to creating a designer look you're going to love.
More About Quartz Countertops
Seize the Gray! A Guide to Our Most Popular Gray Quartz Countertops
Can Quartz Countertops Be Used Outdoors?
Tips from The Trade: Quartz vs. Granite for Countertops
Believe It or Not, These Marble Countertops are Actually Quartz!