The Right Finish For Lifestyle & Maintenance - Part 1: Polished, Honed, And Tumbled Finishes For Marble Floors
August 14, 2013
Selecting the right finish for your marble flooring is an important but not purely visual choice. Certainly the overall look is important to you and your design, but the finish for your natural stone may be better suited to certain areas of the home or the finish may impact the nature of maintenance required in the future.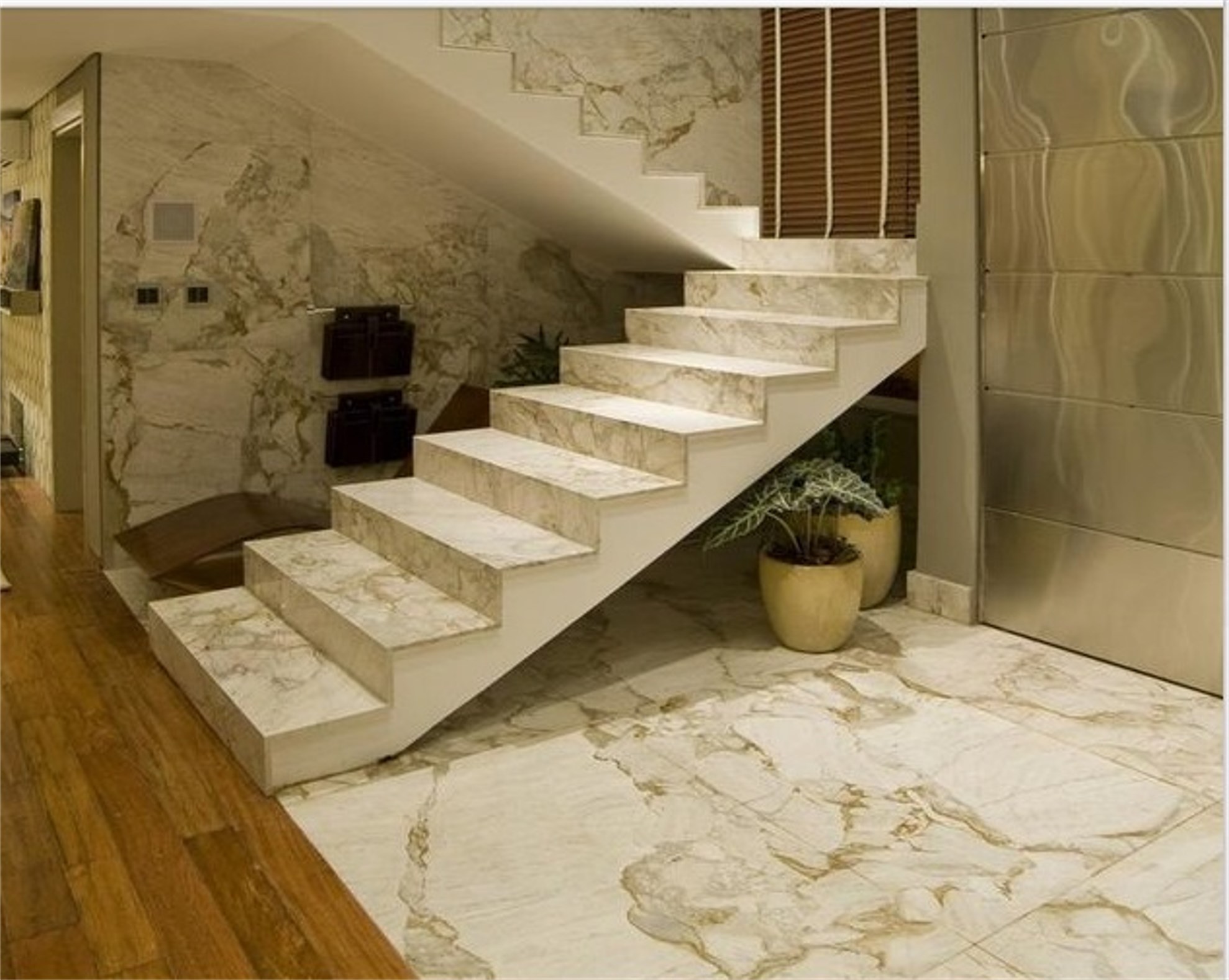 Marble is an ideal choice for floors. Aside from its elegant beauty, with unique veining and color options, its hallmark is an imperviousness to moisture - which makes marble flooring particularly suited to areas of the home that might see wet shoes or moisture, like the foyer, bathroom or kitchen. Knowing where you want to employ this luxurious material for its attractiveness is only the first step – deciding the finish will be most important to the future of the stone in the application you choose.
Though the type of finish will not impact the type of cleaning product used for short-term maintenance, your polished, honed or tumbled finish choice will indeed affect your long-term ability to keep the marble looking the same as the day it was installed.
Polished Finish – The most traditional finish for marble is a polished, shiny finish. It lends a classy, high-end look to any room and is impressive when used in highly visible areas. To keep that high sheen on a marble floor, maintenance polishing will be necessary to take out normal wear marks like fine etches and scratches. Such marks are expected when marble is underfoot and supporting furniture.
There are several easy polishing methods to beautify marble (powder polishing and crystallization polishing among them), but it is important to note that polished marble should not be mixed with marble finished in other ways, such as honed or tumbled surfaces with polished marble in a checkerboard pattern. It is difficult to restore the sheen of polished marble when arranged with another finish that may be dulled or discolored by the same process. Similarly, mixing granites or other stones and polished marbles in a common pattern can also be problematic, as such combinations could eliminate the least costly marble polishing methods, requiring a more specialized process to maintain or restore it. It is best to allow a polished marble to shine as the centerpiece of your beautiful flooring.
Polished marble is versatile in application – it may also be commonly found in slabs for beautiful countertops. A sleek, polished marble stays cool and temperature controlled – a surface perfect for rolling dough and creating delicate pastries!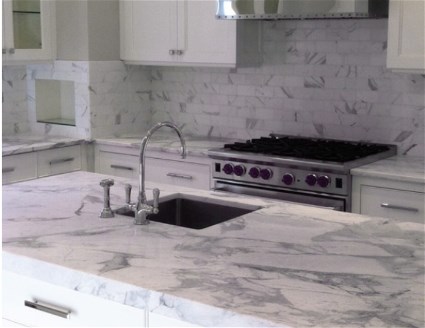 Honed Finish – A honed finish is a result of polishing, but the abrasives are applied in a different way than that for a polished finish. Bits of stone are removed in this process to leave the surface smooth, leaving the appearance matte and the stone color slightly lighter than before finishing. Honing is both a starting finish and a process sometimes used later to restore damaged stone. A honed finish is valued for its more muted, less formal look and is suited to floors in high traffic areas, as it is less prone to scratches than a highly polished surface. It is also a less slippery alternative, making it a great option for living areas. A honed finish is also suited to floors in high traffic areas, as it is less prone to scratches than a highly polished surface. Likewise, etching is less noticeable. However, the finishing process opens the stone's pores – which makes it more vulnerable to staining. A lighter color marble, like Emperador Light Marble, could noticeably absorb stains if not sealed regularly.
All "high traffic" areas are not created equal; therefore, a light marble with a honed finish would be more appropriate for those high traffic areas where spills are less likely. I.e., a honed surface is great for a hallway, entryway, or bathroom but will be higher maintenance for a kitchen or dining room floor where acid food spills must be wiped immediately.
Honed finishes are not just for flooring of course. Honed finish countertop are very popular. As noted, they are less prone to scratches. Additionally, etching is less noticeable because the surface is already matte. (Etching tends to remove the shine from a natural stone.)
Tumbled Finish - A tumbled finish on a marble tiles is buffed rather than polished, resulting in a smooth but distressed or weathered look. (To tumble marble tiles, the process involves literally tumbling the stones, such as inside a drum filled with abrasives.) Unlike the brilliant sheen of a polished floor, a tumbled finish results in a more natural looking surface with chips, cracks, and uneven edges.
Though it is possible to create a tumbled finish floor of marble tiles, more popular applications of a tumbled finish are as marble mosaics and backsplashes. The additional texture of a tumbled marble adds depth and variety to a room. Coupled with smooth surfaces, such as a tumbled marble backsplash paired with a honed countertop, a tumbled backsplash brings interest and complexity to design.
Because its charm is an aged appearance, a tumbled finish marble is ideal for high traffic areas, even those where spills are possible, as well as areas where a textured surface is helpful, such as in the bathroom where a smooth tile or slab is slippery when wet.
Dirt and scratches will affect the ability of marble to reflect light, but with a tumbled finish, the surface is not intended to reflect light. Instead, a tumbled marble embraces a patina that fits well with old world, antique or rustic themes - it is used in large expanses or as decorative finishing. Like any marble floor, however, regular cleaning (usually with a dust mop) is recommended for daily maintenance and a seal is helpful to prevent significant discolorations as well as to bring out the natural color of the stone, as tumbling may initially give the marble a more chalky appearance.
MSI Stone offers a vast selection of beautiful marbles in the most popular finishes, colors, and sizes of slabs and tiles. Marble is an excellent choice for flooring – arguably the most common natural stone floor material in the world – and with the right finish, marble can find a home in any room. For more information about marble care and maintenance, download this care and cleaning of natural stone guide. Stay tuned for more about floor finishes and Part 2: Granite.