Black Granite Countertops Make A Powerful Statement
May 28, 2021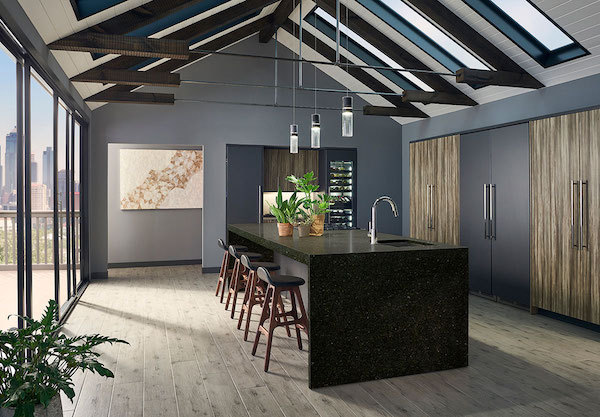 Black granite countertops are the epitome of bold style. They speak volumes about the owners' daring, their desire to inhabit cutting-edge spaces that speak of innovation and excellence.
Black granite provides the ultimate contrast to other elements in the modern kitchen that embraces glamour, style, and class. The powerful statement either custom-cut or pre-fabricated black granite countertops make stems in part from the energy that this ancient natural stone exudes.
Unleash that power in a variety of ways to complement your lifestyle. Make your kitchen environment a place where anyone who appreciates fine dining would feel right at home.
Let's explore futuristic looks that are here to stay — in black granite that is as solid as it is durable and as elegant as polished ebony writ large.
Black Granite Is as Old as the Hills
Eminent geologist Barry Hunt will tell you that there is no such thing as black granite. Neither the quartz nor the feldspar in granite is black. Quartz is a translucent crystal, while feldspar is most often gray or white, yet comes in shades of brown, red, and green too.
This would count for the range of granite colors available: white, beige, brown, red, blue, and black.
The dark colors in granite come from the trace minerals it contains, such as mica and amphibole. The dimension stone trade, and the average person in the street, though, refer to granite that is black as black granite for simplicity's sake.
Granite is also found the world over. Paradoxically, this has provided an opportunity for more exotic products. Not all dimensional granite comes from local sources.
The ancient Egyptians used black granite in their pyramids. We now see that granite in modern interiors adds the allure of luxury.
Black Granite Is the New Chic
There are several shades of black, as anyone with half an eye for detail can tell. This fact is partly the reason for its trending popularity. Your kitchen can have a unique blackness about it!
Each black granite in our current selection has special qualities that appeal to our customers' diverse tastes. Details of each type might serve as a starting point for the design of your interior space. Featured areas in your home and kitchens and bathrooms respond well to the inclusion of black granite so let's take a look at some of our favorites.
Absolute Black
Absolute Black hails from India. Its chief characteristic is that it has low variations and therefore aligned itself well to the perfectionists among you. Whether for use as a tile, kitchen countertops or in commercial settings, all Absolute Black granite has a polished finish.
One prime advantage is that it is suitable for interiors and exteriors. So, why not use Absolute Black for good architectural effect in an outdoor kitchen? Imagine the continuity between your indoor facilities and a striking outdoor leisure area a few steps away.
This black granite variation is also known within the industry as Jet Black, Nero Absolute, and Telephone Black.
Despite its Indian origins, the stone can withstand a freezing climate.
Agatha Black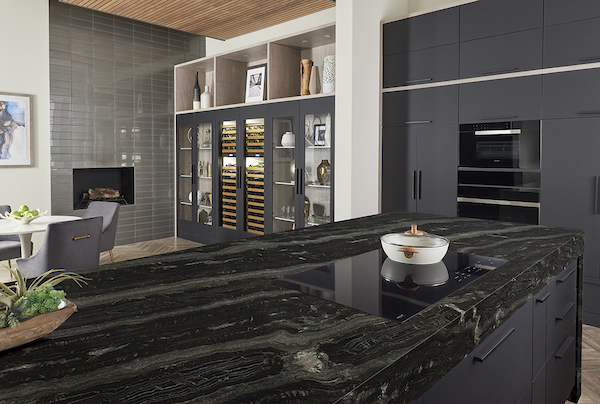 In keeping with the large-continent exotic theme is the Agatha Black granite from Brazil. The impression of movement and depth of its white and light gray wavy veins set against a dark background ideal for lively environments where entertainment of friends and family is part of life. Design-wise, this polished granite in either 2 cm or 3 cm slab partners well with the use of primary colors in other fittings or fixtures to highlight its dramatic, almost theatrical, nature.
It is also at home in combination with lighter hues of natural timber and interiors featuring muted shades of gray and calming features such as indoor tropical house plants. This medium variation granite is striking in large-panel wall cladding as a point of focus in minimalist white living spaces. Our national network of distributors would recommend on-site inspection of the granite slabs to be used as art installations.
The veining of this granite increases your chances of receiving a unique piece that will provide both durability and delight for years.
Black Galaxy
Another polished export from India that has a cosmic feel to it is the Black Galaxy granite which is mostly black but has small flecks of either white or gold throughout in a fairly uniform distribution. Available in both slab and tile form, it enables designers to introduce creative flourishes either as accent walls or in patterned flooring.
Kitchen islands or countertops in Black Galaxy lend a smooth sophistication in spaces designed to emphasize sharp contrasts and linear forms with clean surfaces.
It might seem like a contradiction, but this black granite also belongs in the constellation of opulence evocative of the Baroque era. Gold and marble embellishment against a canvas of Black Galaxy would indeed be an attractive proposition.
Black Pearl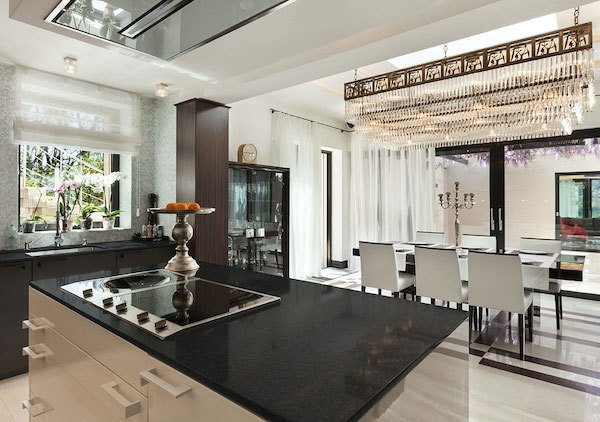 In brushed or polished finish, Black Pearl granite from India is versatile from a décor perspective. That's because it's speckled with subtle shades of black, gold, silver, brown, green, and gray. It is the color coordinator's dream since much of the artist's palette finds a home in its reflection.
Nero Mist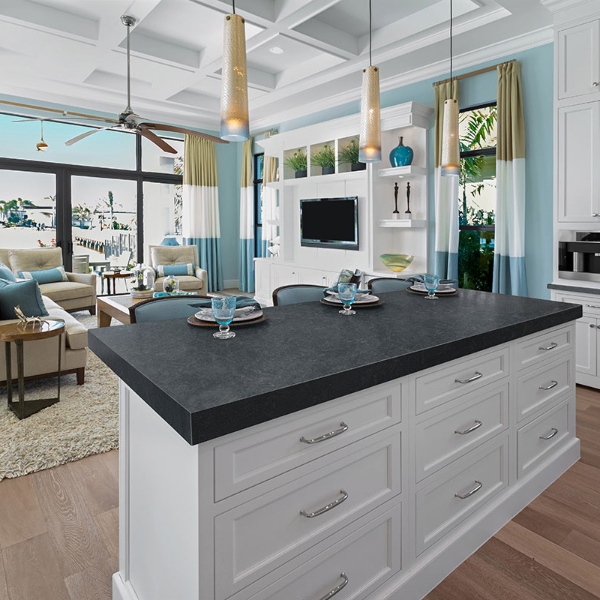 Nero Mist delivers simplicity for those who prefer the matte look of honed and brushed finishes yet crave the gravitas of darker hues. Its medium variation gray veins and flecks are soft yet pulsate with all the primeval energy of natural stone.
An intense feel emanating from this Brazilian black granite hints at the rustic. It's an ideal material for architectural and design projects both indoors and outdoors. Its earthiness should not fool you, though, for it can withstand the frostiest of winters as well as sweltering summers.
Without the high gloss of polished stone, it's surprising how well Nero Mist combines with pastel shades in soft furnishings. The effect is one of domesticated calm in open-plan kitchen and living room spaces. The stately lack of pretension conveyed by Nero Mist works well with accent walls, bar countertops, and kitchen islands alike.
Beautiful and Practical
Modern interior design has evolved in countless ways. For one, it is no longer necessary for your countertop materials in your kitchen to resemble those of a science laboratory. Instead, they can be a glorious celebration of natural strength and style.
Consider the impeccable practicality of black granite countertops for your new kitchen or kitchen remodeling project. The low porosity of the material makes it difficult to stain its mesmerizing surfaces, especially if polished. This also make it an excellent choice for use as a backsplash.
Please browse through our extensive online gallery or use our granite visualizer tool for inspiration. And make use of our chatbox on our site to discover how you too can enjoy the wonders of black granite and natural stone.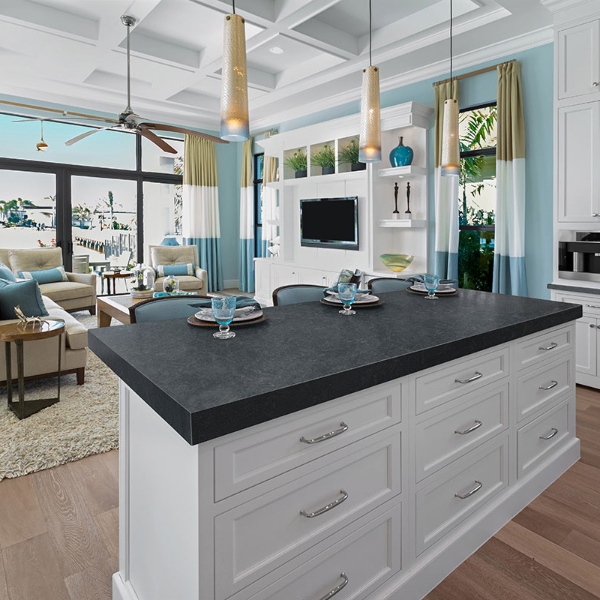 Read More about Granite Countertops
The Best Uses for Granite Countertops
Granite Countertops: Passing Fad or Timeless Investment?
How to Keep Your Granite Countertops Looking Their Best
Natural Granite Countertops Frequently Asked Questions
READ MORE ABOUT GRANITE COUNTERTOPS
Baker's Dozen: 13 Unique Colors And Designs Of Granite Countertops
Beyond Bullnose: Exploring Granite Countertop Edges
Black Granite Countertops: the Royal Appeal