Black Granite: A Piece Of MSI History
February 11, 2014
One could say M S International's very foundation is made of granite, and it owes much of its early history to black granite. It was granite that co-founder Manu Shah first sold to distributors across the U.S. while he was still working full-time as an electrical engineer. It was granite that his co-founder, wife Rika, distributed mainly for monuments and tombstones for the larger part of the 1980s.
Later, it was a contract to supply black granite for the Vietnam Veterans Memorial in Washington D.C. that solidified the company, proved its potential to the owners, drove Mr. Shah to dive full-time into the business of granite countertops, and the impetus for the Shah's to begin a truly international expansion with a range of natural stones, growing their imports to the U.S. from India to imports from an impressive 36 countries. Black granite, it could be said, was really the start of it all.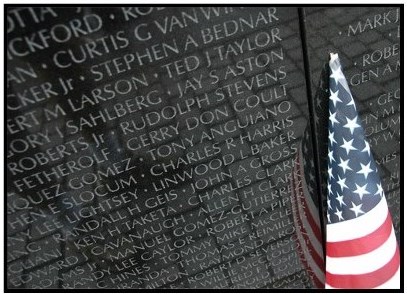 Today, MSI is a leading importer of all natural stones, not just granite. Given its special place in the history of the company, however, they continue to celebrate black granite by offering a generous selection of black granite tile flooring and countertops from a variety of countries for your home or business. Though MSI actually offers over 250 colors and patterns of granite, and many have bits of black in their overall color schemes, there are a few that are primarily black and we will highlight each:
India:
Absolute Black – Also known as Premium Black or Premium Plus Black in the industry, this stone's name is accurate. Just as "Absolute Black" implies, there is no discernible pattern or variation in this stone. It is a solid black, unrelieved by other markings. With a highly polished sheen, this stone is impressive, whether it's gracing an ultra-modern kitchen décor or standing tall as a national monument. It is also commonly available in honed, brushed, and flamed finishes for even more styling possibilities.
Arabian Black – This black begins as a dark canvas of pure black but is highlighted by an even pattern of light grey to white specks for a soothing overall look. This color blends beautifully in a variety of design schemes with enough pattern to draw the eye. (For busy areas, Arabian Black does a terrific job of disguising life's messes, too!)
Black Galaxy - Like Absolute Black, this black lives up to its name. It really does look like the night sky. Less predictable in pattern than an Arabian Black, the specks in this night sky are more seemingly random, clustered in stars and galaxies that are gold or white strewn across a black backdrop. Black Galaxy can serve as the centerpiece or focal point of any room.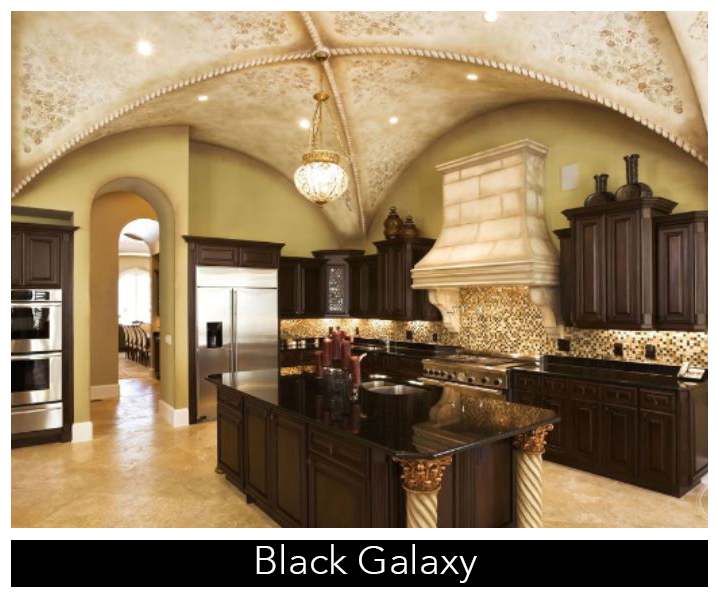 Black Spice – This selection offers a low variation with sweeping dark charcoal flecks. It is a highly popular selection for its sophistication and versatility - it works as easily as a kitchen buffet or backspash as it does a backlit bar for entertaining by the billiard table.
Silver Pearl –Also known as Black Pearl, Black Labrador, or Black Ubatuba, Silver Pearl is a semi-solid color granite with speckles of blacks, golds, silvers, browns, greens and shades of gray. The opulent colors of this stone give it a complex and rich dimension that adapts to a variety of designs – likely one of the reasons Silver Pearl is MSI's most popular black granite.
Canada:
Cambrian Black – Cambrian Black granite is a stunning black granite for a variety of applications, indoors and out. Its primary color is black, but it is refined by a dusting of lighter and darker shades of black and occasional light, almost white flecks. It is an elegant choice, whether employed in polish for a rich design or antiqued for a more organic feel.
Nordic Black – This black offers a less discernible pattern that some other black granites. There are areas of pure black, and other areas closer to veins than flecks. It feels rich and elegant in large or small spaces, and its gentle pattern works in bathrooms, kitchens, wet bars, or like all granites, outdoors.
Angola:
Angola Black - and even a hint of heat, as is some lights the flecks appear brownish, offering a range of options for décor.
Italy:
Black Beauty – It may say black in the name, but don't let the name fool you. Black is its primary color, but this stone selection offers a variety of colors, similar to what one might see in a piece of slate: a blend of blacks, grays with just hints of rusts and whites. It's an eye-catching, dynamic selection that will be a focal point no matter how you design around it.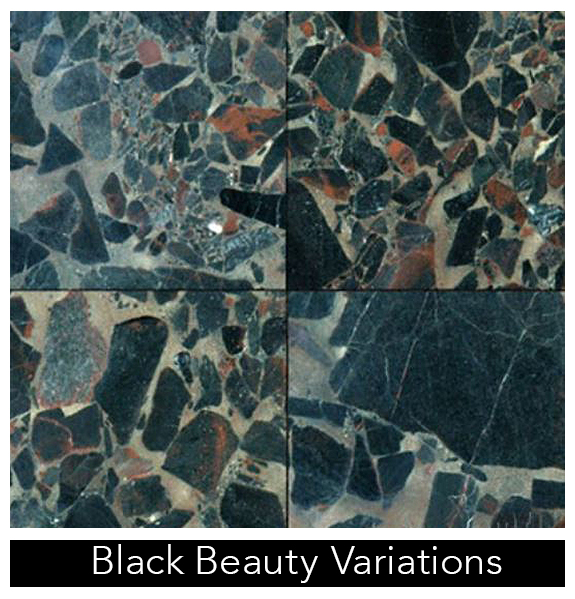 South Africa:
Impala Black – Of all the black granite options, this is arguably the lightest. The primary color of black is contrasted with a generous amount of dark grey flecks. This is a beautiful, neutral selection that allows for a vast range of design ideas.
MSI has come a long way since its founding in 1975. From a beginning in black granite for a timeless monument, imported from India, to today's vast inventory that includes marble, travertine flooring, slate, limestone, quartzite, sandstone, ceramic and porcelain tiles, glass and quartz for commercial and residential applications, indoors and out, and imported from 36 countries on six continents.
Explore how black granite can become a timeless centerpiece for your next project – visit MSI's Kitchen Visualizer to compare a wide selection of granites to floors, cabinetry, and mosaics to find the right combination for you.
READ MORE ABOUT GRANITE COUNTERTOPS
Baker's Dozen: 13 Unique Colors And Designs Of Granite Countertops
Beyond Bullnose: Exploring Granite Countertop Edges
Black Granite Countertops Make A Powerful Statement