Top Granite Colors For Modern Kitchen Design
February 22, 2019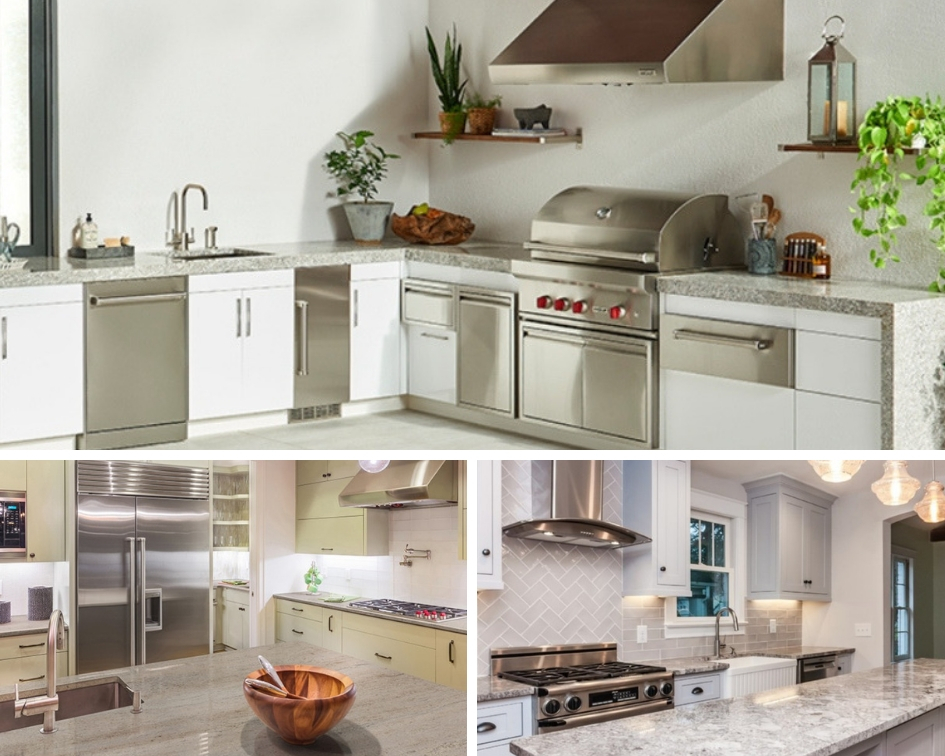 Granite countertops are durable, easy-care, and beautiful — but one of the top reasons homeowners choose them is granite's versatility. Granite is available in such a wide variety of colors, along with infinite variations of speckled, veined, flecked, and grainy, that it's no wonder its enduring beauty fits with every style of décor.
Consider the modern or contemporary kitchen design style, for example. Whether your taste ranges toward the retro look, such as Mid Century or Art Deco, or you prefer 21st century style, the lines will be clean and the accents will be minimal. You can go with a bright, bold, colorful palette or stick to soothing, easygoing neutrals. There's a lot of freedom for homeowners to express their own tastes, and a granite countertop is a natural complement.
Here are a few ways that today's designers have incorporated granite colors into modern and contemporary kitchens.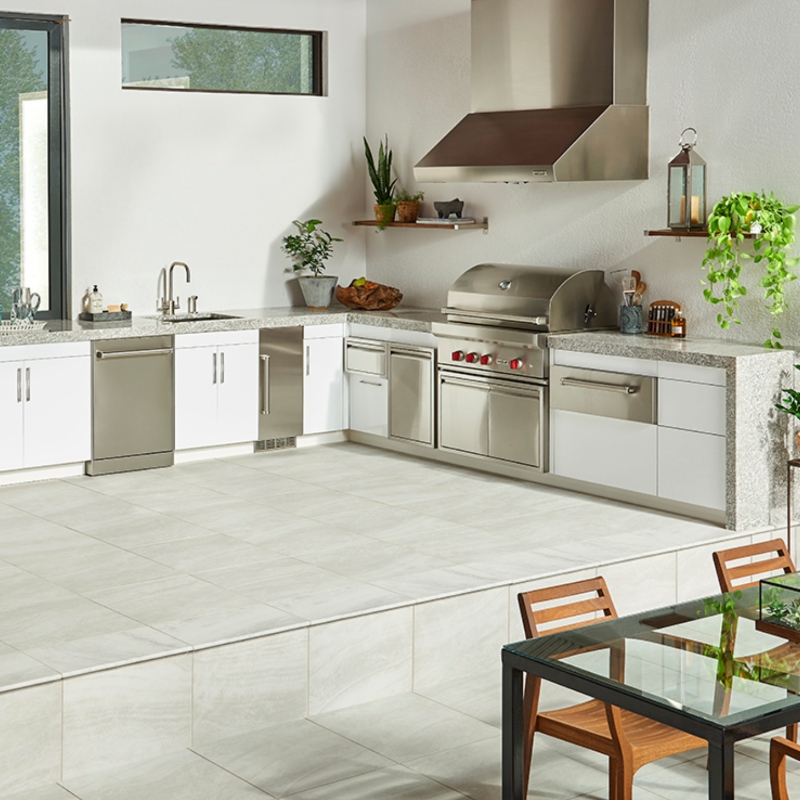 Featured: Silver Falls
Silver Falls
A popular strategy for contemporary kitchens is to embrace the minimalistic look, keeping it neutral, and add pops of color as accents. Indoor plants are especially effective in a brightly lit space such as this, adding cheer and a friendly sense of welcome. The gray variations in Silver Falls granite not only complement the soothing monochromatic scheme, but the granite colors also work well if the homeowner should choose to make it a more colorful space in the future.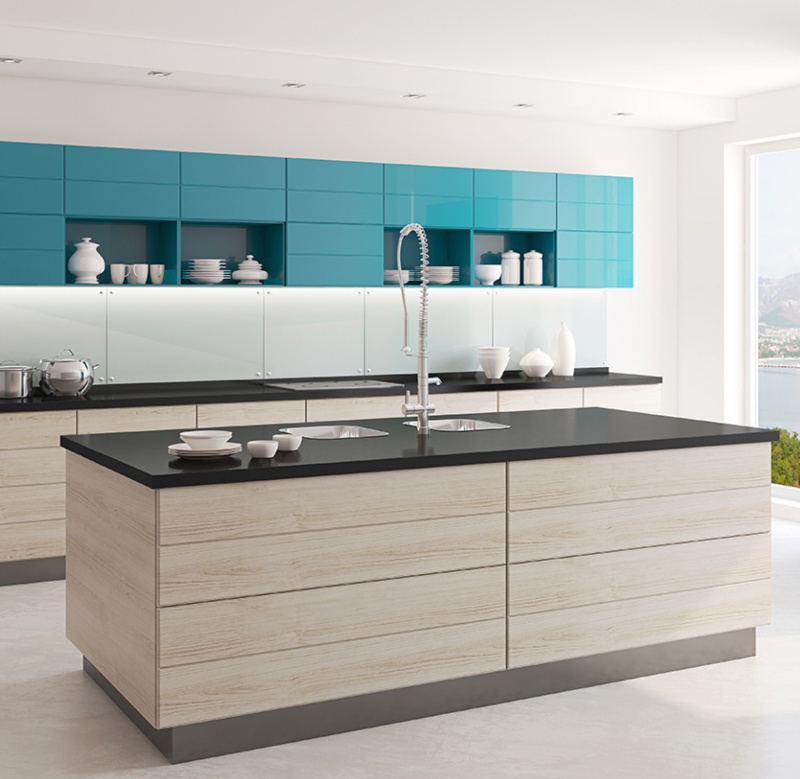 Featured: Absolute Black
Absolute Black
Contemporary kitchen designers aren't afraid of color. Adding nontraditional, bright blue cabinetry gives this space a big boost of personality, a gleaming reflective surface that is balanced by the natural wood in the lower part of the room. The sleek countertop using Absolute Black granite provides an anchor, pulling the elements together.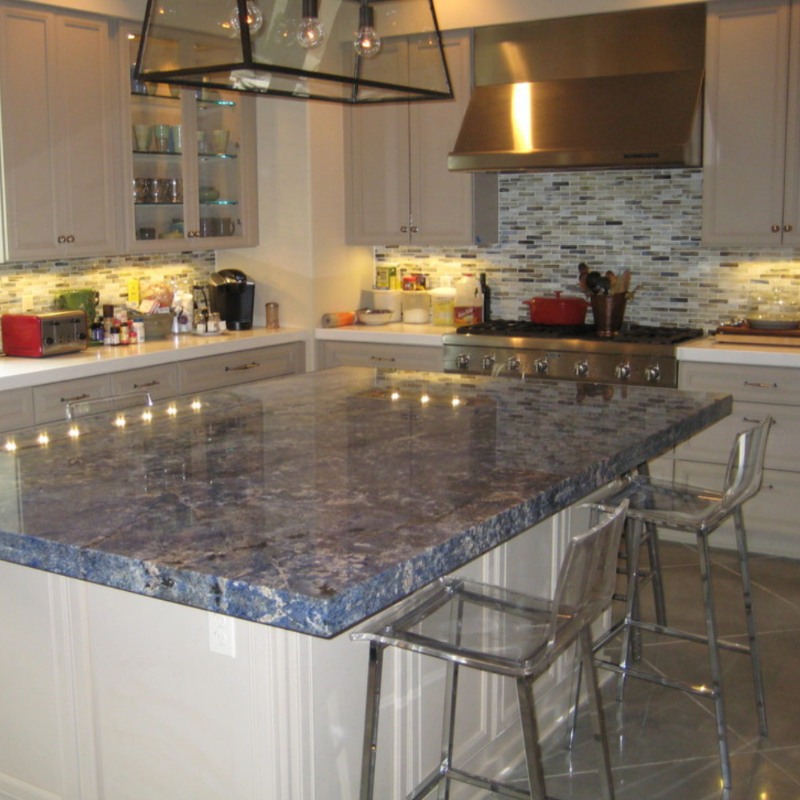 Create a similar look with MSI's Blue Bahia (Photo Credit: Houzz)
Blue Bahia
Contemporary or modern doesn't always mean stark and minimal; in fact, there really aren't any rules. It's OK to choose granite colors besides gray and beige! This kitchen featuring Blue Bahia granite has plenty of color and texture and even a bit of countertop clutter. What makes it contemporary is the use of reflective chrome and glass, natural stone backsplash tile, and simple lines.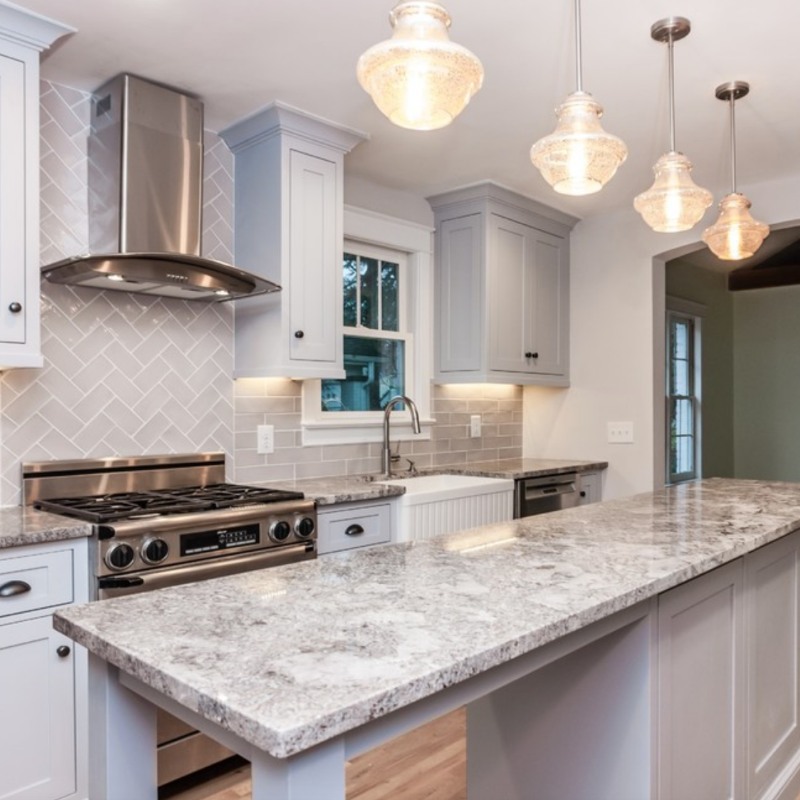 Recreate this look with MSI's Ganache (Photo Credit: Houzz)
Ganache
Successful modern kitchen décor can combine the best of bygone eras to create something entirely new. In this kitchen, the vintage-look pendulum lights and glossy subway tiles evoke 1920s Art Deco, particularly when combined with cool gray shades and a gleaming steel gas range. Ganache granite's enduring beauty is a perfect match for every decade.
Featured: Astoria
Astoria
Contemporary décor places an emphasis on light — lots of it, whether it's from ceiling fixtures, pendulum lights, or big windows. White and pastel-colored surfaces help too, as do shiny, reflective stainless steel appliances. Astoria granite offers both; friendly cream-and-brown granite colors are sure to pair well with any design challenge.
Granite counters are a perfect match to contemporary décor or modern décor from any era. Their versatility, neutral color scheme, and enduring beauty will elevate your kitchen design to the next level. Since it's equally at home in traditional or even rustic décor, there's a good chance your countertops may outlast your design scheme. It's ready for today's trends and whatever the future may bring.
Read More about Modern Granite Countertops
5 Granite Colors for a Chic and Modern Fireplace
Modern Granite Countertops
The Evolution of Granite: Ancient Times to Modern Days
The Timeless Beauty of One-of-a-Kind Granite Countertops
Polished, Honed, and Brushed Finishes for Granite Floors
READ MORE ABOUT GRANITE COUNTERTOPS
Top 7 Granite Countertop Colors For 2021
Trend Alert — Granite Countertops with Under-Mount Sinks
Understanding the Cost of Granite Countertops
Versatile Granite Countertops Offer Colorful Options for Your Kitchen