Awaken Your Walls With Marble Geometric Pattern Backsplash Tile
June 22, 2021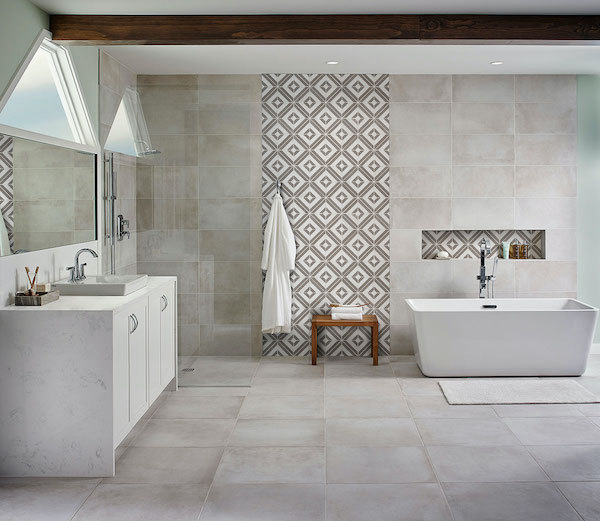 Backsplash tile was originally popularized in 1930s kitchens when running water became a staple of American homes. While it was originally a purely functional feature, many people today pride themselves on using patterned backsplashes as the focal point of their kitchens.
Today's marble geometric patterns come in an exciting array of shapes and elegant colors that breathe contemporary style into walls and backsplashes. Read on to learn some of the best options that MSI has to offer.
Azula Floret Backsplash Tile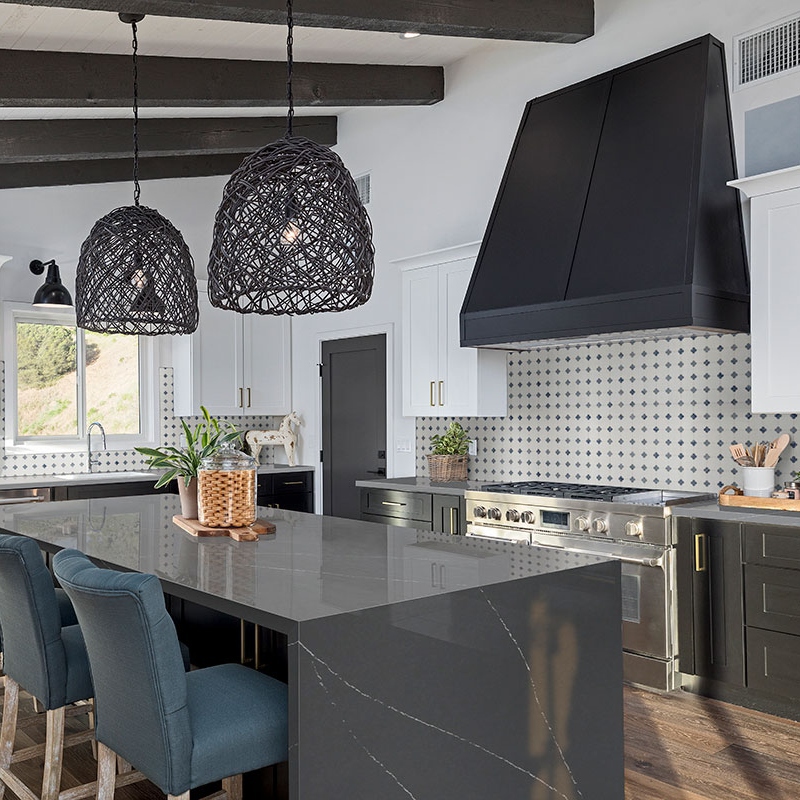 Azula Floret is one of our most popular backsplash designs. Featuring a warm white background and floral-shaped blue-gray accents, this tile is perfect for softer design schemes. The organic shapes stand out when paired with round-edge countertops and soft lighting.
Like all patterned tile, the design of these tiles adds visual interest. They draw the eye in, ground the overall design, and are a perfect fit for transitional and modern designs. This means that they give more depth to your kitchen.
Since even patterns in neutral colors pack a punch, the intriguing blue-gray hues of this tile are sure to catch the eye of anyone who enters your space. You should always consider the size of the pattern so that it's not so large that it overwhelms the space or too small that it goes unnoticed. Azula Floret is the perfect size- the blue flowers are always visible but don't detract from the rest of your décor.
Blanco Lynx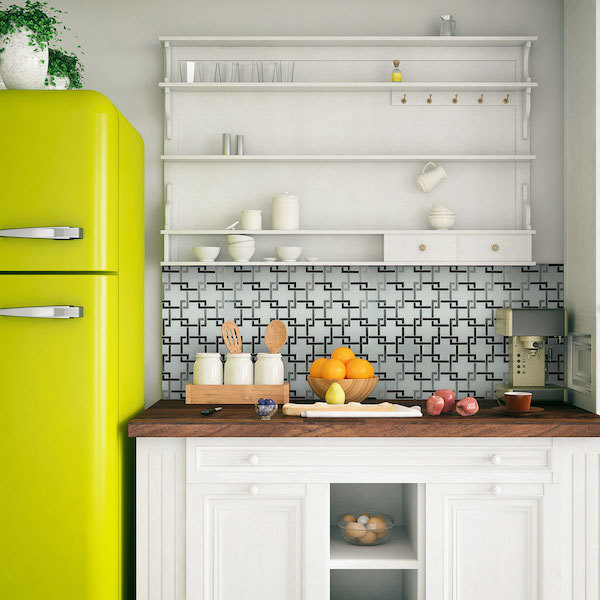 If you're looking for a kitchen tile that seamlessly blends into modern and contemporary spaces, Blanco Lynx is an excellent choice. This pattern is made with interlocking black and dark gray squares on a gray background that's so light it borders on whiteness.
Backsplashes are a great place to use geometric tile because they limit a bold pattern to a smaller space. All patterned tile should be used as an accent or feature in the room, and Blanco Lynx does an amazing job of standing out in a smaller space.
You can easily balance it, which is a requirement for patterned tile as too much pattern or competing colors can look tacky and unpleasant. Pair it with gray kitchen or bathroom flooring or countertops. Since the tiles are neutral-colored, you can get away with using more without it being too loud.
Bianco Quatrefoil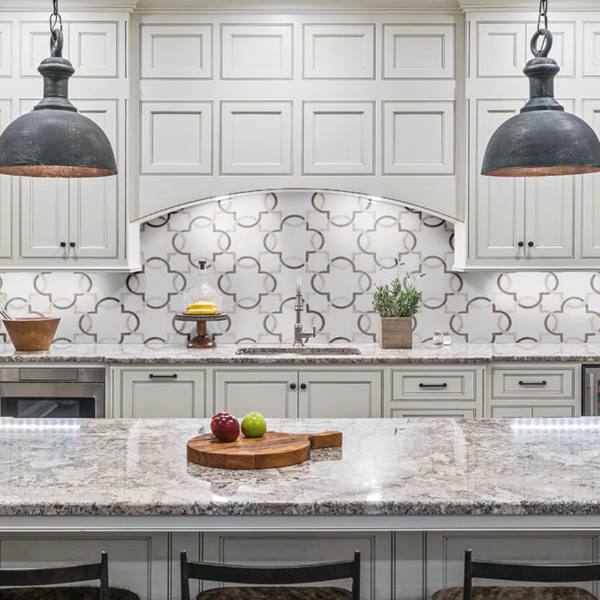 Love the interlocking patterns of Blanco Lynx? Looking for a more organically shaped tile with a similar motif? Bianco Quatrefoil is the perfect choice for you.
The interlocking shapes here are floral-looking- in fact, they're similar to Azula Floret's shapes. They're simply larger, are not filled in, and are made up of light beige and tan lines.
Patterned tile in general works well everywhere, and Bianco Quatrefoil is no exception. In addition to backsplashes, patterns go anywhere from the bathroom to the living room to the kitchen. You can opt to use these tiles on a full wall, a strip of wall, or as simple backsplashes.
Georama Grigio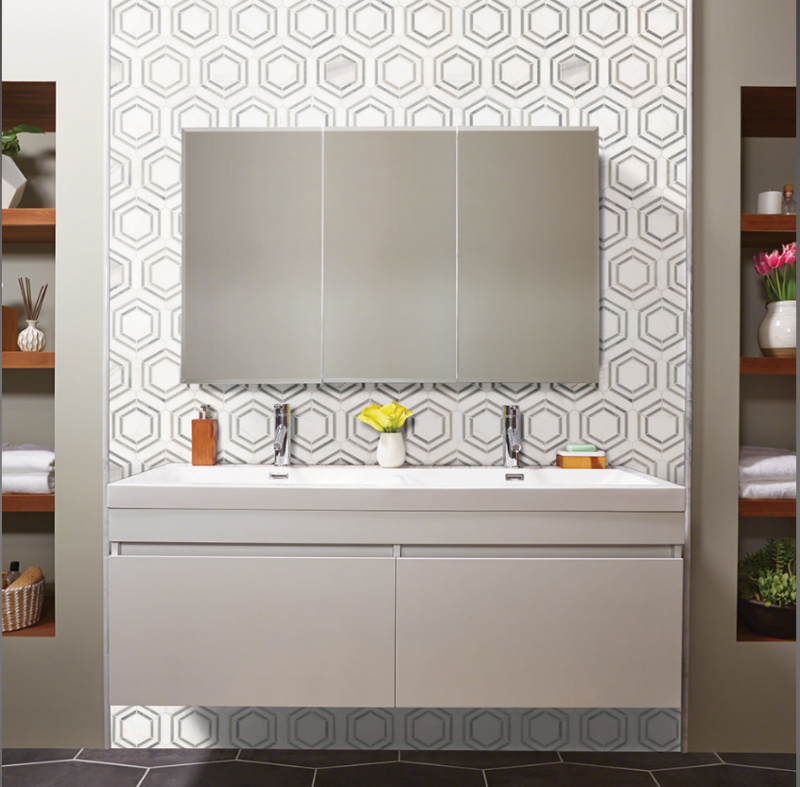 As you have likely guessed at this point, various tile patterns can look elegant, modern, trendy, traditional. Georama Grigio patterned tile is the ideal blend of all four of these possibilities. With its geometric design and warm whites and grays, it fits perfectly into all design schemes.
Rather than simple square or rectangular shapes, this sophisticated tile brings beautiful gray hexagons to your home. Framed by larger hexagons, each one of these shapes stands out on the white background.
Shine bright, contemporary lights onto your sink and let them illuminate this backsplash tile. You and your guests are sure to be put into a calm mood due to its satisfying symmetry.
Metro Silver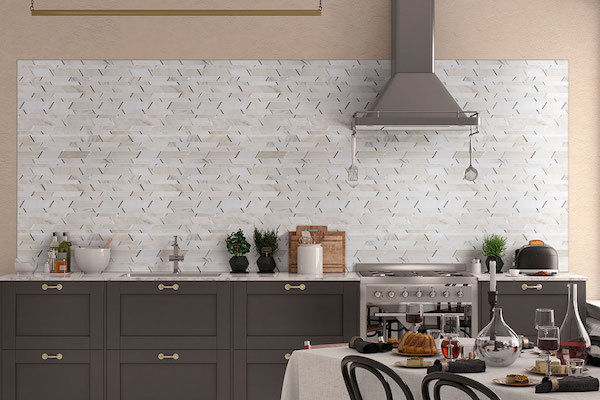 Subway tiles are extremely popular with modern interior designers. Through their timeless appeal has been strong for over a century, modern homeowners are bringing this trend into a whole new level of popularity.
Metro Silver is one of the best subway tiles that MSI has to offer. The stone-look tiles are made to look like natural materials with random organic veining.
However, in the middle of the long tiles are short silver diagonal lines. This unique feature makes the tile perfect for contemporary spaces as well as traditional ones. You're sure to like the balanced asymmetry of these tiles, so order a sample of them and see what they look like in person.
Soho Stax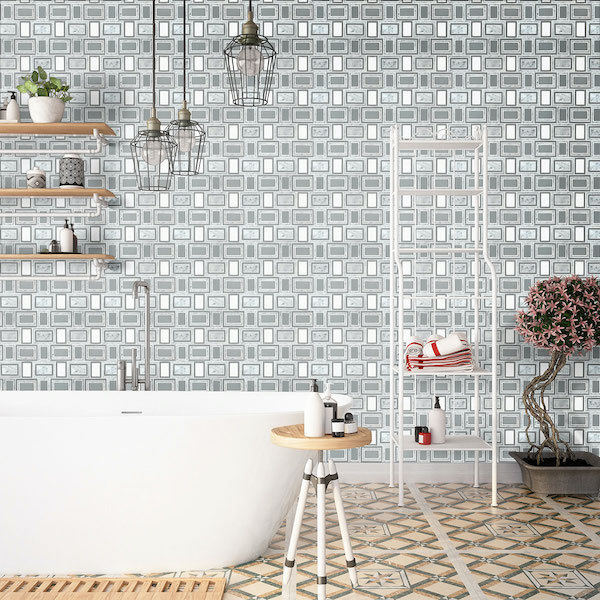 If marble backsplash appeals to you, Soho Stax is an amazing choice for your space. It's made from a durable stone glass blend that's intended to last for many decades. Water won't destroy it in the same way that it could an expensive marble tile.
The pattern itself is made up of alternating horizontal and vertical rectangles. This gives it a high level of visual appeal because it's more complex. It's a tile that will always keep you guessing and noticing more of its features.
The colors are the final touch to this timeless pattern. It incorporates a plethora of cool whites and grays that are perfect for any kitchen or bathroom.
White Quarry Savona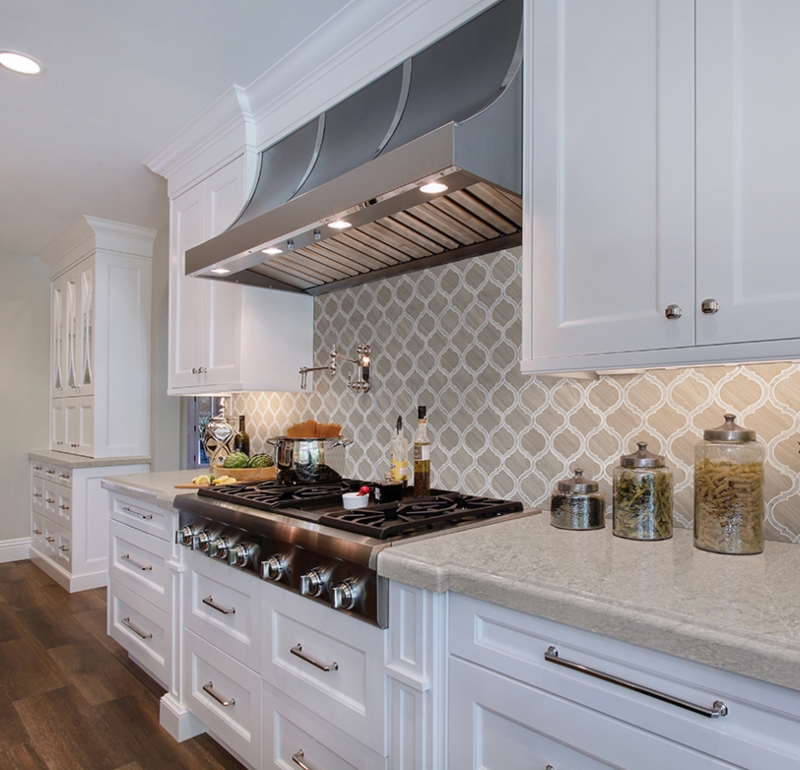 If you prefer colorful kitchen design features, White Quarry Savona tiles have a beige-brown background that you won't want to pass up. On top of this warm background lie polished light-gray designs in organic floral-inspired shapes.
This tile is made from elegant, tasteful marble that you're sure to love. With a bit of maintenance, this tile can last for many years. It adds a lot of beauty to your space and a lot of value to your home, so you're getting an amazing bargain in this option.
Royal Link

Royal Link tile perfectly balances cool whites, grays, and beige hues to create unique geometric beauty. Elongated hexagon shapes interlock and make up this gorgeous and timeless option.
These shapes have small diamonds between them because of the way that they intersect with one another. If you prefer intricate patterns, you can't go wrong with this regal tile.
Use our backsplash visualizer tool to see Royal Link tile (or any other backsplash patterns) in your space. This will give you a better idea of whether it will look as amazing with your interior design scheme as you think it will. Making a more informed choice will help you to feel more confident in your renovations.
Get Started With Patterned Wall Tile
Now that you know some of the best patterned backsplash tile to spruce up your home, it's time to get started. Contact MSI with any remaining questions that you have about the options you've read about here (and more).
We're happy to help you find the perfect tile to suit your interior design needs. Don't hesitate to reach out- we look forward to hearing from you.
READ MORE ABOUT MSI BACKSPLASH TILE
A DYI Dream Come True: Peel And Stick Backsplashes
A Nod to Mother Nature: Recycled Backsplash Tile
Backsplash Design Guide Part 1: Backsplash Tile Basics
Backsplash Design Guide Part 2: Endless Color Possibilities