Rio Lago Pebbles Create An Elegantly Understated Look
January 14, 2022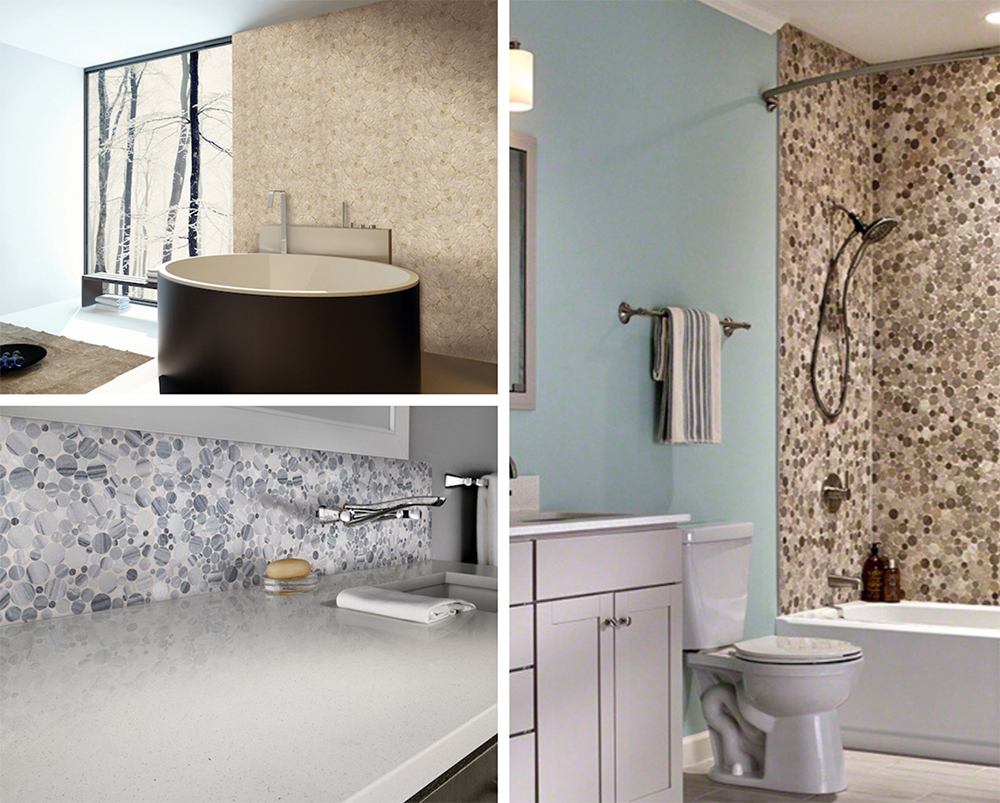 Think outside the tile and use pebbles as backsplashes, accent walls and even in areas outside of the home. Whether you want a natural look or something more polished, there are many ways to use these small stones in your kitchen, bathroom, and beyond.
New Additions to the Rio Lago Family
Natural stone is regaining popularity, and we've risen to meet the occasion with our elegant Rio Lago Pebble Mosaic Collection. Three new additions have found their place in our Rio Lago Collection.
Black and White Tumbled Pebble Pattern. Beautiful natural marble pebbles combine to form captivating mosaic backsplash patterns.
Travertine Blend Tumbled Pebble Pattern. Earthy-toned Travertine Pebbles highlight natural-themed areas, whether indoor or outdoor.
Serenity Stone Polished Pebble. Soft gray and white tones come together to allow Serenity Stone Marble Pebble to grace your kitchen and bath areas for a spa-like feel.
We have made great strides to offer these new additions to help you bring out the best qualities of your home.
Ways to Use Rio Lago Pebbles
A Rio Lago Pebble Backsplash can be the center of attention for your kitchen or bathroom and protect your walls from moisture. Let us guide and inspire you with the following ideas to make pebbles pop in your home.
Use a Pebble Backsplash as a Focal Point for Your Kitchen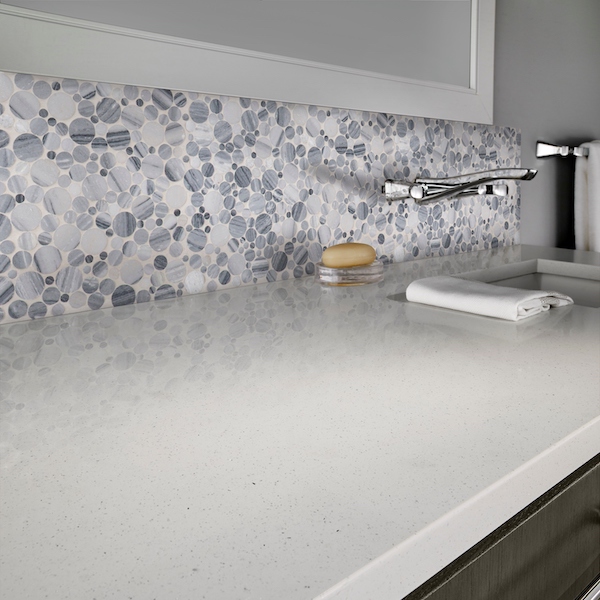 Make your Rio Lago Pebble Backsplash the focal point of your kitchen by covering strategic areas of your wall. Target areas above the kitchen stove or countertops and right below the floating cabinets.
Try either the charming Alaska Gray Polished Pebble or the high-contrast Black and White Tumbled Pebbles on for size.
Match the rest of your kitchen to your backsplash of choice for added intensity and flair.
The kitchen is the messiest place in the house, and keeping it clean is a constant ordeal. Pebble Backsplashes resist stains and are easy to clean, making them a worthwhile investment both for function and beauty.
Add a Pebble Accent Wall in the Dining Room
The dining room is perfect for displaying your taste in luxury decor by adding a subtle touch without overwhelming the dining set. Surround your buffet table with Serenity Stone Polished Pebble for a rustic feel in shades of gray textures. Sliced Pebble Ash offers a warmer touch with soft gray marble that marries well with contemporary or traditional designs.
You may miss the small details of the pebble wall tile while moving about in your home, but guests will appreciate your extravagance. Our Pebbles draw attention toward the overall atmosphere of your dining room, even adding to the flavor of the meals.
Create an Accent Wall in Your Living Room
Highlight your entire living room wall with pebble tile patterns or install it behind your entertainment system. White Oak Pebbles can bring sharp textures to a modern setup, while Sliced Coal Pebble can create a sleeker appeal.
Take away your guests' breath with your choice of pebbles from our Rio Lago Collection. Their first step into your living room can be the one that lights up their entire night in your home and creates a first impression that lasts for years to come.
Add a Pebble Backsplash to Cover-up Bathroom Walls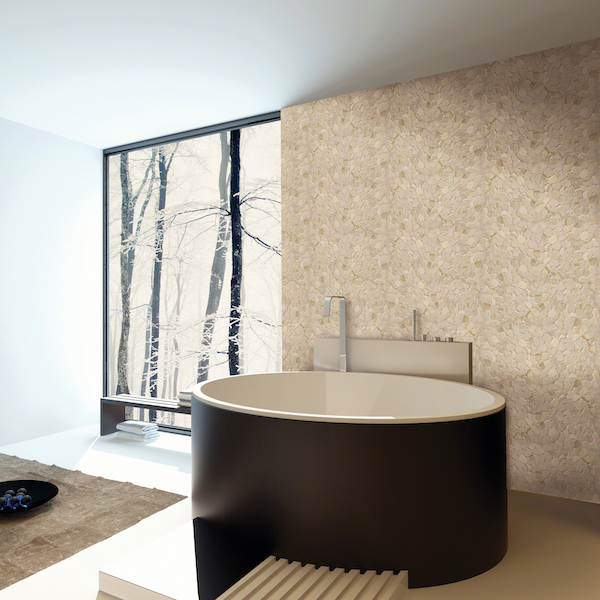 Bathrooms produce plenty of moisture that can seep into the walls and create unsightly brown stains. Strike two birds with one stone through the magic of a pebble wall. Cover any unsavory areas while protecting them from further water damage.
Your guests will thank you for providing the best possible experience in both aesthetic appeal and cleanliness. They will feel as if they are one with nature as they enter your sacred space.
Use Pebbles in the Shower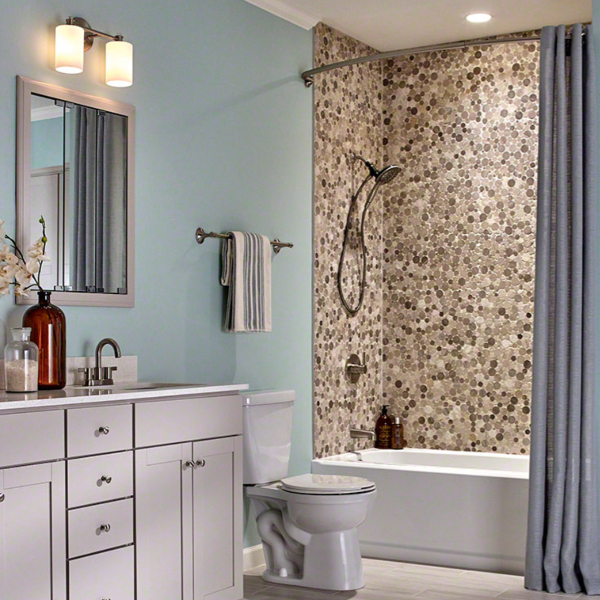 Your shower area is one place that can enjoy Rio Lago Pebbles. Replace dull drab shower walls with stunning pebbles to enlarge the space. A custom pebble shower surround resists stains and is impervious to water penetration.
Enhance Your Outdoor Grilling Area
If you have an outdoor grilling station, then a Rio Lago Pebbles can make it shine. Pebbles bring texture to your grilling station, making it look more appealing and easier to navigate. Smoke stains will not stick to the surface, which wipes clean with a damp cloth and mild cleaning solution.
Wrap pebble around the grilling island for a seamless display of artistic appeal. Install pebbles over the ground to help guide foot traffic. Match your outdoor oasis to the surrounding natural environment with Travertine Blend Pebbles.
Rio Lago Pebble Backsplashes: Pebbles for Every Situation
Pebble backsplashes are excellent for almost any decorative situation, from kitchens to bathrooms. You can use pebbles anywhere moisture can impact your property or where you would like that extra decorative touch. These backsplashes offer extensive appeal, long-term durability, and ease of installation.
We have given it our all to bring you only the best in backsplashes and are proud to present to you the Rio Lago Pebble Backsplash Collection. Each Pebble Backsplash design carries a unique elegance that everyone can appreciate. Click here to choose from our entire inventory of available backsplashes.