Current Obsessions: We Just Can't Get Enough Of Stacked Stone Accent Walls
July 26, 2018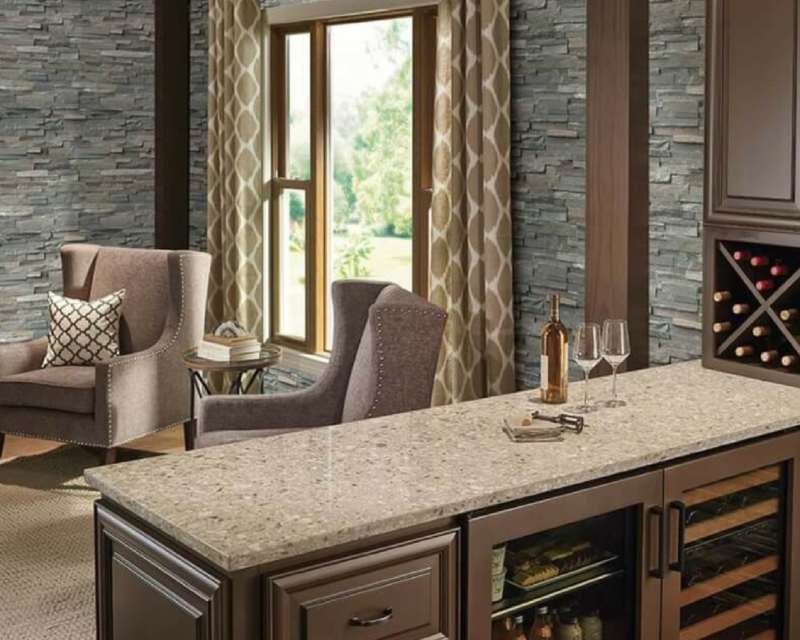 Homeowners are always looking for fresh updates to their design, and when you choose stacked stone walls for your home, it instantly gives your space a punch of added character.
Traditionally, a stacked stone fireplace or backsplash has been the go-to for a statement wall, but these days, bold new multi-colored and textured products are being deployed by designers in exciting ways.
After all, a stacked stone wall makes more of a statement than paint or paintings, which is why more and more, homeowners are beginning to take the plunge.
Before you get started with an installation, it helps to have a definite idea of the look you're going for, and with tools like MSI's Stacked Stone Visualizer, you can get a vivid sense of how a product could transform any room you have in mind.
Ready for a peek? Here are a few of our favorite ledger panels and installation ideas to inspire!
Midnight Ash Stik Wall-Tile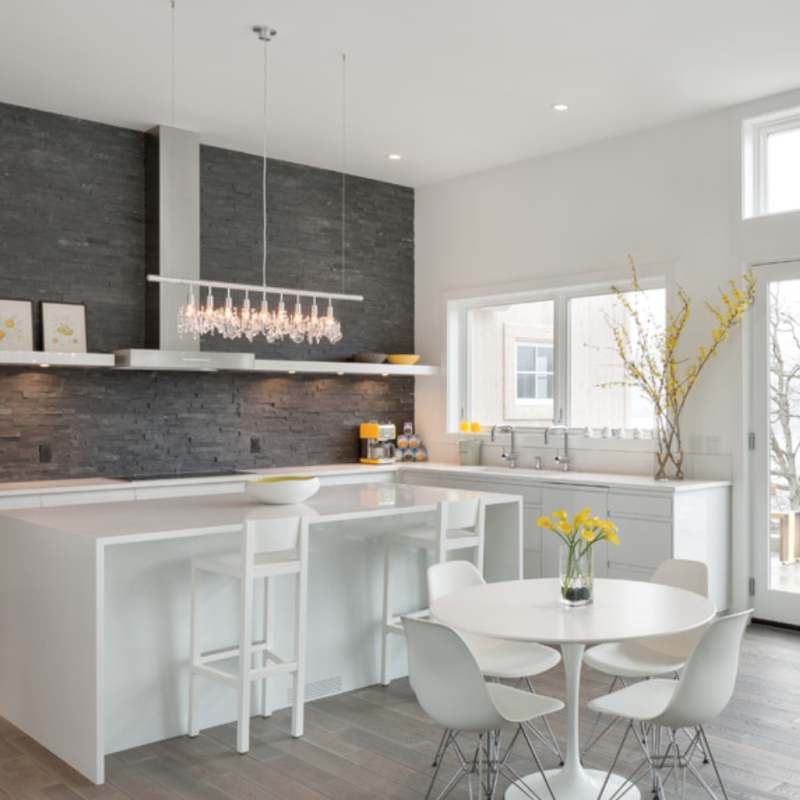 Recreate this look with MSI's Midnight Ash Peel And Stick Stacked Stone
(Photo Credit: Houzz)
Give any room in your home or commercial office a splash of elegance with these easily installed tiles, which feature deep charcoal and black tones with hints of white veining.
Crafted from natural slate, Stik Wall-Tile's Midnight Ash Veneer Peel and Stick self-adhesive backsplash tiles require neither grout nor thinset to install.
Here, the natural stacked stone backsplash wall's moody hues provide a dramatic contrast to the all-white modern cabinets and countertops, but their versatility also allows them to work well with other natural stone tiles and slabs.
Arctic Golden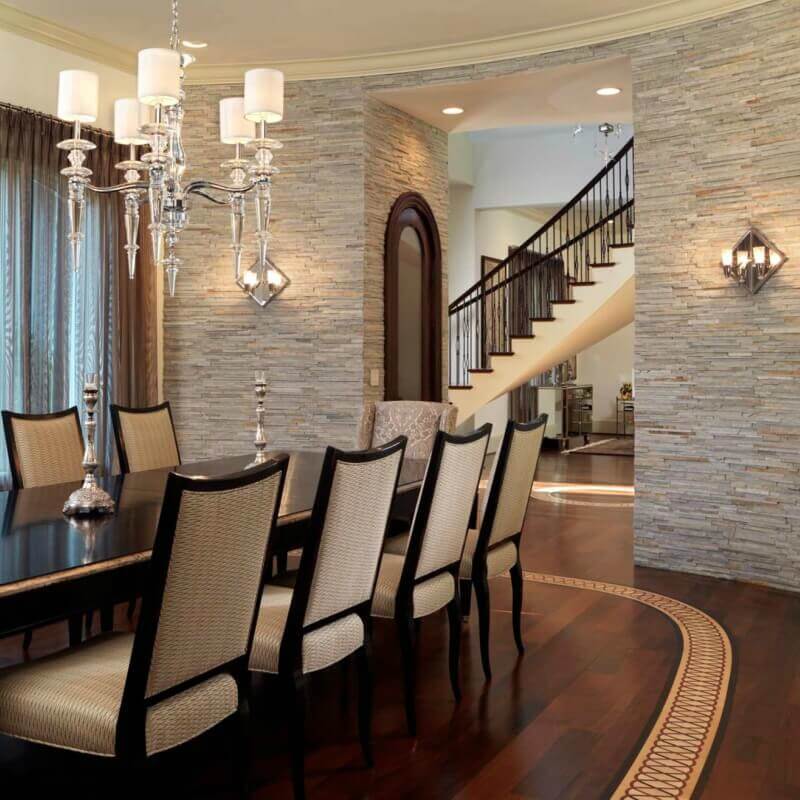 Recreate this look with MSI's Arctic Golden Panel Stacked Stone
(Photo Credit: Houzz)
Floor-to-ceiling stone is always an eye-catching look, and that's why designers love to use splitface quartzite stacked stone ledger panels for vertical design projects like this stylish dining room.
Here, the rugged texture of the accent walls is mimicked in the woven wicker-upholstered dining chairs, while the polished hardwood and sparkling glass chandelier provide a pleasing counterpoint.
Composed of natural stone, the cool whites and warm creams of these versatile tiles work indoors for a stunning kitchen backsplash, as well as outdoors to enhance an architectural feature or cooking space.
Fossil Rustic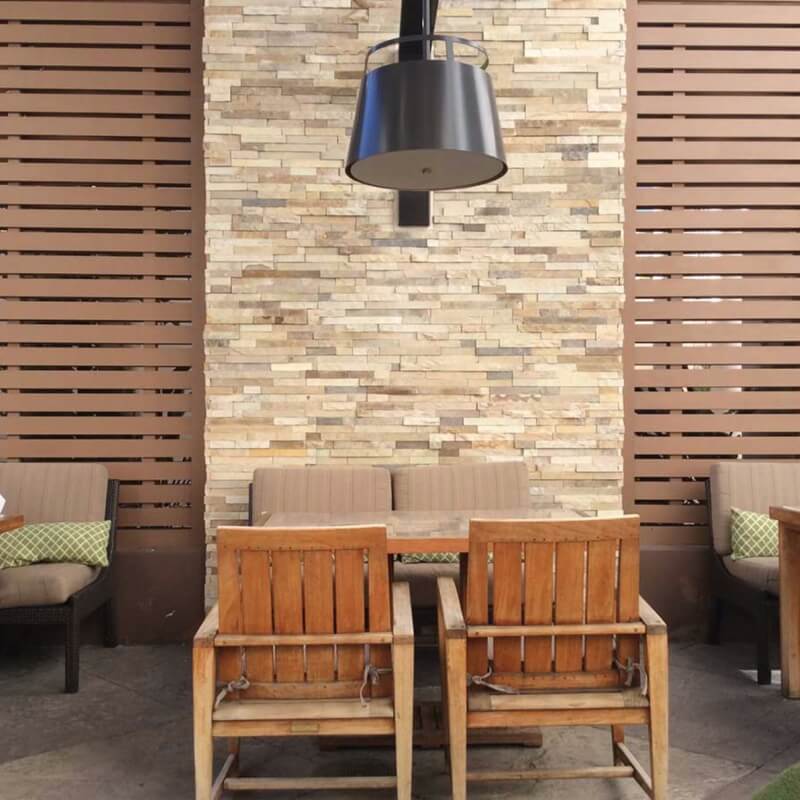 Featured: Fossil Rustic Stacked Stone
The warm hues and balanced composition of Fossil Rustic sandstone ledger panels provide a soothing natural design element for wall projects in residential and commercial applications.
This natural beauty's calming cream and beige hues, with highlights of light rust and gray, centers this outdoor seating area with its combination of natural wood and man-made elements. These ledger panels may look elegant, but they are durable enough to be used as exterior hardscaping, and come with matching corners.
White Quarry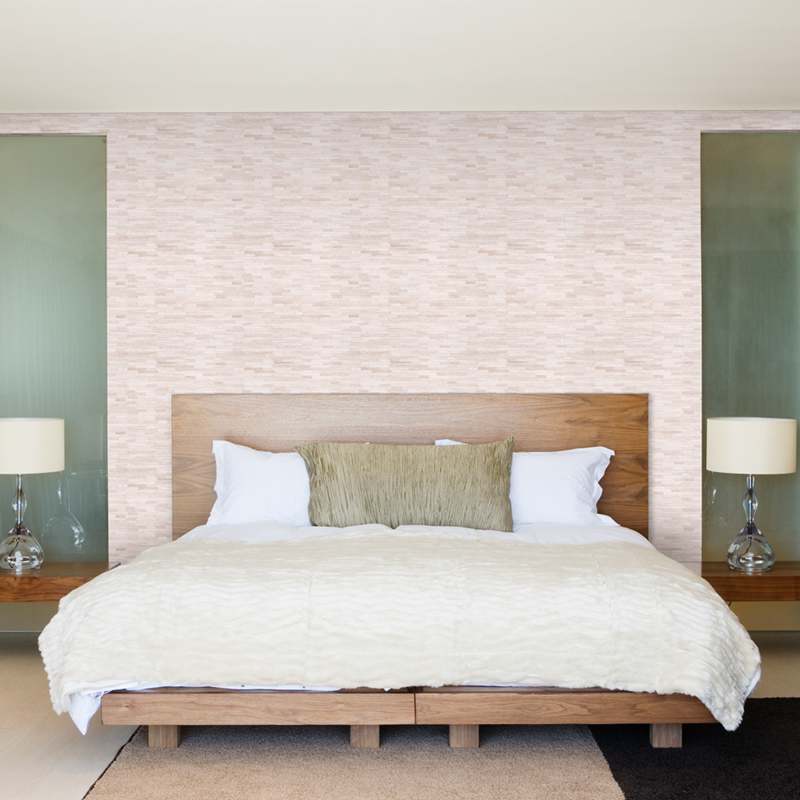 Featured: White Quarry Interlocking 3D Peel And Stick Tiles
Speaking of design elegance, nothing beats fine natural marble. And with these Stik Wall-Tile White Quarry Interlocking 3D Peel and Stick self-adhesive backsplash tiles, the added advantage is that they don't need grout or thinset either. Soft gray tones and natural veining allow them to blend effortlessly into a traditional design as well as contemporary look.
Here, the natural wood bed and neutral soft furnishings nestle comfortably against the gorgeous natural texture and color variation of the stone accent wall, for a master retreat that only looks like it belongs in a magazine.
Rustic Gold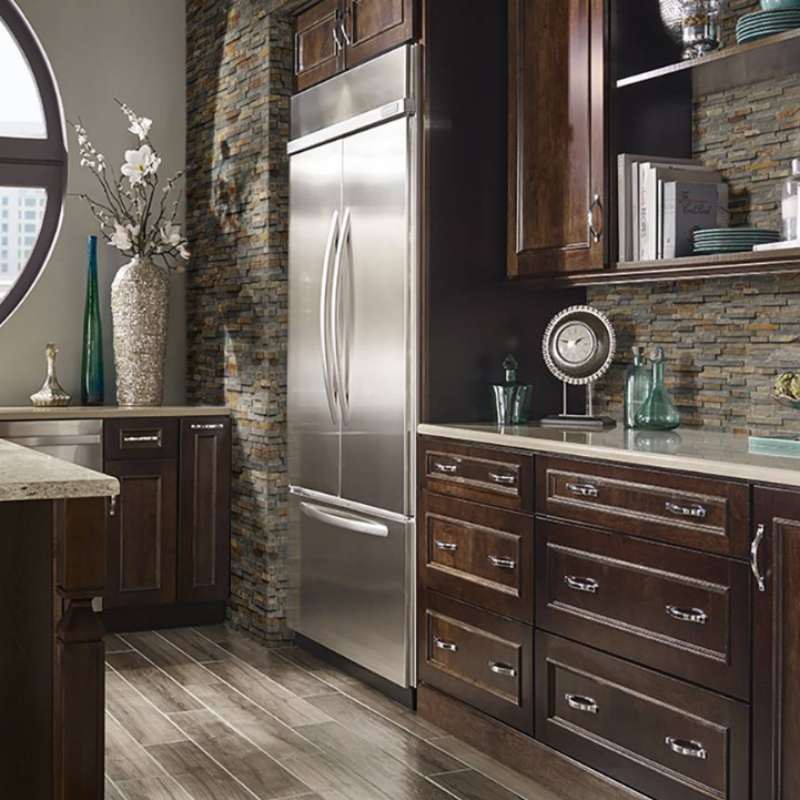 Featured: Rustic Gold Stacked Stone
Crafted from slate and featuring earthy grays, golds, rusts, greens and underlying blues, these Rustic Gold Stacked Stone panels have a beautiful natural finish that is rich and moody.
In this luxurious kitchen, the textured stone does double duty as both an accent wall and a backsplash, contrasting the lighter countertop and pairing perfectly with the dark cabinetry and floor planks. The matching corners provide for a professional finish. These ledger panels are the finishing touch on this interior space, but you can just as easily use them for exterior cladding or even a support structure.
It's easy to see how a stacked stone wall, fireplace or backsplash can transform any living space, whether indoors or out. Don't be afraid to experiment, because with more options than ever before, you're sure to find something that perfectly suits your taste.
If you're ready to give your home or business a whole new look with stone veneer, learn the right way to create an accent wall now.