Quartz Countertops: The Perfect Minimalist Surface
March 05, 2021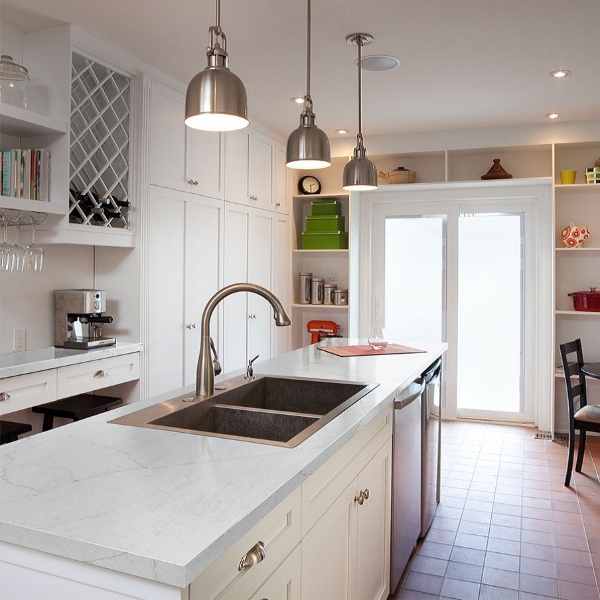 There's something about a minimalist aesthetic for your home's kitchen that is timeless — and that's why it pairs perfectly with quartz countertops. From sharp lines, minimal clutter, and neutral tones, minimalism allows you to create a cozy yet clean space. But how do you piece together all the elements of your space to create the desired look? There's no easier way to do so than by choosing from a beautiful and neutral selection of quartz countertop colors.
We've put together a list of our favorite design tips to help you use quartz countertops to create the perfect minimalist kitchen in your home.
What Is Minimalism?
Dating back to the early 1960s, artists began experimenting with an art form known as minimalism. The goal of the minimalist movement was to emphasize the lack of identity in a space. To do this, artists used large geometric patterns and shapes to fill otherwise plain canvases. With its careful use of space, minimalism evokes the feeling of relaxation and calmness — which is why minimalism has become a popular home design trend.
When looking for a way to create a clean design without feeling cold or boring, a minimalist aesthetic might be exactly what you need. Don't confuse minimalism with a cold, white room that is completely uninviting. Instead, you can create a beautiful, simple, and uncluttered look with lots of natural light and simple furnishing that will be timeless.
Using Quartz Countertops to Create a Minimal Aesthetic
If your desired kitchen aesthetic is a minimal design, there's no easier way to piece it together than using quartz countertops as the backdrop to your kitchen. Because the kitchen is the heart of your home, it is an easy place for clutter to gather. From neighborhood gatherings to after-school homework, your countertops might find themselves feeling extra stuffy if they're also loaded up with decorations, cooking materials, and appliances. But creating a minimalist kitchen is easily done by following a few tips. Here are some of our favorite ways for homeowners to use quartz countertops to create a minimal aesthetic in your kitchen.
Incorporate a Dreamy White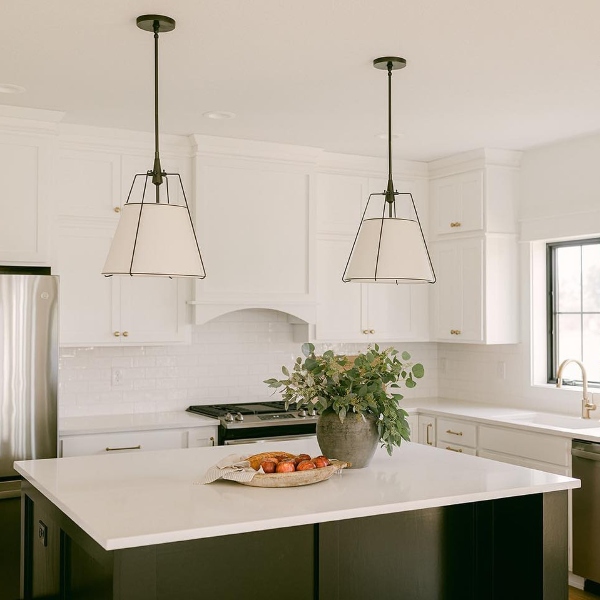 When you close your eyes and picture a minimal aesthetic, what comes to mind? Often is a stark white and cold ambiance, but that doesn't have to be the case. Utilizing white quartz countertops helps accentuate the feeling of a larger, emptier space — especially if you're working with a space with less square footage. White quartz countertops work wonders at making a small space appear larger than it really is. Pair a warm white quartz countertop with white or light-colored kitchen cabinets to create a clean look that emphasizes the simplicity and cleanliness of the room. You can go all-in with the minimal design and opt for clean counters with limited decor, or you can pair simple shaped decorations in a neutral tone as a focal point for the blank canvas that is your kitchen,
Swoon Over a Waterfall Island
Minimalism design incorporates large, geometric shapes that help draw eyes around the room to create the illusion of space. That means incorporating geometric shapes into your kitchen aesthetic is an absolute must! Our favorite way to blend long, seamless shapes into your space is by incorporating a waterfall island made of quartz which allows you to avoid harsh countertop edges. With long, uncut pieces of quartz, you will create a seamless countertop that blends all the way down to the kitchen floors ensures that the elements in your room aren't busy or distracting — a necessity for a minimalist design!
Create an Accent Wall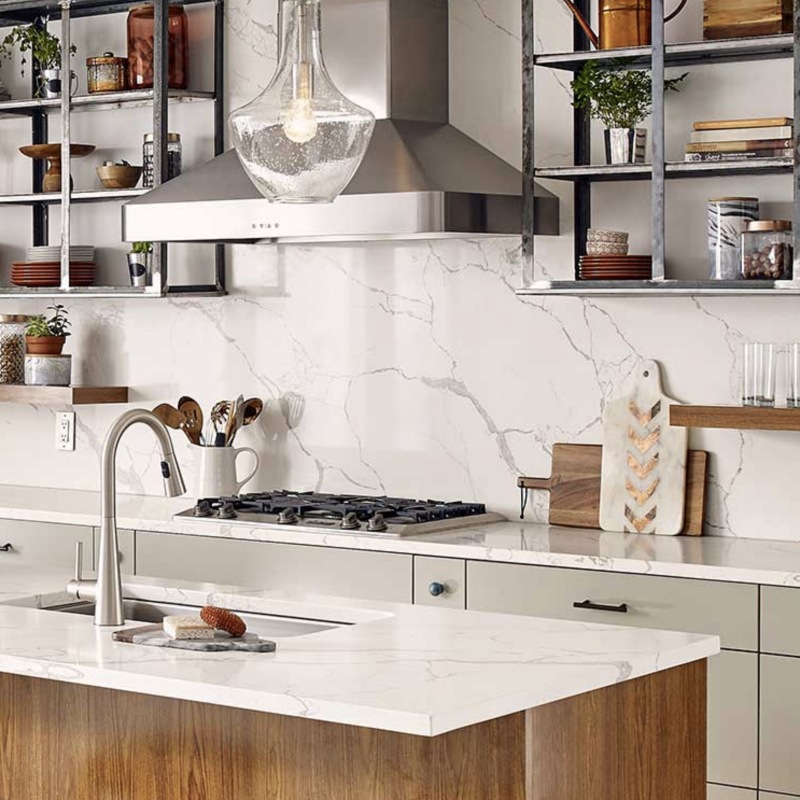 A common feature of a minimalist kitchen is open shelving which allows you to showcase some of your favorite dishes, glasses, and other kitchen tools — without appearing cluttered! While the open shelving can be the focal point of your kitchen, there's an easy way for you to elevate the space even more. Consider adding an accent wall made of quartz beneath the open shelving as a way to highlight the area even more. This is an easy way to minimize harsh lines in the room and create a seamless transition from your countertops up to the ceiling.
Don't Be Afraid of Color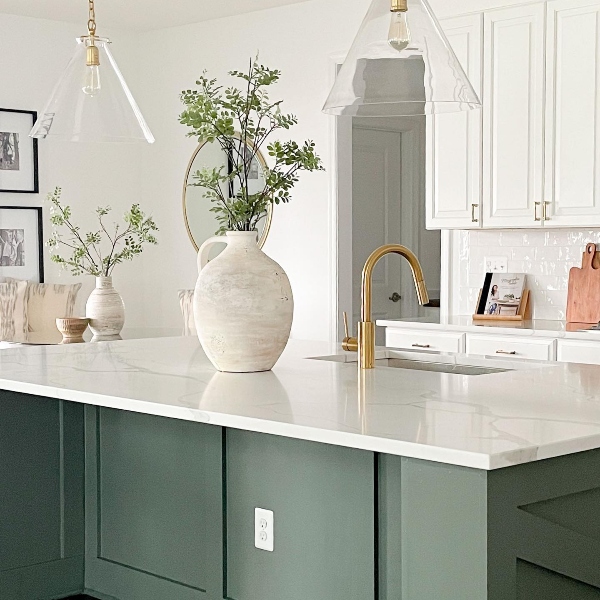 Minimal decor and design don't have to be clean and boring — you can emphasize the clean white of the natural stone by adding in a pop of color! From adding a simple basket of fruit to your countertop or highlighting multi-colored dishes on your opening shelving, utilizing color can elevate your minimalist kitchen aesthetic without making it feel too cluttered. If you want to keep things neutral, you can opt for a quartz slab that has a bold and dramatic texture. Even if the veining is a neutral gray tone, it will still provide a wonderful contrast against your clean, white kitchen.
Invite Natural Light In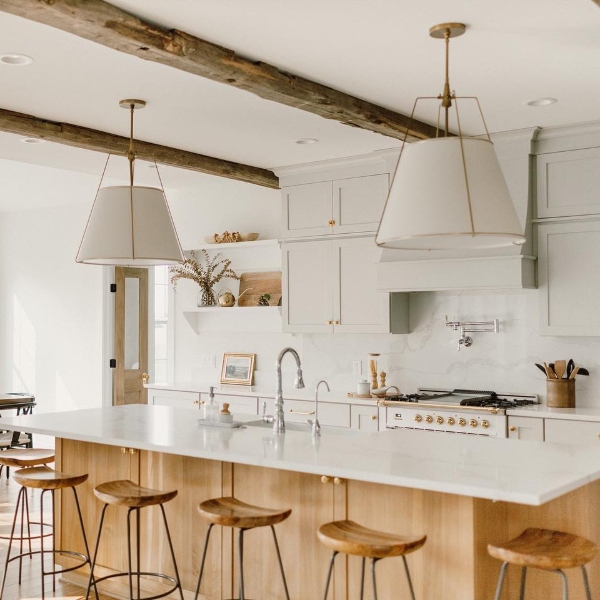 There's no easier way to emphasize the calm feeling of minimalist design than by highlighting it with lovely natural light. When possible, design your kitchen around open and airy windows that will allow the light to shine through and highlight the cleanliness, coziness, and orderliness of your overall kitchen design. It's an effective way to brighten up the space and let the beautiful quartz countertops shine their brightest — not to mention, natural light will make a small space feel more open and spacious!
Choose a Surface with Minimal Maintenance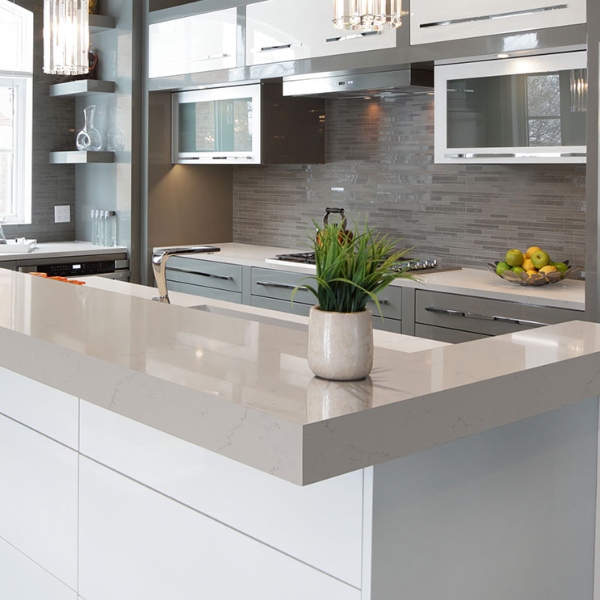 Along with choosing the ideal countertop surface that will help you achieve the look and feel you're hoping for, you should consider premium surfaces that also require minimal maintenance. No one wants to spend hours scrubbing and sealing their countertops to keep them looking their best. Quartz is an extremely durable countertop material that is water and stain-resistant, allowing you to spend your time admiring their beauty rather than maintaining it. Keeping your countertops maintained isn't only the first step to achieving your minimalist look — it's equally as important that you don't get belongings or decorations to clutter your space. The fewer items on the counters, the better!
More On Quartz Countertops
5 Perfect Quartz Countertop and Backsplash Pairs
Make A Bold Statement with New Q Premium Quartz Countertop Colors
Quartz vs. Granite for Countertops
Easy Quartz Countertop Care and Maintenance