Granite Countertops Venture Outdoors
April 27, 2016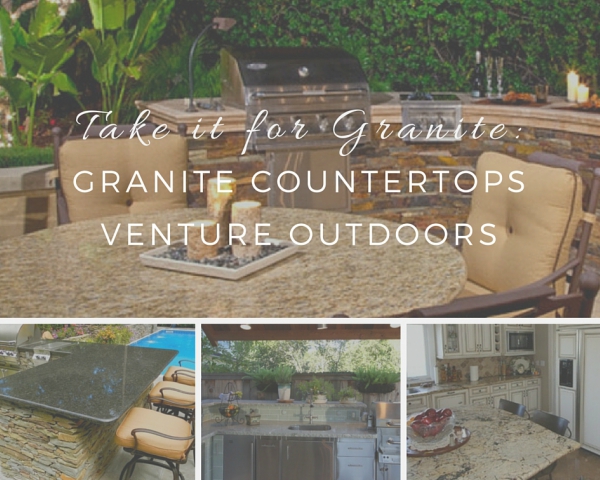 If you love the airy feel of open and outdoor kitchens, you're in good company. A Houzz survey found that open kitchens are a coveted feature in modern homes, and many homeowners plan to open their kitchens to outdoor spaces. With an open or outdoor kitchen, your style will extend beyond the walls of your home. Blur the lines between outdoors and in with a flowing, neutral granite countertop from MSI.
Angola Black Granite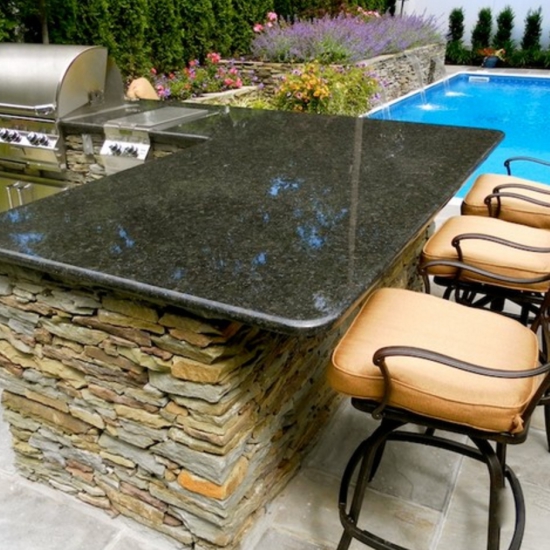 Featured: Angola Black Granite (photo source)
The weather's warming up, and soon we'll all venture outside for an unforgettable season of grilling and poolside lounging. If you're serious about food, fun, and the outdoors, a backyard kitchen is the perfect place to soak in a little sun. Kick off spring in style with Angola Black Granite, a low-variation, deep-gray granite that's flecked with black. This intense granite looks exquisite when paired with stacked stone, like in this outdoor bar design. Angola Black Granite is a beautiful choice for exterior landscaping and outdoor kitchens, even in climates with freezing temperatures. This dramatic granite slab also looks lovely on countertops in open kitchens, backsplashes, and other interior design projects.
Amber Yellow Granite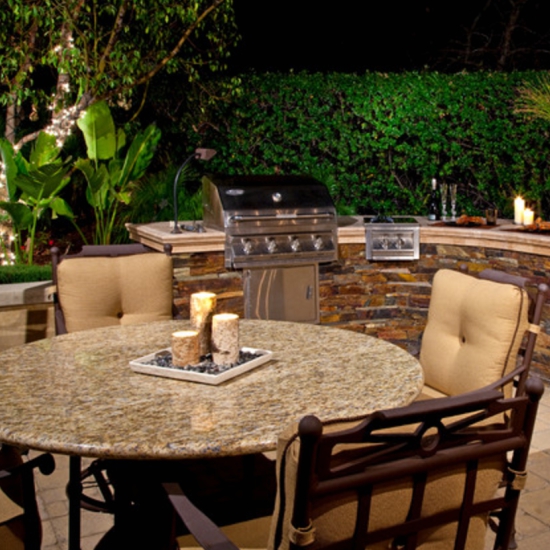 Featured: Amber Yellow Granite (photo source)
With a sophisticated style that's beautiful inside and out, granite countertops are a spectacular feature in open and outdoor kitchens. Weave a touch of nature into your home with an outdoor kitchen clad in Amber Yellow Granite. This warm, Brazilian granite has beautiful gold-and-yellow undertones with gray and dark-brown veins. To play off an earthen look, pair Amber Yellow Granite with taupe tiles, stacked-stone accents, and hints of greenery. This durable granite works beautifully for both interior and exterior projects, even in climates with sub-zero temperatures. With an outdoor kitchen clad with Amber Yellow Granite, you'll never want to come inside.
African Rainbow Granite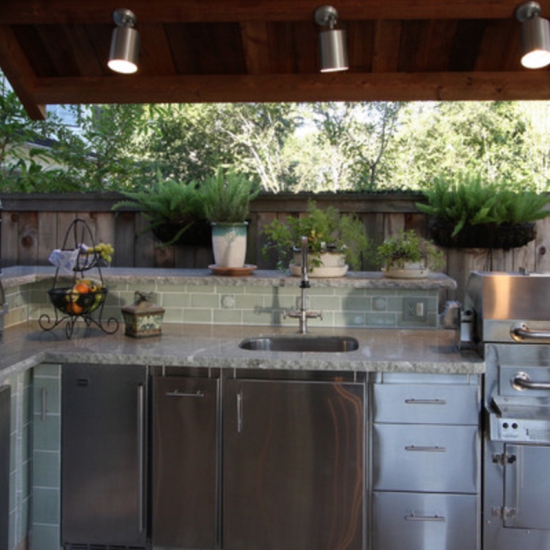 Featured: African Rainbow Granite (photo source)
Like the late-summer sky at dusk, African Rainbow Granite glows softly with ivory and alabaster grains, and russet and midnight-blue veins. This coarsely grained, pale granite looks outstanding with metallic and natural wood accents. In your outdoor kitchen, you'll serve up a side order of style with the soft beauty of African Rainbow Granite. This gorgeous natural stone delivers all the beauty and durability you need for indoor and outdoor applications, including floors, walls, and countertops.
Avalon White Granite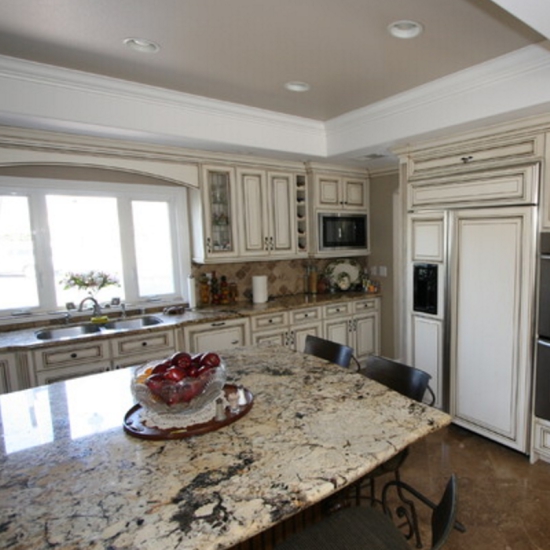 Featured: Avalon White Granite (photo source)
An outdoor kitchen isn't the only way to breathe fresh air into your style. In this open kitchen, Avalon White Granite provides the perfect backdrop for blonde wood cabinetry and warm-brown floors. Sunny neutrals beautifully reflect light, giving the appearance of more space. Granite colors in neutral whites, tans, and grays are a lovely choice for an open kitchen. Whether you crave a contemporary or country-cottage style, bright neutrals are extremely versatile. Pair this dreamy granite countertop with vibrant colors or harmonizing neutrals in white, light gray, or mid-toned brown. Complete this look with wrought-iron accents, a decorative bowl, and appliances in sleek black.
Take a cue from Mother Nature and open up your home to the outdoors. With a naturally beautiful granite countertop from MSI, you'll add energy to your open or outdoor kitchen.
Learn More about Granite Countertops Outdoors
How to Keep Your Outdoor Granite Installation Looking Brand New
6 Ways to Use Granite in Your Outdoor Kitchen Design
5 Granite Outdoor Kitchens for Inspired Patio Living
READ MORE ABOUT GRANITE COUNTERTOPS
Granite Countertops Are A Worthwhile Investment
Granite Countertops Increase Home Resale Value – Here's Why
Granite Countertops to Perfectly Balance Dark Kitchen Cabinets
Heat Up Your Fireplace with Granite Slabs