Can I Use Luxury Vinyl Planks On Top Of Radiant Heating?
February 05, 2020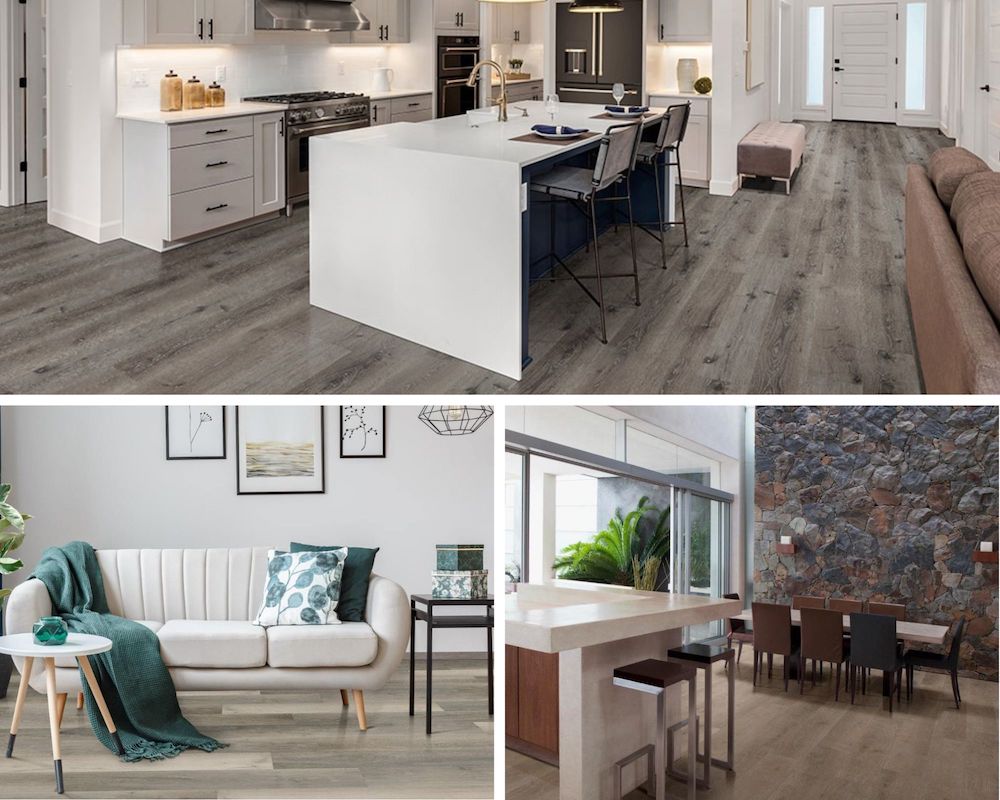 Many are surprised to learn that one of the best flooring options for radiant heating is luxury vinyl planks (LVP). This under flooring feature offers direct heat right to the floor panels and is coming back in a big way! But, it's not as easy as simply rolling out a heating mat and installing luxury vinyl right on top. In this guide, we'll discuss what a radiant floor heating system is, why it works so well with vinyl, how to install it, and why you should be confident in your LVP flooring of choice.
What Is Radiant Heating?
Radiant heating is a flooring system that is installed underneath your flooring and offers convection heat that starts from the floor and gradually fills up the room over time. It is pretty energy efficient since it offers better heat distribution when comparing to hot air being forced in from the top of the room. Since hot air naturally rises, it may be ideal for homes with high ceilings or large spaces that can be costly and difficult to heat. With no noisy blower, the quiet system is also a great option for allergy sufferers because of its better indoor air quality.
There are two most commonly used types: hydronic radiant heating and electrical radiant heating. Hydronic heating systems use hot water from a boiler or water heater through a network of tubing that carries the heat to the floors. This system is typically more efficient and ideal if you already have a standard water heater. Electrical heating systems use electricity to heat cables that create heat under the floors, and they also include a thermostat and temperature sensor. While it may not be as efficient, using your system during off-peak hours could save you money, depending on your electricity rates.
However, not all flooring can cover these systems because of the heat directed by the electric wiring or hydronic tubing right to the floor panels. How effective these systems are depends on the radiant heat transfer. And, note that only smaller accent rugs should be used so that the heat can transfer up into the room without carpet or rugs obstructing it.
Why Radiant Heating Works With Vinyl Flooring
Having warm feet definitely contributes to feeling warmer. That's why many love this product for spaces like bathrooms where you can step out of the shower and onto a warm floor or any other chilly room in the home, and you probably already know that vinyl flooring is extremely versatile and a great option for bathroom installations. It's definitely an ideal combination when wanting to warm up a cold space just about anywhere.
Since new luxury vinyl flooring is strong and the heat from the system is gentle, adding radiant heating is a great choice for taking your flooring project to the next level. You'll need floating LVP or vinyl that uses a click-lock system in order to allow enough space for the wiring of your radiant heating system, something that glue-down LVP doesn't allow.
The first thing you want to do is to verify that adding radiant heating will not void your LVP warranty. While most vinyl flooring will be fine over this type of system, not all vinyl is created equally, so make sure to follow the flooring recommendations, including any heat restrictions, from your specific manufacturer. While many manufacturers have a restriction of 85 degrees Fahrenheit, it's recommended that the system is below 80 so that the high heat doesn't jeopardize the quality of your flooring.
How to Install Radiant Heating
When installing vinyl flooring with an electric radiant heating system with mesh, the first step is to clean your subfloor so that it's smooth, and then prime it before using your self-leveling concrete. Know that this type of installation is very flexible, as it allows you to change your flooring over time if needed. A vapor barrier or another type of thin underlayment may need to be installed between the radiant floor heating system and LVP flooring in order to help it float better. But, if you add this layer, then be sure to check with both manufacturers of the radiant heating and flooring to ensure that it works for both products.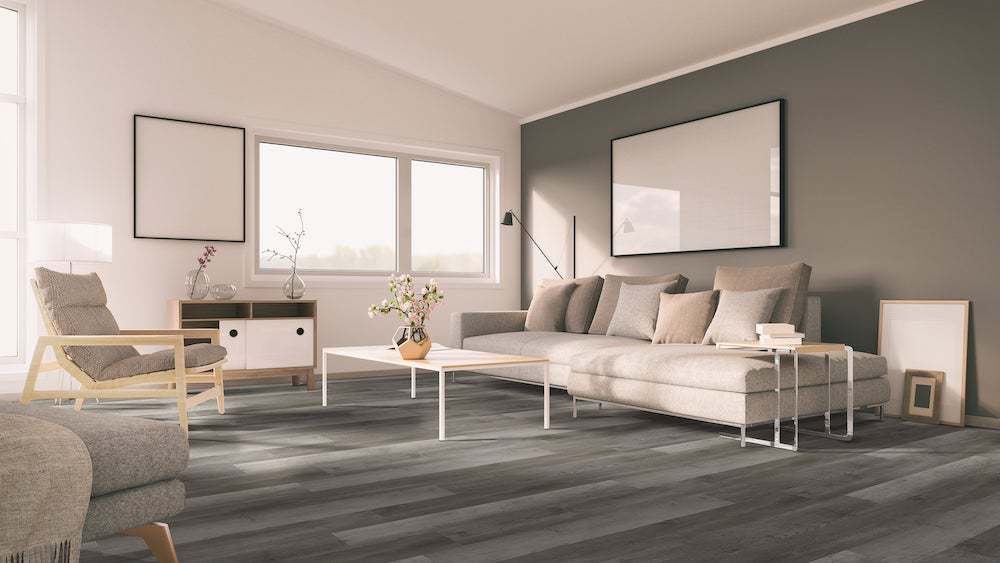 Woodrift Gray Luxury Vinyl Planks
Before laying it out, you'll want to test your electrical system to verify that the proper ohms reading is also listed on your data label. Next, install the electrical heating system using the free custom floor plan provided. Make sure that the wiring is facing downward, and never cut the heating cable when cutting your mesh. Stapling the mesh to the plywood subfloor will keep the wiring from floating to the top of the cement.
Check the ohms reading again before mixing the self-leveling concrete. Pour the cement on top of the heating system. Once it has dried, you can then begin installing your LVP according to the manufacturer's instructions. It's important to note that a licensed electrician should be the one to connect the thermostat to the radiant heating system so that it complies with your local building code.
Why LVP Flooring Is the Best Choice
Luxury vinyl flooring benefits are many and come in a wide range of price points. They provide the same warm look as real hardwood but without maintenance. Because of their moisture-resistant wear layers, the durable flooring can be installed in just about any room, including wet areas like bathrooms, kitchens, and laundry rooms. Cleaning is simple with a good sweep from a soft-bristled broom or vacuum, and food stains can be wiped up with a little baking soda paste and a non-abrasive sponge.
One of the best things about using radiant heating or even LVP is that you don't have to install either in the entire home if you don't want to. Of course, it's a luxurious way to live if you do, but a single bathroom or entryway can also feature the warmth underfoot while the rest of the home relies on another heating system.
Do you need help selecting the perfect vinyl flooring? Needs more tips for choosing the right vinyl flooring to go with your radiant heating installation? We are here to help! Please chat with us online, visit an MSI showroom near you, or contact an authorized MSI dealer.
More About Luxury Vinyl Flooring
What Is the Difference Between 2mm and 4mm Vinyl Flooring
Luxury Vinyl Flooring Trends: Layouts and Patterns