Outdoor Oasis: Is Travertine Tile The Right Choice For Your Patio?
May 11, 2018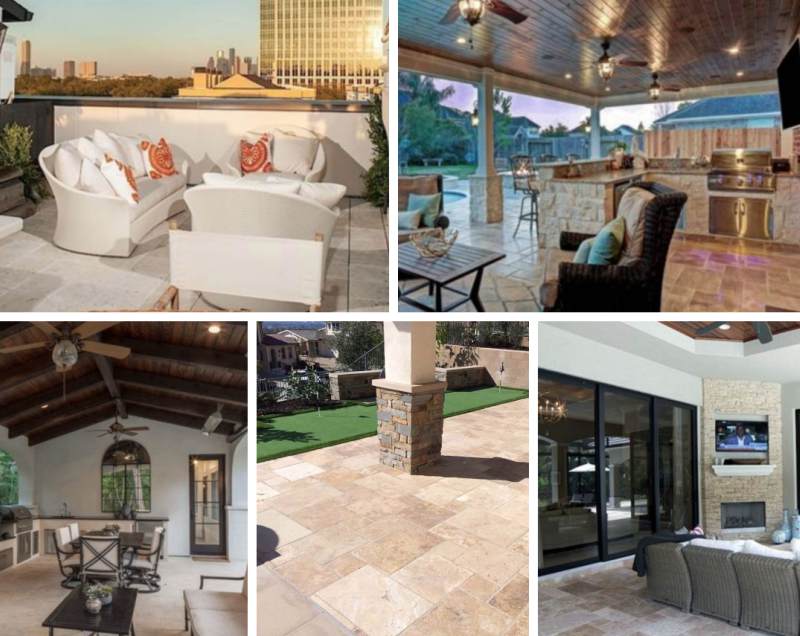 Travertine is so versatile that you really can't go wrong with this pick for your patio area! Travertine tile offers a smooth appearance and squared corners for a clean look, but because it's a thin material at approximately 1/2-inch thick, it still requires grout. And yet, some still might have hang-ups about whether or not this natural stone is the right choice for their outdoor space.
Rest assured that travertine tile will work for your patio no matter what style it may be without making it look too rustic. In fact, it's been featured in everything from large traditional backyards to big city lofts! Instead of worrying about the beiges and browns being too drab, think of travertine as your perfect neutral backdrop for a serene space or colorful courtyard. One of the biggest benefits of travertine and most pavers is that they both retain warm hues over time unlike brick pavers.
With travertine tile comes some maintenance required of any natural stone. It's important to seal your tiles before installation because this will add to the endurance and strength of your outdoor floors. The price of travertine is totally worth it, but if this luxury patio tile just isn't in your budget, then consider porcelain tile as an alternative. Now that you want travertine in your patio, let's take a look at some inspirational installs!
Tuscany Beige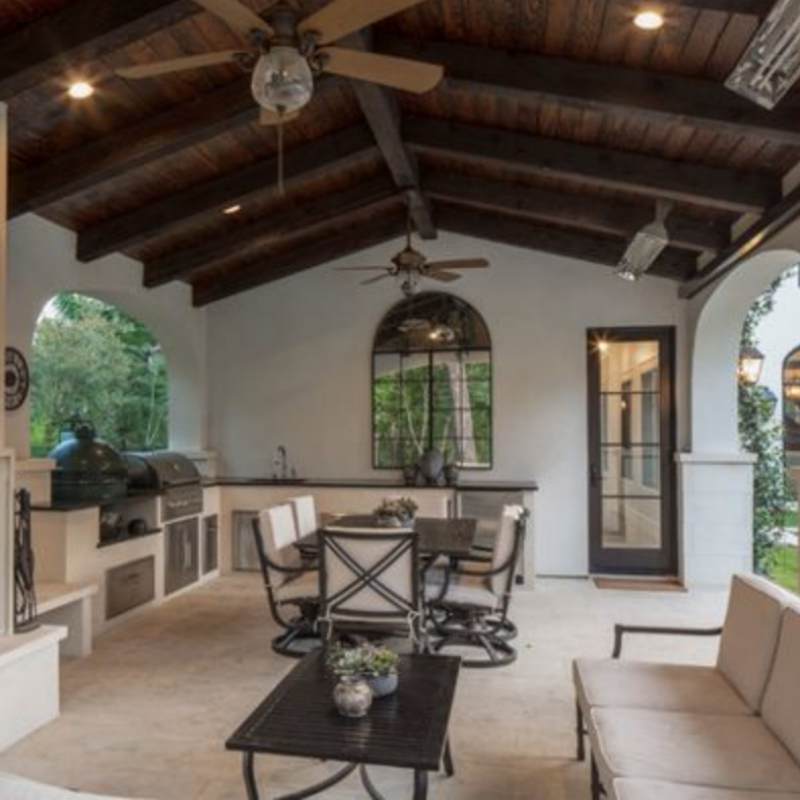 Recreate this look with MSI's Tuscany Beige Travertine (Photo Credit: Houzz)
Tuscany Beige Travertine is a warm beige and soft gold travertine tile imported from Turkey. It is one of the lighter hues and comes in a medium variation. Whether you select brushed, honed, chiseled, filled, or unfilled, you'll find a finish to suit your design style.
This covered patio feels like an extension of the home with the stunning wood ceiling and sophisticated travertine. The beige tone perfectly blends with the rest of the warm neutrals in the seating and dining areas.
Tuscany Storm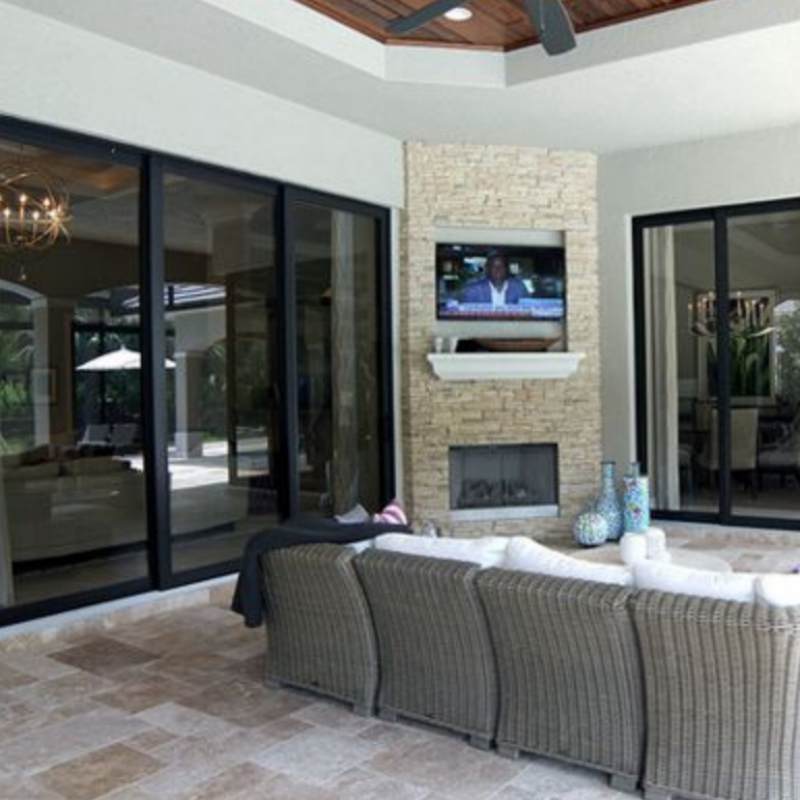 Get this look with MSI's Tuscany Storm Travertine (Photo Credit: Houzz)
Tuscany Storm Travertine is a classic travertine tile with its warm soft beiges and hints of tonal specks commonly found in the natural stone. The material from Turkey comes in a high variation and is available in brushed, honed, unfilled, and chiseled finishes.
This patio area features the outdoor tile in the iconic Versailles pattern, which is available as a kit for all of the sizes needed to create a high-end look. It also compliments the natural stone on the fireplace and the darker wood on the ceiling.
Ivory Onyx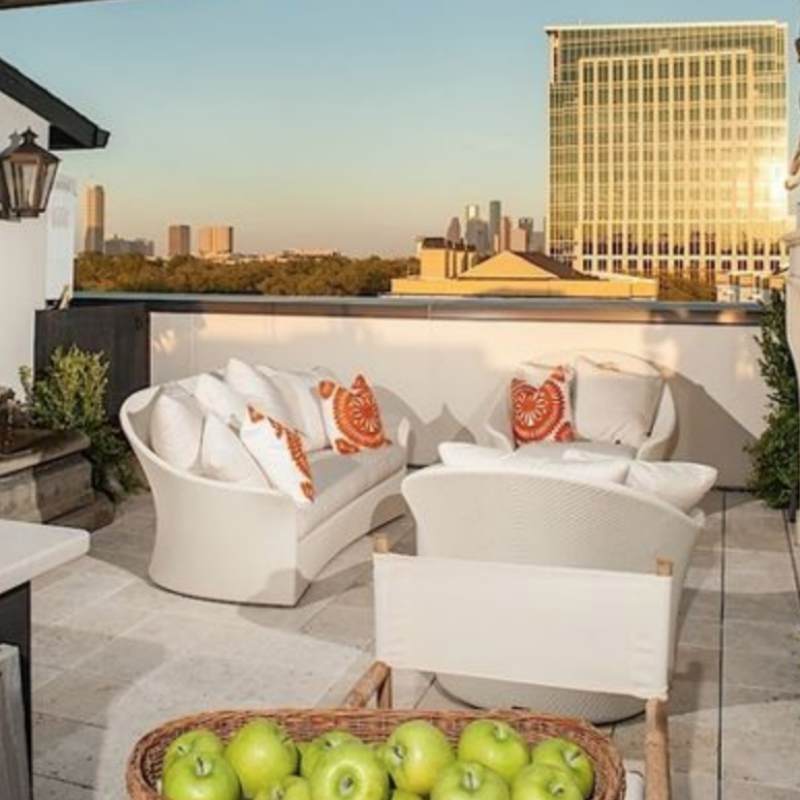 Create a similar look with MSI's Ivory Onyx Travertine (Photo Credit: Houzz)
Ivory Onyx Travertine is a hardscaping material with soft cool ivory tones and subtle veining. This sophisticated stone from Turkey is the lightest color from MSI and available in a medium variation. The honed, unfilled, or chiseled finishes are perfect for any style patio, including this transitional rooftop deck. The natural stone helped transform this small space into an additional living area for these city dwellers!
Tuscany Gold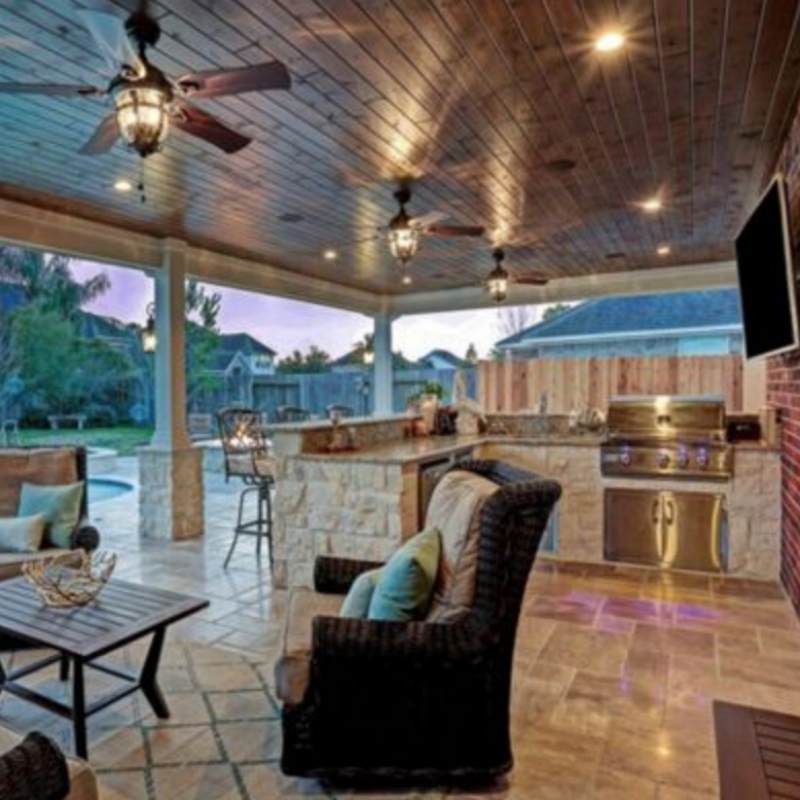 Recreate this look with MSI's Tuscany Gold Travertine (Photo Credit: Houzz)
Tuscany Gold Travertine will be sure to add vibrancy to any patio area because it features the warmest hues from MSI's outdoor travertine tile collection with its gold tones and natural veins. This Turkish tile is available in a medium variation and brushed, honed, unfilled, and chiseled finishes.
This patio plays with texture and pattern a lot thanks to the various uses of natural materials, including the beautiful travertine floors, stone-clad outdoor kitchen, rich wood ceiling, and bright red brick.
Tuscany Chateaux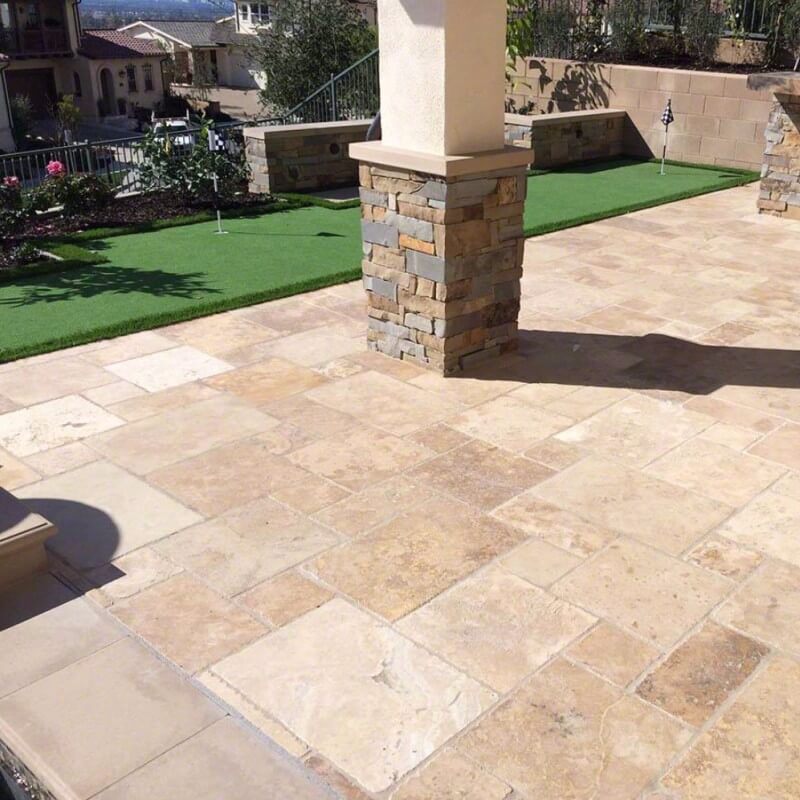 Featured: Tuscany Chateaux Travertine
Tuscany Chateaux Travertine offers a more prominent pattern thanks to its high variation and combination of soft beiges, warm creams, and golds. Choose from honed, unfilled, and chiseled finishes for the travertine tile from Turkey. This patio installation in the classic Versailles pattern is stunning and pops even more against the vibrant artificial grass golf putting green.
Enhance the look of your patio by adding beautiful travertine tile. MSI offers nine colors of outdoor travertine tile to choose from, including the ones featured here. Check out the rest online or by visiting your local MSI showroom.