Is It A Good Idea To Use Quartz Countertops With Natural Stone Tile?
November 16, 2018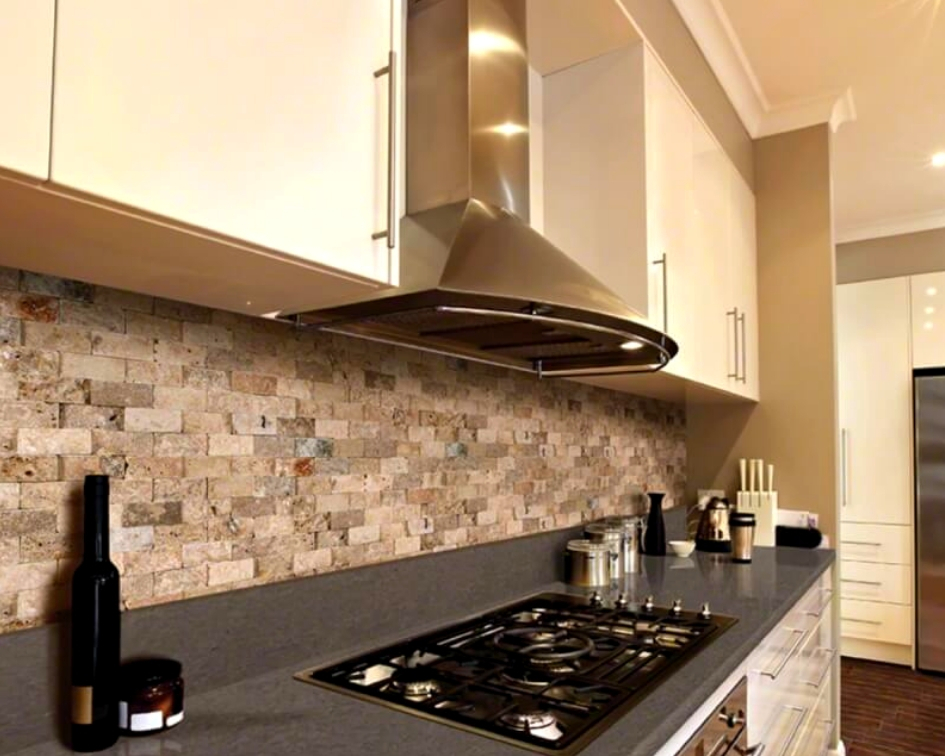 Some may think it's a faux pas to mix an engineered stone with natural stone, while others may be curious about how the two blend together. Of course we think it's a great idea to combine natural quartz countertops with stone tile!
The two different types of countertop materials match really well because quartz does a great job of mimicking real stones like marble, granite, and limestone. The consistent colors and patterns created for quartz mean you'll get exactly what you need to pair with the natural tones from Mother Nature.
For your inspiration, we've rounded up some of our favorite captivating combinations of the man-made material perfectly paired with different types of natural stone tile.
Marvelous Marbles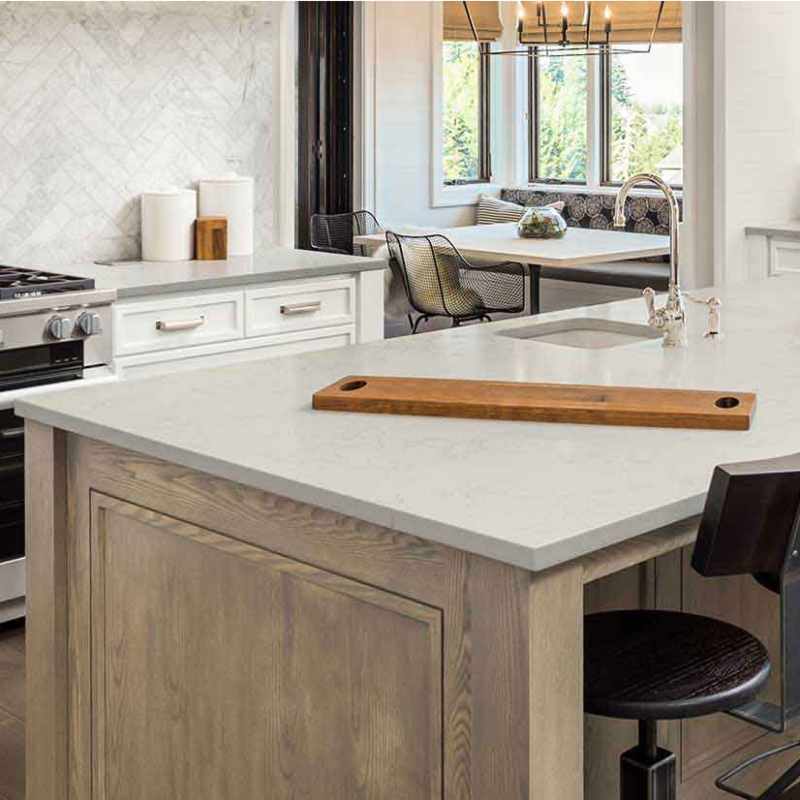 Featured: Calacatta Vicenza - Matte Finish Quartz with Arabescato Carrara Marble Backsplash
This farmhouse chic kitchen looks so luxurious with its light color palette of soft whites, grays, and wood tones. The Calacatta Vicenza quartz countertop almost matches the Arabescato Carrara wall tile perfectly. The marble look quartz features a white background and barely-there gray veining and comes in a classy matte finish. The timeless marble backsplash combines soft whites with swirls of dusty grays and is beautifully installed in a herringbone pattern.
Glorious Grays
With its bright white and gorgeous gray coloring and stainless steel accents, this contemporary glam kitchen teems with sophistication. The Iced Gray quartz is a smoky gray countertop with pewter specks that add interest and depth to the design, while the Sierra Blue Mini backsplash in quartzite stacked stone adds a touch of natural beauty in a mod way with its blue, gray, white, and rust tones. The glamorous bar stools tie the look together by connecting with the blue tones in the backsplash.
Dramatic Threesome
It's common to see two different quartz counters being used in a kitchen, but this rustic modern space takes it to a whole new level! The main counters and island are topped with Calacatta Laza, a dramatic marble style with a milky white background and soft brown veining. Innovatively, the bar height counter is made of Marquina Midnight, a bold and beautiful black marble-style quartz with dramatic white veining. The adjacent wood-burning fireplace flanks a floor-to-ceiling window and brings the great outdoors in with its Coal Canyon quartzite ledger panels in a contemporary style and charcoal gray color.
Contrasting Tones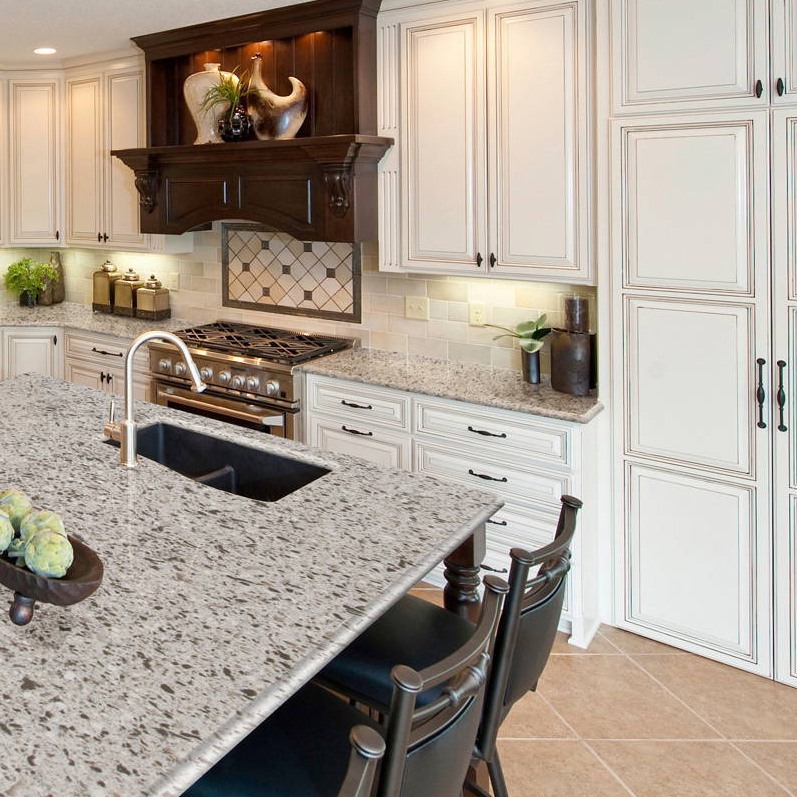 Featured: Cascade White Quartz with Angelica Gold Travertine flooring
While color seasons tend to go from trending cools to warmer tones, it's not a bad idea to feature both in your kitchen, that way you'll always be on trend! This traditional cooking space features Cascade White, a polished quartz with muted grays, silvers, and taupes all layered with milky whites and creams. The granite-look countertop is contrasted with an even more traditional material, Angelica Gold travertine tile. The gold flooring from Peru comes in a honed finish for a more natural look and brings out the warmth of the creamy cabinetry.
Modern Classics
This transitional kitchen feels so homey thanks to the rich wood floors, cool grays, and bright whites. The Mara Blanca quartz countertop offers a timeless sensibility with its creamy white background, but the gray veining gives it a modern edge. The marble-look counter is not only featured on the island, but it's also installed over the white cabinetry where it's surrounded by Arabescato Carrara subway tile. It lends a clean white look with its mostly white stone and light gray veining and is perfectly paired with a more traditional picture frame backsplash.
Quartz is one of the most practical countertops you can have because it is easy to clean, never needs sealing, doesn't stain, and won't harbor bacteria. It's a functional kitchen upgrade that will last for years to come! And, as you can see, you can enhance engineered stone by combining it with a wide range of natural stone backsplashes that don't have to match but should instead complement one another.