Popular
Fall Trends Favor Wood Look Tile
November 17, 2017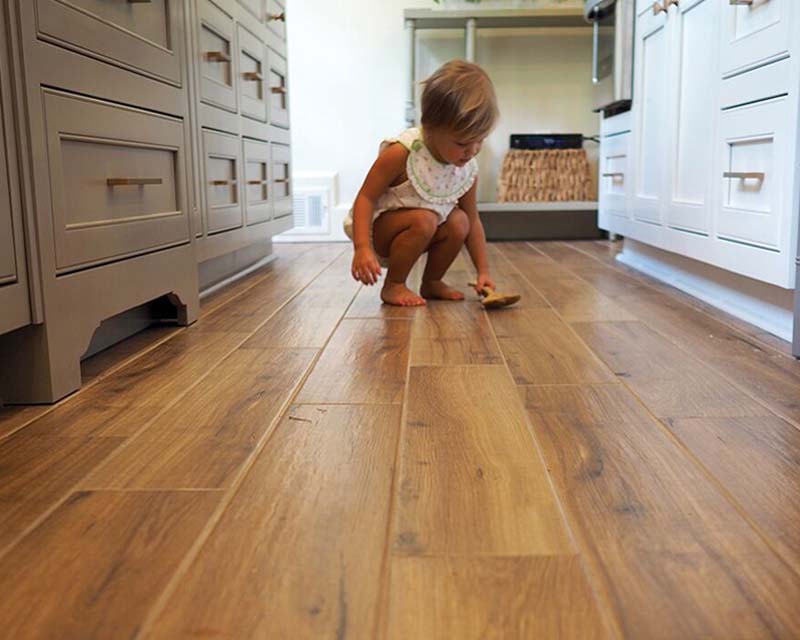 Inspired by the warm palette, textures, and scents of autumn, we're busy nesting and making plans for the holidays. If updating your floors with wood look tile before company arrives is on your must-do list this fall, consider yourself on-trend. Between authentic patinas, textures, wood grains, and knotholes, porcelain (and ceramic) tile manufacturers have turned a good idea into a breakaway trend.
As much as we love hardwoods, they're easy to scratch, limited in variety, taxing on the environment, and costly. Because wood absorbs liquid, it also swells, shrinks, and stains. In contrast, porcelain and ceramic planks are hard-wearing, stain-resistant, H2O-friendly, and affordable.
So, when your aunt drops a bottle of Merlot on the kitchen floor or your son drags a chair across the dining room, you can remain calm, cool, and collected (at least until your MIL shows up).
From traditional and modern to exotic and distressed, we've rounded up our favorite ideas for making your home look ultra-inviting for the season ahead. (Proving once again that all rooms look fresher, cleaner, and a bit chicer with new wood look tiles underfoot.)
Born to Be Ogled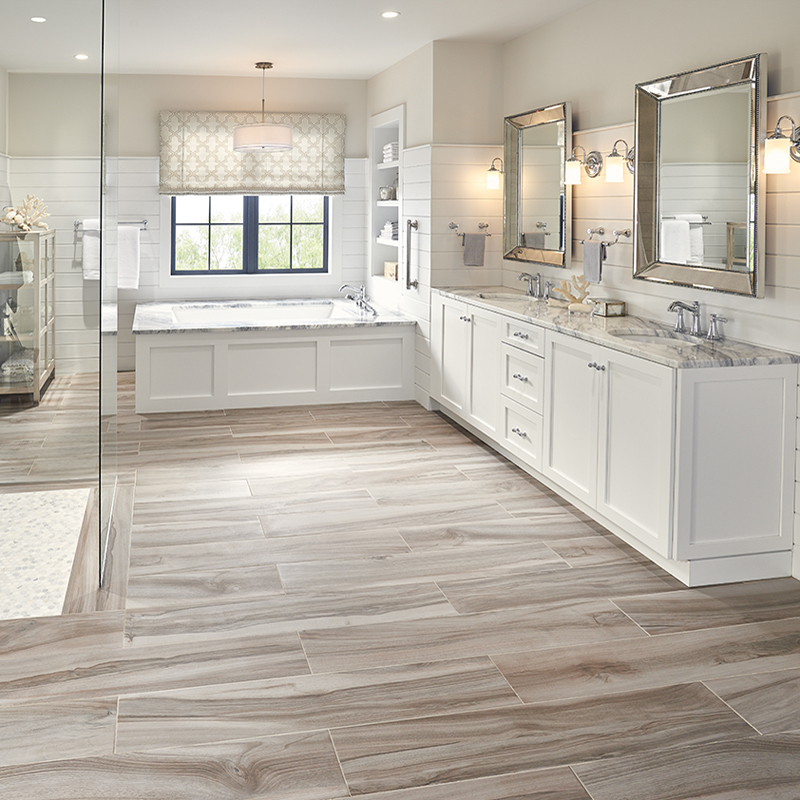 Inspired by the natural tones and textures of alpine woodlands, Aspenwood Ash Wood Look Tile grounds this airy monochrome bath.
Nothing says pristine and of-the-moment like a white bathroom – especially when anchored by pale-tone wood look tile floors. Ready for a change? Take a cue from designers who prefer Aspenwood Collection for its drama, movement, and modern-day palette.
Town & Country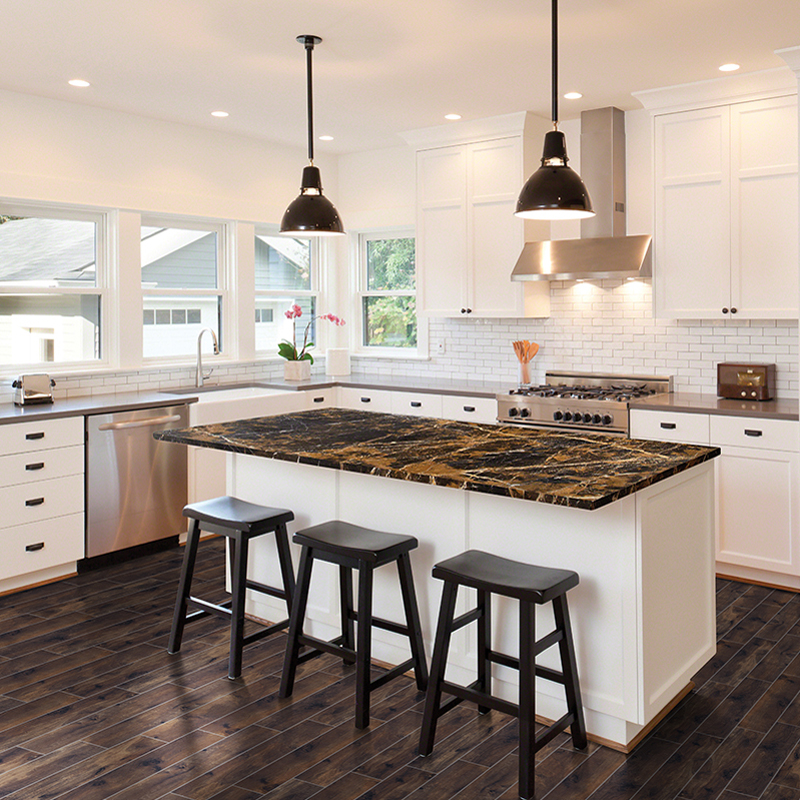 Country River Bark porcelain tile floors and Michael Angelo Marble countertop pop in this white kitchen.
One of the easiest ways to avoid a flat look in monochrome rooms is to add contrast with dark floors. Bonus point? Large plank tiles make small spaces appear larger – bring them up the wall for even greater effect.
For the Love of Gray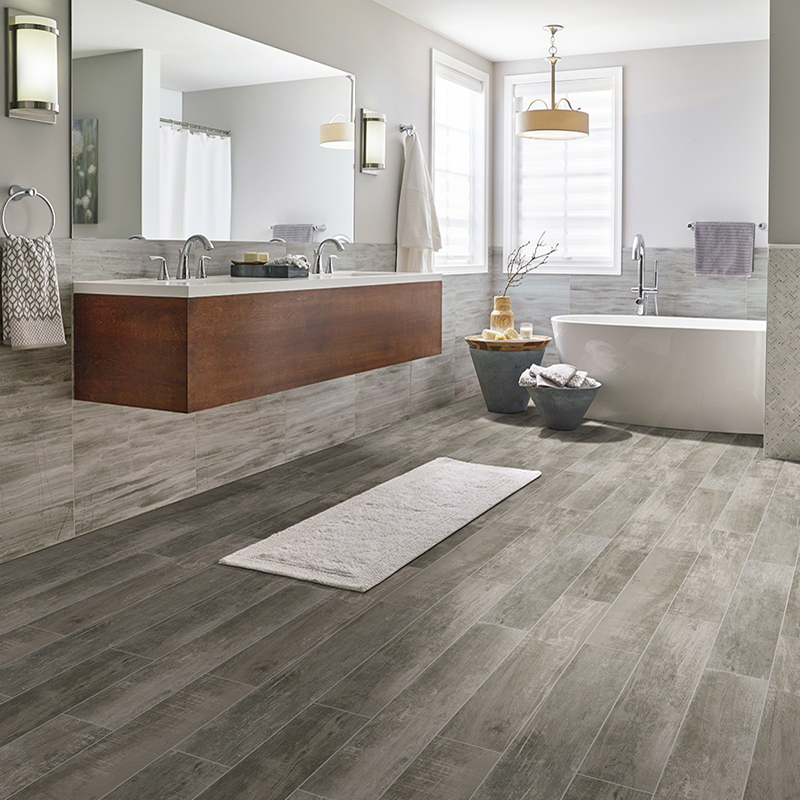 Featured: Helena Ash Wood Look Tile
We were fans of gray when it was a wallflower on the color wheel. Now, this fifty-shades star is having its day in the sun (and swatch book). Well, it's about time. On floors, nothing looks as chic or hides dust and dirt better. Gray wood looks combined with low-maintenance porcelain tile? It's one of the most winning duos in the design world today.
Pattern Play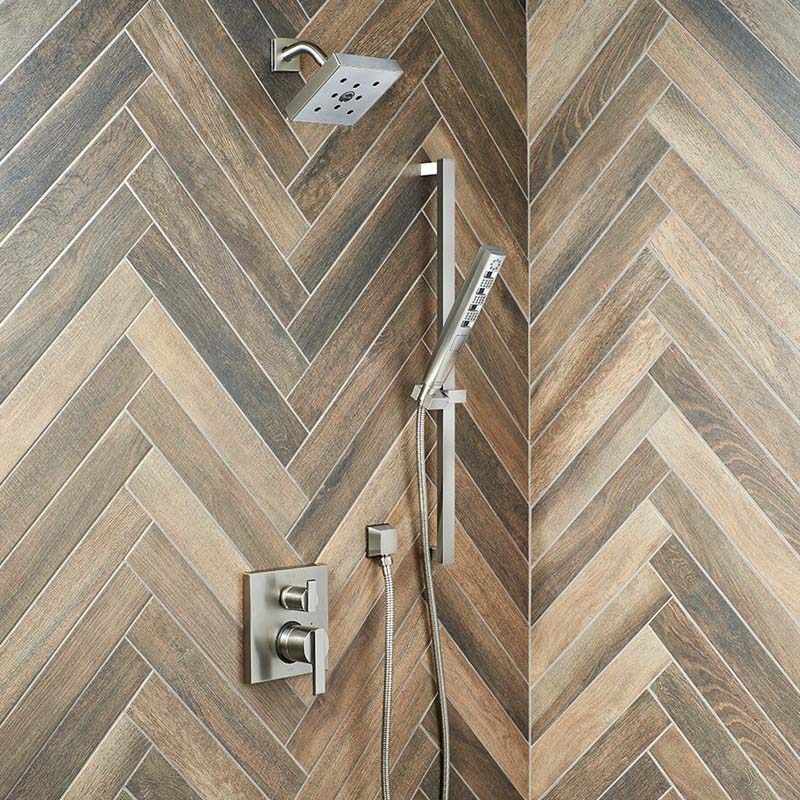 Upscape Bruno Wood Look Tile, installed in a chevron pattern, never looked better.
From bathrooms and laundry rooms to bedrooms and social spaces, we never tire of seeing wood look tile on the wall – especially when it's arranged in an intriguing pattern. Have an uninspired wall in your den? Create an architectural focal point with the stunning tones and dimension of Upscape Wood Look Tiles.
Old Meets New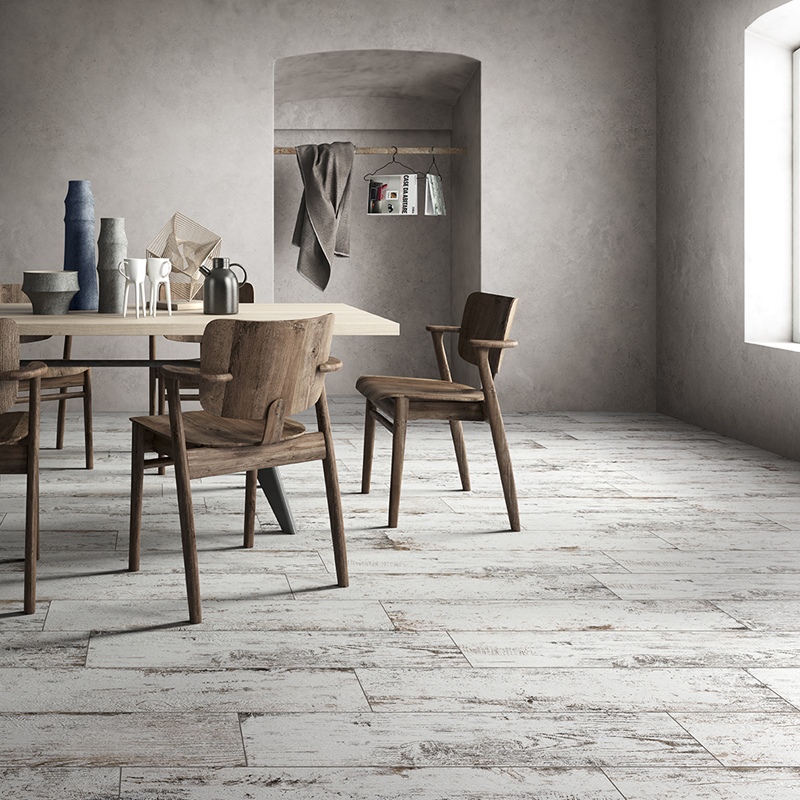 We love how the painted finish effect of Vintage Lace plays off the gray walls and midcentury chairs.
A growing trend in design is mixing reclaimed wood look floors with modern and midcentury elements. Blending styles from different eras lend depth and sophistication to a space. Obsessed with the imperfect and distressed look? Try our Vintage Collection: 8x36 porcelain planks resemble lightly-sanded-down old barn wood floors.
Take the Celebrations Outside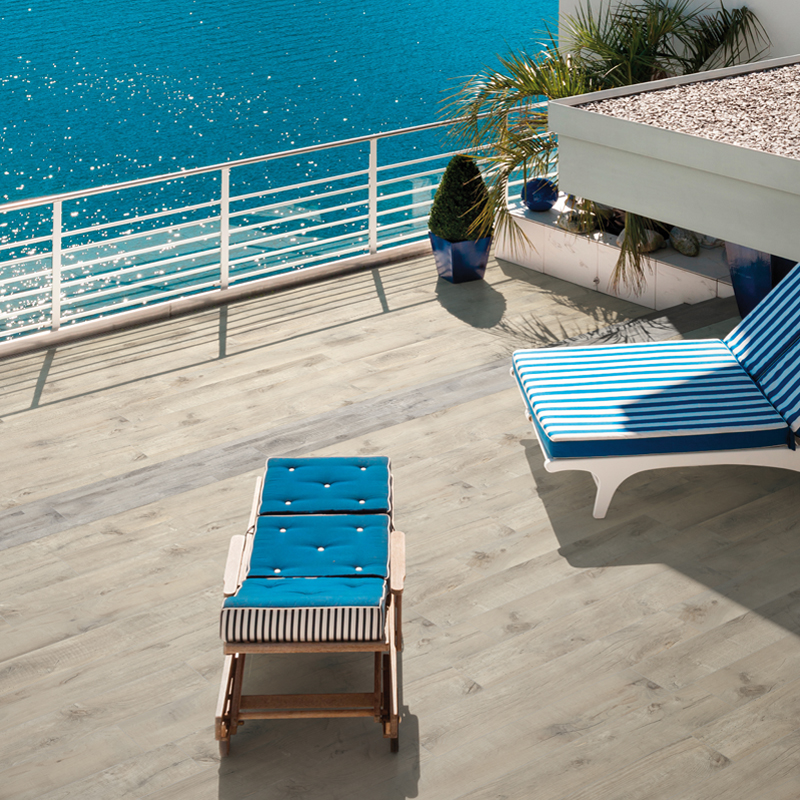 Not the best cook? With Country River Stone deflecting attention underfoot, maybe no one will notice.
Live in a warmer climate? Bring the holiday festivities outside by adding the indoor/outdoor Country River lineup to your to-do list (um, pronto). Your guests can flow seamlessly between your interior and alfresco rooms in high-style. But don't let their good looks fool you – these all-weather darlings can take a compliment and a beating with equal ease.
READ MORE ABOUT WOOD LOOK TILE:
Lived-In Wood Look Tile Flooring
How to Nail the Wood Tile Look In the Bathroom
6 Unbelievably Realistic Wood-Look Tile Installs
How to Get Perfect Grout Lines For Wood-Look Tile Flooring