Porcelain Pavers Vs. Natural Stone Pavers
April 28, 2018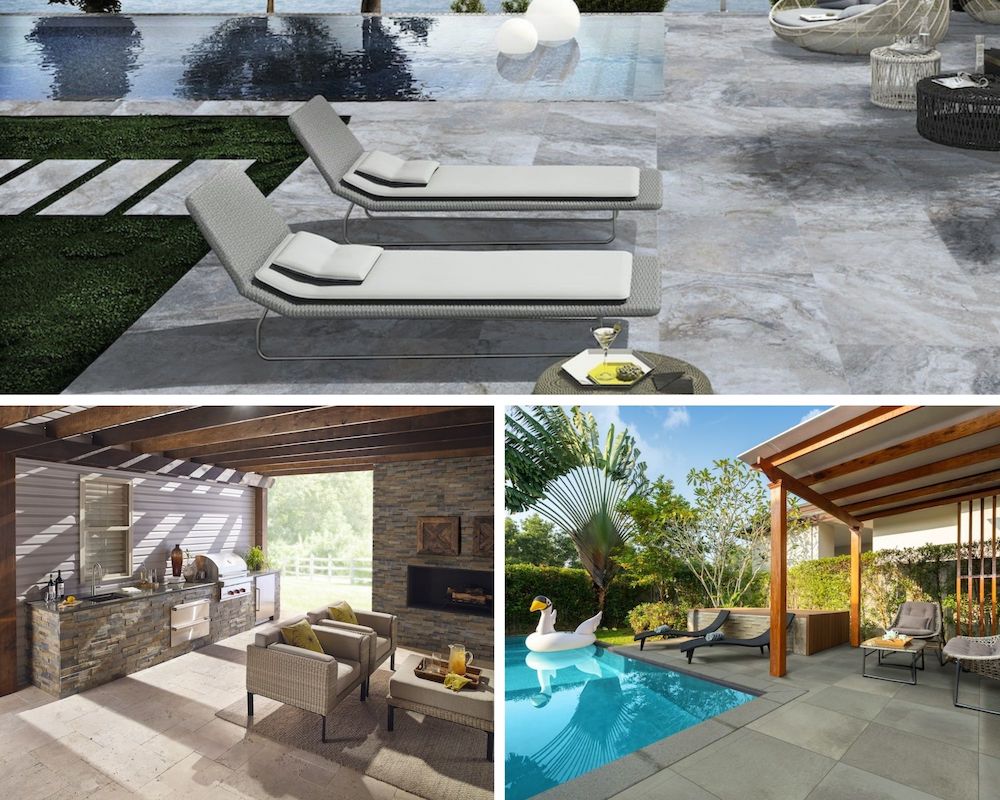 Spring has sprung, which means summer and outdoor fun isn't far away. So now's the time to begin that outdoor upgrade you've been dreaming about since last Labor Day. Here's where natural stone or porcelain pavers come into the picture.
Both types of flooring lend color and texture to your hardscaping and outdoor entertainment areas. But which material is right for your particular home improvement project? Each material has much to recommend it, and some negatives, too.
Porcelain pavers are a versatile and budget-wise choice for outdoor patios and walkways. Porcelain pavers are made from kiln-fired clay topped with inkjet printing that allows the paver to look like every type of natural stone and wood. Unlike natural stone pavers, porcelain pavers are fade-resistant and don't need sealing. Also, they can stand up to almost anything nature can throw at it.
Natural stone pavers, of course, are Nature's decorative flooring. Travertine, slate, and quartzite can create eye-popping floors, each different from the next. The problem with real stone, however, is that some materials, like slate, can heat up in the summer sun, making your patio seem like a pizza oven. And they require periodic sealing, which puts your entertainment area on the no-play list for at least a day or two.
In the end, the choice between porcelain pavers and natural stone pavers will be guided by your particular needs and tastes. Here are ideas for using pavers outdoors and transforming your yard into the go-to entertainment space for summer fun.
Cosmic Black Marble Pavers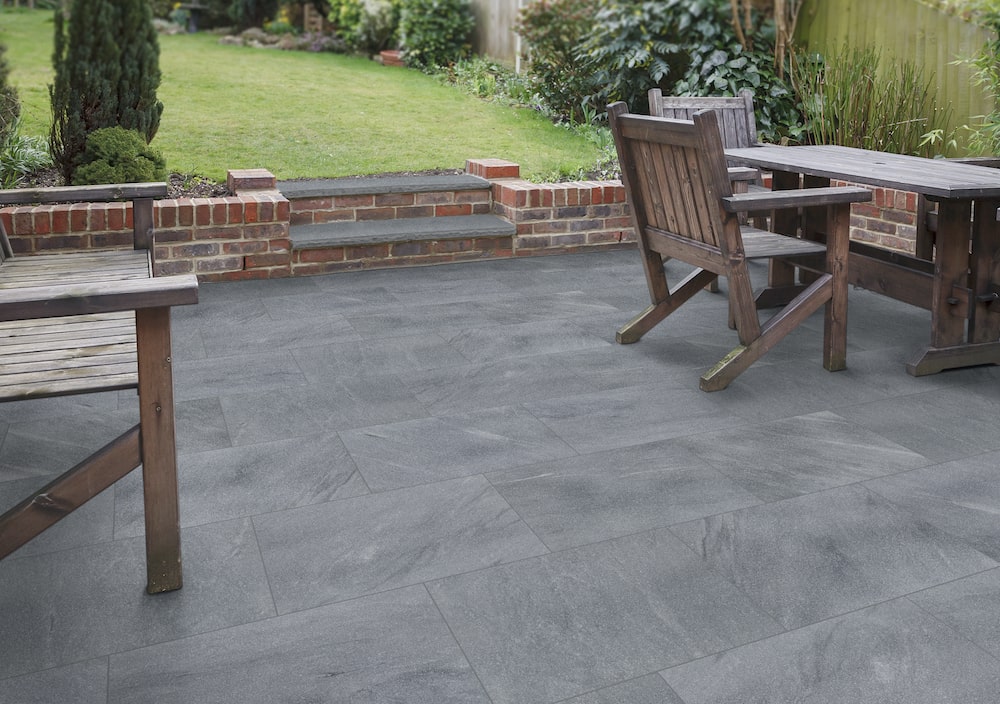 Cosmic Black Marble Pavers
Enhance your outdoor spaces with the opulent Cosmic Black Pavers, meticulously fashioned from the finest marble. These pavers exude an air of elegance and ensure an unforgettable first impression with their captivating fusion of dark blacks and subtle grays. The mesmerizing veining adds an intriguing touch without overwhelming the eye. Whether gracing your front entryway, winding along pathways, adorning your patio, or welcoming guests to your outdoor patio, Cosmic Black Pavers are the versatile choice for various outdoor applications.
Tuscany Beige Travertine Pavers

Tuscany Beige Tumbled Travertine Pavers
Tuscany Beige Tumbled Travertine Pavers combine warm cream and tan hues to create a cozy and sophisticated outdoor entertainment area. The travertine pavers come in a variety of sizes, 8x8 to 24x24, which allows you to set them in many different patterns. They'll look gorgeous surrounding a pool or topping a patio. Their light color also helps prevent the sun from soaking your patio and making it too hot for summer fun.
Full Range Bluestone Porcelain Paver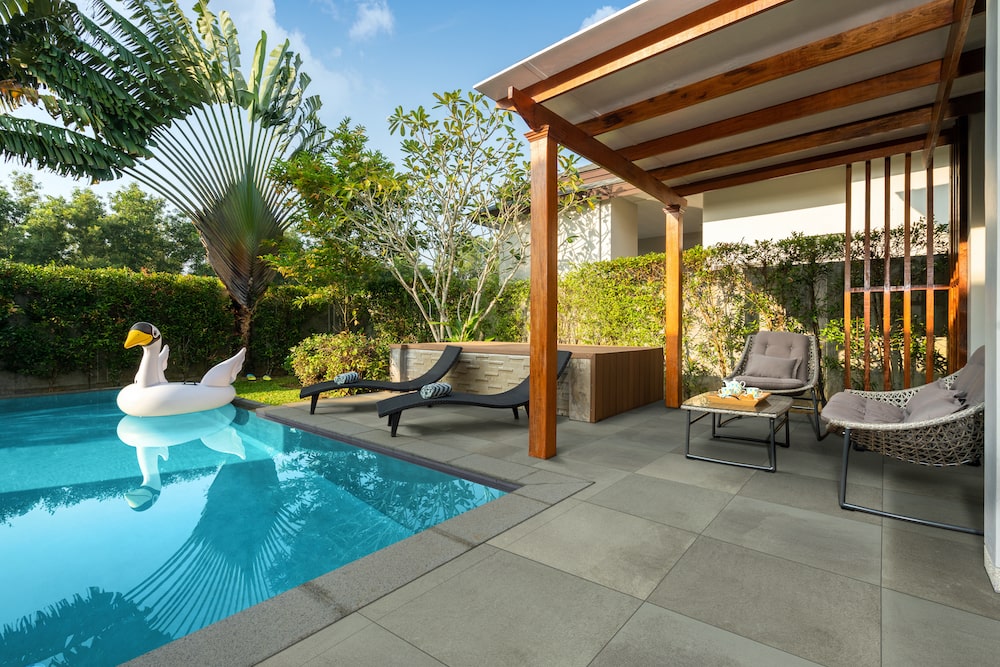 Full Range Bluestone Porcelain Paver
Full Range Bluestone is a lovely mix of tan, rust, and orange with a bluish-gray background. These large-format pavers look great wherever they're installed – the kitchen, entryways, and kitchen. Best of all, porcelain pavers stand up to moisture, making them a particularly good selection for laundry rooms and pool surrounds, as pictured above.
Praia Grey Porcelain Pavers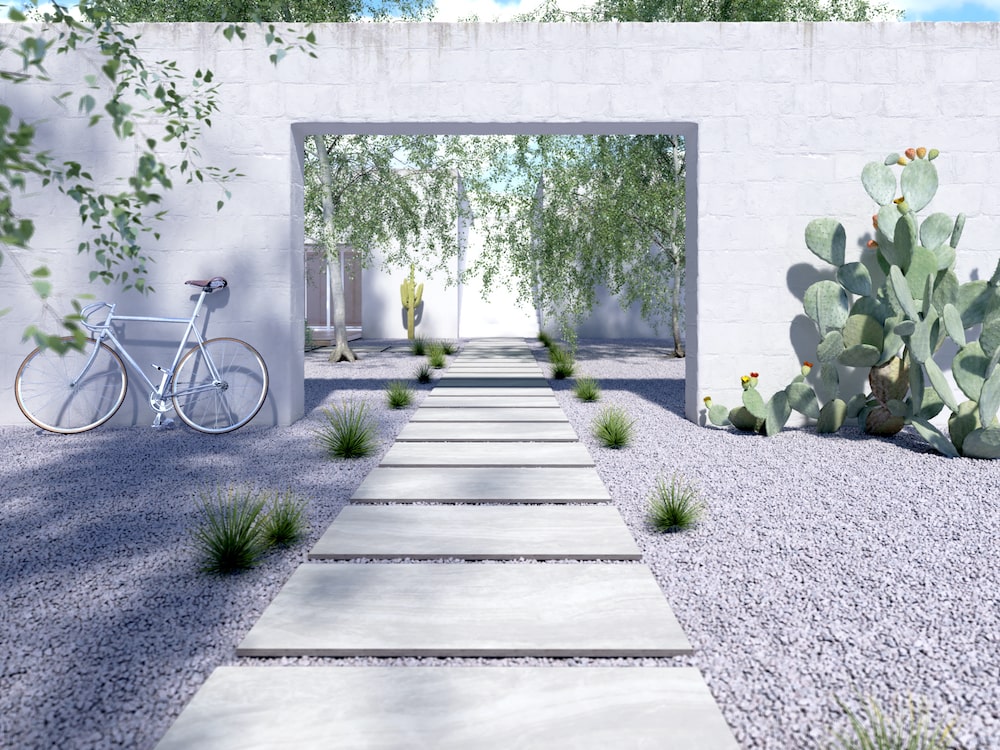 Praia Grey Arterra Porcelain Pavers
Praia Grey Arterra Porcelain Pavers are a lovely combination of soft white and gray tones, which your walkways, patios, and other hardscaping will love. These porcelain pavers also will play well with cabinetry and appliances in white or gray kitchens.
Argento Travertino Porcelain Pavers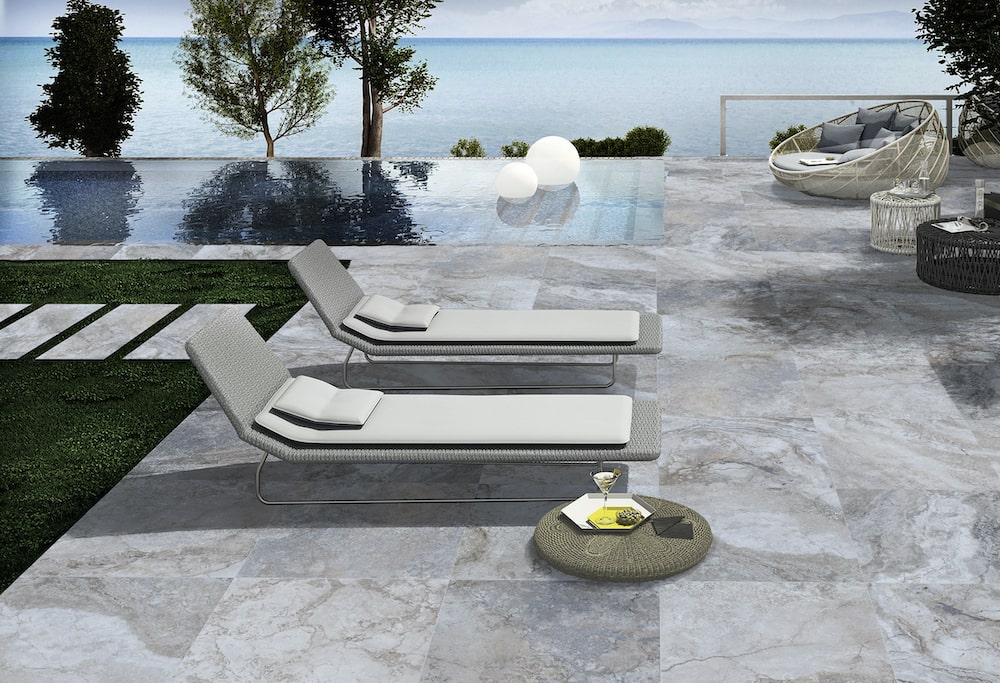 Argento Travertino Arterra Porcelain Pavers
Argento Travertino Arterra Porcelain Pavers elegantly combines soft grays, taupes, creams, and white swirls that will look stunning installed around your pool or in your outdoor kitchen. They're durable and easy to clean, so you don't have to worry about grilling splatters.
Which MSI paver is right for your outdoor living area? Speak with our friendly and helpful team via live chat now to learn more, or find an authorized MSI dealer near you and plan a visit to a nearby MSI showroom to view samples in person!
READ MORE ABOUT OUTDOOR SPACES with PAVERS AND PORCELAIN TILE:
The Advantages of Porcelain Pavers
Your Guide to Pavers – Porcelain, Travertine, Slate & Quartzite
Praia Collection: Indoor-To-Outdoor Porcelain Tile
Outdoor Tile Guide — Porcelain, Slate, Travertine And Quartzite