Why Luxury Vinyl Flooring Is A Smart Choice For Your Bathroom
June 12, 2023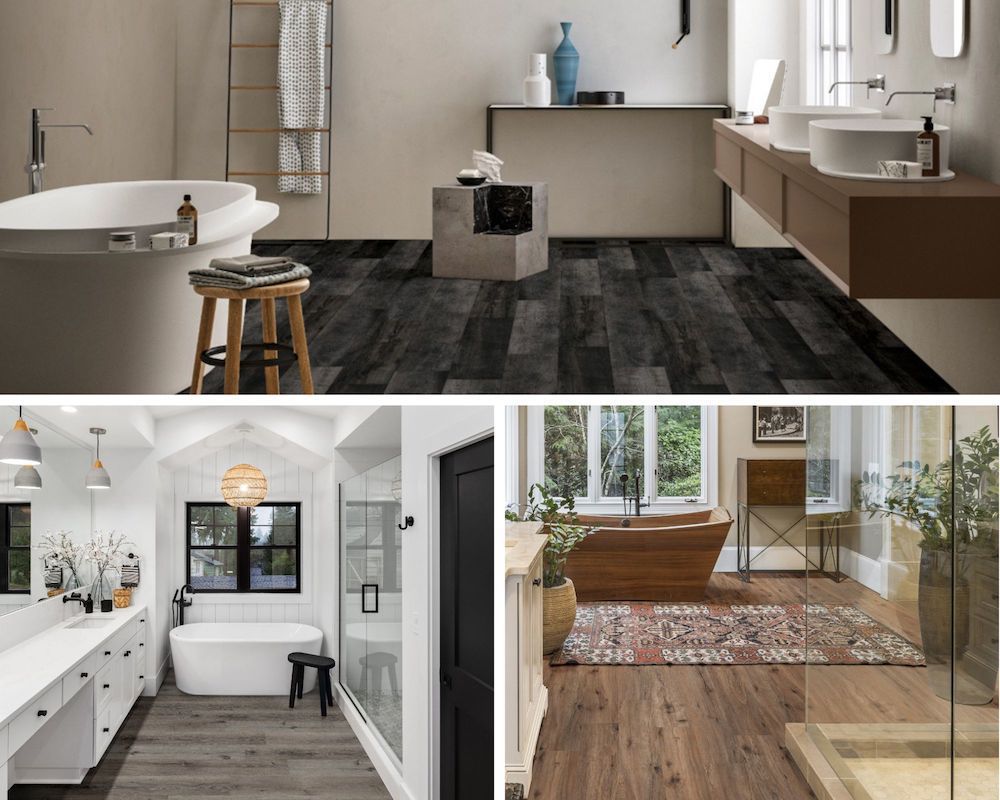 Bathroom renovations are highly valued for their ability to enhance the appeal and value of a home, second only to kitchen renovations. When it comes to upgrading this vital space in the home, luxury vinyl flooring (LVF) emerges as a standout choice for an excellent upgrade.
This flooring offers practical functionality required in a busy household, particularly in a damp bathroom environment. It also provides the authentic look and feel of natural wood or stone flooring, adding a touch of luxury and providing the best of both worlds for modern homeowners.
Discovering the perfect luxury vinyl flooring for your bathroom is an exciting journey filled with abundant choices. Our collection of Everlife® Waterproof Flooring products offer a wide range of stunning options that guarantees you'll find the ideal flooring solution that will beautifully transform your bathroom into a space you'll love.
Choosing the Right Luxury Vinyl Flooring for Your Bathroom
When choosing vinyl flooring, the first consideration should always be its functionality, especially in a bathroom. With our 100% waterproof luxury vinyl flooring, you can rest assured that it can handle damp, wet areas without warping, rotting, or being susceptible to mold and mildew.
Since bathrooms also experience high foot traffic, it's essential to choose flooring specifically designed for such areas. Our luxury vinyl flooring with a rigid inner core and our proprietary CrystaLux™ protective layer is the ideal solution for busy households. The CrystaLux™ protection layer adds an extra level of defense against scratches, scuffs, stains, and spills, ensuring your flooring remains beautiful and resilient. With its durability and enhanced protection, this flooring is built to withstand the demands of a busy bathroom, making it a perfect choice for these moisture prone areas.
Furthermore, luxury vinyl flooring is cost-effective and easy to install. You can choose from a variety of wood and stone looks that mimic natural materials while enjoying the practical benefits unique to modern vinyl flooring.
Let's take a look at some of our top vinyl floors, all of which are durable enough to withstand any bathroom environment!
Upgrade Your Bathroom with Worry-Free Luxury Vinyl Planks
There are numerous flooring options that emulate the look of wood, such as engineered hardwood floors, laminate, and wood-look tile, among others. One standout choice is luxury vinyl planks (LVP), renowned for their waterproof and scratch-resistant features, warmth and comfort underfoot, and reduced noise echo compared to other hard flooring materials. The visual appeal of LVP flooring is remarkable as well, often making them almost indiscernible from authentic wood in today's designs.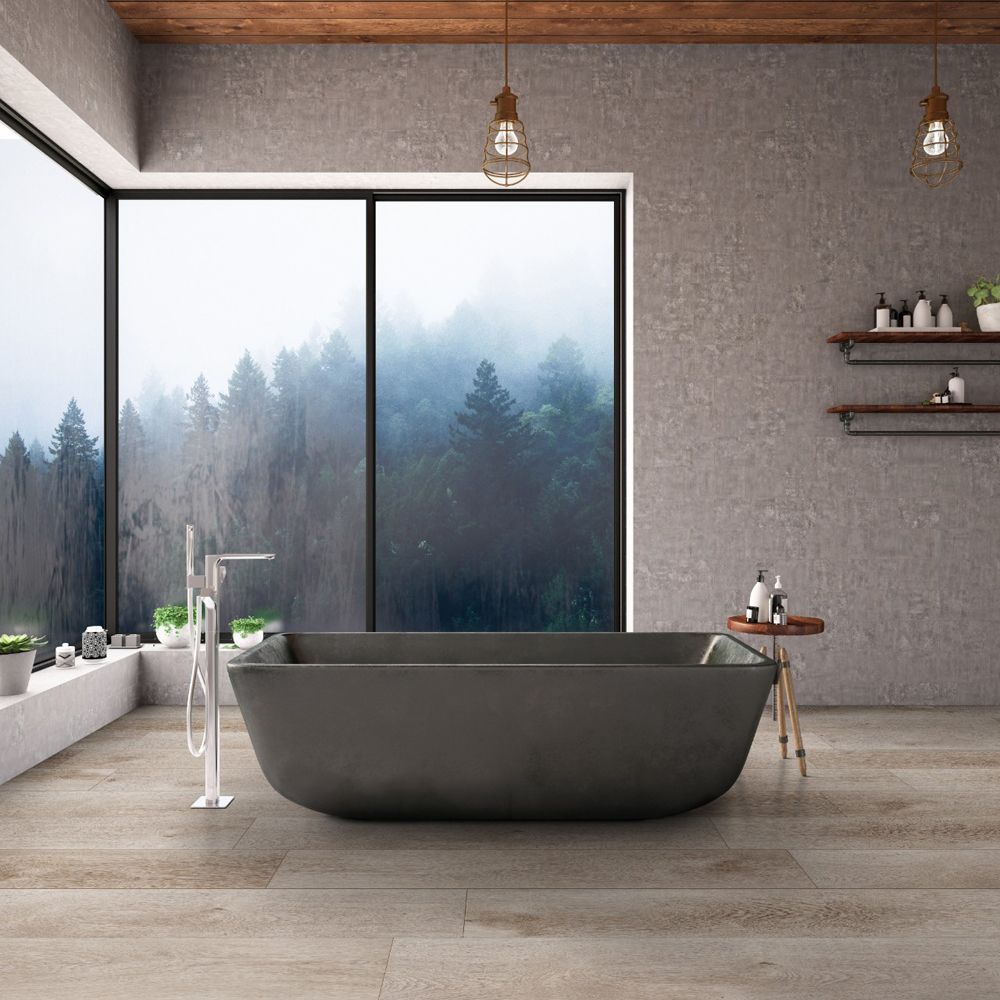 The first option as part of the XL Cyrus® Collection is Whitfield Gray® Luxury Vinyl Planks. These flooring solutions are ideal for anyone looking to create a sophisticated atmosphere. Gray tones interspersed with light knots and grains to produce the illusion of authentic wood. Complete with our exclusive CrystaLux™ protection layer, which ensures durability and longevity, the 9x60 vinyl flooring is 100% waterproof. Installation is a cinch thanks to the easy-install locking system and innovative "no acclimation" technology, which allows for buy today, install today. There's no need to attach anything extra to improve comfort, as the XL Cyrus Collection includes pre-attached backing to these extra-large planks. Finishing off the benefits of this luxurious, affordable flooring is the lifetime residential warranty. Choose Whitfield Gray for any room in your home where elegance and protection from wear and tear are your goal.


Are you looking for a more neutral palette for your home flooring solution? Ludlow® Luxury Vinyl Planks create a refined, warm atmosphere in any room. The charcoal-like textures complement the brownish-gray grains and knots throughout each 7x48 plank, resulting in a genuine wood-like appearance ideal for moisture prone areas like bathrooms. Ludlow is part of the Cyrus 2.0™ product line and is 100% waterproof. Cyrus 2.0 offers an upgraded 20 mil Crystalux Ultra™ protection layer for ultimate durability and comes with a robust, commercial rated warranty. If you're trying to find the ultimate worry-free solution, look no further. Not only is the Ludlow Luxury Vinyl Plank fully protected from wear and tear with a limited lifetime residential, 15-year limited light commercial, and 10-year limited commercial warranty, but it has pre-attached backing for luxurious comfort underfoot. Installation is simplified with the easy-install locking system and "no acclimation" technology for buy today, install today convenience.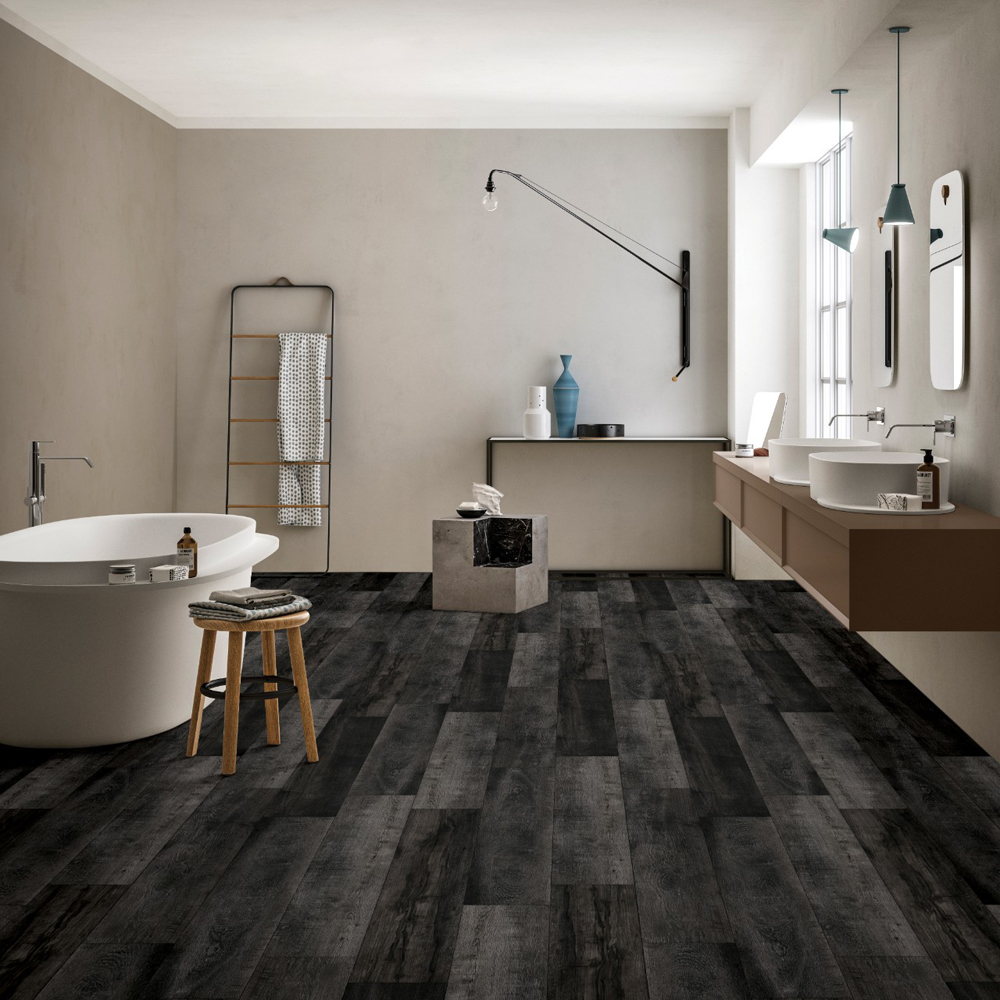 Dakworth® Luxury Vinyl Planks are designed to help you create classic yet stunning rooms with an authentic wood look, thanks to the rich charcoal-black shading offset with subtle knots and grains. Peace of mind against water damage is yours when you install these stunning planks, which are protected with a 20-mil commercial-grade version of our CrystaLux™ protection layer technology. With a 100% waterproof promise, these 7x48 LVP's ensure longevity and durability against everyday wear. Dakworth isn't just impressive to look at; it comes with a custom-designed beveled edge, an innovative pre-attached backing and an easy-install locking system. This rigid core flooring features "no acclimation" technology so you can buy it and install it on the same day. For the ultimate luxurious floors at affordable prices in your kitchen, living area, bathroom, basement, or elsewhere around the home, choose Dakworth. And as part of the Andover Collection, your LVP flooring has a limited lifetime residential, and an industry-leading commercial warranty to seal the deal.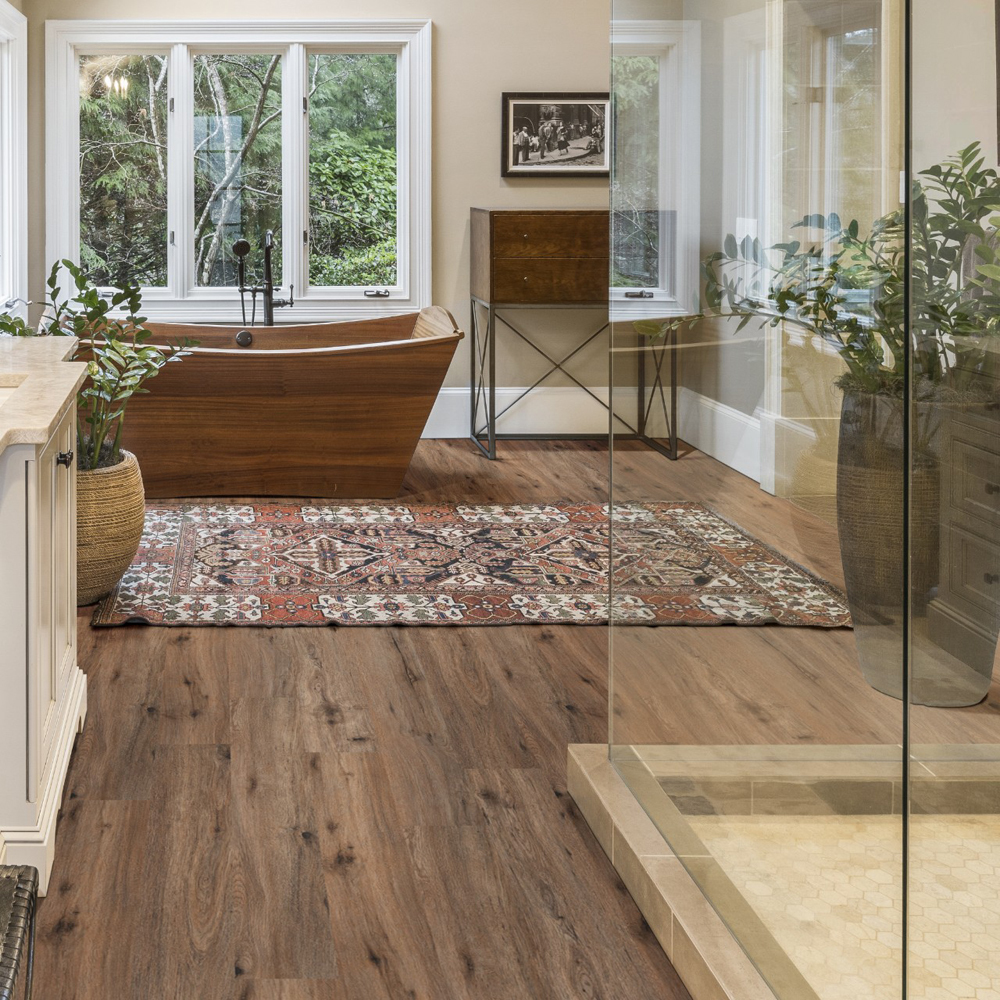 Fauna® Luxury Vinyl Planks are the perfect way to produce the effect of luxury and warmth in any room. These 7x48 LVPs combine gorgeous brown tones with darker hues of grains and knots for a genuine wood-like appearance ideal for various high-traffic indoor spaces. As durable and versatile as it is impressive, this flooring is 100% waterproof and backed by a lifetime residential warranty for added peace of mind. As part of the Prescott® Collection, it features a 20-mil thick CrystaLux™ commercial-grade protection layer for enhanced durability and longevity. Installation is simplified with innovative pre-attached backing, easy for professionals and seasoned DIYers. Thanks to the "no acclimation" technology, you can buy your flooring today and install it today, too.
Enhance Your Bathroom with the Natural Stone Appeal of Luxury Vinyl Tile
Luxury vinyl tile (LVT) offers an ideal answer for those enamored with the appearance of natural stone yet desire a more functional solution for their bathroom floors. Stone-look LVT flooring serves as an excellent substitute, bringing not just moisture resistance but also an added layer of sophistication to your area.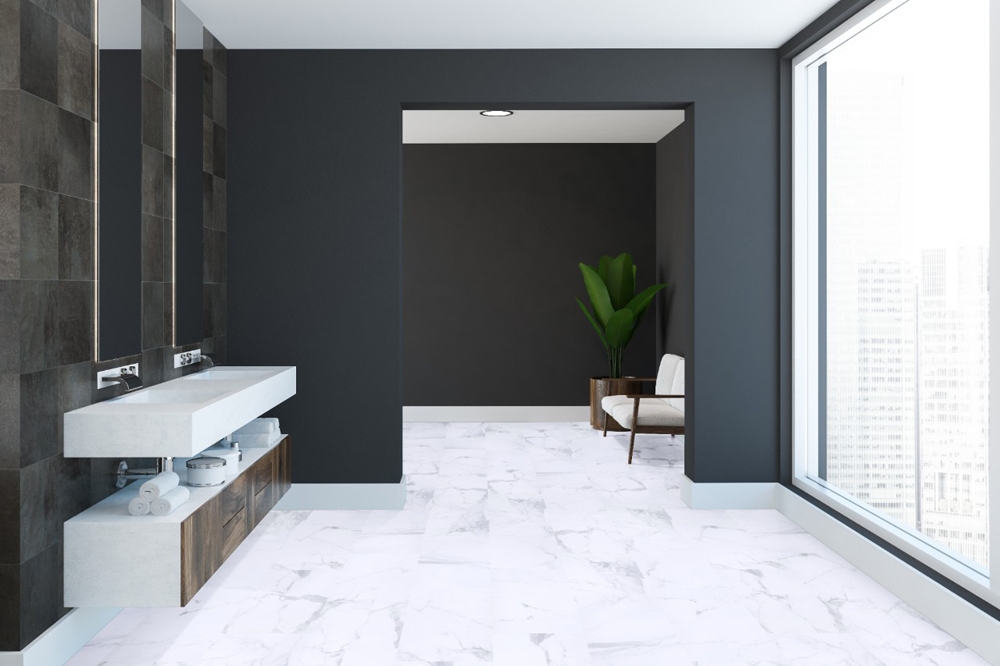 Natural stone is always trending, and you can have the same look in your room with Calacatta Legend™ Luxury Vinyl Tile. Heavy, smoky gray veins meld beautifully against a bright white background for a sophisticated, large format natural stone-look tile. As part of the XL Trecento® Collection, the extra large 18x36 LVT is a timeless way to bring glamour to your bedroom, bathroom, kitchen, hallway, living room, or other home or commercial spaces.
The flooring is 100% waterproof, featuring the protective layer of CrystaLux™ for enhanced durability and longevity. Pre-attached 1MM backing ensures superior comfort and sound protection. Finishing the effect is our exclusive polish coating, PietraTech™, which emulates smooth, polished marble. The patented locking system makes installation easy, and you can buy and install it on the same day with its "no acclimation" technology.
Discover Your Ideal Bathroom Flooring
As you can see, when it comes to selecting the ideal vinyl flooring for your bathroom, you'll discover a wealth of options that offer both style and functionality. Whether wood look planks or tile with the appearance of natural stone, luxury vinyl flooring offers a wide range of styles, colors, and patterns. Unlock a world of design versatility that will allow you to create a bathroom that perfectly suits your preferences while reaping the practical benefits of this impressive waterproof material.
Ready to learn more about luxury vinyl flooring and all it has to offer? We can help! Chat with us online now, visit an MSI showroom near you or contact an authorized MSI retailer in your area.
LEARN MORE ABOUT LUXURY VINYL FLOORING
How To Choose the Right Type of Luxury Vinyl Flooring for Your Home and Lifestyle
10 Ever life® Luxury Vinyl Flooring Options to Consider
Transform Your Kitchen with Popular Design Upgrades: Luxury Vinyl Flooring and More!
Crystalux™ Protection Layer: The Secret to Durable Luxury Vinyl Flooring