Popular
The Pebble Rush: Pure Design Gold
March 07, 2017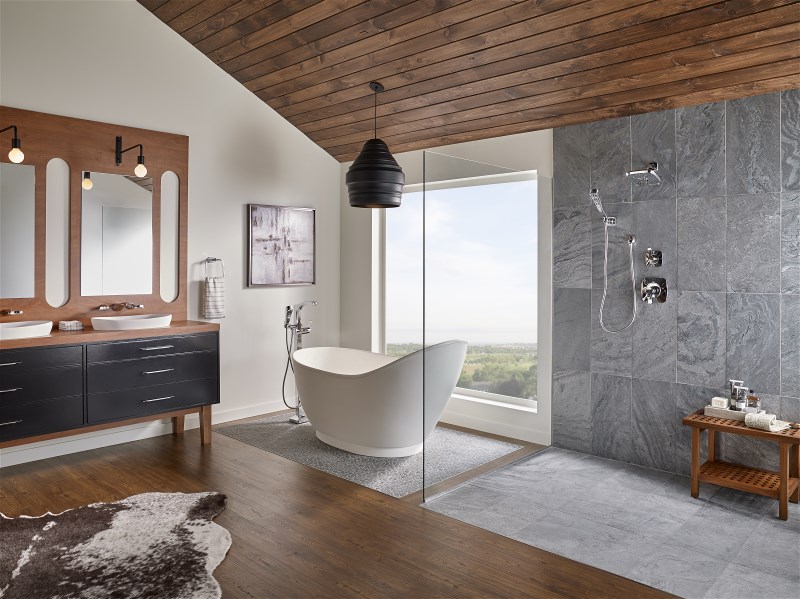 Skipping stones. Climbing trees. Eating S'mores around a campfire. Ah, Mother Nature! It's been our muse since childhood. And while we've outgrown many things, our love affair with the great outdoors lives on. Exploring new ways to bring nature in from the elements? It makes our world go 'round. Thanks to modern ingenuity, pebbles have found their way into our homes and around our yards in new swoon-worthy ways.
The arrival of spring has us reimagining our indoor and outdoor spaces, and we're deep in the throes of a pebble obsession. So we're turning a spotlight on these little gems and offering up a few of our favorite ideas for making the most of this hot trend. Who knows, perhaps your inner child will be as smitten as we are, and you'll be all too happy to put any outdated spaces on notice.
Bathing Beauty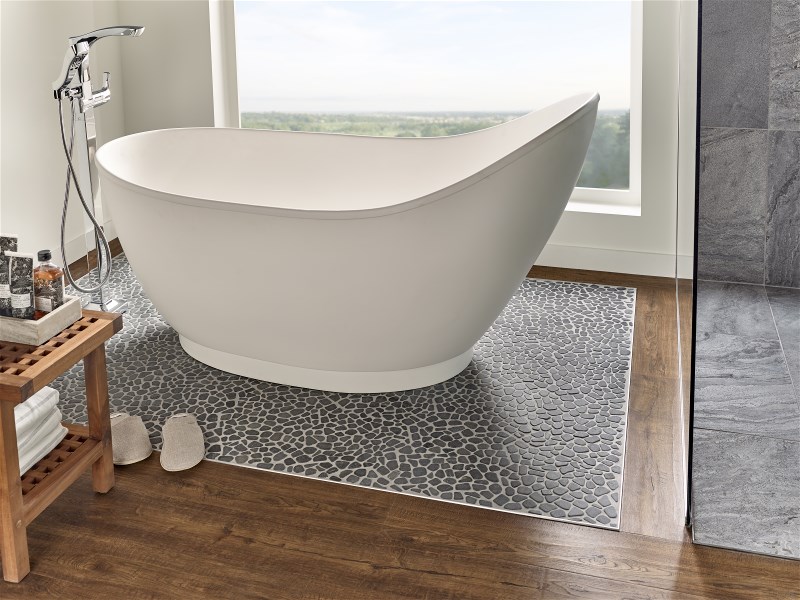 Featured: Black Pebbles
With rustic yet vogue marble pebbles underfoot, is there a more luxurious way to step out of the tub? The tumbled design gives this splashy Black Pebbles mosaic a mod look.

Even a simple freestanding soaking tub can become an extraordinary focal point when it sits atop a texture-rich pebble installation. Laid out like a rug, polished mosaic hatches infuse a fresh modern river stone aesthetic. Proving pebbles can be contemporary; this lineup features moisture-resistant, durable, and luxurious premium marble so it's just at home on kitchen backsplashes, shower surrounds, and statement walls. The relaxed, zen vibe of this spa-like look? It's all the inspiration we need to rearrange our lives for more bathtime.

Quick tip: For a cohesive look in your bath, use identical pebble tiles in your built-in shower shelf.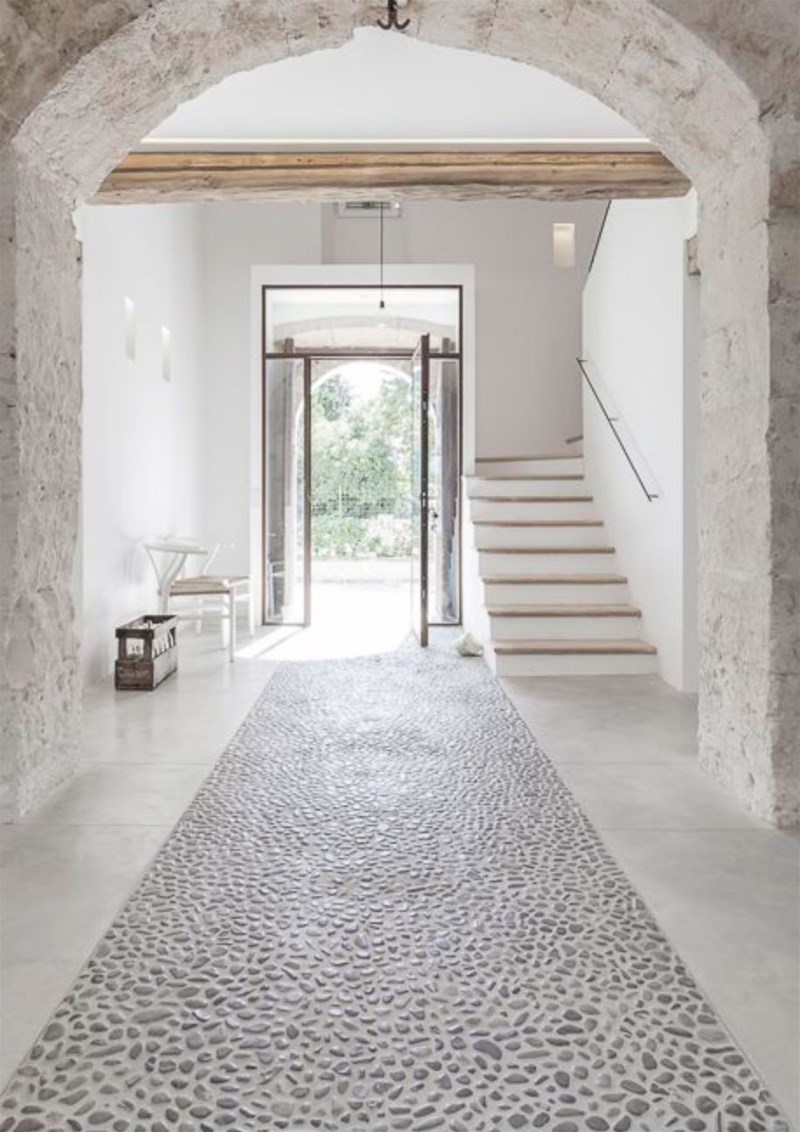 Photo Courtesy of Pinterest
The runner-style pebble installation, curved archway, and sun-bleached styled walls converge in an effortless way, drawing the eye through the serene space out into the garden.
One glance at this Mediterranean hallway and it's easy to see why rug-inspired pebble projects are in vogue. Sometimes real life exceeds the imagination, and this ethereal look is proof. To recreate it, our style experts suggest Limestone walls and Mixed Marble Pebbles on the floor. Arranging pebble tiles like a rug is one of our favorite of-the-moment ways to add dimension while grounding a space with natural color and texture.

A perfect material for comings and goings, pebble tiles are designed for foot traffic and wet zones making them ideal for entries. Bonus points? Our marble, travertine, and limestone pebble collections are low-maintenance for easy spring cleaning.

Quick tip: Have an unusually shaped room? Use tile runners to create a defined path.
Spring Showers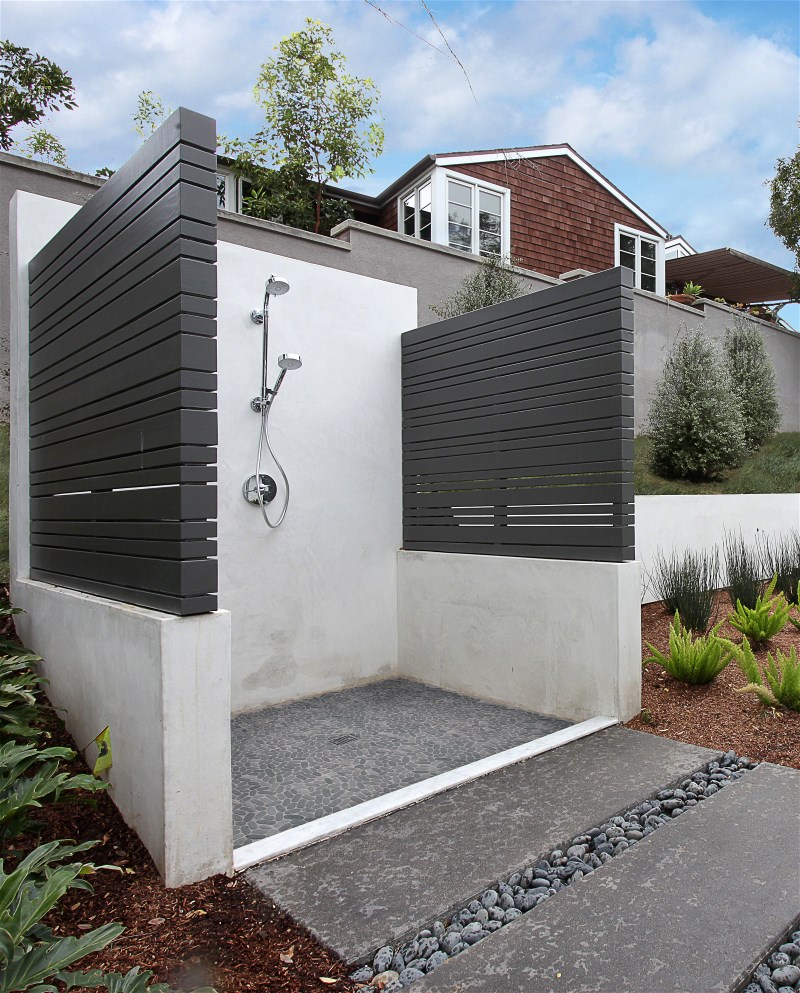 Featured: Sliced Pebble Coal Tile & Black Polished Pebbles
Rinsing off under the sun and stars is a high-style experience with Sliced Pebble Coal Tile underfoot. The Black Polished Pebbles between cement pavers provide a no-fuss pathway indoors.

Ah, we wouldn't mind getting a little messy outdoors if we had an open sky shower like the contemporary one shown above. Whether on the floors and walls of a bathing nook, or beautifying the landscape, sliced pebbles, oversized pavers, and beach pebbles provide texture, dimension, and function all in one very stylish package. Best part? You can mix things up by incorporating other natural stones and it'll look right at home in your backyard.

If a resort-like outdoor shower doesn't inspire a spring project, perhaps the practical side of this fresh air setup will: nothing beats alfresco bathing for keeping dirt, sand, and mud from mucking up your house. Plus, beach pebbles minimize peek-a-boo weeds, so if your busy lifestyle doesn't leave time for yard work, this covering is for you.

Quick tip: Add dimension and interest to your outdoor shower with an inlaid mosaic pebble tile design.
Serenity Now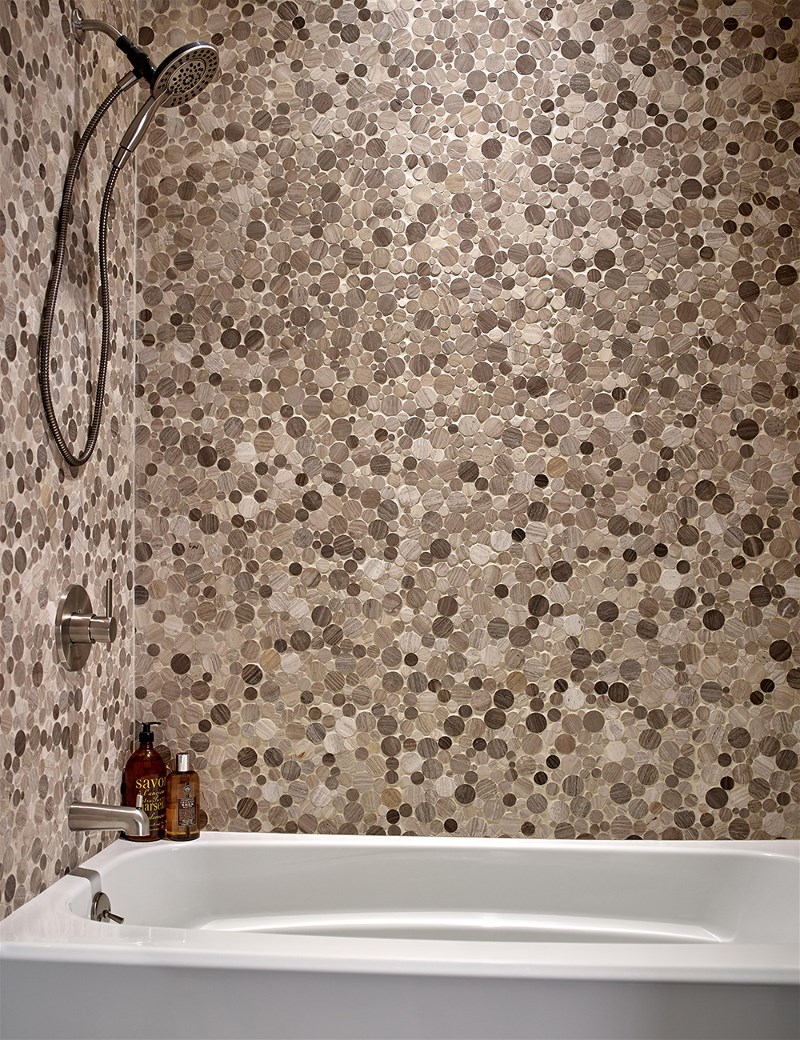 Featured: Serenity Stone Pebble
Need a little help updating your shower surround? Enter Serenity Stone Pebble Marble Tile, a modern variegated marble with a white oak look in soothing shades of soft ivory, deep beige, and gray.

Two seconds is all you need to figure out that these are not your mother's pebbles. Closeup, these honed marble circles look artful and downright dreamy on a kitchen backsplash or shower surround. And thanks to its chic, contemporary aesthetic, it's a favorite among designers refreshing outdated spaces. But don't let its edginess cast a doubt, our most modern tile collections juxtapose beautifully with the architectural details in more traditional homes. Mixing the old with the new makes for an interesting design scheme, and with our recently expanded Meshed Pebble Collection, you've got plenty of styles to choose from. As for more practical considerations, mesh-backed pebble tiles are designed to make installation a breeze.

Quick tip: Ensure the look and performance of your tile by using a premium sealer before grouting.
Polished to Perfection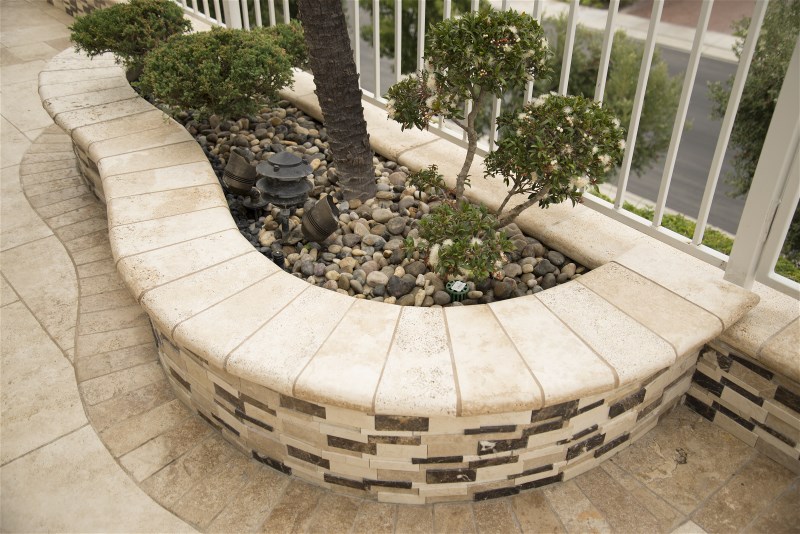 Featured: Mixed Polished Pebbles
This gorgeous shrub bed with Mixed Polished Pebbles takes its design cue from Mother Nature by combining different shades of gray, tan, and cream, and a variety of shapes and sizes for a polished, high-contrast look.

If you've ever walked into one of those dreamy backyards with vine-covered terraces, picturesque fountains, and wandering pathways and experienced instant envy, we feel you. The good news? There are simple, non-budget breaking ways to dial up the pretty to achieve a coveted outdoor oasis like using Beach Pebble ground covering.
Pebbles don't just lend a polished professional look to your garden, they also serve practical functions too – like protecting the soil from extreme temps, and restricting pesky creepers. Marble beach pebbles are a natural choice for the trade set because they're easy to maintain and they last a-g-e-s. They also make beautiful eco-friendly indoor accents, so you may want to get creative and channel your inner Flintstone (we especially love pebbles in lush succulent gardens).

Quick tip: If you live in an area where water conservation is a priority, pebbles are more practical than a lawn.

The beauty of nature never stops calling, especially in spring when nothing feels better than throwing open the windows to let the fresh air in. Wherever the season takes you, we hope your pebble installations are the envy of the neighborhood.