Outdoor Oasis: Will Stacked Stone Add Value To Your Home?
August 29, 2018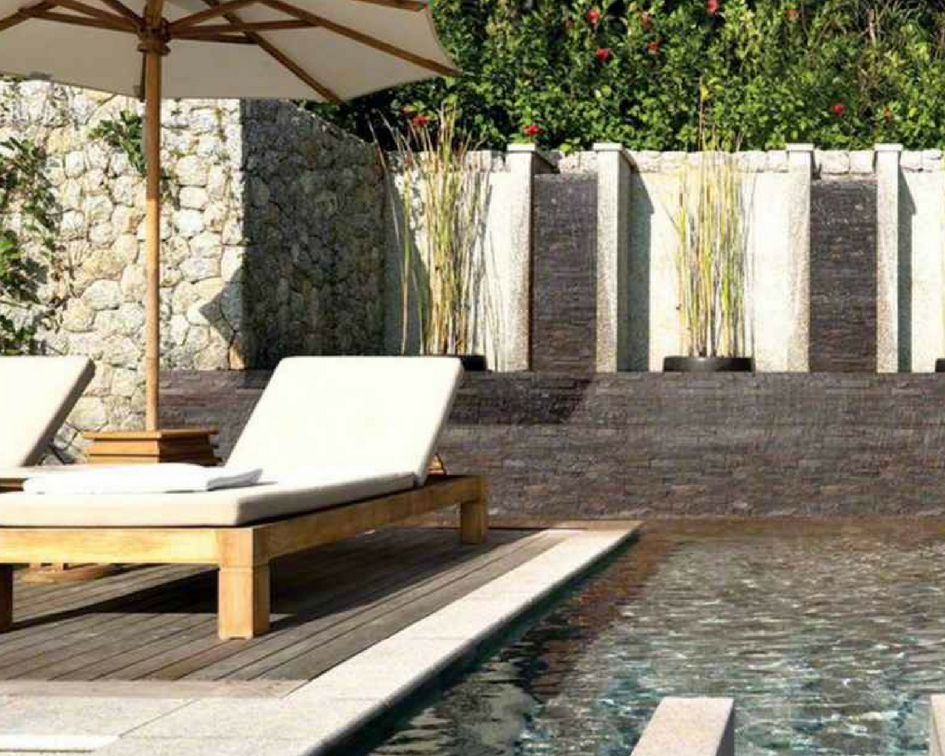 Using stacked stone as part of your outdoor hardscaping or siding can greatly impact the look of your home, but it can also take a hit to your budget. So if you're a homeowner wondering if the higher priced option for this natural stone façade is really worth it, the answer is a resounding yes!
You probably already know that it can create instant curb appeal by making your front yard or backyard look more attractive. The natural stone material is also more desirable than its faux counterparts, and the unmistakable look and finish of these products tell potential buyers that your home is in good repair.
From a functional standpoint, it can provide some weather protection as well. It may be extremely helpful if you're a homeowner in an area with extreme weather conditions, and potential buyers will even pay more for this kind of security from the elements.
There are so many ways to use stacked stone as part of your hardscaping, from full-frontal installations to fireplaces to garden walls. To get you inspired for your exterior transformation, here are a few of our favorite stacked stone installs.
Outdoor Fireplace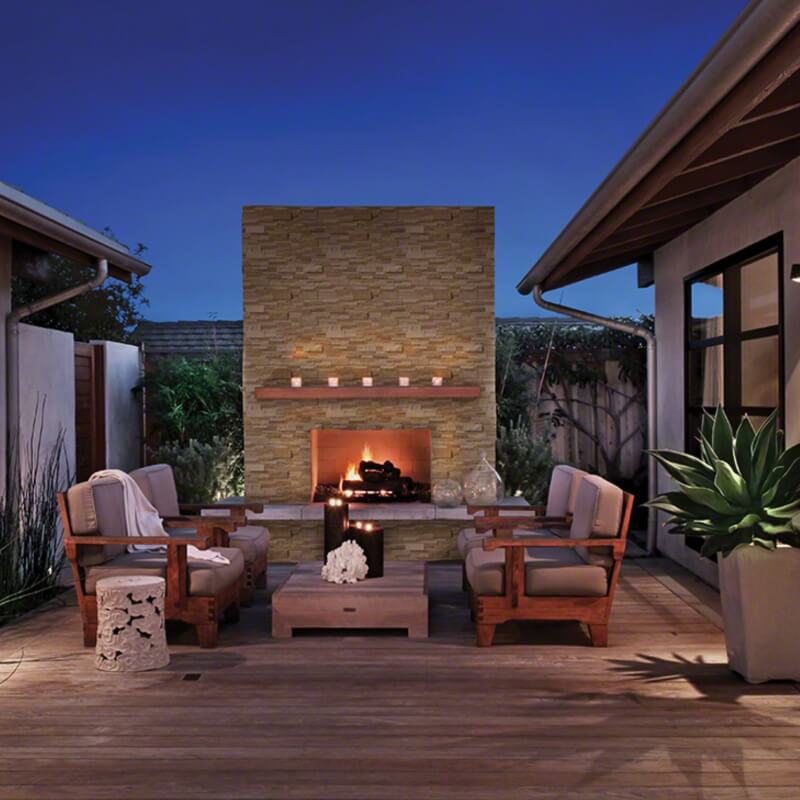 Featured: Casa Blend 3D Honed Stacked Stone Panels
Fireplaces are often the focal point of any space, and what better way to create a more fierce structure than to add stacked stone to it. From Mexico comes Casa Blend Honed 3D. This natural travertine features soft creams and warm beiges in a medium variation. It adds a modern style to this rustic contemporary outdoor seating area.
Entertainment Feature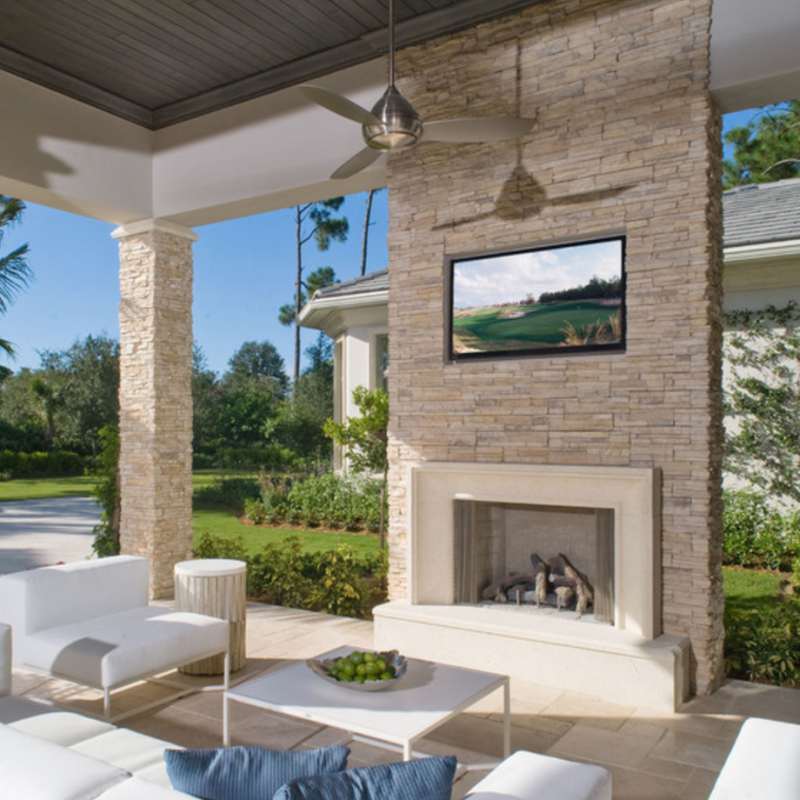 Recreate this look with MSI's Fossil Rustic Sandstone Ledger Panels (Photo Credit: Houzz)
In addition to constructing a fabulous fireplace, you can also use ledger panels to enhance an entertainment wall or support columns for an outdoor structure. This stunning outdoor space puts a spotlight on Fossil Rustic, split-face sandstone panels that mix soothing grays and soft creams with light rust colors. The sophisticated stone from India adds so much interest and texture to the design and stands out against the sleek, white furnishings and lush, green landscaping.
Impressive Siding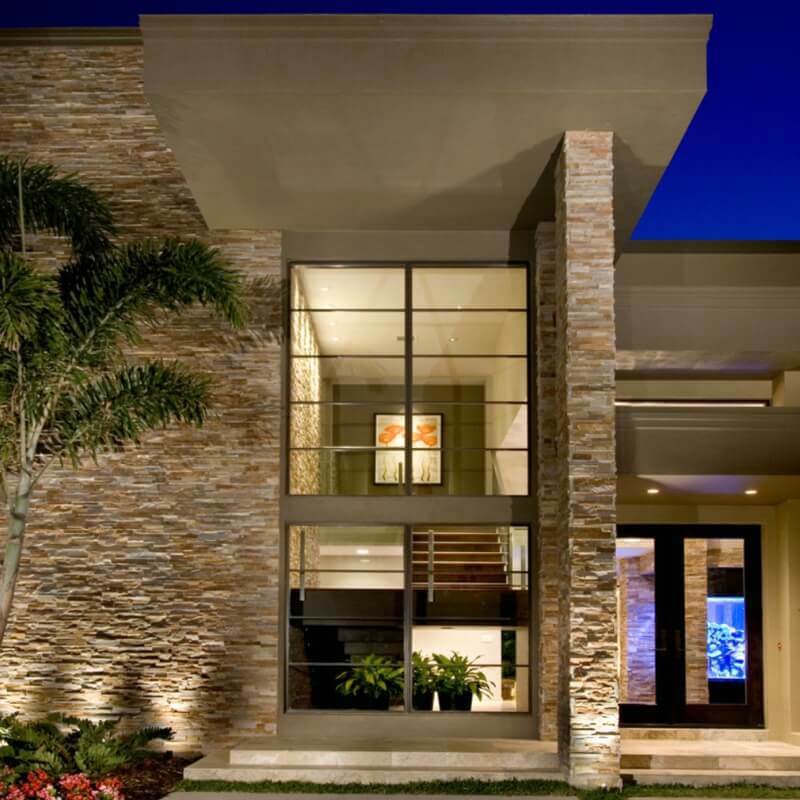 Recreate this look with MSI's Golden White Stacked Stone Quartzite Panels (Photo Credit: Houzz)
Stacked stone ledger panels are almost a must-have for modern architecture. They're commonly used on the exterior of homes with sleek lines like this large home that's covered in Golden White quartzite panels. The split-face stone from China features a variety of colors, including light grays, warm golds, soft creams, and rich reds. No expense was spared when it comes to this impressive masterpiece!
Outdoor Kitchen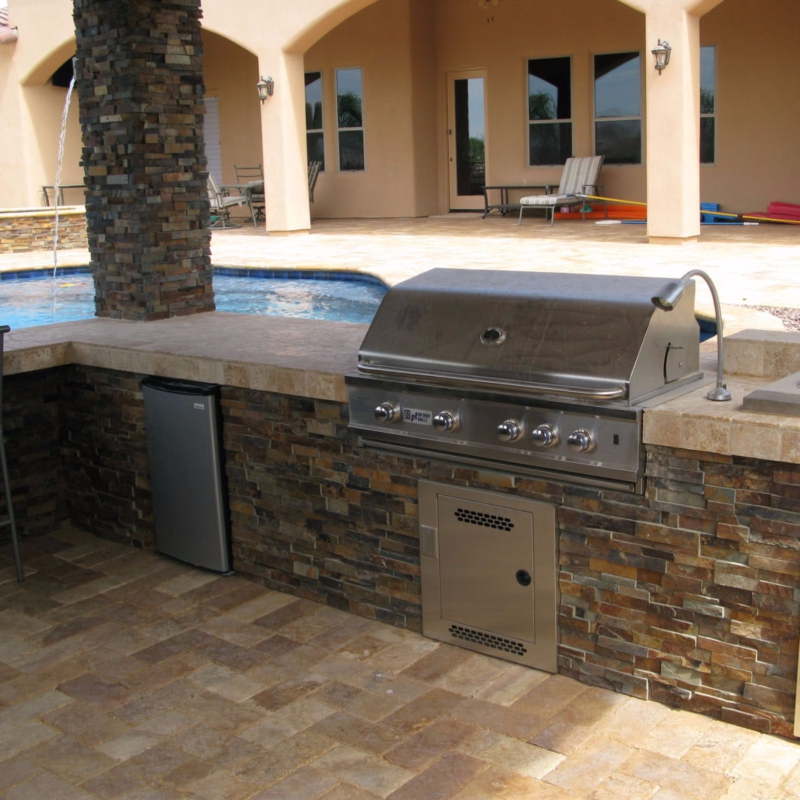 Featured: California Gold Ledger Panels
Another outdoor area that commonly utilizes stacked stone is a built-in, backyard kitchen. The permanent fixture creates another cooking and entertaining area, and buyers will see the value in adding products like California Gold. The combination of brown, gold, gray, and rust colors in this natural slate stone creates a bold statement, and the split-face stone from China works well with other natural stone materials and outdoor tile.
Garden Wall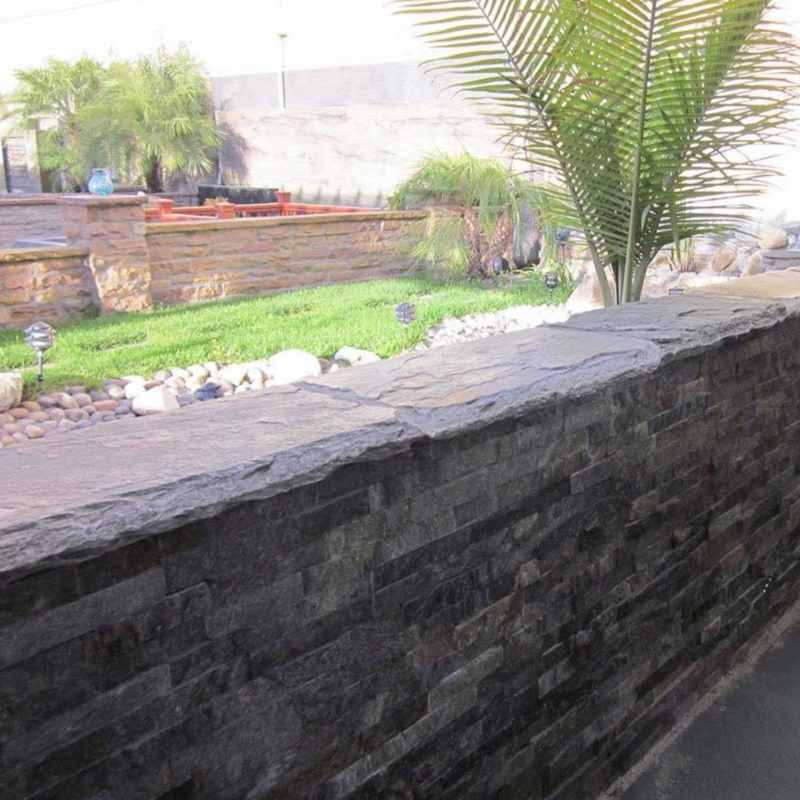 Featured: Sierra Blue Quartzite Ledger Panels
Set your backyard landscape apart with a gorgeous garden wall made of stone veneers. This half-wall is built from Sierra Blue, a beautiful and charming quartzite from China. The appealing layering of blues, grays, whites, and hints of rust along with the split-face texture creates a designer look as opposed to the alternative of a tiresome stucco wall.
As you can see, you can't go wrong with the real thing! Give your home a valuable refresh with one of the more than 50 from-the-Earth beauties from MSI. With everything from refined rustic to contemporary, you'll find the exact stacked stone you need to give your home character and a boost in value.
MORE OUTDOOR LIVING IDEAS
Take It For Granite: Can A Granite Countertop Withstand The Great Outdoors?
Outdoor Oasis: How To Create A Modern Outdoor Oasis With Porcelain Tile
Outdoor Oasis: Travertine Or Slate – Which Outdoor Tile Is Your Favorite?
Outdoor Oasis: Will Power Washing Ruin Your Outdoor Stacked Stone?