Popular
Wonder Walls: Summer Trendspotting
July 17, 2019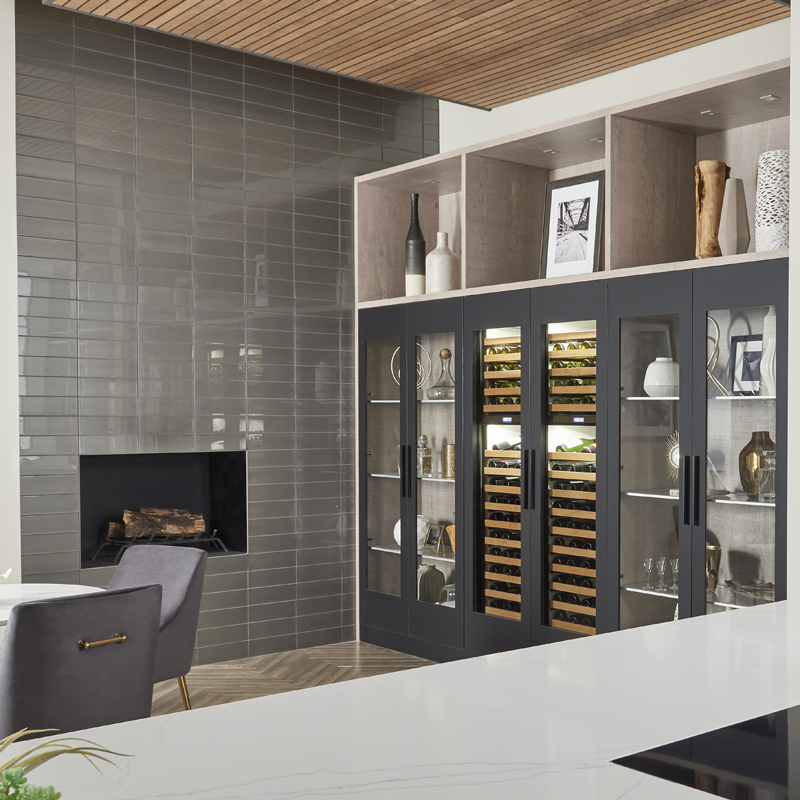 Perhaps we spent too many decades watching paint dry. Or overdosing on HGTV. Whatever the situation that landed us here, we can never again return to the era of ho-hum walls. Or un-see all the innovative ways manufacturers and designers have pushed the tile industry into such beautiful territory. The 2019 Wonder Walls Trend is all about the wow-factor – and it's opened a floodgate of fresh looks designed to take your breath away.
From the foyer to the back door—and every inch between—our walls are coming of age in stunning detail —thanks to standouts like 3D mosaics, ledger panels, geometrics, and matte looks. In this newest wave of backsplash and wall tile, you'll see a cadre of fresh colors, textures, and patterns modernizing interiors in fabulously creative ways. On the lookout for wall tile to kick-start your home refresh this summer? We hope this roundup of our favorite rooms inspires you. These knock-your-flip-flops-off looks are the very ones trendsetters are buzzing about right now.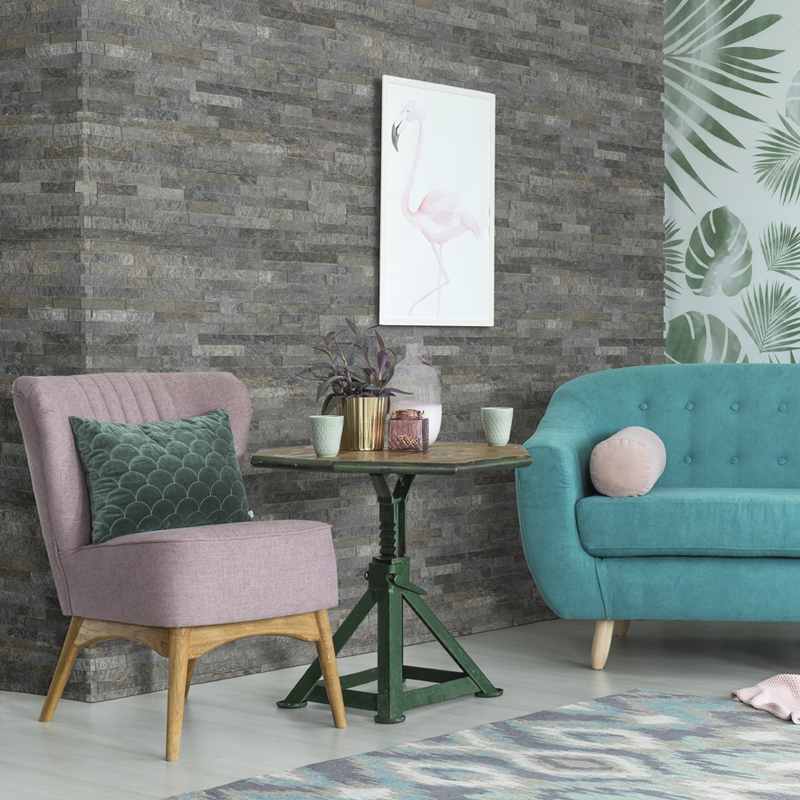 Hello color, Sedona Platinum from our Rockmount Stack Stone Series tones down this whimsical nook with its earthy vibe.
Into the Blue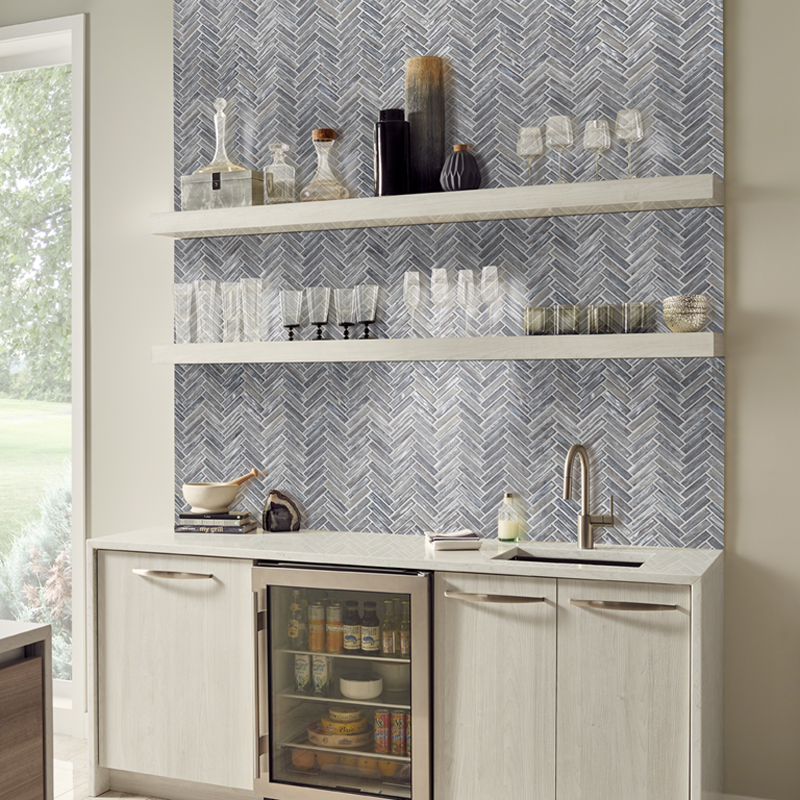 Like. Like. Like. Heart. Heart. Heart. We're all kinds of excited about Shimmering Silver Herringbone.
A day at the beach. The sky right before a storm. Hydrangea blooming in the garden. Might as well call it "The Year of Blue" because this inspired shade seems to have everyone's attention. It certainly has ours. Peek at our backsplash tile lineup to see how this trend story runs from light to dark on the color wheel. Our favorites? Let's just say we've been busy curating the best of the best from around the globe, so you have more ways to revitalize your walls this summer. Blue Shimmer Arabesque, Royal Azure, Vista Azul Hexagon, Vague Blue Subway, Victorian Light Arabesque make our top ten list.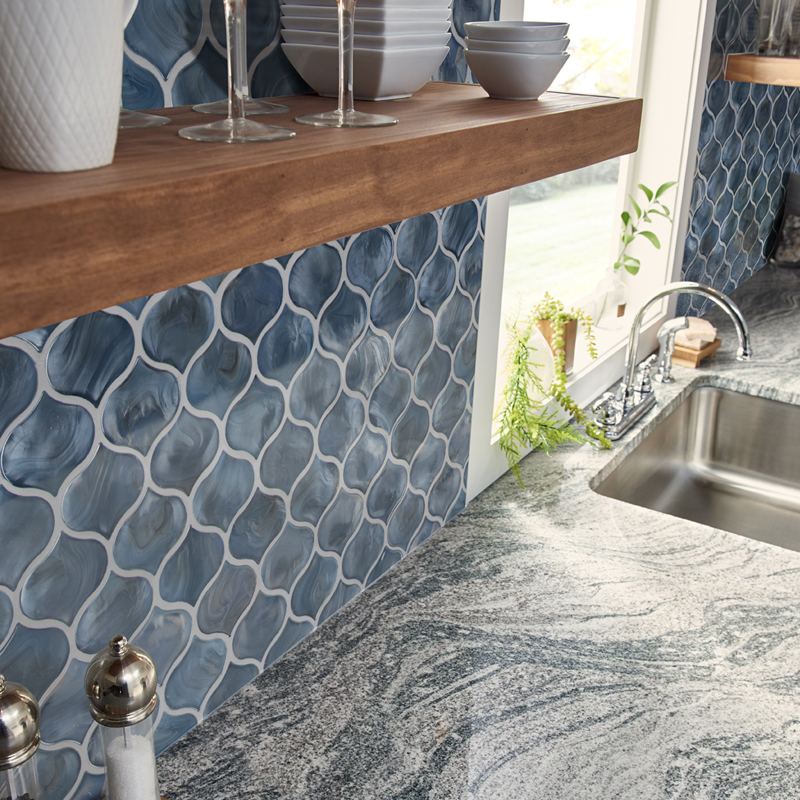 Blue Shimmer Arabesque Wall Tile only strengthens our love of geometric tile.
Matte Adore

We could gush all day just about the matte finish. Say hello to Eramosa Gray Porcelain Tile.
Industrial concrete looks went mainstream years ago. From Kohler faucets to KitchenAid appliances to MSI matte countertops, we're not alone in our long-game view of matte and concrete look finishes. In addition to the clean, modern aesthetic, we love how flat-finish collections emphasize wood grain, texture, and veins in worry-free surfaces like porcelain and quartz. Innovation at its best!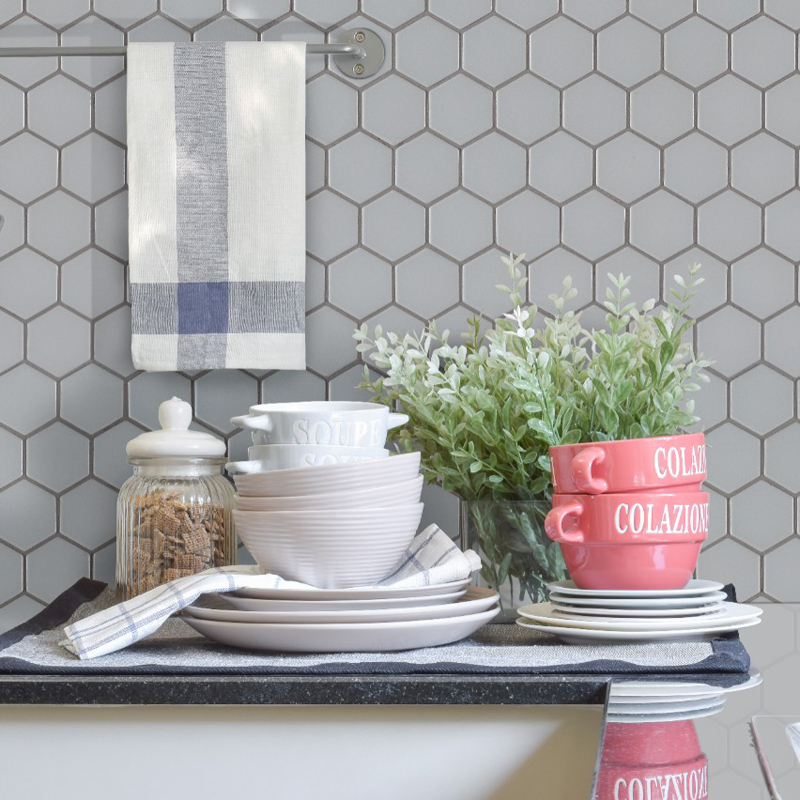 Retro Hexo Gray 6mm Matte gives this kitchen a retro spin.
Patterns + Shapes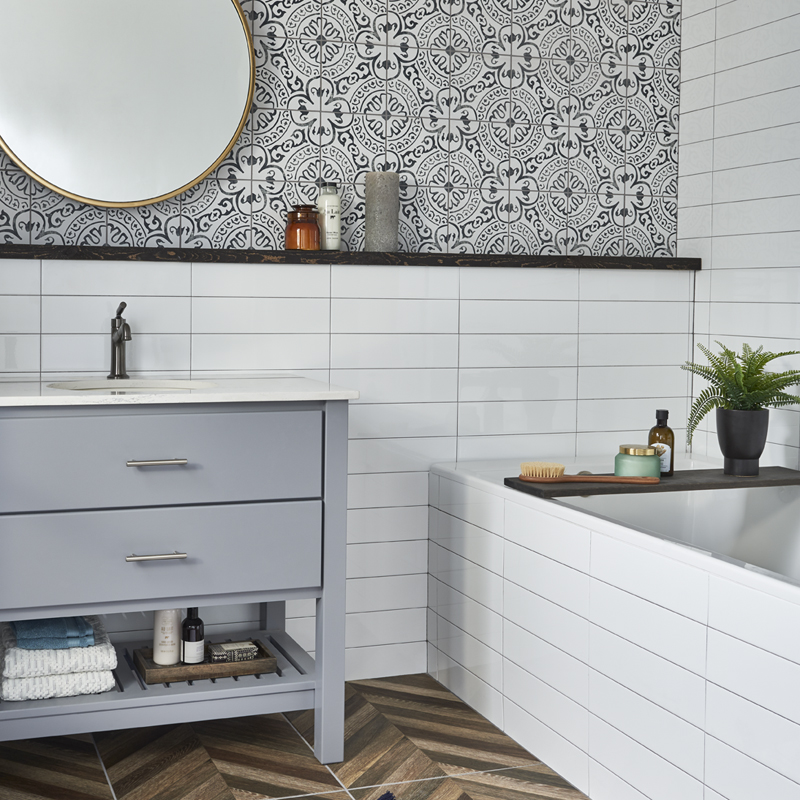 Get the look: Paloma Porcelain (Kenzzi collection); Café Nero (Antoni Porcelain lineup), and 4 x 16 White Ceramic Subway Tile.
Where would we be if no one added pattern tile to interiors? Back in the 80s and 90s. Um, no thanks. Fortune favors the bold in design, and we're oh so happy to see all the eye-catching ways homeowners are embracing the trend. Storming the castle—in a good way—expect to see more encaustic tile collections like Kenzzi, geometric glass tile, and 3D phenoms this year. There's inspiration aplenty in the direction we're heading, and our backsplash and wall tile collection prove this nicely.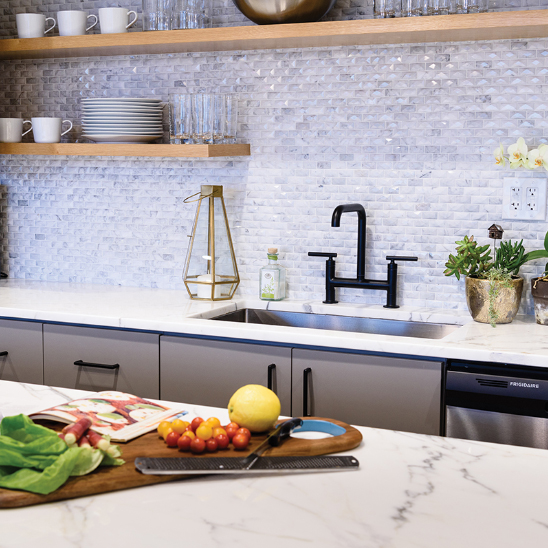 Carrara White Marble 3D Mosaic tile is unapologetically elegant.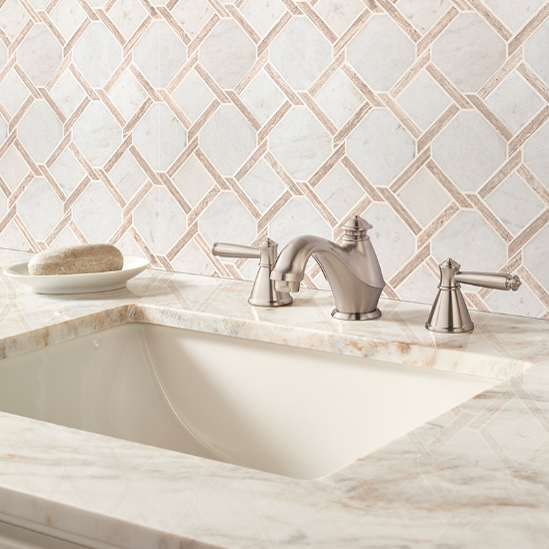 Marbella Lynx Polished tile manages to be classic and modern at the same time.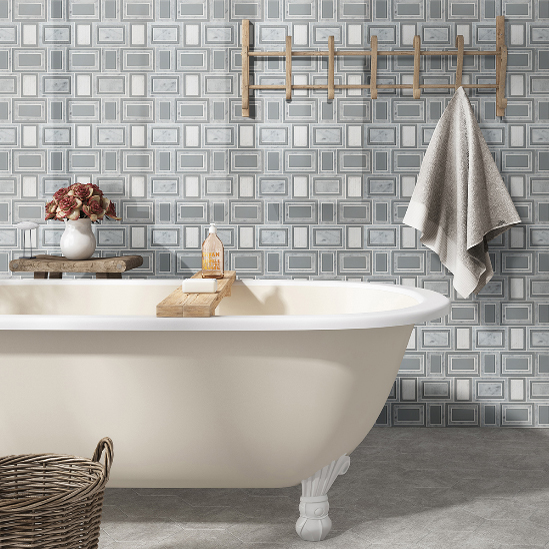 Soho Stax Glass Tile wakes up the wall behind this clawfoot tub.
Subway Talk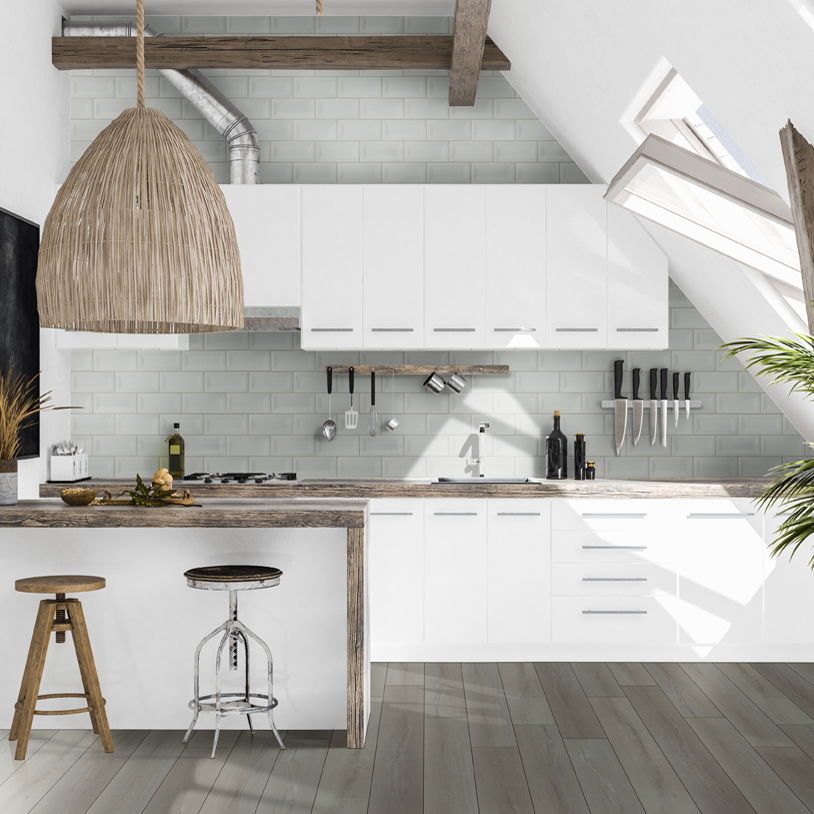 Five seconds and this kitchen had our heart -the backsplash is White Glossy Inverted Beveled ceramic tile.
We love the classic all-white look of yesteryear, but it does the heart and imagination good to see all the ways subway tile has evolved through the years. From sculptural beauties (beveled and 3D) installed vertically to larger shapes with fabulous texture, to mixing and matching them with pattern tile in a variety of grout treatments, there's no mistaking subway tile's versatility. Or its seminal place in tile history.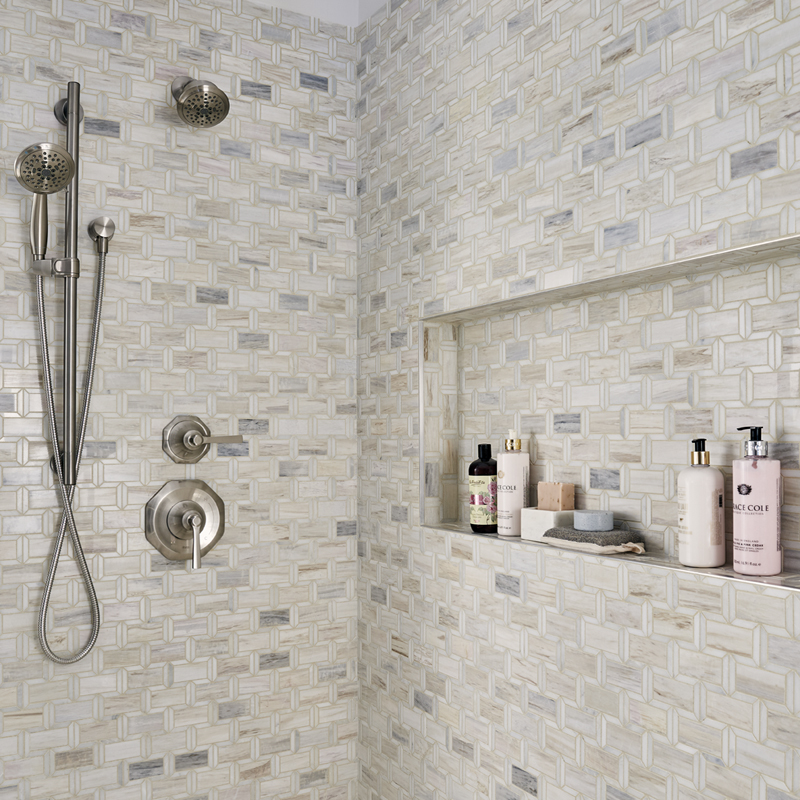 Angora Framework Subway tile crushes this shower surround with a blend of gray, white, beige, and gold.
Wood + Brick + Stone Lookalikes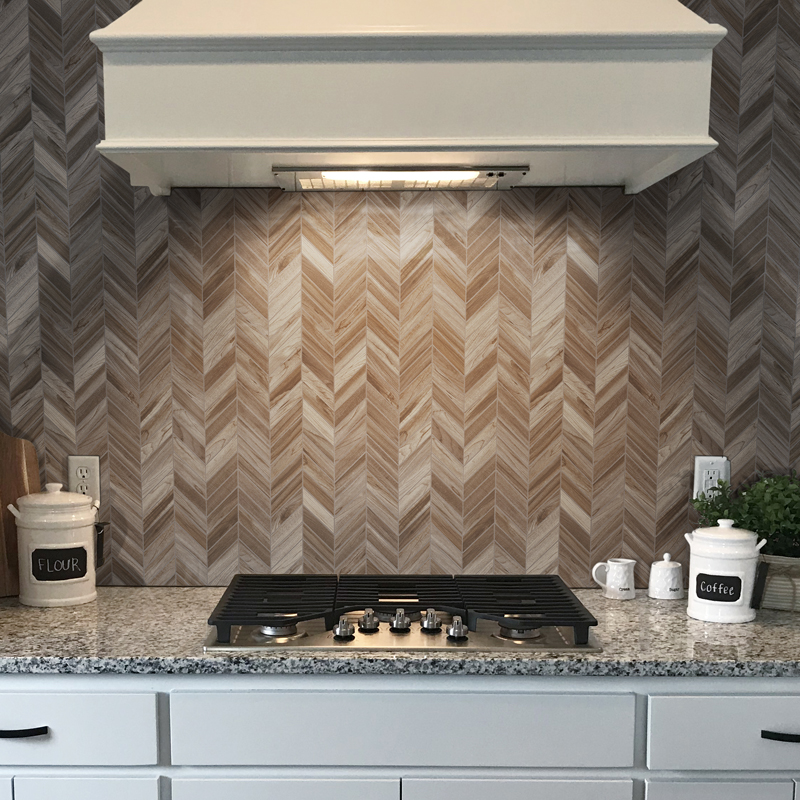 Carolina Timber Gray Chevron does our love of wood looks proud.
Rustic looks have come back in a big way in 2019. Few aesthetics beat the warmth and down-home appeal of wood, stone, and brick looks. From the floors on up the walls, homes have never looked better. Hoping to achieve a back-to-nature vibe minus the back-to-nature maintenance? Take a cue from designers who rely on porcelain tile again and again to refresh their client's homes. These rooms say everything.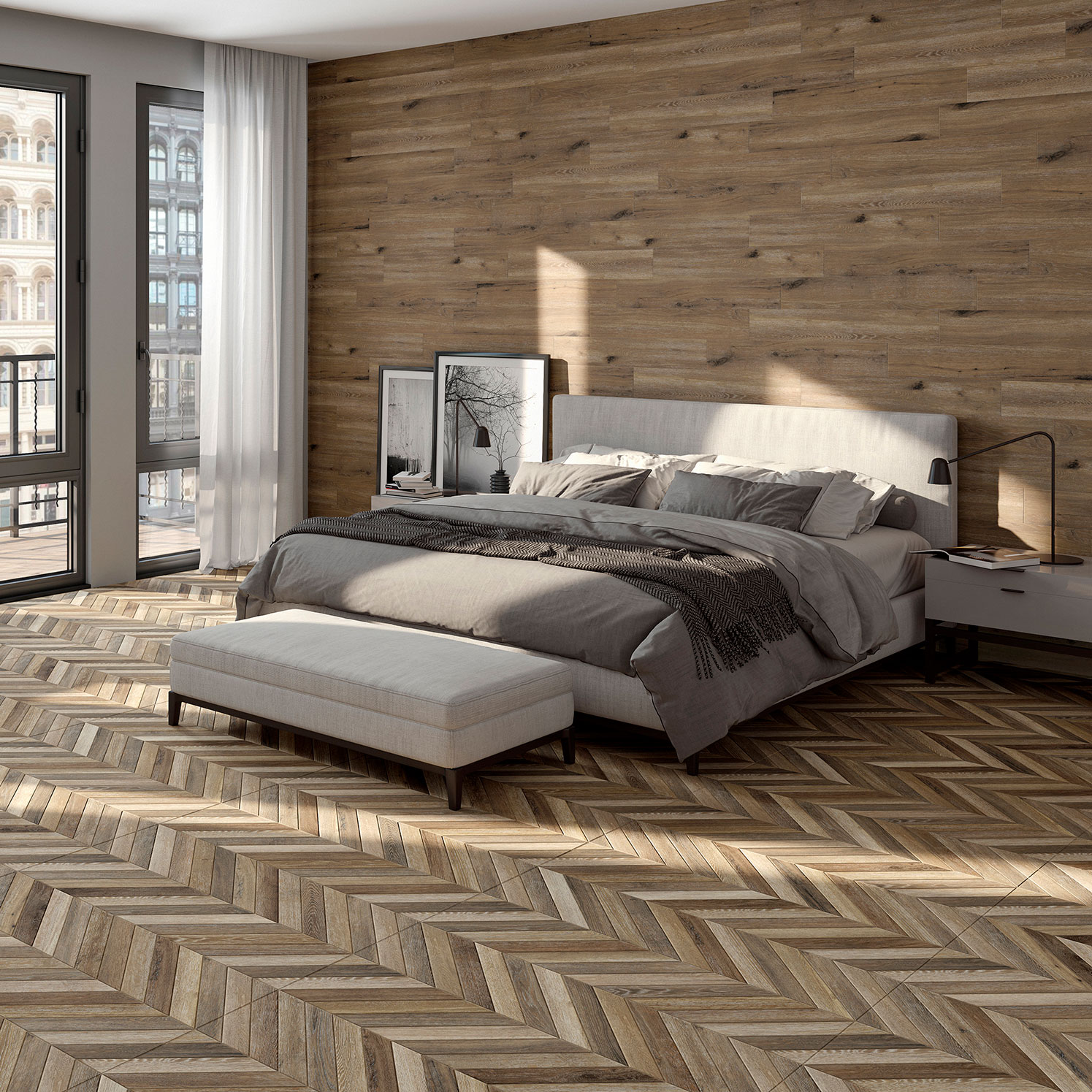 Dreams to dream: Antoni Café Plank on the wall joins Antoni Café Nero Chevron on the floor to dial up the Scandi vibes in this urban bedroom.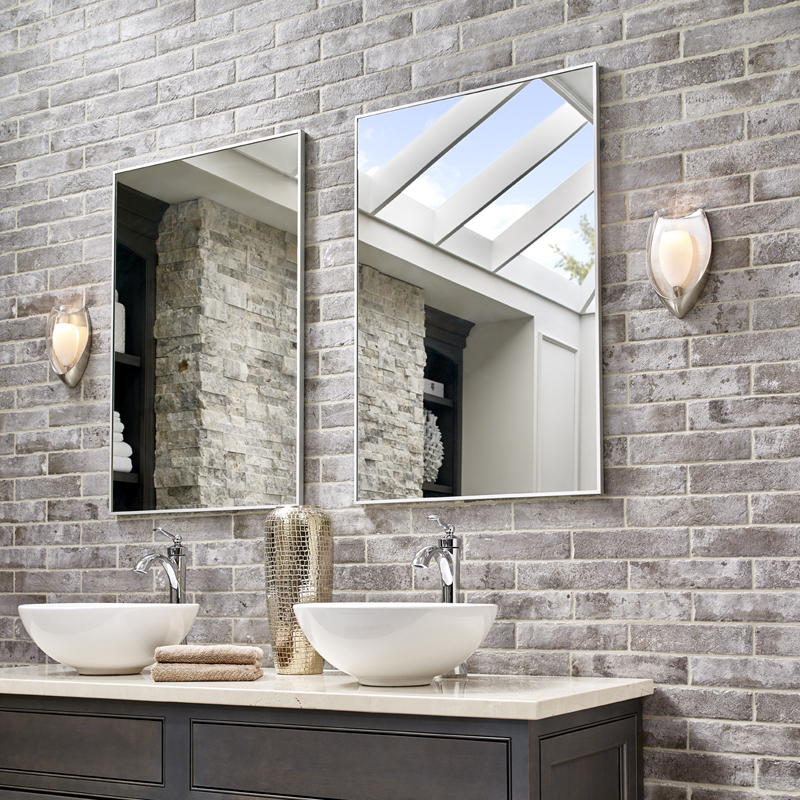 Classic yet down to earth, there's nothing we don't love about this bath - featuring Brickstone Porcelain (in Taupe).