Current Obsessions: You Won'T Believe These Quartz Countertops Aren'T Natural Stone!
October 13, 2017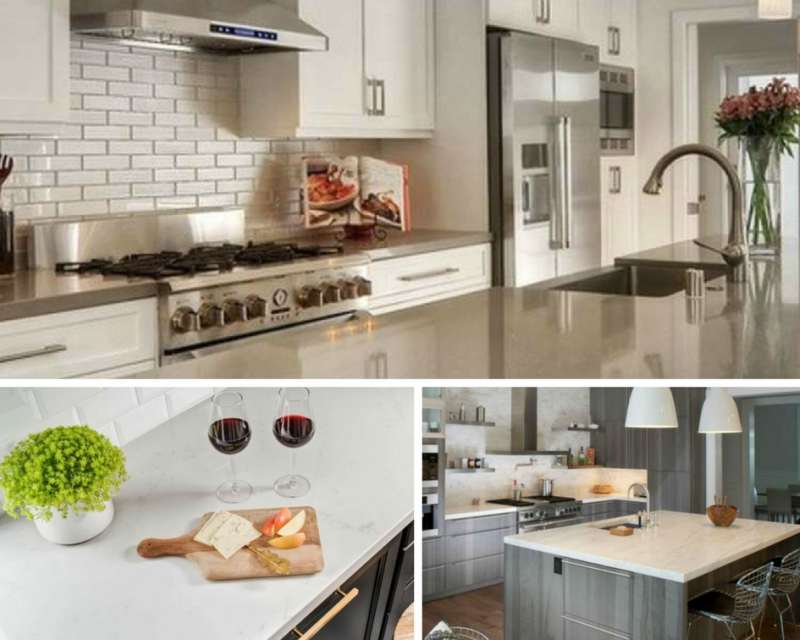 Marble is one of the most luxurious and classically beautiful materials money can buy. But with its high maintenance care routine and a price tag to match, marble countertops may not be the most practical choice for many homeowners.
In contrast, quartz countertops can offer an authentic marble lookalike that is easy to maintain, affordably priced, and extremely durable.
White marble is highly prized for its ability to blend seamlessly with many other colors and styles of decor. You can see this clean look beautifully replicated with MSI's Carrara Caldia Quartz, above. Faint beige veining subtly fades in and out against a soft white background, for a look that is both elegant and comfortably unfussy.
Quartz is also a non-porous material, so you won't have to worry about your all-white quartz countertops being stained by spilled wine or coffee. A quartz kitchen remodel is a wise decision for many reasons, just a few of which are outlined Why to chose quartz countertops for your kitchen remodel.
Cashmere Carrara Quartz is another pure white quartz countertop with a delicate grey veining pattern. It can be difficult to find such a true white slab in the natural world, which makes this man-made quartz option even more attractive for those with a specific look in mind.
The consistency of quartz countertops removes the risk of blemishes or discolorations that can occur in natural stone, making quartz both a reliable and smart choice.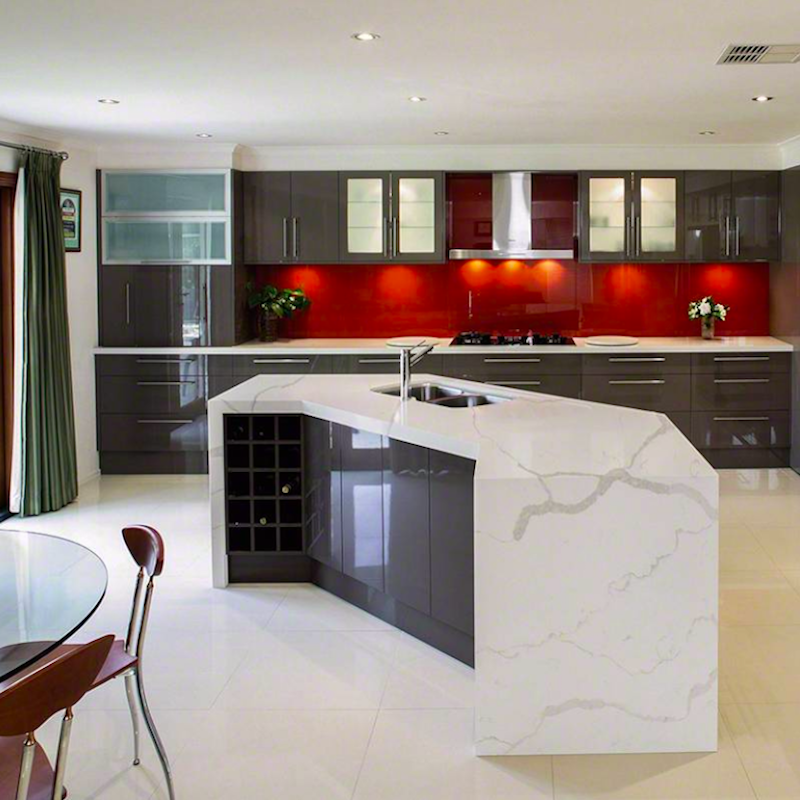 Featured: Calacatta Classique Quartz
And consistency doesn't have to equal boring, as you can see from this image of Calacatta Classique Quartz. The expertly designed veining pattern is practically identical to the finest Calacatta marble, with its dynamic movement and bold variations in vein thickness. The result is a realistic marble reproduction that makes a stunning countertop selection, particularly when featuring a waterfall edge as shown in this fresh design!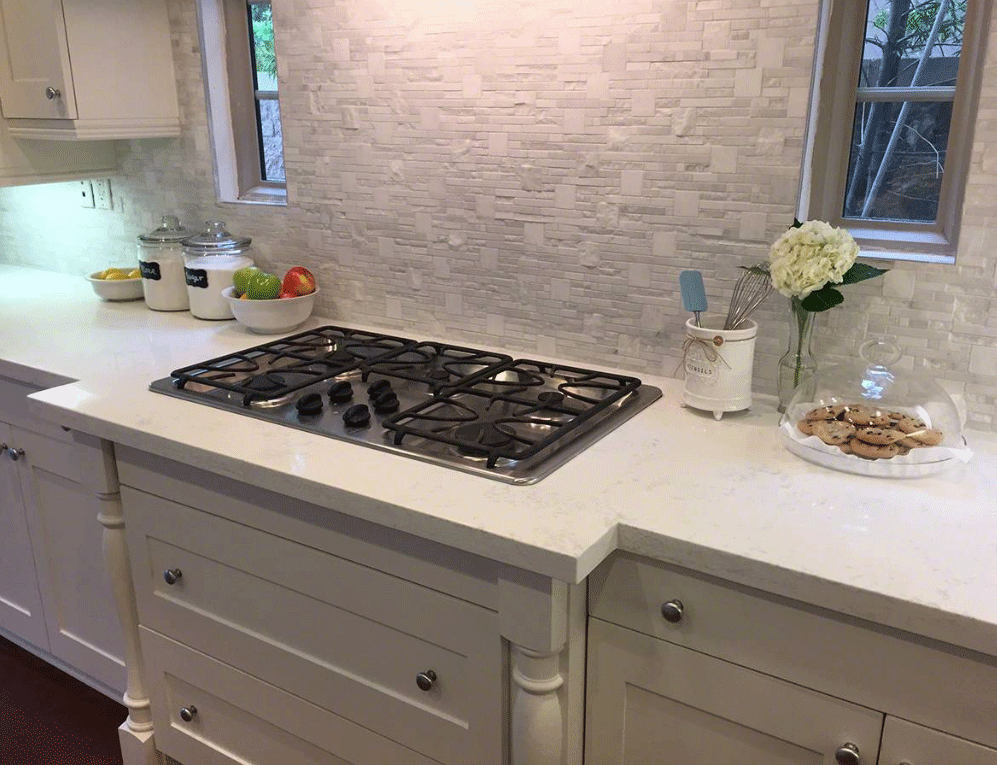 Featured: Calacatta Vicenza Quartz
Calacatta Vicenza Quartz is a much more toned-down version of the classic Calacatta marble design, with subtle grey veining on a cool white background. This simple and chic quartz works well in both traditional and contemporary interiors. Plus, because of its bacteria-resistant properties and clean white tones, it's an ideal countertop choice for bathrooms and kitchens.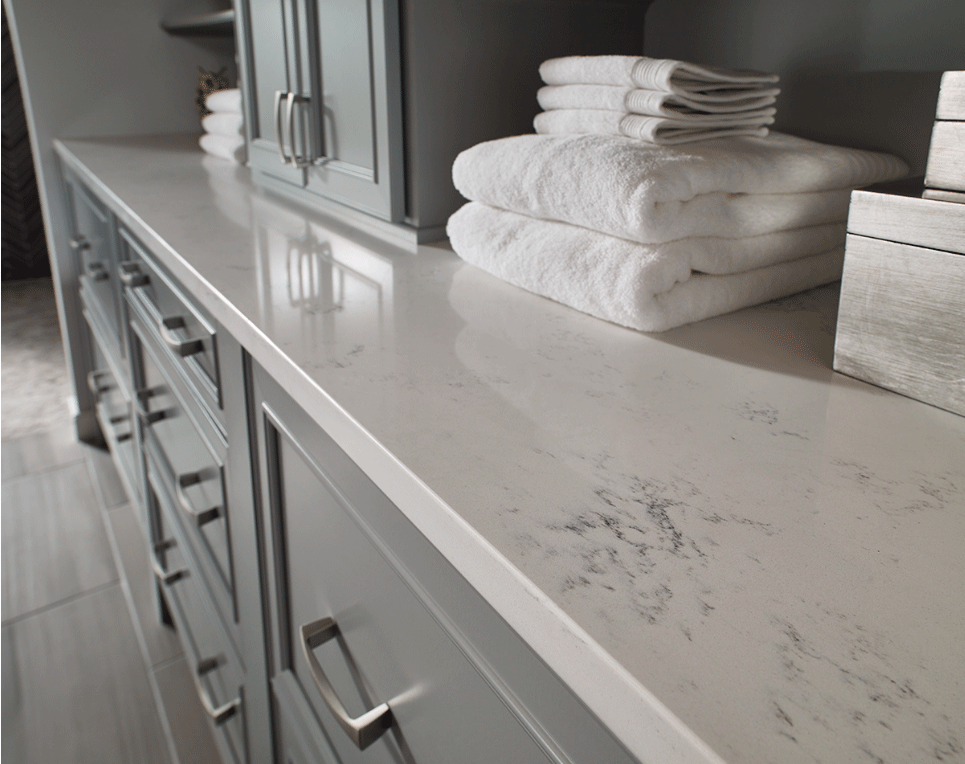 Featured: Carrara Marmi Quartz
Finally, Carrara Marmi Quartz countertops round out our featured marble look quartz offerings. A crisp white background is dappled with grey sponge-like veining throughout the slab for an elegant and intriguing reproduction of Carrara marble, a stunning lookalike that is easy to clean and maintain, and never requires sealing.
So if you thought a durable, maintenance-free, and affordable marble countertop was the stuff of dreams, think again. With marble-look quartz countertops, you can have all the amazing properties that have made quartz so popular, combined with the glamorous beauty of marble.
For more inspiration, check out our full line-up of marble-look quartz from MSI.
More on Quartz Countertops
Limestone Looks with Quartz Countertops
Why Quartz Countertops Are the Most Popular Countertop Choice
Uncommon Reasons Homeowners Love Their Quartz Countertops
Advice Tor Choosing Quartz Countertops Over Natural Stone
You Won't Believe These Quartz Countertops Aren't Natural Stone