Wall Tiles And Backsplash Tiles For Outdoor Installations
March 16, 2017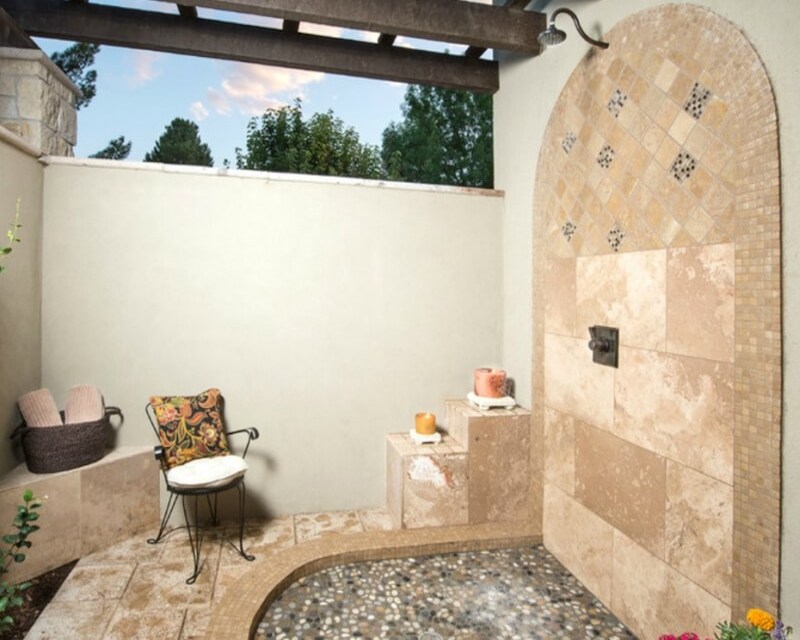 (Photo Credit: Houzz)
As sunny days and warm evenings begin to lure you outside, is your space an outdoor oasis, or is it in need of a makeover? Outdoor showers, kitchens, patios, and pools can all be easily and beautifully transformed with the addition of elegant backsplash tile, colorful mosaic glass tile, and other wall tile from MSI's extensive inventory.
Many natural stone, porcelain, and pattern tiles are suitable for both indoors and outdoors, even for areas with freezing temperatures. This means you never have to compromise on style, function, or design.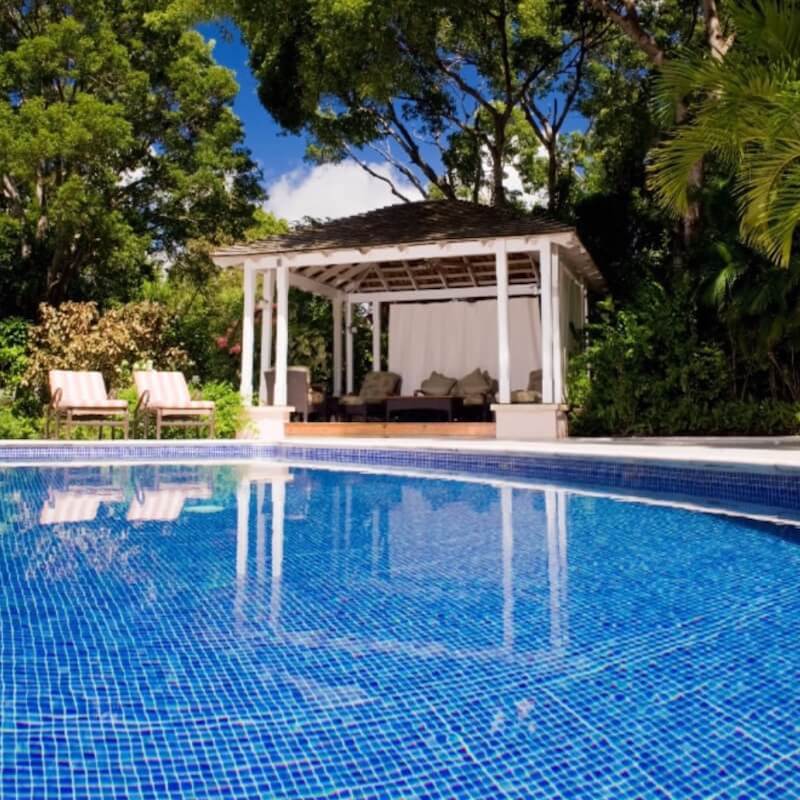 Featured: Blue Blend Glass Mosaic Tile
If you dream of reading a book under a pergola or taking a quick dip in a pool at a luxurious resort, you can recreate that same look and feel in your own backyard! This tranquil Outdoor Oasis features Blue Blend Glass Mosaic Tiles that line the pool.
The alluring tones are reminiscent of the warm waters of the Caribbean, reflecting sunlight and the movement of the water. The deep blue tones of these tiles are timeless, making them the perfect choice for any swimming pool or spa.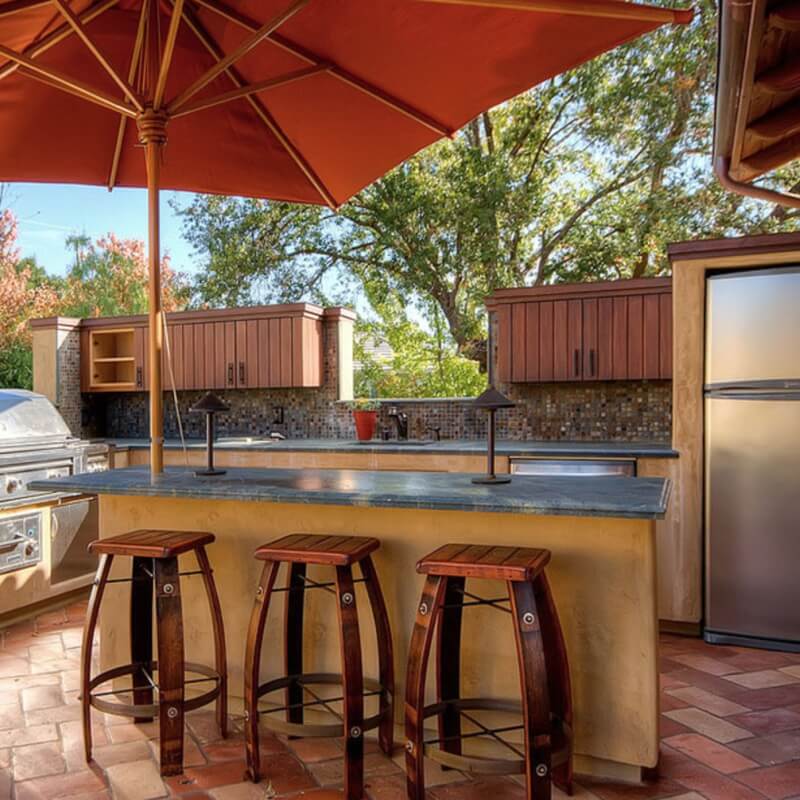 Get this look with MSI's Fossil Canyon Crackle Glass Blend Mosaic (Photo Credit: Houzz)
Warm evenings just beg you to move cooking and family activities outside. This warm and inviting outdoor kitchen is the perfect gathering place at the end of the day. From kids doing homework to friends sipping wine, this expansive island sets the stage beautifully.
The backdrop wall with built in cabinetry, refrigerator, and sink is grounded by warm and sparkling Fossil Canyon Crackle Glass Blend Mosaic backsplash tiles. The cool gray, warm gold, and rich brown hues tie this Outdoor Oasis together perfectly.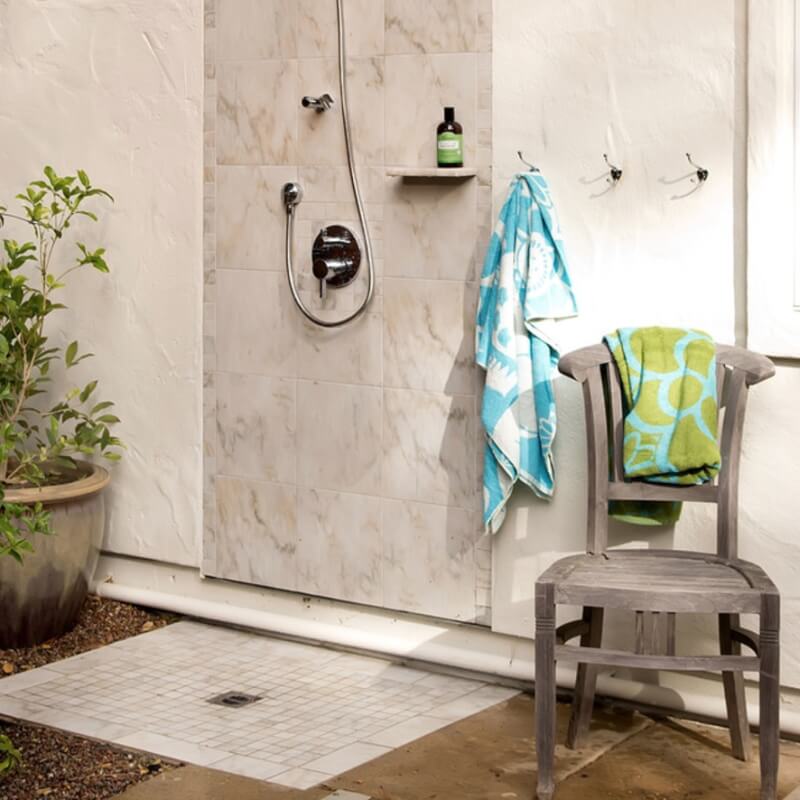 Featured: Calacatta Gold 2x2 Polished Marble Tile
What is the perfect addition to any Outdoor Oasis? An elegant outdoor shower crafted from gorgeous Calacatta Gold marble backsplash tiles, of course.
Here, natural marble wall tile and matching Calacatta Gold 2x2 Polished Marble Tile provides a picture-perfect spot for a quick rinse after a dip in the pool, to wash a muddy pup, or for a long, hot shower under the stars. The best part is that the small footprint of this marble outdoor shower allows for installation, even in smaller patio areas.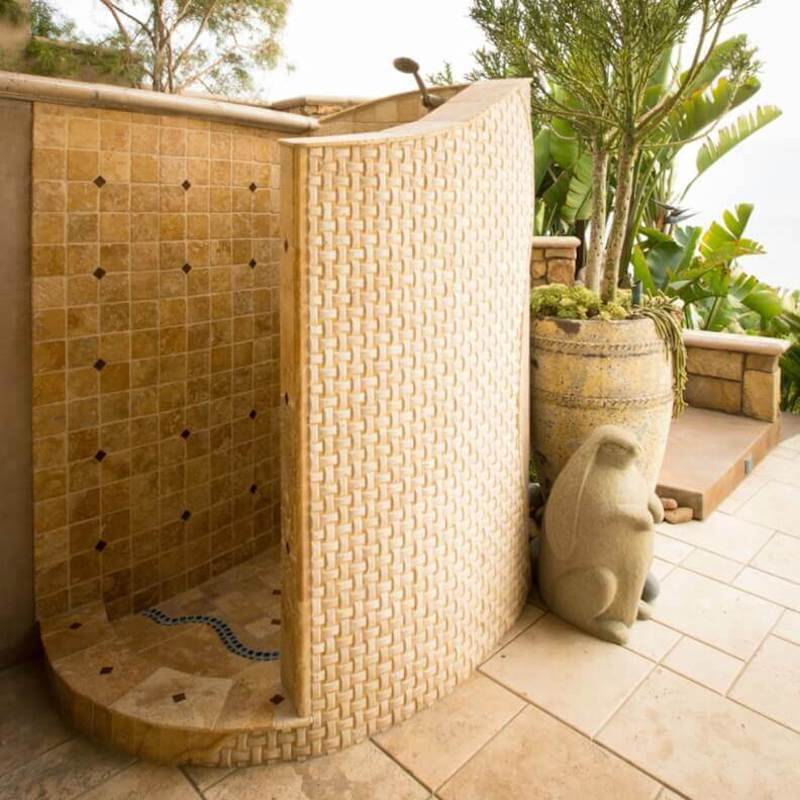 Recreate this look with MSI's Crema Basketweave Arched Marble Tile (Photo Credit: Houzz)
For more discrete outdoor showering, this enclosed spa-inspired shower is your answer. To blend with the surrounding décor, patio tiles, dividing walls, and landscaping, the 3D Crema Basketweave Arched Marble Tile installed on the exterior wall add texture and sophistication.
This soft cream-toned marble is elegant, and its intricate pattern is the real star of this durable tile, which is at home outdoors or indoors.
Create this look with MSI's White Subway Tile (Photo Credit: Houzz)
Outdoor bathing is luxurious in a space like this. This traditionally styled bathroom with classic White Subway Tile has swinging doors that open to the backyard, for a true indoor/outdoor spa experience. Bringing the exterior paint color indoors provides a seamless look when the doors are open.
Better yet, this design allows for year-round use, even in areas with freezing temperatures where outdoor faucets must be drained during winter months to prevent pipe damage.
MSI's vast selection of natural stone wall tiles, glass mosaics, and porcelain tiles are well-suited for exterior design projects. Updating kitchen backsplashes, pools and spas, and outdoor showers gives your Outdoor Oasis a freshness to enjoy for years to come.
READ MORE ABOUT MSI BACKSPLASH TILE
Unique Backsplash Tile Shapes That Catch The Eye
Msi's Kitchen Visualizer - 4th Room Scene With Backsplash Designs
On-Trend Backsplash Tile To Create An Enviable Kitchen Backsplash