Unique Backsplash Tile Shapes That Catch The Eye
June 26, 2017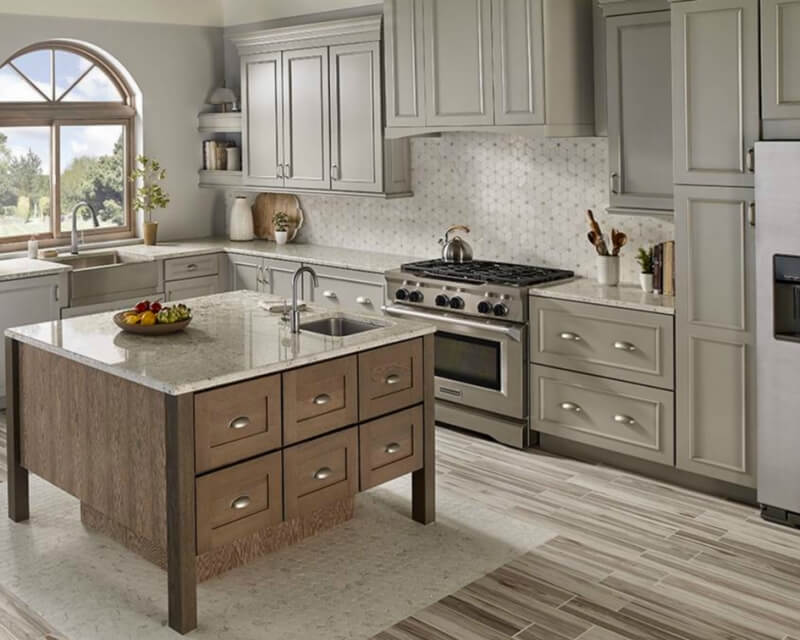 Installing a unique backsplash to your kitchen or bathroom is like adding a cherry to your ice cream sundae! It's the perfect topping that completes your design. And one way for your space to stand out is to select something with an intriguing shape!
Whether you're craving a playful, harmonious, or artistic mosaic tile, there are plenty of creative configurations and styles to choose from.
We think homeowners like you who are looking for backsplash tile inspiration will fall in love with one of these picks!
Cubed Composition
Featured: Cecily Pattern Polished Marble
If you love marble but thirst for something that speaks to your individuality, then place your sights on Cecily Pattern Polished Marble Tile. This polished marble tile features the traditional elegant stone in an updated pattern with its cube-like composition.
Its soft coloring of whites and creamy beiges means you can add it to a contemporary or traditional space all while giving it a high-design look. This kitchen highlights the coloring of the accent pieces with copper serving utensils and a stainless and copper teakettle.
Picket Pattern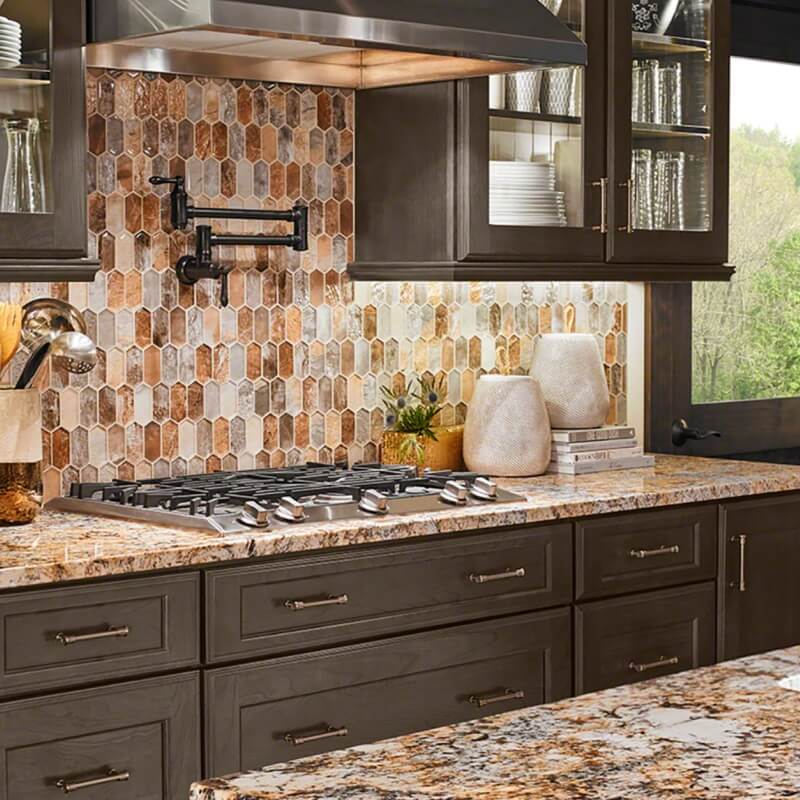 Featured: Taos Picket 8mm
For glass tile mosaics with a twist, turn to Taos Picket 8mm. Depending on whether you want to make your space look taller or longer, you can install this modern picket pattern vertically or horizontally.
They're made from stunning crystallized glass and mix warm tones of browns and golds with cool grays. It's the perfect compliment to a kitchen like this one with copper and bronze accents and espresso cabinetry. The shimmery glass is also enhanced with the glass front uppers with beautiful glass items.
Updated Arabesque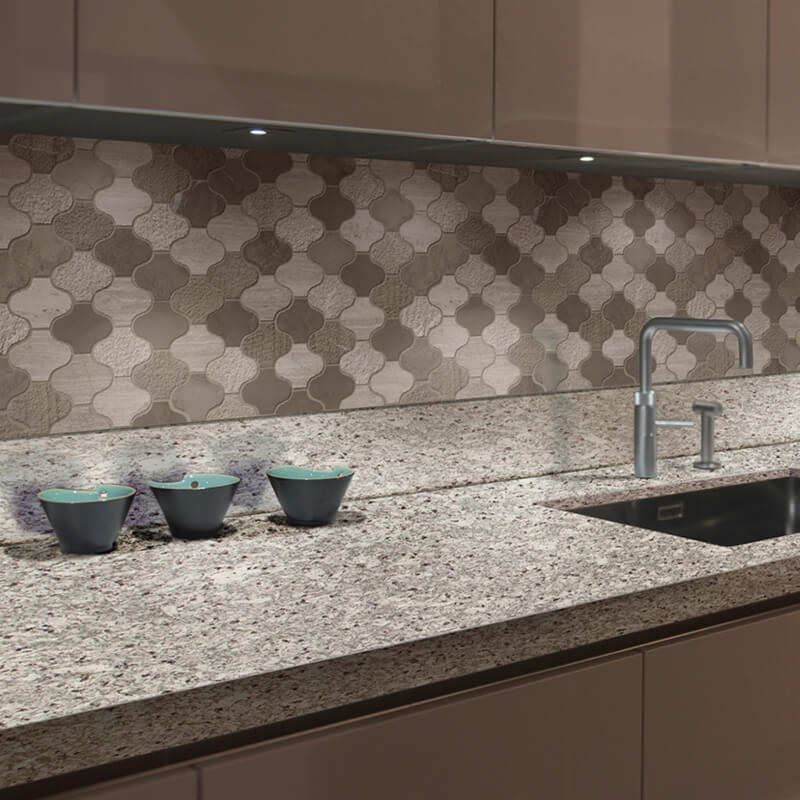 Featured: Arctic Storm Arabesque Multi Finish
When you want something with even more movement, consider Arctic Storm Arabesque Multi Finish. This elegant and wavy style kitchen backsplash tile features a sleeker design and cleaner lines than found in your traditional arabesque shapes.
It's made from multi-finished marble, and the pattern emphasizes the randomly placed colors in trendy grays and taupes. In this kitchen, the ultra-modern, high-gloss cabinetry contrasts well with the mosaic's natural material and interesting shape.
Elongated Octagon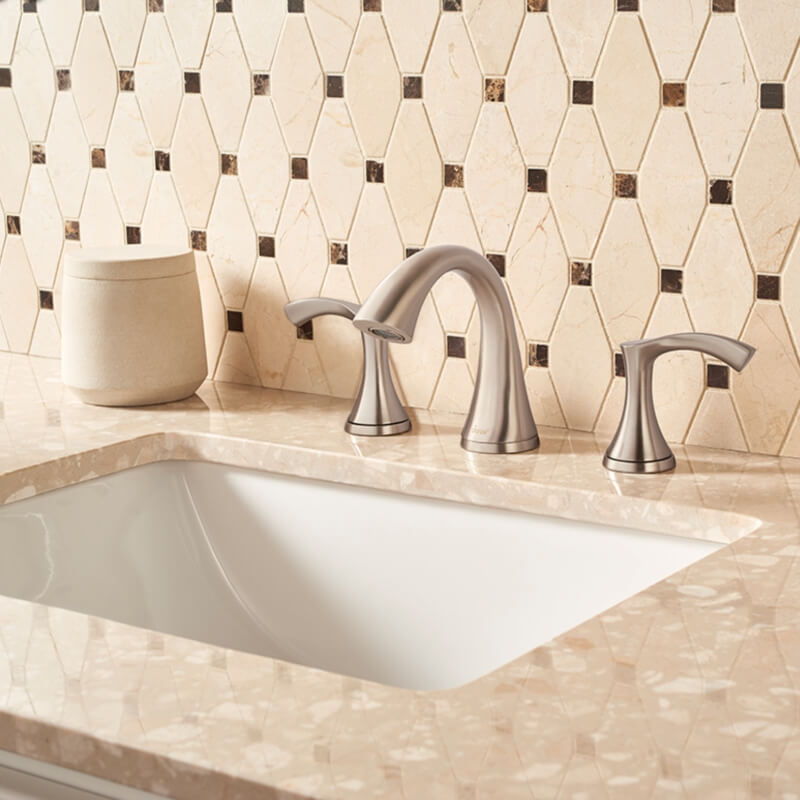 Featured: Valencia Blend Elongated Octagon Polished
Create another marble moment in your kitchen or bathroom using Valencia Blend Elongated Octagon Polished. These lengthened octagon tiles are made from natural Crema Marble accented by darker pieces.
The polished marble mosaics can also be installed vertically or horizontally, and no matter which way you go, the result is a stunning graphic presentation. This bathroom offers a seamless look with a countertop in a similar color.
Luxurious Trio
Featured: Calypso Blanco Lotus Pattern Multi Finish
To add visual interest to your backsplash while keeping colors light and neutral, choose Calypso Blanco Lotus Pattern Multi Finish. This trio of finishes is comprised of luxurious Arabescato Carrara marble in various whites.
The way you install them will emphasize its unique shape and complement your design style. This bright bathroom brings it all together with a streamlined faucet and neutral countertop.
When you're ready to explore new backsplash tile shapes like these, you can find inspiration online or by visiting your local showroom. MSI offers a wide range of backsplash tiles in various colors, finishes, sizes, and patterns. No matter what style you need, you can get your one-of-a-kind kitchen or bathroom backsplash today.
READ MORE ABOUT MSI BACKSPLASH TILE
Msi's Kitchen Visualizer - 4th Room Scene With Backsplash Designs
On-Trend Backsplash Tile To Create An Enviable Kitchen Backsplash
Our Top 10 Bold And Blue Backsplash Tiles