Our Top 10 Bold And Blue Backsplash Tiles
January 13, 2021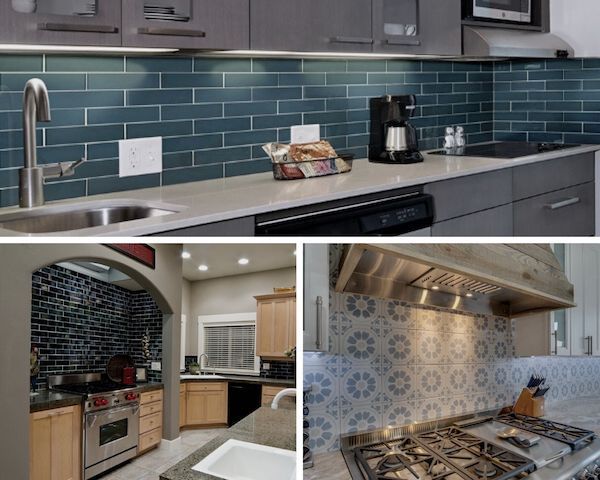 Homeowners looking to go bold but are wary of color as drastic as black or yellow will be delighted that a continuing trend in backsplash tile color for the upcoming year is- BLUE! Considering that blue is the most popular color in basically every country across different continents, this should come as no surprise.
Typically associated with creating a calming or soothing effect, these blue tile backsplashes show that blue also has that wow-factor that can be modern, luxurious, mysterious, and adventurous. Need even more proof that blue is hot? Consider that Pantone will highlight navy blue in their Spring/Summer trend report for New York Fashion Week!
The tiles in this collection of top 10 aren't notable just for the beautiful blue shade but also for their unique shape, pattern, durability, and light play within the tile that enhance its brilliance. Read on to learn more about these bold styles.
Azul Scallop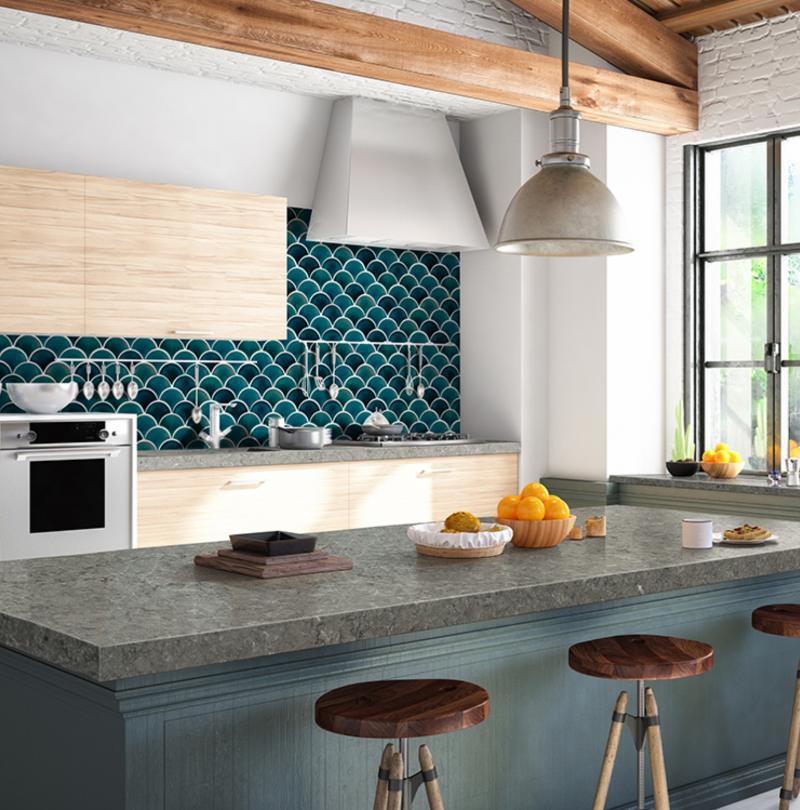 Azul Scallop features scale-like tile patterns that look like shining mermaid scales. With shades of blue ranging from teal to midnight, you are sure to like the calming hues provided by this pattern just as much as the unique rounded shape. Because of its glossy finish, Azul Scallop looks as though it is shimmering in the ocean's waves and is sure to start a conversation.
To see how blue tiles like Azul Scallop can be incorporated into your design scheme, check out this awesome video!
Tamensa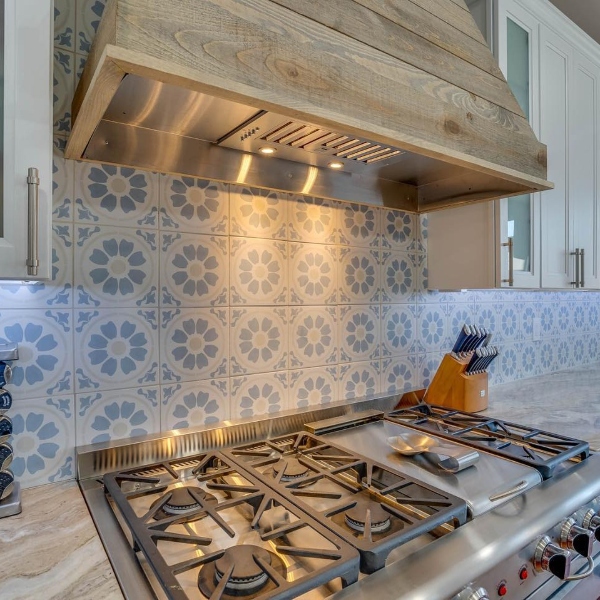 Tamensa is one of the more unique patterns offered at MSI. This floral wall tile is made with organic shapes that have been put together to look like a blue flower in bloom. Surrounded by a warm cream wreath and accented with Oriental-style corners, this backsplash option is perfect for subtler bathrooms and kitchens as well as those that feature vintage and antique design schemes.
Midnight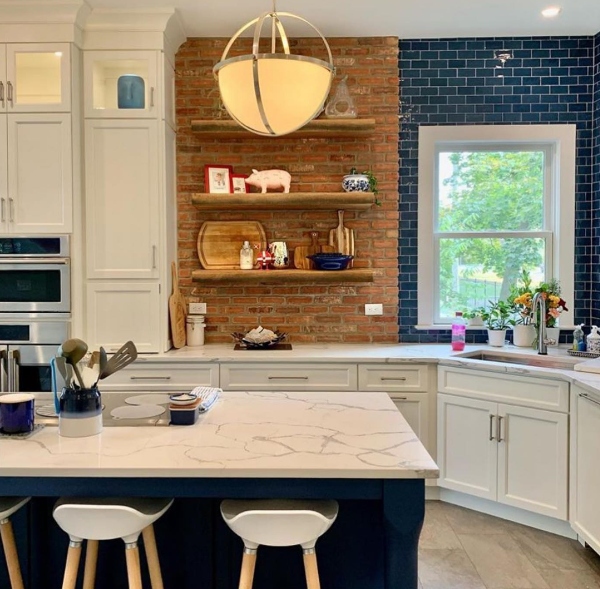 If you're looking for a simple modern tile, Midnight has you covered. These rectangular tiles are primarily dark blue but also feature small speckling for a more sophisticated look. They are presented in a subway style, meaning that the tiles are staggered so that the pure white edges where two tiles come together fall in the center of the tile beneath it.
Like all MSI tiles, this mysterious style can be used for many applications such as countertops and accent walls. You can pair a Midnight countertop in your kitchen with an Azul backsplash to incorporate multiple shades of blue within your space.
Harlow Interlocking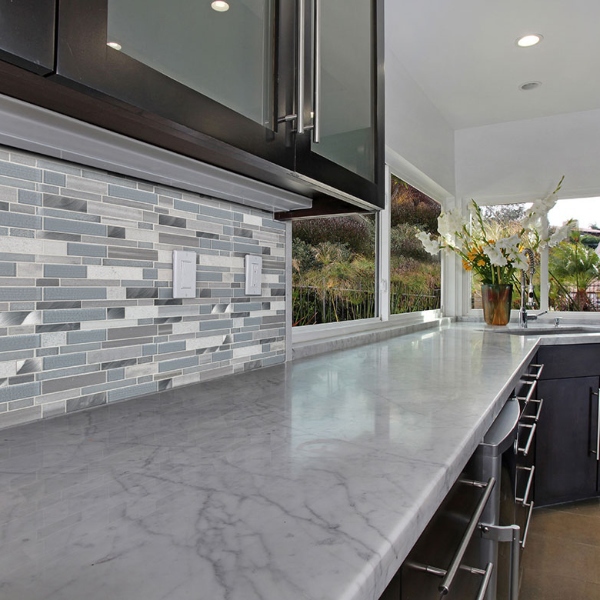 Looking for something slightly more natural and random than other tile options? Harlow interlocking has your back. This modern tile features cool blue, whites, and gray tiles in interlocking patterns. While some of these tiles are long and thin as pencils, others are more stout to the point of nearly being square.
If you want to see how this (or any other MSI tile) will fit into your room, you can use our backsplash visualizer. This will give you an idea of whether or not the multitude of shapes offered in Harlow Interlocking are right for your kitchen or bathroom.
Boathouse Blue Picket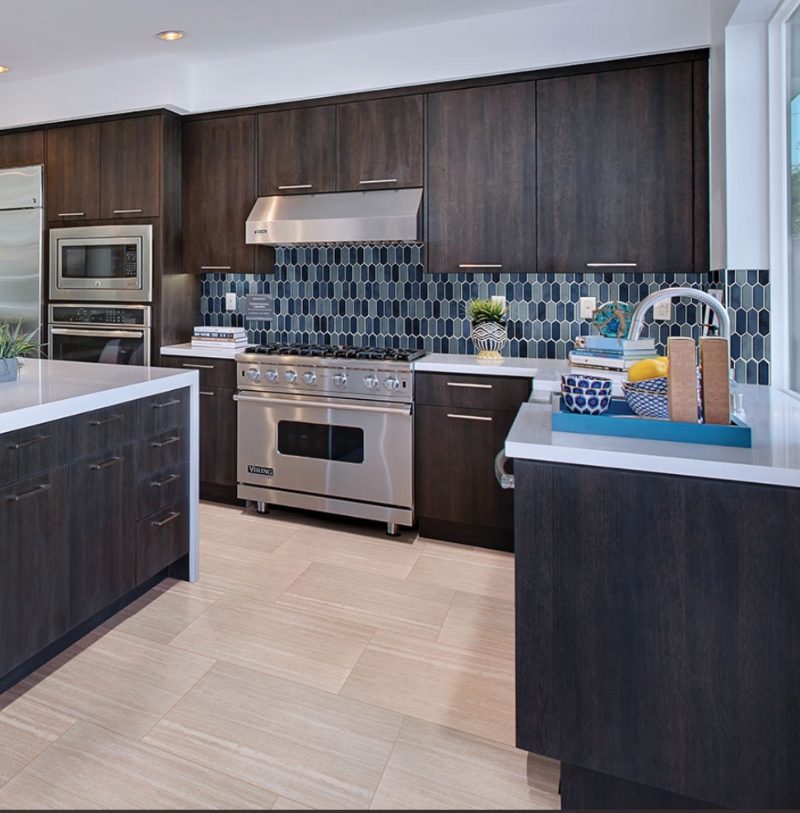 If you're a fan of geometric shapes, you're sure to like Boathouse Blue Picket tiles. These hexagonal shapes are made specifically to look like picket fences because they come up into elegant sharp points.
However, you can forget the concept of a white fence, because these styles come in multiple shades of blue. From midnight to cornflower to the color of the sky on a clear summer day, you get the best of all worlds when you choose this style.
Carbonita Subway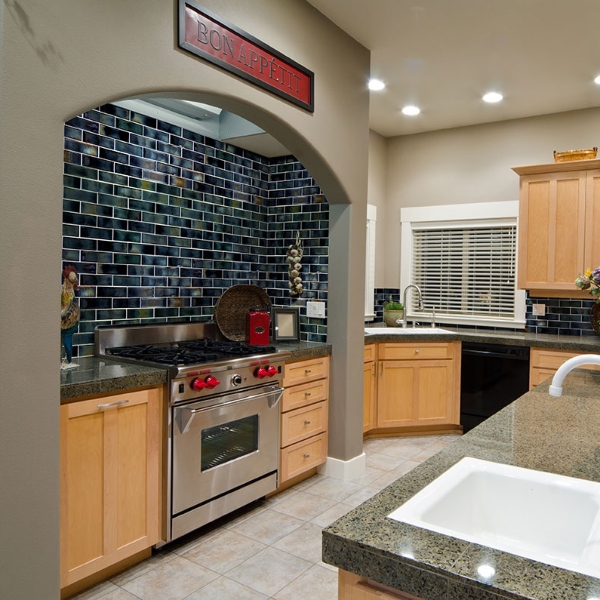 Like Boathouse Blue Picket, Carbonita Subway tiles are made for those who prefer more geometric design schemes. They're highly recommended for those who have contemporary kitchen decor and clean, straight, and bold lines on their appliances.
Carbonita Subway tiles, however, are not completely blue- they have some yellow-gold accents across the multi-hued dark blue tiles. They're perfect for those rooms that use warmer colors but still need a pop of cool hues. They also pair well with Midnight tiles since they're in the subway style as well.
Chantilly Stax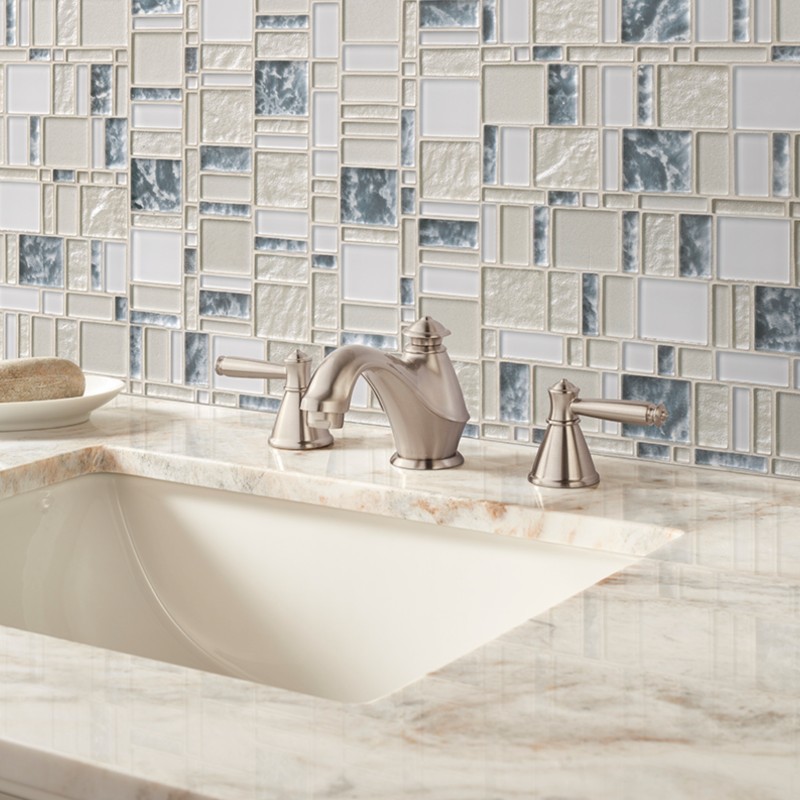 Are you a fan of warmer hues and primarily white backsplashes? Chantilly Stax is an incredibly warm style that primarily features cream and warm eggshell hues. The blue-gray is an accent that appears throughout the pattern to give it a pop of color that you're sure to love.
This backsplash goes perfectly with kitchens and bathrooms that feature warm lighting and other cool-colored accents. However, it looks great with all decor schemes and has proven time and time again to be versatile.
Haiku Sapphire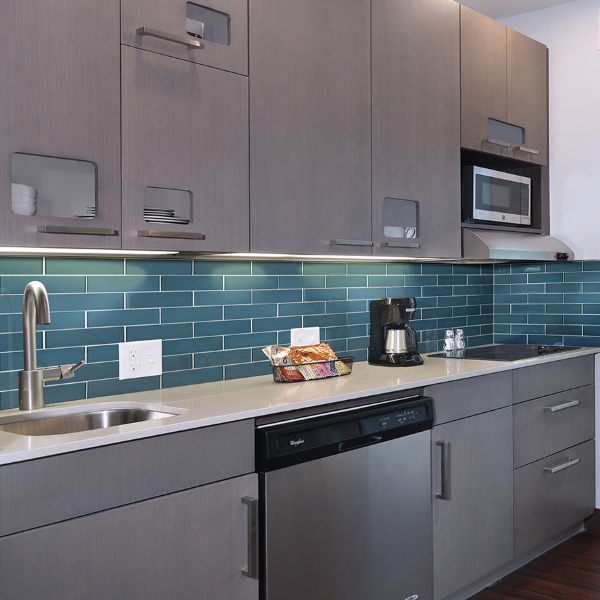 One of MSI's simplest backsplash designs is a subway-style tile that features primarily a single hue: Haiku Sapphire. It's slightly lighter than Midnight's tile is and can best be described as cornflower.
White rims also line each tile for a clear, bold, and elegant look. If you prefer something simple or don't want to detract from the rest of your decor, this is definitely an option to consider.
Vista Azul Hexagon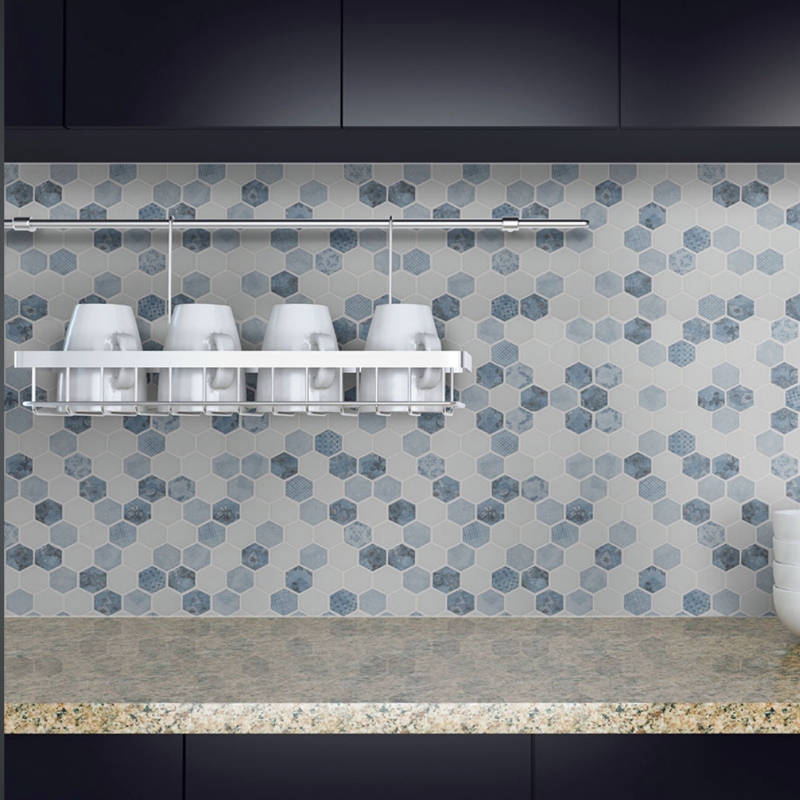 A more complex pattern than most others on this list, Vista Azul Hexagon features a honeycomb pattern. Many of the tiles are a gray so light that they're almost white, but others are blue. These sky-blue and clear accents are where the tile shines the most because they add a much-needed pop of color to any room.
Additionally, fans of floral patterns will enjoy the tiny flowers featured on many of the blue tiles. These flowers range from roses to water hyacinths, so there's something that every homeowner will love.
Blue Shimmer Subway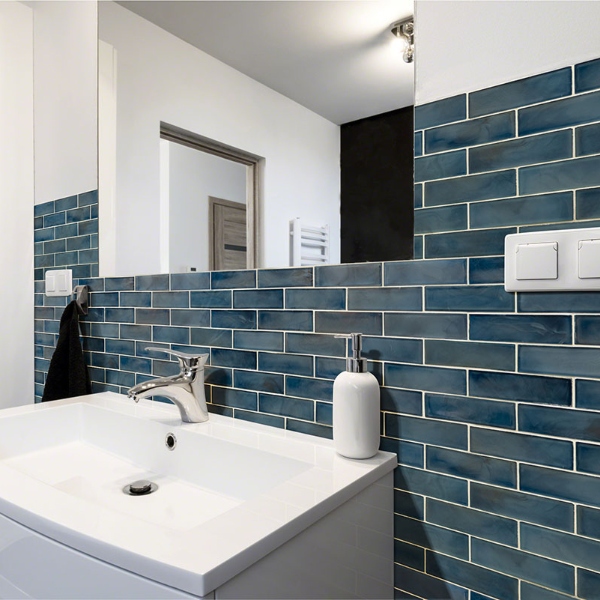 Blue Shimmer Subway tile is similar to Midnight, but the tiles are slightly smaller and thinner. They also have natural white accents in their design that look like beautiful waves. If you're unsure of whether this is the right style for your space, you can find backsplash by picture using MSI's image search tool.
Get Gorgeous Backsplash Tile Today
Now that you know why blue backsplash tile is the way to go in 2021 and have seen some of the best styles on the market, it's time to get started. Contact MSI with any remaining questions that you may have about purchasing and installing these sophisticated and stylish tile options. We're excited to help you improve your home and make it a more calming space for many years to come.
READ MORE ABOUT MSI BACKSPLASH TILE
Unique Backsplash Tile Shapes That Catch The Eye
Msi's Kitchen Visualizer - 4th Room Scene With Backsplash Designs
On-Trend Backsplash Tile To Create An Enviable Kitchen Backsplash