Are Quartz Countertops Replacing Granite As The Best Choice For Your Home? Quartz Vs Granite
May 20, 2020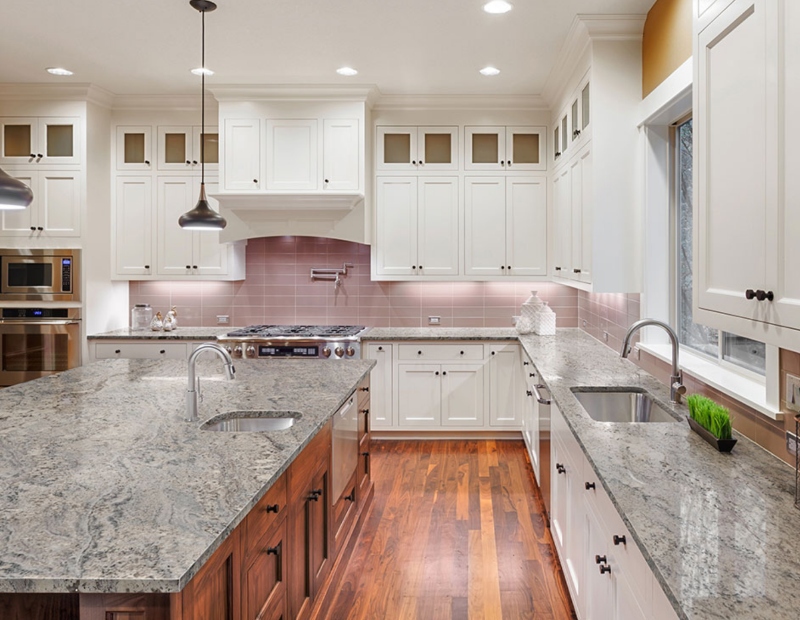 In the world of countertops, granite has long been crowned the king. Today, homeowners are seeking new materials to try, and quartz countertops are quickly becoming a popular option.
Whether you're looking to remodel your current kitchen or you're building a custom home, which type of countertop is the best option for your needs?
Read on to discover some of the benefits of choosing quartz countertops to help you determine if this material is right for you.
Cleanability and Durability: Which Material is Best?
When considering quartz vs. granite in your quest, easy-care and durability should be on any smart homeowner's list. Both granite and quartz are easy to wipe clean, but granite requires re-sealing occasionally to protect it and keep it looking beautiful.
Quartz has a sealant mixed in with the material during manufacturing, which means you won't need to worry about applying new sealant every few months. If you spill something on granite countertops, it's crucial to wipe it clean as soon as possible so the liquid or other material doesn't "eat away" at the sealant and cause damage.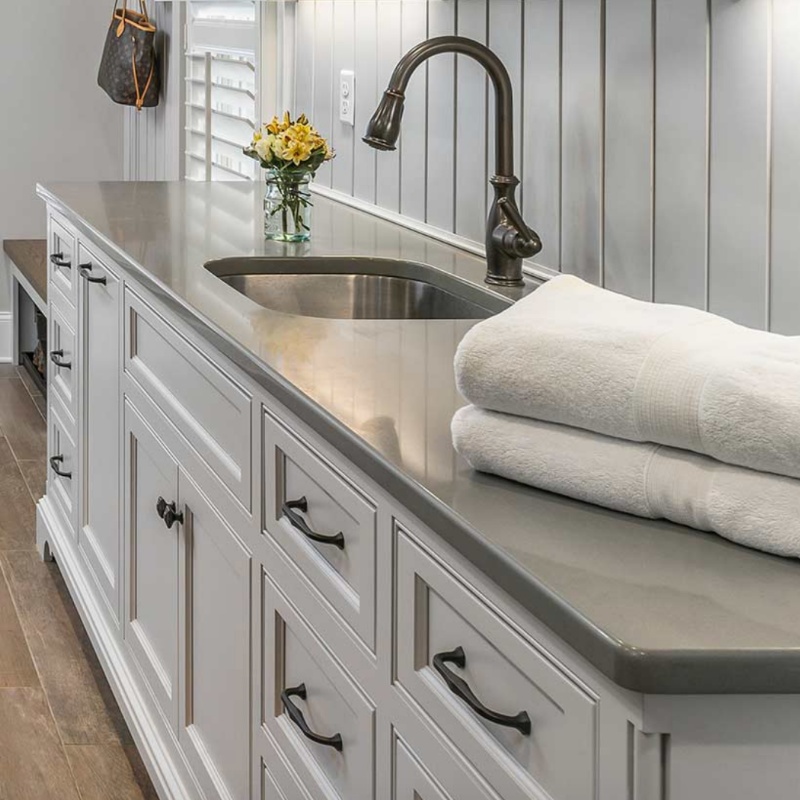 You can easily clean up messes on a quartz countertop with a paper towel or soft cloth. Use a mild cleanser to wipe off lingering germs, and you should be good to go.
If granite becomes damaged or the sealant wears off, spills may seep into the surface, resulting in stains since the stone is naturally porous. This makes quartz a prime option for busy kitchens or homes with children thanks to its resistance to staining, cracks, and discoloration.
If you're concerned about chips and cracks, granite is certainly more prone to this type of damage. Both materials are comprised of natural stone, but quartz is mixed with resin which binds it together, making it nonporous and free of striations that can lead to cracking.
Cost: Which Material is Best for Your Budget?
If you're looking to install new countertops on a budget, it's crucial to compare the prices of your favorite materials. In terms of cost, both granite and quartz are closely aligned when it comes to price per square foot.
On the low end, both of these materials typically run about $80 per square foot installed. However, as you approach more high-end pieces or customized options, these ranges will start to vary greatly.
Overall, your cost to install these new countertops can largely depend on the installer and the manufacturer.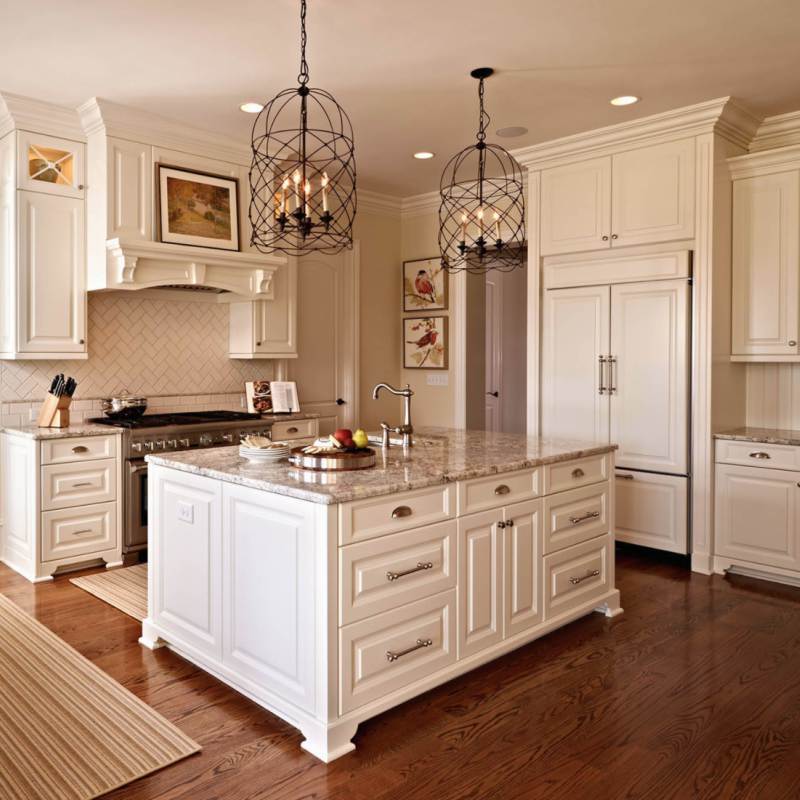 Photo Credit: Houzz
It's All About the Aesthetic
Of course, the way your new countertops look is really what matters when it comes to creating a gorgeous kitchen. When exploring the colors for your new counters, you'll be surprised at the variety quartz offers.
Granite countertops are mined from the earth, showcasing their natural striations and coloring. Hues can range from deep and earthy tones to light, white granite with airy creams that closely resemble marble.
If you prefer having the option to customize your kitchen, a quartz countertop could be the better choice. This material is factory-made, which means you have the ability to choose from a wide range of quartz countertop colors and even create your own.
Countertop edges can be customized from bullnose and beveled to double quarter round and more. Both countertops come in a range of edge styles that will accentuate your personal style preference. Finishes for these counters can range from polished to honed (matte) and more.
Granite or Quartz Countertop: Warranties and Eco-Friendliness
Updating your kitchen is a big endeavor, so you want to be sure you're protecting the products and finishes in your home. In terms of the warranty, it's largely dependent on the dealer or manufacturer.
Since granite needs to be sealed and requires a higher level of maintenance, you might not be able to cash in on warranty-related issues as easily as quartz. Most companies offer a warranty related to problems with the installation itself or with manufacturing flaws, but they won't cover a cracked granite countertop if you drop something heavy on the surface.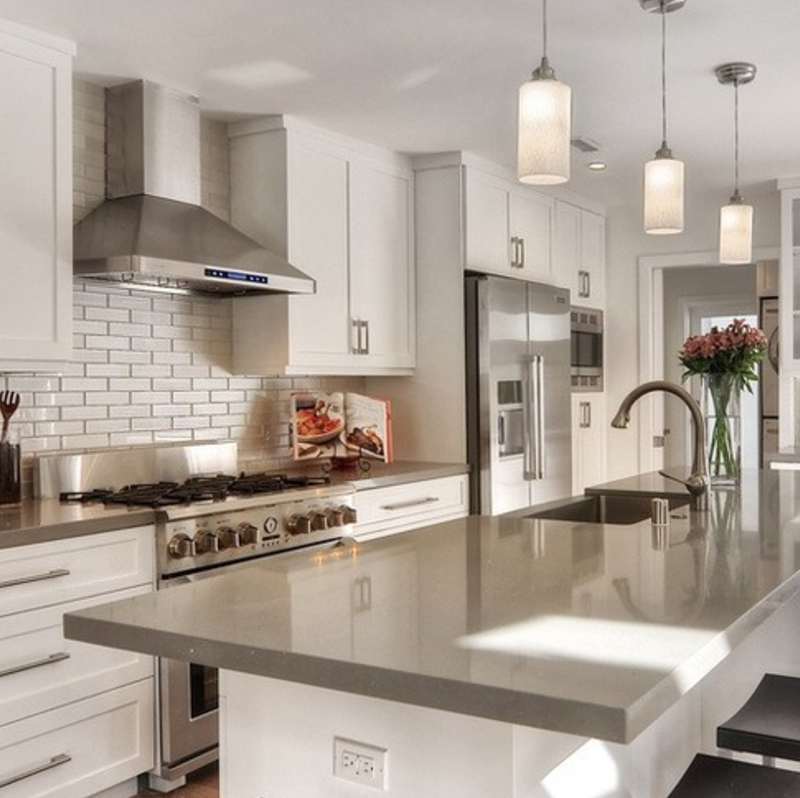 Photo Credit: Houzz
In terms of how "green" each material is, quartz leaves a smaller carbon footprint. Granite is mined from the earth and transported to various locations throughout the country and the world.
Quartz is also mined and shipped from overseas, however, there are many manufacturers currently making granite right here in the United States. Both products require mining, but the key to their eco-friendliness lies largely in the manufacturing and transportation process.
Which Countertop is Better?
Sales for quartz is rapidly outpacing granite, making this material a prime option for many homeowners. Due to its durability, easy maintenance, a vast assortment of customizable colors, and more, it's easy to see why choosing a quartz countertop may be a good decision for your home.
While granite does have a few benefits over quartz such as having higher heat resistance and being 100% natural, quartz is affordable and much more flexible for today's busy lifestyles.
To explore our range of products, find a dealer, and find out more, visit our website or contact us today.
More on Quartz Countertops
Discover Our Top 10 New Quartz Countertop Colors
Our Top 10 Quartz Countertops That Look Like Marble
How Can You Tell the Difference Between Granite and Quartz Countertops?
Limestone-Looks-With-Quartz
READ MORE ABOUT GRANITE COUNTERTOPS
Ahead Of the Curve - Explore the Latest Trends in Granite Countertops
Ancient Influences: History of Modern Granite Edge Profiles
Are Granite Countertops Going Out of Style?
Backsplash Ideas for Granite Countertops