Backsplashes That Make A Splash
October 15, 2013
Backsplashes are the epitome of function meets fashion. Where once they were meant to create a protective barrier on a wall against moisture and grease, now they create that barrier with a style that will also upgrade a room from ordinary to unique. Explore today's backsplash tile trends to discover how this easy and affordable addition to your kitchen or bathroom will transform your space and make a splash.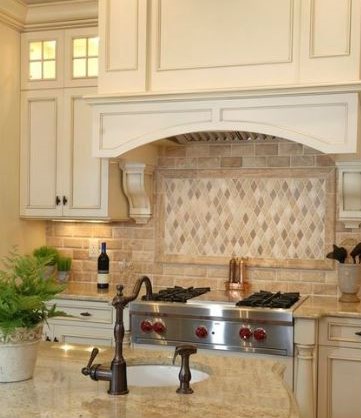 Metallic Backsplashes – For a modern look, elevate your décor with metallic backsplashes. Reflective metal tiles are available in copper, pewter, and bronze selections, will brighten the room, and offer the added benefit of looking expensive. Enrich the look with metal inserts for elaborate or low key designs and finish with matching metal moldings.
Marble & Natural Stone Backsplashes – For a uniform look, another current trend for kitchens are a monochromatic scheme using marble or other natural stone backsplashes. This is achieved by matching rather than contrasting backsplash tile with countertops. Marble backsplash tiles coupled with marble countertop slabs are a great example. Marble's white background and subtle veining creates the uniform look without overwhelming the room, creating a smooth unblemished canvas.
Murals – A statement wall or focal point with specialty tile (like metal inserts) or a clever arrangement of glass mosaic tile is a traditional look that endures in kitchens with ultra-modern themes as well as with traditional, old world looks. Perhaps it is the versatility of this look, which can remain when all else changes, that makes it a classic tool for defining a space. A solid medallion also achieves the same effect.
Subway Tiles – Subway glass tiles create an urban look, or even a country cottage feel, depending on appliances, cabinetry, countertops, and floor selections. This flexibility between two very different design schemes make these rectangular tiles a popular choice. Subway tiles also have the added benefit of visually lengthening a space to feel taller and longer, and these days, they are available in a wide variety of colors and sizes.
Glass Mosaics – Glass mosaics also reflect light, which makes them a good choice for small spaces and large spaces alike. Additionally, they are offered in a vast variety of color combinations, including those that create a textured feel.for backsplashes play on varying tones of the same color to give depth and texture. Glass mosaic tiles are also available in unique shapes and color combinations, like Everglade Pennyround and Key Largo Interlocking, and lend unusual accents to solid countertops.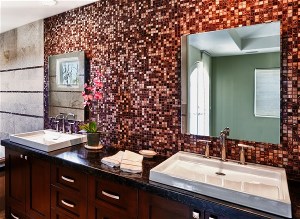 Borders in Geometric Designs – A trendy but classical look is to spice up designs with focal points like defined shapes using border tiles in arrangements like rectangles, diamonds, and spirals. Choose one space (often above a stove) for an eye-catching display or incorporate the pattern throughout the room or home.
Single Lines – For protective purposes, an entire backsplash wall from floor to ceiling or an expanse from countertop to cabinet are the best options. However, today's powerful cleaning products mean we sometimes choose to employ backsplashes for their fashion rather than their function. Thus the trend of a single line. Rather than covering a large space, only one row or two serves to define or finish an attractive countertop. Choose a solid tile in a large size or a single natural stone border of tile.
Unexpected Colors – With so many material and color selections today, there are two distinct options: create a uniform or blended look with backsplash tile or create contrasting interest with striking colors not found elsewhere in the design scheme. It is this second option, introducing bold colors, like blue glass or crystallized green glass , that is a rising trend that's easy to build on throughout the home's overall design.
When it comes to today's wall tile, the options are endless for creating unique looks that suit your home's personal design. In comparison to other high-end projects, backsplash tile is a cost effective way to change the overall appearance without expensive renovation. Whether your splash with backsplash means the tile covers the walls from top to bottom or simply adds a border or ledge to existing materials, backsplashes are an attractive option for freshening up the look of your kitchen or bath.
READ MORE ABOUT MSI BACKSPLASH TILE
Can Backsplash Tile Be Used In The Shower?
Choose The Perfect Backsplash Tile With This Helpful Guide
Complement Your Quartz Countertop With A Quartz Backsplash
Create Stunning Visual Appeal With A Porcelain Slab Backsplash