Can You Use More Than One Granite Color For Your Kitchen Countertops?
September 27, 2017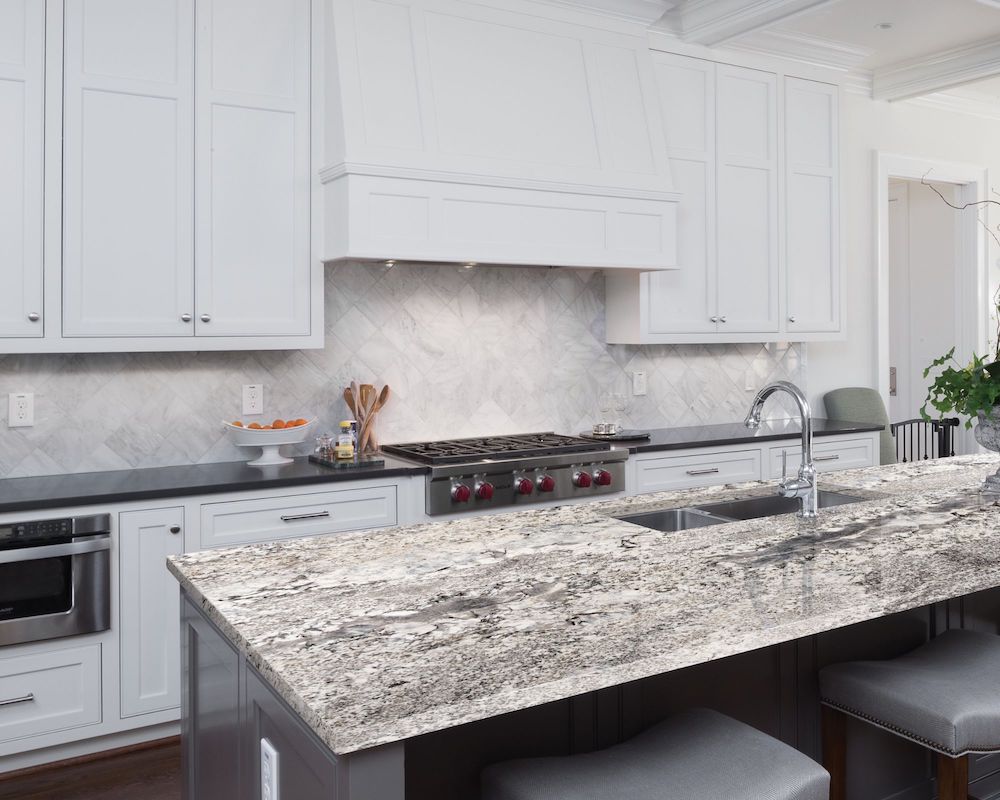 Want to take advantage of one of the hottest trends in kitchen design? Mixing and matching granite countertop colors can really spice things up!
Some are wary of this trend, thinking that using two different granite colors may look too "busy" or would overwhelm the rest of the room's style – but nothing could be further from the truth. The key to pulling this off is knowing how to do it properly, so the room is balanced. The result? Creative, stunning, and practical too.
This article is not a comprehensive granite countertop guide, but is intended to show you how well two completely different colors and patterns of granite can work together in harmony.
Snowfall and Coffee Brown
Snowfall Granite and Coffee Brown Granite
One strategy for matching two granite colors is to choose similar patterns and colors, one lighter and the other darker. In this photo, you can see that Snowfall Granite looks much like a lighter version of Coffee Brown Granite.
Both feature the same color scheme – brown, grey, and tawny. In this example, you can choose the paler granite color for the center island and the darker one for the surrounding counter. Finish it off with white walls and cabinets to keep the room's atmosphere light and airy.
Eclipse and Nero Mist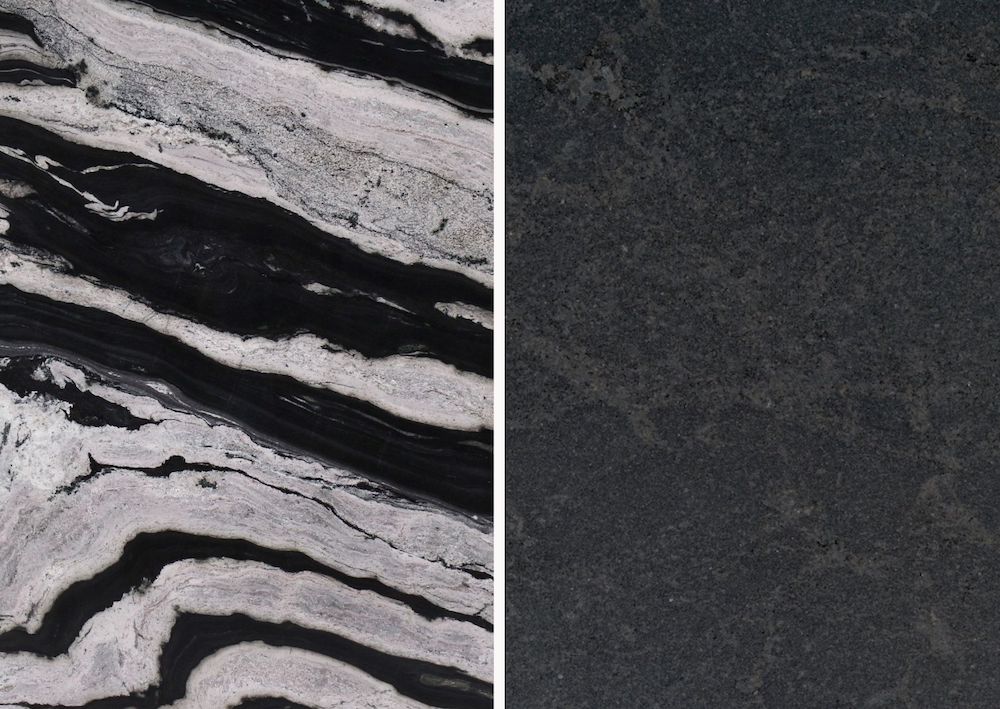 Eclipse Granite and Nero Mist Granite
Pairing a bold black and granite with a neutral dark grey granite like Nero Mist for kitchen countertops creates a stunning visual contrast that instantly elevates the aesthetics of any kitchen space. The striking juxtaposition of the deep, dark tones of the grey granite against the sharp, crisp lines of Eclipse granite brings a dynamic and contemporary feel to the kitchen. The bold black and white granite acts as a focal point, drawing attention to its intricate patterns and veining, while the dark grey granite complements it with a sense of balance and sophistication.
This combination not only adds a touch of drama but also allows for versatility in kitchen decor. The neutral dark grey granite provides an excellent backdrop for various cabinet finishes, wall colors, and accent pieces. It creates a harmonious blend that is both visually captivating and practical, as both granite types are durable and easy to maintain. In essence, the fusion of these two distinct granites not only enhances the overall aesthetics but also imbues the kitchen with a sense of timeless elegance and functionality.
Costa Esmeralda and Pitaya White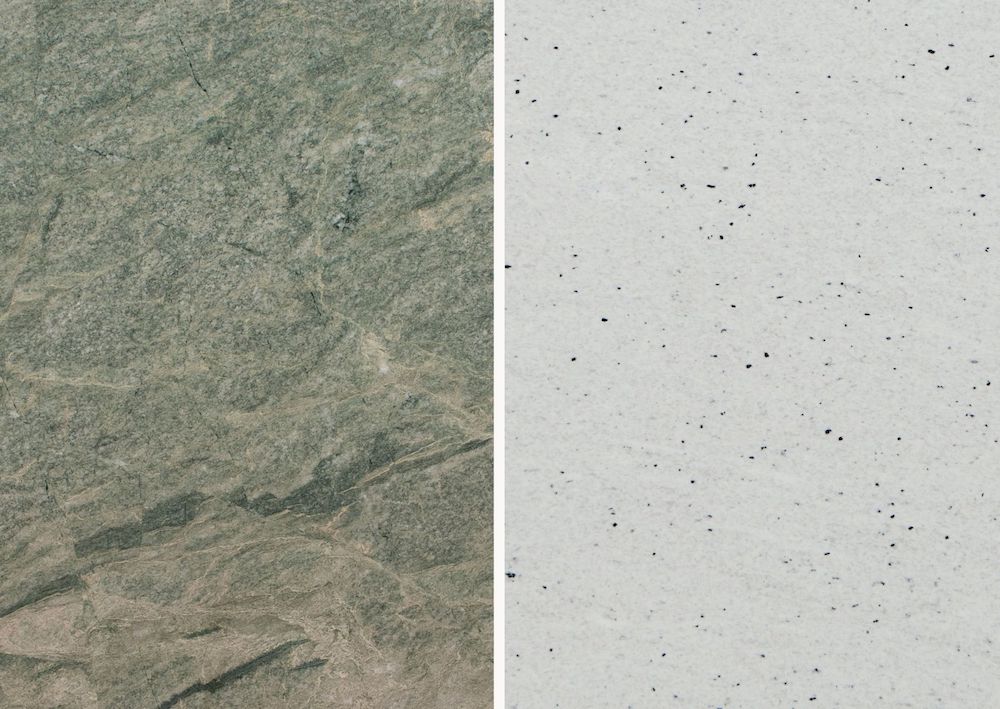 Costa Esmeralda Granite and Pitaya White Granite
When it comes to crafting a kitchen design that truly stands out, the choice of granite countertops plays a pivotal role. For a captivating and balanced look, consider the dynamic duo of Costa Esmeralda Granite alongside the understated elegance of Pitaya White Granite.
Together, these contrasting granite colors achieve several key benefits. They create a striking visual contrast, offering balance and harmony in your kitchen design. This combination is versatile, fitting various cabinet finishes and backsplash options. Pitaya White Granite also brings practicality to the table, as it's both easy to maintain and resistant to staining.
Incorporate Costa Esmeralda Granite for your kitchen island or as a statement backsplash, while Pitaya White Granite can grace your main countertops. This pairing not only enhances the aesthetic appeal of your kitchen but also ensures it remains both functional and timeless for years to come.
Agatha Black and Stream White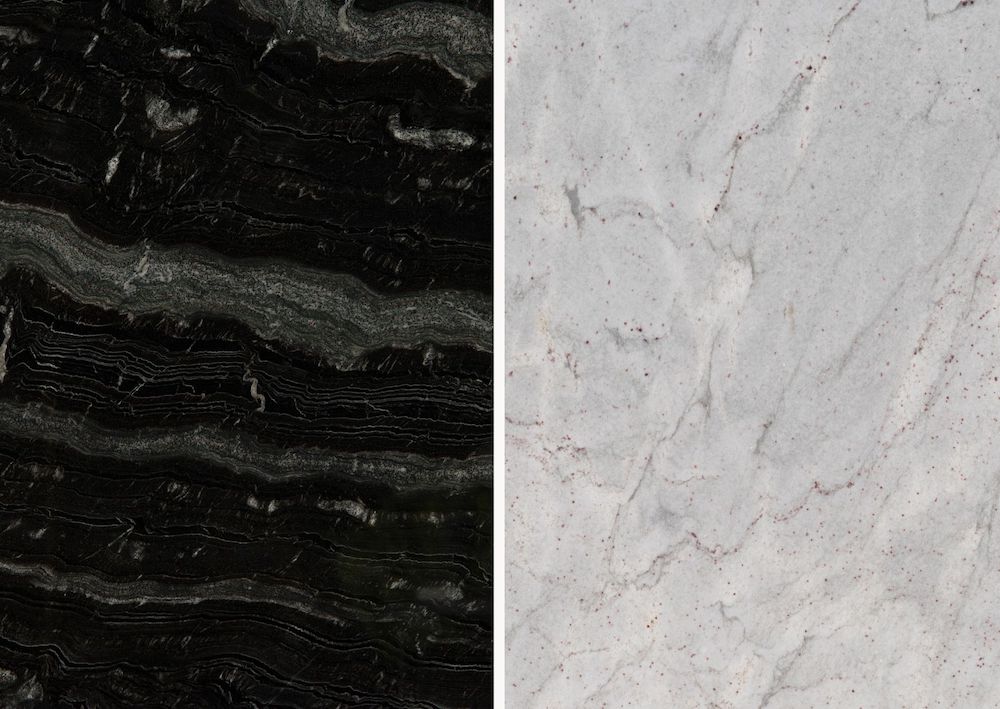 Agatha Black Granite and Stream White Granite
While aesthetics play a significant role in creating a visually appealing space, the functionality and durability of your chosen granite are equally important. Consider the scenario where you have a light-colored, bold-patterned granite like Stream White Granite for your center island. The center island typically serves as the focal point of the kitchen and a gathering place for family and friends. In this context, the vibrant and striking appearance of Stream White Granite adds a touch of elegance and visual allure.
However, it's equally vital to have a practical choice for your food preparation areas, often found on the side counters. This is where Agatha Black Granite comes into play. Featuring distinctive streaks of dark gray, this granite offers a visually appealing pattern while being more forgiving when it comes to hiding dirt and stains.
Matching two different colors of granite countertops isn't complicated, and you don't need a degree in interior design to pull it off. Just consider choosing granites with similar colors and matching boldly patterned slabs with low-variation selections.
Finally, keep in mind which area will be the room's focal point, and go from there. Visit MSI's inspiration gallery to see more kitchen countertop variations and get some ideas to create your own.
Need more help choosing your perfect pair? Chat with us online now, or contact an authorized MSI retailer for more information. You can also visit your nearest MSI showroom to view the expansive array of granite countertops and request samples.
READ MORE ABOUT GRANITE COUNTERTOPS
Can A Granite Countertop Withstand the Great Outdoors?
Choosing the Right Edge For Your Granite Countertop
Color Crush On White & Gray Countertops
Creating the Perfect Pair with Your Backsplash And Granite Countertop