Can You Use More Than One Granite Color For Your Kitchen Countertops?
September 27, 2017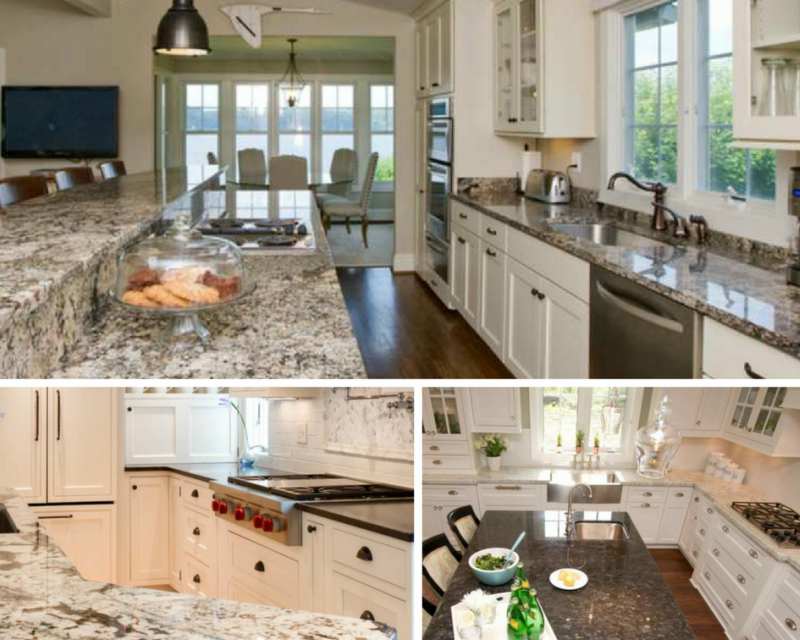 Want to take advantage of one of the hottest trends in kitchen design? Mixing and matching granite countertop colors can really spice things up!
Some are wary of this trend, thinking that using two different granite colors may look too "busy" or would overwhelm the rest of the room's style – but nothing could be further from the truth. The key to pulling this off is knowing how to do it properly, so the room is balanced. The result? Creative, stunning, and practical too.
This article is not a comprehensive granite countertop guide, but is intended to show you how well two completely different colors and patterns of granite can work together in harmony.
Antico Cream / Nilo River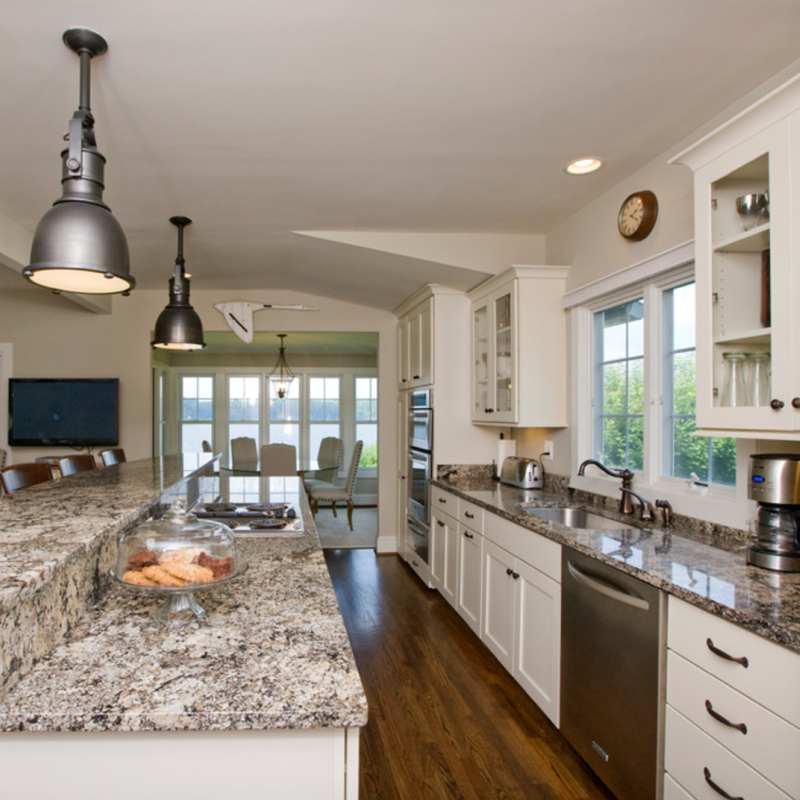 Featured: Antico Cream Granite and Nilo River Granite
One strategy for matching two granite colors is to choose similar patterns and colors, one lighter and the other darker. In this photo, you can see that Nilo River Granite looks much like a darker version of Antico Cream Granite.
Both feature the same color scheme – brown, gold, and ivory. Choosing the paler granite color for the center island, with a raised bar area, works well with the white walls and cabinets to keep the room's atmosphere light and airy.
Caledonia / Brown Antique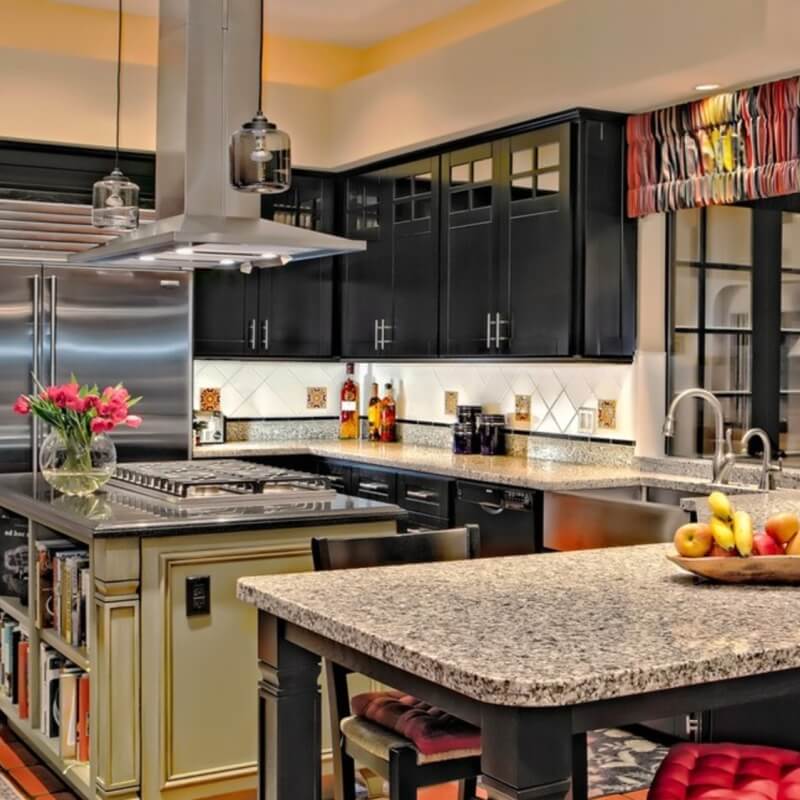 Featured: Caledonia Granite and Brown Antique Granite
Choosing two contrasting granite colors also means choosing which part of the room will be its focal point. In this contemporary kitchen, the center island dominates the room, which would usually mean installing the bolder granite color on the island. However, it's the cooktop, not the family gathering place; that purpose is served by a peninsula attached to the side counters.
Brown Antique Granite offers eye-pleasing variation with its crystalline flecks of white and gray on a dark brown background, which looks great under strong lighting. It's subtle, however, compared to Caledonia Granite, with an intricate pattern of white and gray, a cheerful surface for the place where family and guests may sit and snack or chat. The darker granite color also beautifully balances the dark cabinets.
Blue Bahia / Andromeda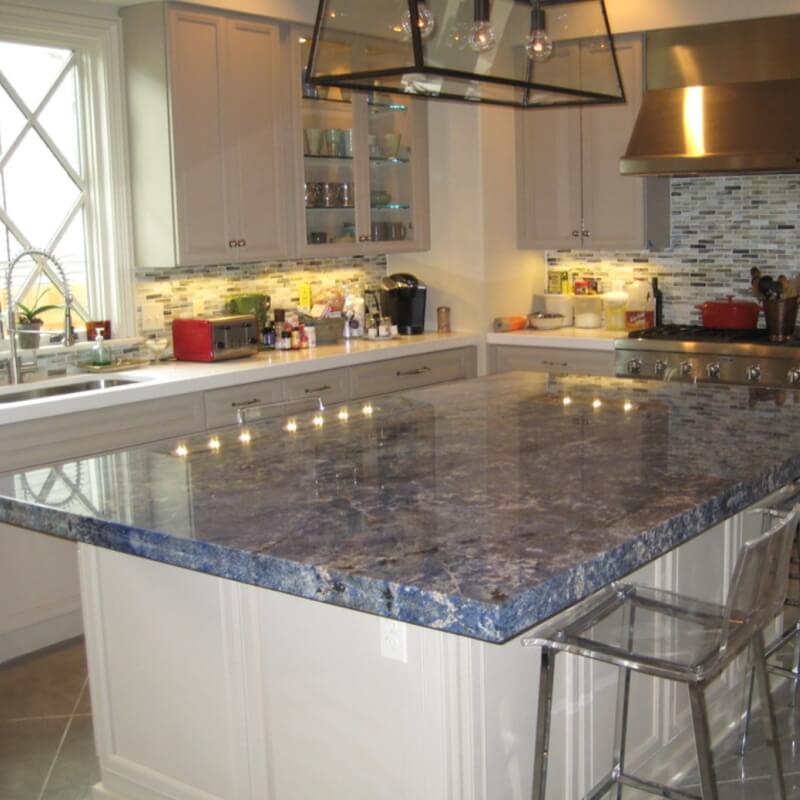 Get this look with MSI's Blue Bahia Granite and Andromeda White Granite
(Photo Credit: Houzz)
When installing an exotic, bold granite countertop such as Blue Bahia Granite, it helps to match it with a subtler granite like Andromeda White Granite.
In this modern kitchen design, the main colors are white and gray, a perfect backdrop to the stunning blue, white, and gray swirls on the large center island, which completely dominates the room. The light white granite countertops with gray speckles on the side counters recedes into the background, providing utility and balance.
Angola Black / Alpine White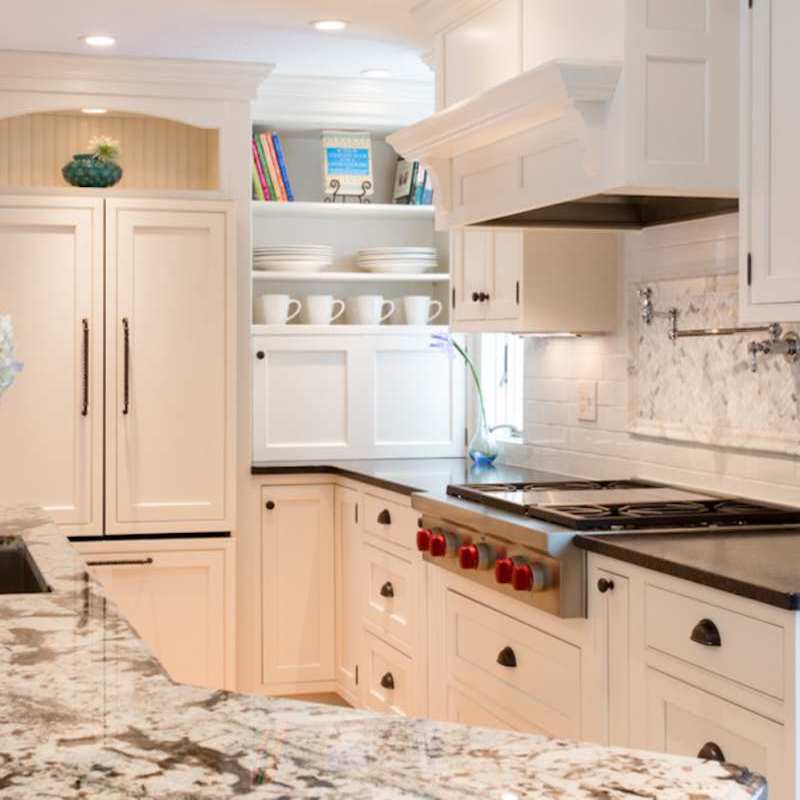 Recreate this look with MSI's Angola Black Granite and Alpine White Granite
(Photo Credit: Houzz)
There are practical considerations when choosing complementary granite colors, along with aesthetic ones. For example, a light-colored, bold-patterned granite color such as Alpine White Granite is stunning on a center island, which is usually the room's focal point and gathering place.
However, it can be useful to have a darker shade in hard-working food prep areas, often the side counters. Featuring speckles of dark gray, this black granite still offers gorgeous patterning, but is less likely to show dirt and stains.
Nordic Black / Aspen White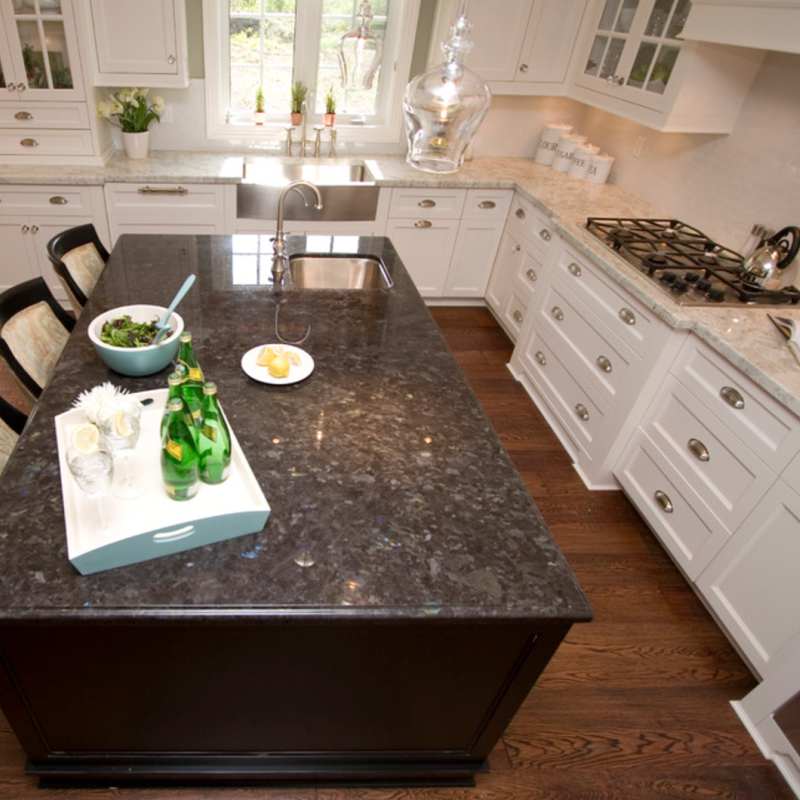 Create this look with MSI's Nordic Black Granite and Aspen White Granite
(Photo Credit: Houzz)
Using two different colors of granite, particularly highly contrasting colors such as Nordic Black Granite and Aspen White Granite, can be challenging because you don't want it to seem like you just "ran out" and had to pick something else for the rest of the installation.
Nordic Black, which features swirls of gray on a black background, works well on this kitchen island because the cabinetry is different too, creating a distinct and separate part of the room.
Matching two different colors of granite countertops isn't complicated and you don't need a degree in interior design to pull it off. Just consider choosing granites with similar colors, and match bold patterned slabs with low-variation selections.
Finally, keep in mind which area will be the room's focal point, and go from there. Visit MSI's inspiration gallery to see more kitchen countertop variations, and get some ideas to create your own.
READ MORE ABOUT GRANITE COUNTERTOPS
Can A Granite Countertop Withstand the Great Outdoors?
Choosing the Right Edge For Your Granite Countertop
Color Crush On White & Gray Countertops
Creating the Perfect Pair with Your Backsplash And Granite Countertop