5 Granite Looks In Low Maintenance Quartz
September 17, 2022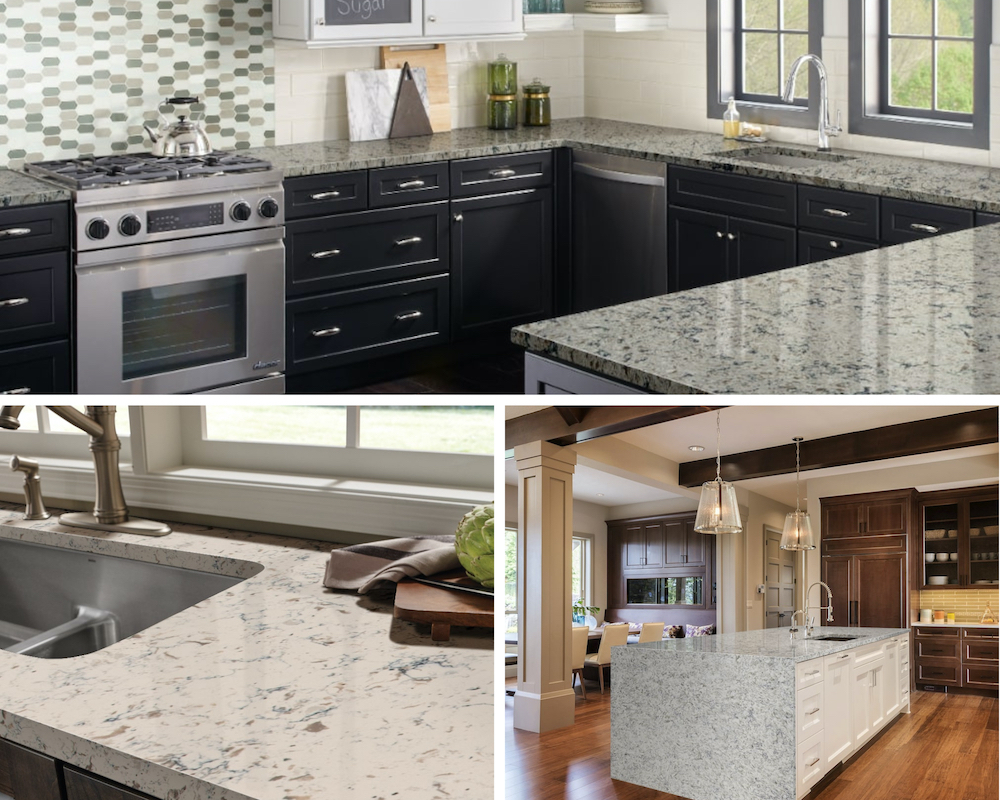 For decades, the ideal kitchen has included granite countertops as the foundation, with the rest of the room built around them. It makes sense — granite is attractive, durable, and easy to keep up with. Moreover, since it's all-natural, every countertop is unique.
Yet, many people choose low-maintenance quartz over granite when building or renovating their counters. Quartz is created from 95% natural stone and 5% polymer resin.
Although quartz is engineered and granite is natural, plenty of advantages make this synthetic stone the preferred material of countertops for kitchen solutions. First, you get the benefits of granite with the easy quartz care & maintenance of a look you have more control over. In addition, quartz is non-porous, doesn't require sealing, and can be designed for a more uniform appearance.
Are you debating on quartz vs. granite for your next home improvement project? Check out these look-alike granite styles offered by MSI as you design your room, and see how you can use quartz countertops to turn your dream kitchen into reality.
Chantilly Taupe Quartz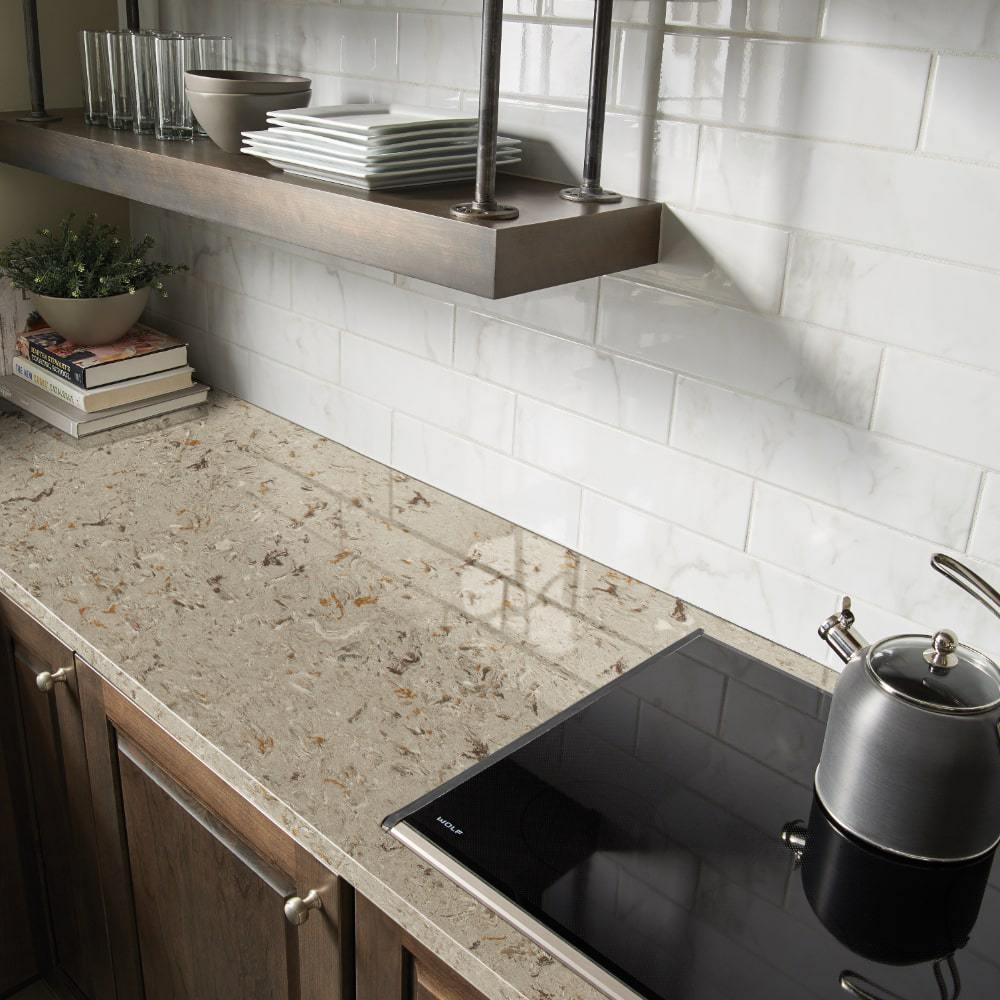 Taupe is often underestimated as an interior design color. It's a neutral shade that falls between dark brown and gray, making it the perfect foundation color for a stone countertop.
Chantilly Taupe Quartz takes this hue to the next level, using swirls of beige, taupe, and gray to create a look that simultaneously blends in with your cupboards and backsplashes while making the countertops pop.
When you use quartz countertop materials, you already have a base resistant to stains and scratches. With a color like Chantilly Taupe Quartz, the countertops keep your secret if you want to skip cleanup between meals.
Quartz gives you control over how uniform you want your counters to be. You can still enjoy the swirls of the Chantilly Taupe Quartz and keep consistency throughout your kitchen remodeling project. If you ever need to make repairs later, replacing a broken piece with the same pattern is a breeze. Nature rarely repeats in granite colors and elsewhere, so it can take months to find a piece that matches the damaged counter.
Montclair White Quartz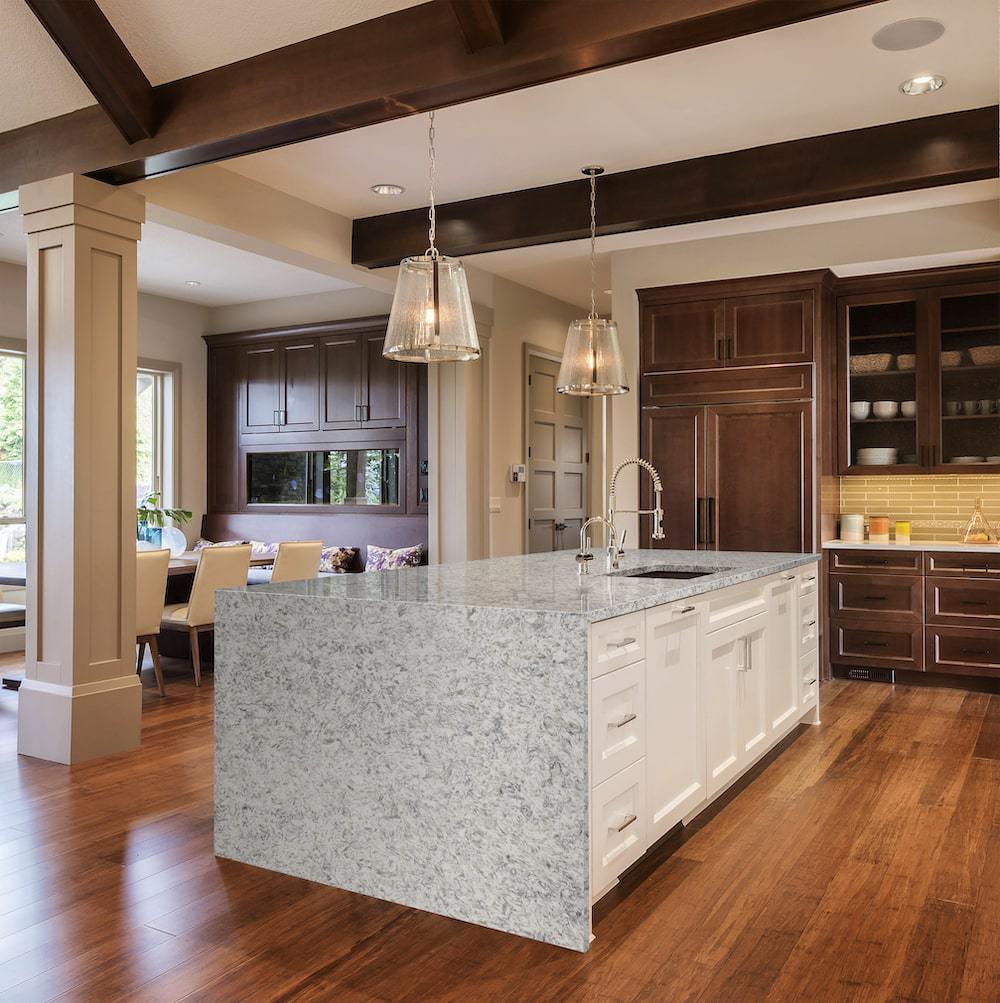 Looking for something more dramatic than taupe to create a waterfall island, accent wall, or countertop focal piece? Montclair White Quartz is both sophisticated and powerful. Kitchen designers integrate this premium surface into many homes because it's flexible enough to match many wall and floor tiles.
Montclair White Quartz uses a subtle combination of shades of white and gray. These hues complement nearly any color scheme in your kitchen. The overall look is a breathtaking pattern that works well to stand on its own or as an edge treatment.
As a bonus, your kitchen remodeling project can be green-friendly. Granite is sourced from the ground and transported across countries, which is an expensive endeavor that takes a lot of fuel and energy. Instead, quartz often uses local and recycled materials for an environmentally-friendly yet aesthetically pleasing finished product.
Pacific Salt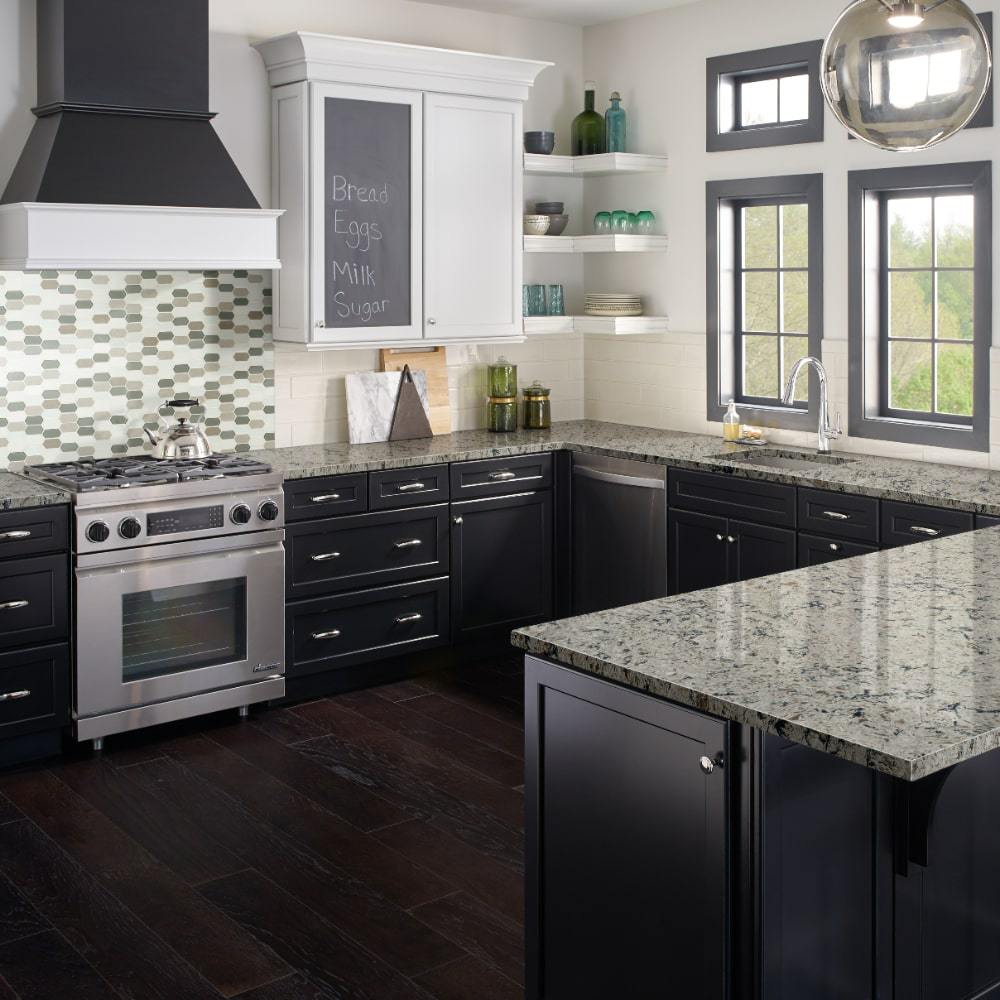 Do you love the ebb and flow of the ocean? Creating that atmosphere is easy when you use Pacific Salt Quartz in your kitchen.
The gray and tan swirls contrast against the light, creamy background of the beach for a pattern that almost makes you think it's moving. Pacific Salt Quartz is versatile enough to flow well with any interior decor style, and the 2- and 3-cm slabs and prefab options make it simple to install these anywhere.
You get the coveted look of granite for a fraction of the granite countertop cost. At the same time, your new counters require less maintenance because they don't have to be resealed annually, as granite materials do. In addition, Pacific Salt Quartz and other quartz countertops are easy to keep up with and don't need any special cleaning products to avoid stains and retain their longevity.
Romano White Quartz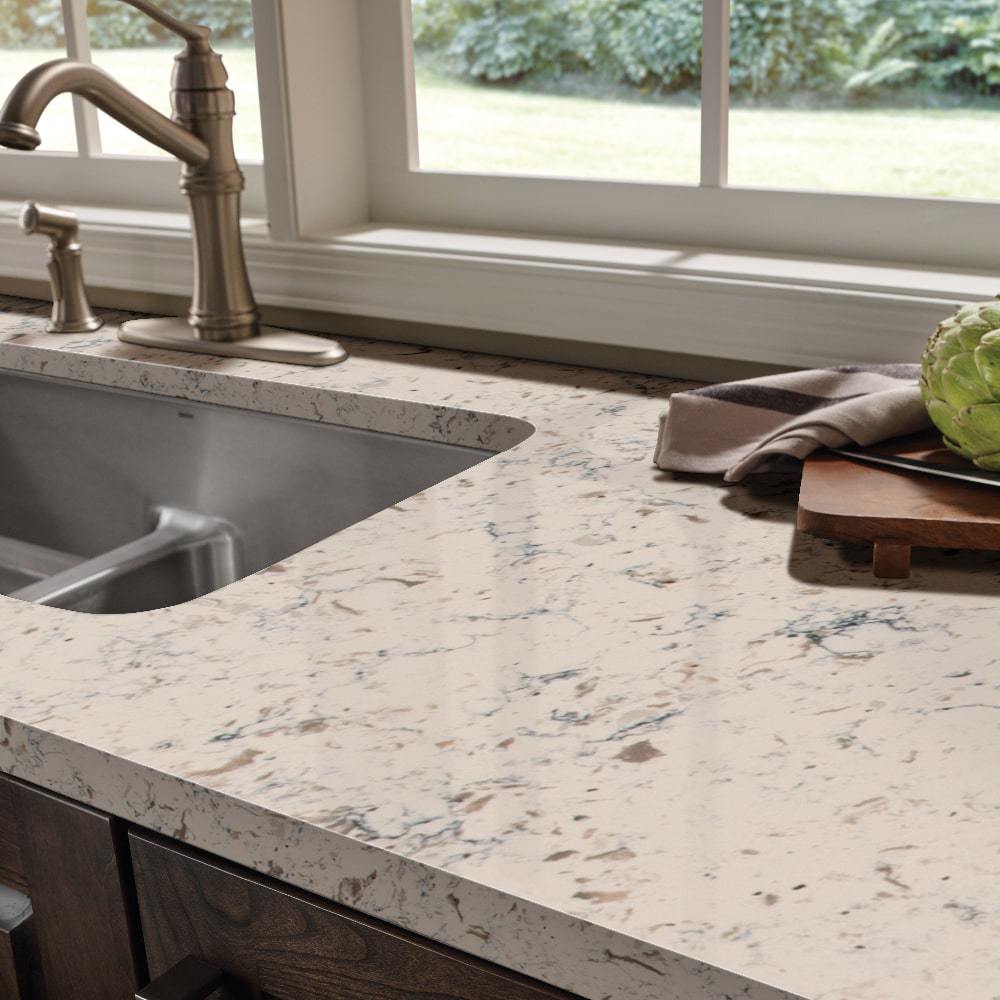 Is the classic look your style of choice? Then Romano White Quartz, complete with white and gray tones that combine for a dramatic, subtle pattern, is the way to go
Slight specks of color interspersed with warm veins blends together to create a look that mimics the movement of natural marble and granite. The finished appearance is timeless, ensuring your kitchen will always be in style.
In fact, Romano White Quartz is such a solid choice that it's used in residential and commercial design projects. You can't go wrong when you design your islands, accent walls, countertops, backsplashes, and floors using this granite look as your foundation.
Another reason quartz is used in commercial spaces and homes is that it's harder than granite. So, if you expect your kitchen to be well-used, aiming for quartz ensures your countertops can hold up to the demand. And since it isn't porous, it's antibacterial. This characteristic makes it the most hygienic choice for naturally germ-prone rooms, like the kitchen and bathroom.
Antico Cloud Quartz
Low maintenance plus beautiful patterns that were once only found in natural stone come together to create Antico Cloud Quartz.
Your countertops will be the stunning foundation of the room as the eye is drawn to the soft white, neutral taupes, and dramatic dark grays of this design. The quartz material complements many decor styles, including traditional and contemporary.
You'll see Antico Cloud Quartz used in homes as the material of choice for countertops, waterfall islands, tabletops, bar tops, showers, backsplashes, and floors.
Choosing Quartz is Easy; Deciding Which One is the Hard Part
With the variety of colors and patterns to choose from and the added benefits of using quartz, it's easy to see why so many people choose this material over granite. Manufacturers of quartz also offer longer warranties than granite companies, tipping the scale solidly in favor of quartz when budget and longevity are a factor.
Both granite and quartz are excellent materials to use as a countertop, and each has distinct pros and cons. Whichever meets your preferences and turns your dream kitchen into the real-life heart of your home is the perfect one for your project. But if you're considering quartz, one of these five granite look-alike styles may help you make your final selection easier.
LEARN MORE ABOUT QUARTZ COUNTERTOPS
GRANITE VS. QUARTZITE: WHICH IS BEST FOR KITCHEN COUNTERTOPS?
WHICH PERFORMS BETTER: QUARTZ OR GRANITE?
QUARTZ COUNTERTOPS THAT MIMIC NATURAL STONE: GRANITE, LIMESTONE, AND MARBLE LOOKS