Outdoor Oasis: Utilizing Stacked Stone To Create The Perfect Backyard
July 16, 2018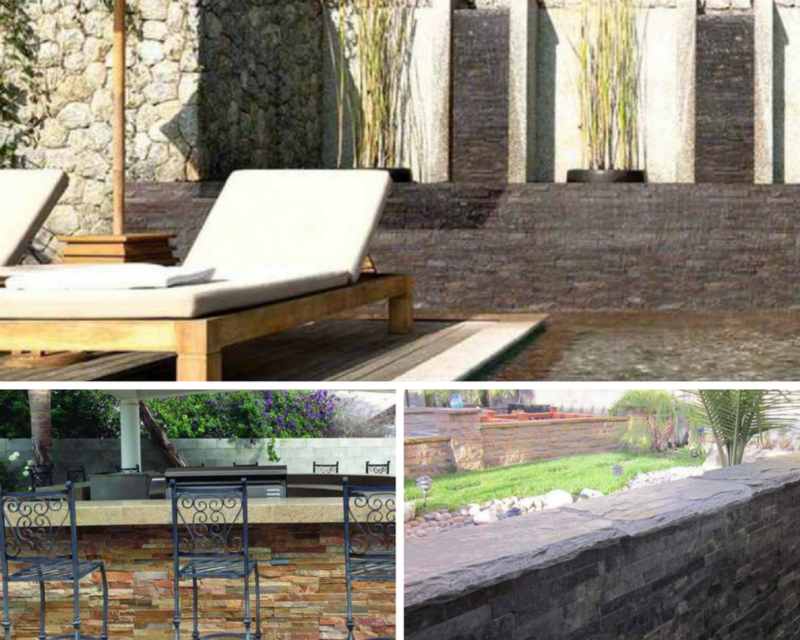 How do you create the perfect backyard? The answer depends on many things — where you live, your lifestyle, and how you plan to use it. You could create the ultimate family hangout or a party gathering spot, and add a swimming pool and fire pit. You could even add a gorgeous, relaxing garden area.
Whatever the case, hardscaping with stacked stone ledger panels will make it look its best — whether that means you're designing a stylish family backyard space or the ultimate bachelor pad!
Golden White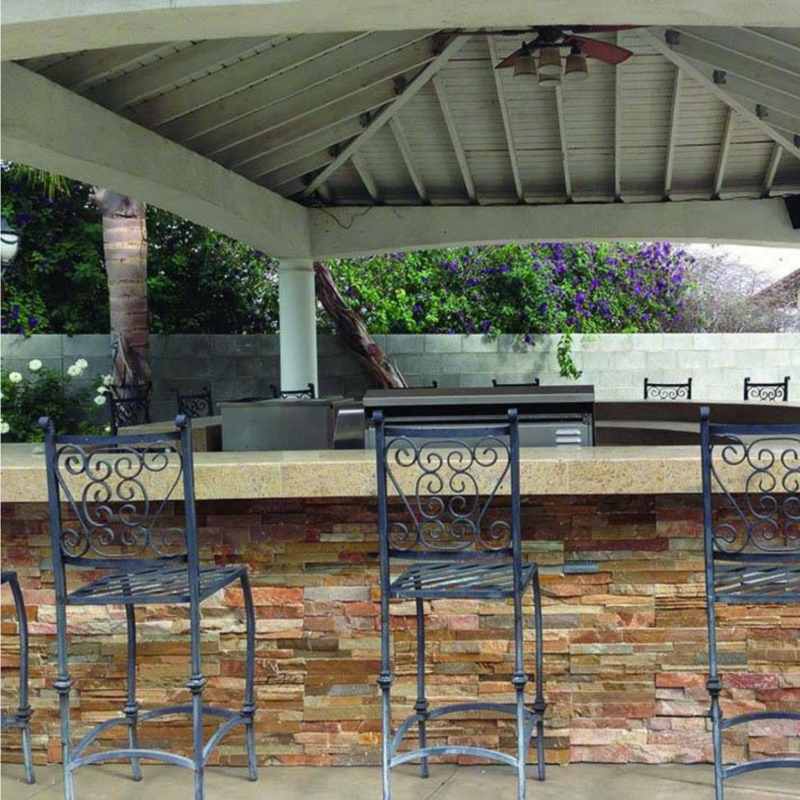 Featured: Golden White Stacked Stone
Cooking is more fun when it's done in the great outdoors, but that doesn't mean you have to rough it. Golden White Stacked Stone split-face quartzite ledger panels create the look of luxury, which perfectly complements an open-air bar area and an outdoor kitchen with a gleaming stainless steel grill. The warm gold, gray, and cream shades are complementary with nearly any other design element you desire.
Silver Travertine
Featured: Silver Travertine Stacked Stone
Make your outdoor space into a complete entertainment spot with the addition of a flat-screen TV opposite a lineup of comfortable bar stools. Silver Travertine Stacked Stone is the ideal finishing touch for the walls and bar sides, creating an elegant, contemporary look. Go ahead and get creative with angles and insets; it's easy to cut the stacked stone panels to fit your design.
Sierra Blue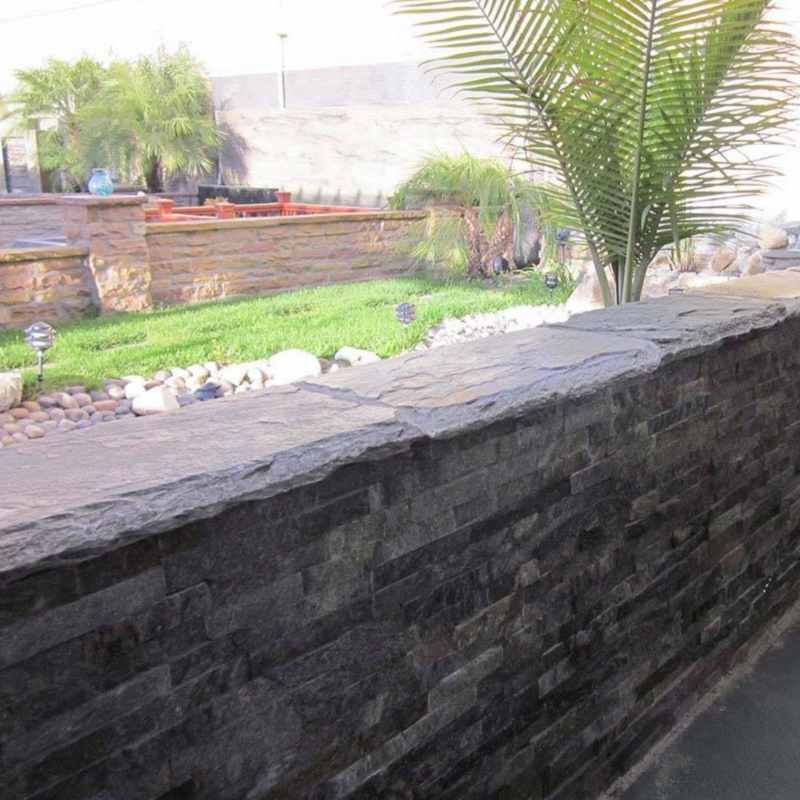 Featured: Sierra Blue Stacked Stone
A stone wall is a versatile design element. You can use it to mark property lines, retain terraced hillsides, or just accent a garden space. It's easier than you think to create one, thanks to MSI's stone veneer panels. The blue and gray shades of Sierra Blue Stacked Stone split-face quartzite blend in effortlessly with natural landscaping, looking like they were always there.
Amber Falls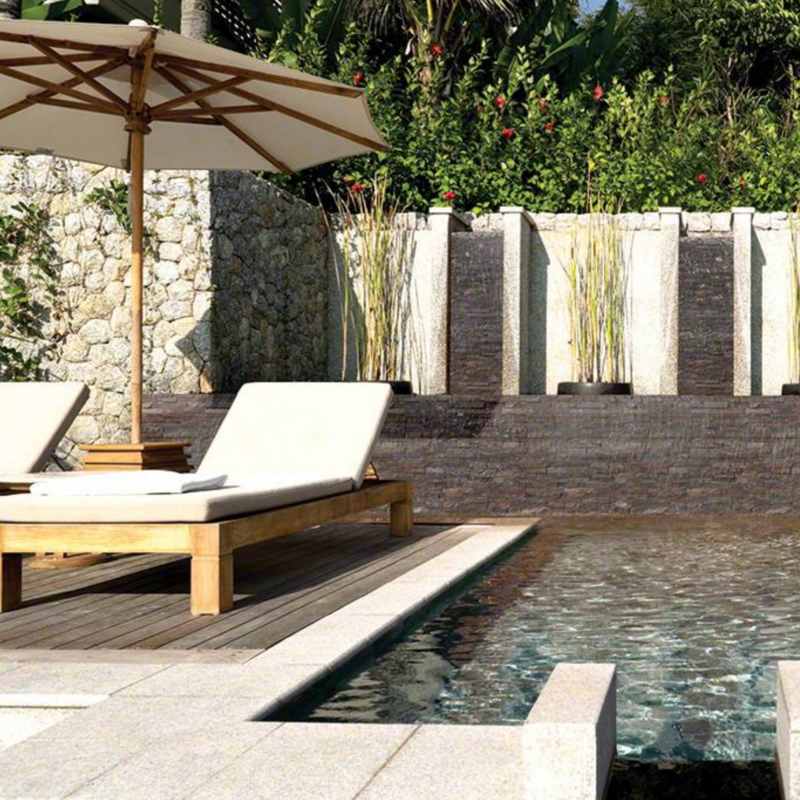 Featured: Amber Falls Stacked Stone
Whether your water feature of choice is a cool, relaxing waterfall, a fountain, or a swimming pool, stacked stone ledger panels should be an essential part of your design. Amber Falls quartzite includes shades of gray, rust, and copper with sparkling mica flakes, and it looks just as good when it's wet. Since it's real stone, it can stand up to even the harshest weather.
Alaska 3D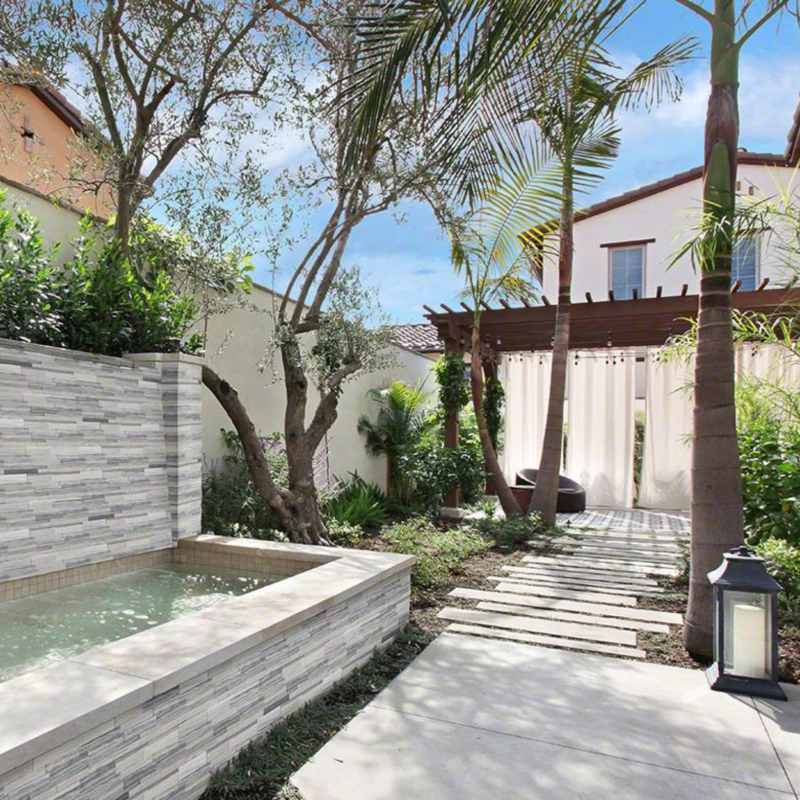 Featured: Alaska Gray 3D Stacked Stone
Contemporary hardscaping calls for the sleek, three-dimensional texture of Alaska 3D Stacked Stone. Crafted from natural marble, it features shades of pale gray with elegant dark gray veining. Use it for a wall, or surrounding a fire or water feature — you'll love how easy it comes together, since matching corners are available.
Using stacked stone ledger panels as a foundational element for your backyard designs allows you free rein with your creativity. Create a design that will increase your home's value, last for years, and definitely enhance your family's enjoyment of the space.
Browse MSI's website to learn more about the stacked stone panels shown here, or to explore several of the other beautiful products they offer.