Black Granite Countertops: The Royal Appeal
June 18, 2013
The color black has long stood as a symbol of elegant formality. Our liveried limousines and Cadillac cars are black. Table cloths showcasing fine foods at fancy affairs are black. Tuxedos and top hats are black. Black & white photographs are mysterious and timeless. Even most of today's websites incorporate black as one of their main colors for the logo or design, as it makes other colors seems brighter and can convey a feeling of power when paired with bold colors like red, orange, or yellow, and can be equally conservative or sexy depending on the intent. It is a color that represents strength, authority, and endurance – and it easily carries into home design where black granite countertops are both stunning and dramatic.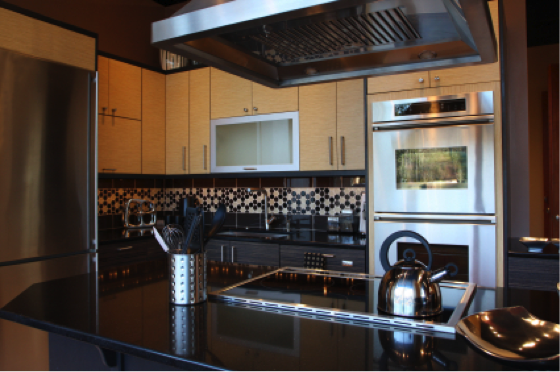 Black natural stone can be all of these things. As kitchen countertops, it can do even more. Black can take its inherent sophistication and affect other parts of a room. It can make a space feel smaller and more intimate, add depth to a well-lit room, and most importantly, display bright, colorful foods to their best advantage. MS International offers many black granite options, but there are several other unique styles that stand out as popular choices for a variety of applications from indoor to outdoor, residential to corporate: Black Galaxy Granite, Impala Black Granite, Premium Black Granite, and Black Pearl Granite.
Black Galaxy is a mostly pitch black granite with small gold or white flecks. Also known as Star Galaxy, this granite offers the sophistication of black with the added interest of a contrasting accent that ties in other color schemes in a room and adds a perception of depth to stone itself. To see how this striking stone can change the entire look and feel of a room, try out MSI's Kitchen Visualizer and select any countertop color with white cabinetry and a Botanica Teak floor. Then switch the countertops to Black Galaxy and you'll note a stunning contrast with the pure white cabinets that complement the floor perfectly. The unrelieved black countertops suddenly become the sturdy backbone of the kitchen. Add mosaics for accent and you've chosen a scheme suitable for your own royal family.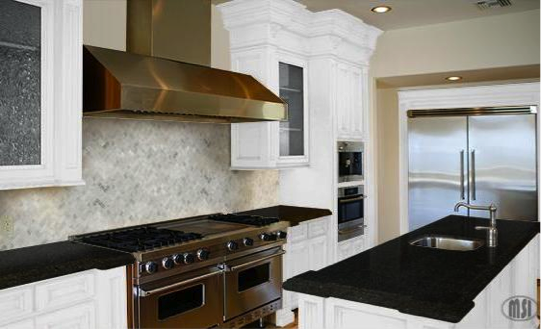 Impala Black granite from South Africa is characterized by shades of dark grays and blacks with low variation in pattern. Like the Black Galaxy granite offered by MS International, Impala Black is a popular selection for contemporary kitchens. As a granite, it is naturally durable, so it is also suited to outdoor projects. Today's open-air kitchens, for example, are a great place to add a touch of elegance. Some designers opt for natural stones that blend sympathetically with the environment (a stone like Toffee granite is a good example); however, others opt for a bolder statement, and Impala Black granite delivers in spades. Coupled with stainless steel outdoor ovens or grills, a solid black granite countertop suggests a more formal atmosphere for late night revelry.
Premium Black Granite, which is also known as Indian Black Granite or Absolute Black Granite is aptly named because of the stone's rich, uniform black coloring. Consider choosing Premium Black Granite for your home if you are looking for a stone with a luxurious appearance. This type of granite can be used for both indoor and outdoor applications because of its strength and versatility. MSI Stone offers the Premium Black Granite in the following types of finishes: Brushed, Flamed, Honed, Polished, Riverwash, and Tumbled. The polished finish looks great as a kitchen countertop or tiled flooring because of the deep coloring and easy to clean surface. Premium Black Granite is flecked with subtle, pearly iridescent specks and will look impressive as a kitchen countertop, living room mosaic, or tile floor. The sumptuous, uniform coloring of this stone helps add solidarity to a room, and looks extraordinary in both minimal or more ornate homes.
For homeowners who are looking to improve their bathrooms, kitchens, or other space with a black granite that has an opulent sheen and unique color, MSI's Black Pearl Granite is a great selection when a darkly colored stone is preferred, without the commitment to a solid black color. The Black Pearl Granite is primarily dark in color—the addition of specks of gold, silver, and brown lend the stone an earthy, charcoal gray color. Both beautiful and sturdy, this granite can be used for flooring, backsplashes, and countertops, in and outside of your home. With the Black Pearl Granite you can still enjoy the benefits of intense coloring but with a natural flavor. Because of the lighter colored appearance of this type of granite, pairing Black Pearl Granite countertops with honey-colored or white cabinets looks the most harmonious. This natural granite from India is a perfect choice if you are looking for a stone with a lighter appeal and color variation.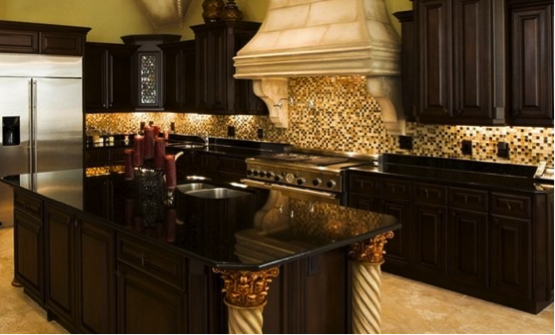 When one thinks of traditional "royal" colors, they might first imagine gold or purple. These colors are synonymous with the high pomp of a vibrant royal court. Nonetheless, the color black transcends this imagery. Black is rich, timeless, and an enduring symbol of wealth. When a black granite countertop is polished to a brilliant shine, it's difficult to imagine anything could reflect those definitions better.
READ MORE ABOUT GRANITE COUNTERTOPS
Baker's Dozen: 13 Unique Colors And Designs Of Granite Countertops
Beyond Bullnose: Exploring Granite Countertop Edges
Black Granite Countertops Make A Powerful Statement